NCF On The Trail:

Trent Richardson
January, 30, 2014
1/30/14
10:30
AM ET
The SEC has
dominated the recruiting world
over the past several years. Since 2008, the SEC has had at least three schools finish in the top 10 of the ESPN recruiting class rankings each year. Last year, the conference had an impressive six schools ranked among the top 10 recruiting classes in the country. This year is much of the same, as seven SEC schools are ranked in the top 10.
Here's a closer look at the five best recruiting SEC schools in the
Ultimate ESPN 300
.
August, 29, 2013
8/29/13
12:30
PM ET
Want to ask ESPN RecruitingNation senior analyst Tom Luginbill a question about your team? Tweet it to @TomLuginbill using the hashtag #AskLoogs.
@TomLuginbill @RecruitingESPN after his showing @TheOpening2014 don't you think Curtis Samuel needs a bump? #AskLoogs #BuckeyeNation

— Alpo (@alpodev25) August 21, 2013
The commitment of
Curtis Samuel
and the placement of Ohio State in our class rankings have been hot topics on Twitter lately, so let's hit them head on.
First, let's talk about Samuel, who we have as the nation's No. 51 wide receiver. Camps and combines are a supplement to film study. They can enhance a prospect's worth, give cause for concern or, in many instances, confirm what we already thought. We'll be the first to admit that when it comes to position rankings, the difference between No. 23 and No. 50 can be negligible. Once you get past the top five-to-seven guys, it's debatable.
Curtis Samuel is a very gifted athlete, a four-star player. Could he be in the ESPN 300? Sure. Are there 20-30 guys better than him? Maybe, maybe not. It's an inexact science. But those clamoring for a five-star rating are those who believe there are 30-to-50 five-star recruits in every class, which is ludicrous. If that were true, there'd be 20 true freshmen a year making an immediate impact at BCS programs. We have always been very cautious with grading too high. Leave some room for upside and development to occur. If you over-grade, you have no room for a player to exceed expectations. You have nowhere to go but down. By under-grading, you give yourself a cushion. If we are going to be wrong on a guy, be wrong low, not high. Samuel is very fast, but also straight-lined. He sticks out like a sore thumb against this level of competition. Yes, he had a nice showing at The Opening, but we are taking a slower approach. It's a long time until national signing day, with lots of football to be played.
As fans, whether it's at Ohio State or anywhere else, it can be tough to understand and see things through an objective lens. However, we did not have a single Ohio State fan ask a question about Curtis Samuel in terms of where he was ranked until he committed to the Buckeyes. In fairness to Ohio State, if Samuel had committed to a different school, we would expect those fans to do the same—it's human nature. Fans want to compare rankings and why one entity has a guy here or there and another is different. Keep in mind, different doesn't necessarily mean wrong. It's not our job to be liked. We know we will not please everyone. Was it popular when we had Trent Richardson ranked ahead of Bryce Brown? Nope. We thought QB Star Jackson who signed with Alabama was going to be huge flop and that backlash was harsh. Again, different isn't always wrong.
I visit schools all across the nation (Ohio State included), sit in their meetings, visit with their staffs, look at their boards and no matter where I go, the boards generally all have the same premier players on it, but rarely in the same order. As fans, you would be surprised to see where players you perceive as the best are actually at on the board, regardless of what someone on the internet says. Sure, a guy may have an offer, but he might be the sixth or eighth guy they would take if they had their druthers. Offers rarely reflect priority.
I'll leave you Ohio State fans with this: There were three players we had ranked, evaluated and graded with BCS-level grades coming out and some other services didn't even have them ranked or give them a star rating --
Ryan Shazier
,
Bradley Roby
and Johnathan Hankins all turned out to be pretty darn good players, right?
It's a long process, full of further evaluation opportunities along the way. It's not a vendetta, it's not a conspiracy, it's just an opinion based off what we feel and see with the understanding that there are no guarantees.
June, 21, 2013
6/21/13
1:07
PM ET
By
RecruitingNation
| ESPN Insider
As Michigan
looks to add to a No. 1 recruiting class

that already includes No. 2
Jabrill Peppers
, we look back at other schools that landed multiple top 10 recruits fared in those players' tenures. While Alabama hit a home run in 2009 -- landing future first-round picks
Dre Kirkpatrick
and
Trent Richardson
-- others have seen mixed results.
[+] Enlarge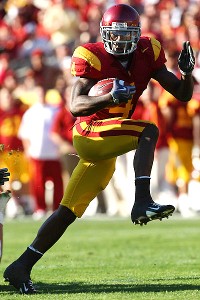 Stephen Dunn/Getty ImagesJoe McKnight never quite reached the lofty expectations placed on him as the No. 1 recruit in USC's stacked 2006 class.
2006
USC Trojans
Vidal Hazelton
(No. 3 recruit)
Taylor Mays
(8), Antwine Perez (10)
The trio signed with a USC program that was coming off back-to-back BCS title game appearances, but their reality ended up being a pair of transfers and a final game for Mays in the Emerald Bowl. Perez played sparingly as a true freshman and then transferred to Maryland. Hazelton was the leading receiver for the Trojans in his sophomore year with 50 catches but transferred to Cincinnati after his junior year. Mays stayed all four years and earned All-American status before being drafted in the second round of the 2010 NFL draft by the 49ers.
-- Garry Paskwietz
To continue reading this article you must be an Insider
January, 24, 2013
1/24/13
6:00
AM ET
TUSCALOOSA, Ala. -- As it turned out, 2008 was just the beginning. Alabama's 2009 signing class was one step ahead for Nick Saban and the coaching staff as it finished No. 2 in the country, highlighted by the likes of
Dre Kirkpatrick
,
Trent Richardson
,
AJ McCarron
and
Eddie Lacy
.
[+] Enlarge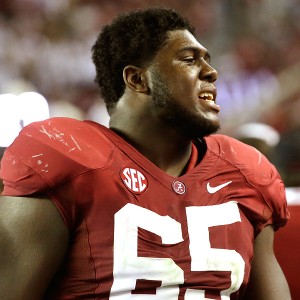 AP Photo/Dave MartinTrent Richardson and AJ McCarron get the headlines, but Chance Warmack became an All-American player from the 2009 class.
But those were just the headliners. Like many of the recruiting classes to come in the years since, the 2009 class was solid top to bottom.
Chance Warmack
,
Anthony Steen
and
James Carpenter
were all ranked in the second half of the class.
Kevin Norwood
,
Darrington Sentimore
and
Quinton Dial
also came out of the lower half of the class to become playmakers at the college level.
There's no doubt, though, who the star of the class was. Richardson, the No. 1 running back from Pensacola, Fla. in the country, was stolen right out from under the Florida Gators' nose. The 5-foot-11, 219-pound athlete was an instant impact player, rushing for more than 700 yards as a true freshman. Two seasons later he was in New York City as a finalist for the Heisman Trophy. A few months after that, he was selected in the first round of the NFL draft by the Cleveland Browns.
To continue reading this article you must be an Insider