NCF On The Trail:

Tony Ball
February, 27, 2013
2/27/13
7:11
PM ET
Class of 2014 defensive end
Trent Harris
(Winter Park, Fla./Winter Park) is legitimately on the radar, if he wasn't before, that is.
February, 17, 2013
2/17/13
12:31
PM ET
The Georgia coaching staff spent this past week sending out offers to some of the top players in the country. From running backs to defensive ends, the coaches dove into the Class of 2014 with vigor, just days after the ink was dry on the Class of 2013. Before hosting a junior day on Saturday, they sent out a new offer to one of the premier wideouts in Louisiana on Friday.
To continue reading this article you must be an Insider
January, 31, 2013
1/31/13
9:00
AM ET
Safety
Kennar Johnson
(Clermont, Fla./Mississippi Gulf Coast CC) was supposed to enroll at Georgia this month.
He had been committed to the Bulldogs for more than three weeks when the junior college signing period began Dec. 18, and was expected to sign then. By Dec. 19 it was obvious something was wrong. Johnson could not be reached for comment. His coach stopped returning phone calls. Georgia put out a press release with the names of two junior colleges players that had signed with the Bulldogs. Johnson was not on the list.
Recently, a couple of Georgia coaches went to visit Johnson.
To continue reading this article you must be an Insider
November, 21, 2012
11/21/12
8:48
PM ET
The commitment of juco wideout
Jonathon Rumph
(Cayce, S.C./Holmes Community College) to Georgia is a big addition to the Bulldogs' receiving corps -- pun intended. Georgia does not have a returning receiver on the team now or committed in the Class of 2013 who resembles the 6-foot-5, 215-pound Rumph. He is a large target -- something this recruiting class was missing.
As it stands, Georgia has commitments from wide receivers
Reggie Davis
(Tallahassee, Fla./Lincoln),
Uriah LeMay
(Matthews, N.C./Butler), and
Rico Johnson
(Swainsboro, Ga./Swainsboro). Athletes
Tramel Terry
(Goose Creek, S.C./ Goose Creek) and
J.J. Green
(Kingsland, Ga./Camden County) will play multiple roles on the offense as well, including slot receiver. Aside from LeMay, who stands at 6-2, this group of receivers is not known for size, but rather speed and technique. Rumph will be the wideout who creates the most mismatches with opposing corners. He is not fast like Davis or Terry, but in a red-zone situation he will present a nice option.
Georgia signed only one wide receiver in the Class of 2012, and
Blake Tibbs
redshirted this season. The coaching staff knew it would have to bring in some playmakers with the next class.
To continue reading this article you must be an Insider
November, 21, 2012
11/21/12
8:48
PM ET
A day after adding a cornerback with the size coveted by secondary coach Scott Lakatos, the
Georgia Bulldogs
gained a commitment from a wide receiver with the size any college program would love to have. Juco wideout
Jonathon Rumph
, at 6-foot-5 and 215 pounds, announced his commitment to Georgia tonight at Spires Recreation Center in Cayce, S.C., his childhood stomping grounds.
"I chose Georgia because I love the atmosphere there, the fans, and how the coaching staff is filled with real people," Rumph said. "They have my best interests at heart for me in regards to my career and my path to becoming a quality young man."
Rumph chose Georgia over offers from Mississippi State, Ole Miss and Texas Tech, among others. In nine games this season, Rumph caught 44 passes for 575 yards and 3 touchdowns.
With the upcoming graduation of Georgia's
Marlon Brown
and
Tavarres King
, Rumph sees an opportunity to make an impact in Athens.
"The situation at receiver is such that I feel I can come in, work my way up the depth chart, and have a good chance at earning a starting position," Rumph said. "With my size, the pro-style scheme at Georgia is a perfect fit because it puts me in 1-on-1 matchups where I can be a big help to the offense."
He also likes the potential for success at Georgia.
November, 6, 2012
11/06/12
1:34
PM ET
Receiver
Jonathan Rumph
(Cayce, S.C./Holmes Community College) is getting close to a decision, and this past weekend the 6-foot-5, 215-pound juco wideout was in Athens, Ga., for his final official visit before he announces his commitment.
"It was a good trip and I am glad I got a chance to see the school and get a better look at Georgia," Rumph said. "What stood out was the bond that the coaches have with each other, the players, the fan base and the atmosphere, the great community in Athens."
Georgia's coaching staff was the first thing that stood out to Rumph, with his potential position coach making a solid impression.
To continue reading this article you must be an Insider
October, 11, 2012
10/11/12
7:33
PM ET
Georgia lost the commitment of an ESPN Watch List wide receiver on Thursday night when
Demarre Kitt
(Tyrone, Ga./Sandy Creek) reopened his recruitment.
"I am officially decommitted from Georgia," Kitt said. "I think I committed too early and teams are still recruiting me hard and I think I need to give them a fair chance. I talked to Coach [Tony] Ball about 15 minutes ago and he said he would let Coach [Mark] Richt know. He said he understood and that he wanted what was best for me. He said he is still going to recruit me."
The Bulldogs could still wind up signing Kitt, as he has them in his new top three.
To continue reading this article you must be an Insider
October, 9, 2012
10/09/12
11:00
AM ET
NORCROSS, Ga. -- The Alabama coaches were not joking when they sent ESPN 150 running back
Alvin Kamara
(Norcross, Ga./Norcross) 105 recruiting letters back in February. In spite of the recent commitment of ESPN 150 athlete
Derrick Henry
(Yulee, Fla./Yulee) to the Crimson Tide, Nick Saban and Kirby Smart are still pursuing Kamara.
That might surprise plenty of Georgia fans who thought that Henry's decision would send Kamara, who had named Georgia and Alabama as his leaders, straight to Athens, Ga.
[+] Enlarge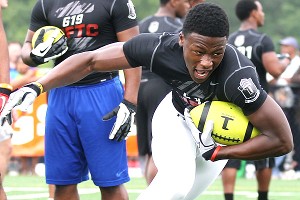 Tom Hauck for ESPN.comEven with Alabama seemingly stocked at running back, the Crimson Tide are still after Alvin Kamara.
"Coach Smart is out here tonight," Kamara said. "They are still after me as hard as when it all started. They called me after Derrick committed. Coach Smart and I talked and he said, 'You know we still want you as bad as we did before.' Bama puts guys in the NFL and the atmosphere up there is crazy. I love it. I am comfortable when I get into Tuscaloosa.
To continue reading this article you must be an Insider
October, 1, 2012
10/01/12
12:45
PM ET
Wide receiver
Krenwick Sanders
(Jesup, Ga./Wayne County) was flying under the radar when he received a scholarship offer from the Georgia coaching staff in March. Or at least Mark Richt and company were hoping that he was. But interest in the 6-foot-2, 185-pound junior has increased, as has his offer list.
"I have offers from Georgia, South Florida, North Carolina and Vanderbilt," Sanders said. "Coach Richt gave me the Georgia offer last year. He told me that he wanted to offer me a scholarship and told me to keep working and to get better."
More offers are likely on the way as Sanders took Richt's advice to heart. The tall wideout says he has improved his route-running and has caught four touchdowns so far this year.
To continue reading this article you must be an Insider
September, 27, 2012
9/27/12
9:00
AM ET
SNELLVILLE, Ga. -- Class of 2014 wideout Coray Keel (Snellville, Ga./South Gwinnett) stands out on a team loaded with receiving talent. And not just because the 6-foot-2, 185-pound junior is taller than his teammates, but because he can get vertical so quickly. Shiloh (Ga.) High School found that out the hard way last Friday when it came to town. Early in the second quarter, South Gwinnett quarterback Jordan Ramey found Keel on his way to the end zone without a defender anywhere close.
"It was blue-choice on our 40-yard line," Keel said. "It was a roll out play. The corner tried to read the flats and I just ran right by him. The safety didn't get off the hash quick enough so I just put the burners on him. The quarterback saw it and threw it in the endzone."
That scene has played out before as Keel has scored four times this season despite having to share receptions with a number of seniors. His potential has netted an offer and a lot of attention.
To continue reading this article you must be an Insider
January, 23, 2012
1/23/12
11:54
PM ET
Three-star offensive lineman
Chester Brown
(Hinesville, Ga./Bradwell Institute) will not be joining Georgia's 2012 signing class.
[+] Enlarge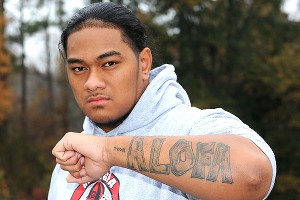 Radi Nabulsi/ESPN.comThree-star OL Chester Brown still plans to play college football, noting that he hopes the USC Trojans will consider offering.
"I decommitted from UGA," Brown told DawgNation moments ago. "It was not due to anything bad, and we were not on bad terms. We have never been on bad terms. It was all because of love. It was due to family issues and personal reasons. I still have a lot of love for the UGA family. But there were personal reasons my family was going through that I was trying to deal with. It just came down to the decision of me decommitting from Georgia. When I talked to Coach [Mark] Richt and Coach [Tony] Ball, my recruiter, they were OK with everything, considering the situation that I am going through."
Brown's decommitment from Georgia could be the most shocking news of the season so far. He has been a tireless promoter of the Bulldogs and a vocal recruiter among Georgia's remaining uncommitted targets. He even has a tattoo of the date he committed to Georgia on his left forearm. Brown did not want to discuss the family issues or personal reason that led to his decision. He still plans to play college football.
To continue reading this article you must be an Insider