NCF On The Trail:

Tim Brewster
December, 10, 2014
12/10/14
11:00
PM ET
For the longest time it looked like Alabama was going to run away with the title for the top-ranked class, but here comes Florida State. Plus, why the hype around
Josh Sweat
?
September, 4, 2014
9/04/14
11:00
PM ET
The Early Offer is RecruitingNation's regular feature, giving you a daily dose of recruiting news across the country. Today's offerings:
George Campbell
is one of the most highly sought after players in the country, but the five-star athlete will announce his decision Friday on ESPN.com's RecruitingNation. Plus, we now know when No. 5 cornerback
Tarvarus McFadden
will announce his decision, and the battle to land him involves five of the best recruiters in the country. We also continue our tour of the top recruiting happenings on social media.
To continue reading this article you must be an Insider
June, 9, 2014
6/09/14
12:00
PM ET
The ACC has come a long way in the national recruiting battles, mainly because of the quality assistants who have gravitated to ACC teams. The league's top five recruiters include veterans at Florida State, Miami, Clemson and North Carolina who have plenty of victories on the trail over the years. The rankings also feature a surprise from Tobacco Road.
To continue reading this article you must be an Insider
May, 27, 2014
5/27/14
11:00
AM ET
Tim Brewster has a reputation for being one of the nation's best recruiters, going back to his time at North Carolina, Texas and even Minnesota, when he was able to lure quality prospect to the Golden Gophers. Brewster is now in his second recruiting class as
Florida State
's recruiting coordinator, and he's played a key role in helping the Seminoles land the
No. 3 class in 2014
and get off to a
fast start with the 2015 class
.
Brewster visited with RecruitingNation to talk about what it's like to recruit when you're the defending national champion, the challenges of building for the future and other national recruiting issues.
[+] Enlarge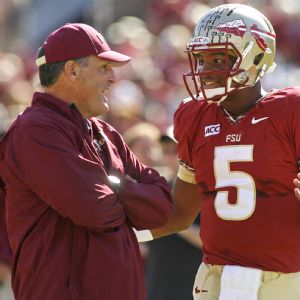 AP Photo/Phil SearsFlorida State recruiting coordinator Tim Brewster said cornerback is the biggest priority for the 2015 class.
How excited are you about the start of the 2015 class?
Tim Brewster:
It's extremely important we seize the momentum the national championship created. You're the national champion. There's one team that has that title, and that's Florida State. We need to build on that. We need to seize the moment. We need to spread our brand, and that's exactly what we're doing. At the end of the day, this 2015 recruiting class is going to go down in history as one of the great classes at Florida State. We're on an amazingly high caliber of kid in this recruiting class.
How do you juggle building the national brand without getting away from the Florida talent that helped FSU win the national title?
TB:
You'll never want to forget for one second about what made you great in the first place, and that's our home state of Florida. To us, we're the state champions in Florida. As the NFL draft dictated, far above other states, Florida produces NFL football players better than any state in America, and it's not even close. We understand very, very clearly that the best football players in America, the elite players, more than anywhere come from the state of Florida. First and foremost, we're always going to take care of the home state. We understand where our bread is buttered. The truly elite player nationally, we're going to get involved with, but we're not going to forget what made us great.
What do you see as the biggest needs that FSU needs to fill before signing day?
TB:
I would say corner for sure on defense is a big priority. Defensive tackle would be a close second, maybe defensive end. On offense, we're going to lose four out of five starting offensive linemen to graduation after this season. Last season, we had a phenomenal offensive line recruiting class, and it's just really critical to address that each and every year. We have to do well at those positions the rest of the way for our class to reach the type of success we expect.
Has the dawn of the College Football Playoff altered the way Florida State has had to recruit in any way?
TB:
I don't see it changing much of anything from a recruiting standpoint. Regardless of whether there's a playoff or whether the bowl system remains in place, you're going to need a certain amount of depth. Football is a 13-, 14-game season right now. It's not an NFL season, but it's considerable. Injuries are a big part of the game. The key is not having ups and downs in recruiting. Recruiting is a 24/7, 365-day lifestyle. It is a lifestyle. It is who you are. The minute you deviate from that lifestyle, it's going to bite you right in the ass.
In today's fast-forward world of recruiting, is the one phone call allowed in the spring evaluation period even important anymore?
TB:
It's totally changed today with social media. You're talking to kids by direct message. You're talking to kids on Facebook every week. To me, kids don't enjoy talking on the phone. Kids don't communicate on the phone. They're socially inept. I think social media has truly lessened the value of that one phone call. I don't think that one phone call means near as much today as it meant five years ago when you weren't in such direct contact with recruits on a regular basis.
Is the call then more important for the parents than the recruits?
TB:
To be honest, that one phone call is more important to speak to mom than it is the kid. I really do think that. To me, the key to the one phone call is making sure you're having a great conversation with particularly mom. My experience is that you win mom, you have a whole lot better chance to win dad and the son. So mom having a level of comfort is a key. When their baby says, "Mom, I want to go Florida State University," how does mom respond? Mom needs to be extremely positive, and the only way she's going to be positive is if you've gained her trust through the process. Recruiting mom is absolutely huge.
February, 7, 2014
2/07/14
5:30
AM ET
The Early Offer is RecruitingNation's regular feature, giving you a daily dose of recruiting in the mornings. Today's offerings: The ink was barely dry on the letters of intent for 2014 class when one of the best for the 2015 class came off the board; and what schools and recruiters have jumped out of the gate with success with players that won't sign for another 360-plus days.
To continue reading this article you must be an Insider
October, 17, 2013
10/17/13
5:30
AM ET
The Early Offer is RecruitingNation's regular feature, giving you a daily dose of recruiting in the mornings. Today's offerings: Oregon State coach Mike Riley launched a new Twitter campaign on Tuesday to help the Beavers connect with recruits across the country; LSU's
Frank Wilson
didn't make the first edition of the ESPN recruiting power rankings, but he could be leading the poll by signing day; and a question and answer session on Wednesday helped identify what topics are most important with recruiting fans today.
#SmartRecruitingTool
Oregon State coach Mike Riley has more than 18,900 followers and is great communicating with fans on Twitter. So it was no surprise to see him launch a campaign Tuesday called "Tweet Film Tuesday" where he asked recruits to send him links to their film, and he and his staffers will then select 10 recruits to evaluate each week. With only 140 characters to work with, Riley didn't explain how he and his assistants would pick the 10 recruits to evaluate, but the idea is ingenious. Not only does it help Riley and the Beaver coaches communicate with prospects in a way they're already familiar with, it also allows the OSU coaches to find prospects they might not have been familiar with who are truly interested in the program. Also with Riley's track record of uncovering hidden talent, you can all but guarantee there will be a story a few years down the road where the Beavers found a sleeper through this approach.
To continue reading this article you must be an Insider
July, 8, 2013
7/08/13
5:53
PM ET
ESPN 300 athlete
Treon Harris
(Miami/Booker T. Washington) is staying in the ACC, but he's leaving his hometown.
The 5-foot-11, 186-pound four-star prospect committed to Florida State over Miami on Monday afternoon, calling the Seminoles' coaching staff to share the news.
To continue reading this article you must be an Insider
June, 5, 2013
6/05/13
10:00
AM ET
This week's targets:
Florida State sent out a couple of new offers this week in both the 2013 and 2014 classes.
To continue reading this article you must be an Insider
May, 19, 2013
5/19/13
9:40
AM ET
Markell Pack
(Purvis, Miss./Purvis) has been high on the Seminoles board for quite a while. So when he committed to Florida State late Saturday night, it was not a surprise that the Florida State coaches were a happy group.
New assistant coach Tim Brewster was the first to get the news Sunday morning.
"I decided to do it last night and when we talked this morning, they were pretty fired up," Pack said.
During the recruiting process, it was Brewster's candid approach that really hooked Pack.
"He's just straight up with me," said Pack, who holds offers from Georgia, Ole Miss and Mississippi State amongst others.
The 6-foot-2, 175-pound receiver is versatile given his size. He'll be able to do a lot of things at the next level, whether in the slot or out wide.
And from his perspective, he thinks he'll enter the offense as a good match.
"I just really like what they've got going," he said. "I think I'll fit in great."
Pack joins J.C. Jackson (Immokalee, Fla./Immokalee), JoJo Robinson (Miami/Northwestern) and C.J. Worton (Homestead, Fla./South Dade) as the other wide receivers in Florida State's 2014 class.
Pack, who ranks as a four-star prospect, is the tenth commitment for the Seminoles in this class.
April, 1, 2013
4/01/13
11:30
AM ET
This weekend gave Florida State a chance to improve its standing with commitment
C.J. Worton
(Homestead, Fla./South Dade) amid the speculation of Miami's increased influence.
To continue reading this article you must be an Insider
March, 29, 2013
3/29/13
7:31
AM ET
James Coley's departure to Miami has already made an impact.
Joseph Yearby
(Miami/Central), a former Florida State commitment, switched to the Hurricanes since the change was made.
And now Coley is hoping it can happen again with wide receiver
C.J. Worton
(Homestead, Fla./South Dade). Miami recently offered the Florida State commitment and gave him something new to think about.
To continue reading this article you must be an Insider