NCF On The Trail:

Terrell Clinkscales
December, 9, 2013
Dec 9
2:20
PM ET
There hasn't been more pressure on a Big Ten coach this season than Bo Pelini at Nebraska.
The Cornhuskers finished the season 8-4 overall and 5-3 in the conference. After the a loss in the regular-season finale against Iowa, Pelini said, "If they want to fire me, go ahead."
He wasn't fired, but he knows that his team needs to improve for his long-term stability.
In recruiting, unless you land college-ready players, it can take a few years to develop your prospects. That timetable can be accelerated with top junior college prospects.
To continue reading this article you must be an Insider
December, 9, 2013
Dec 9
8:00
AM ET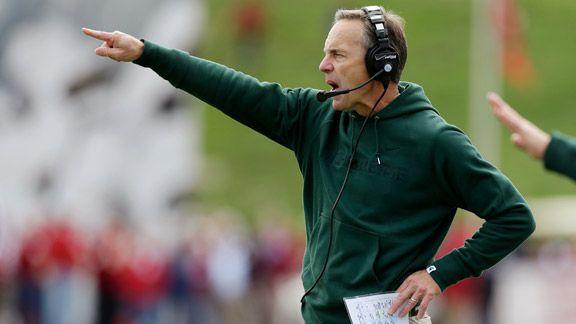 The Big Ten championship was the main focus this week, but that just gave coaches extra time to put in on the recruiting trail. Here is a look at what happened around the conference over the weekend.
To continue reading this article you must be an Insider
December, 5, 2013
Dec 5
10:30
AM ET
The Junior College signing period is almost here, and with that is the release of the
2014 JC player rankings
.
The best way to build a program is through recruiting high school prospects who can be developed in a particular program's mold and will be around for a longer period of time.
As someone who both played (Nassau) and coached (Hutchinson) at the junior college level, I have a tremendous respect for this level of football and the opportunities it can offer to young prospects and the talent it can produce. Junior colleges can provide college programs with opportunities to fill holes on their rosters with older and more experienced players while they recruit and develop high school prospects for the long term.
Junior colleges can provide a program with an impact-type player at times, the way quarterback Cam Newton was at Auburn or linebacker Lavonte David was at Nebraska. At other times and more frequently, it can provide ways for a college program to supplement and strengthen its depth chart.
Below is an overview of the 2014 crop of junior college prospects and what they have to offer for college programs.
The big catch:
The battle for the top spot came down to a pair of receivers, and it was a close call. The edge went to
D'haquille Williams
(Laplace, La./Mississippi Gulf Coast CC), a receiver with an excellent combination of size and athleticism. A current Auburn verbal, Williams is still a bit raw in areas, but he possesses great ball skills and big-play ability and is talented enough to come in and make an impact as a receiving target.
An argument for the No. 1 spot was also made for
Lavon Pearson
(Quincy, Calif./Feather River College), who is close behind at No. 2. A Tennessee verbal, Pearson is arguably a little more well-rounded as a pure receiver prospect at this point than Williams, but he doesn't possess quite the same stature or physical tools. What the fluid receiver does bring is excellent ball skills and the ability to be dangerous after the catch. Pearson could come in and have an immediate impact in a similar manner to former Volunteers receiver and juco import Cordarrelle Patterson.
Tight coverage:
It is not a particularly strong crop of secondary prospects, but a pair of talented cornerbacks lead this group and landed in the top 10.
Shattle Fenteng
(Loganville, Ga./Hutchinson CC) is the top-rated CB. He is a physical, explosive man-to-man matchup defender. A Georgia commit, he possesses the ability to mirror quicker wide receivers. Standing 6-foot-1, he also holds up against bigger targets in red-zone/jump-ball matchups.
The other top-10 defensive back is
Tee Shepard
(Fresno, Calif./Holmes Community College), likely a familiar name to many recruiting fans as he was a Notre Dame commit in the 2012 class out of high school. A corner with nice size, he displays good leaping ability and ball skills and can be a physical presence at the position.
Another cornerback outside the top 10 who we believe is worth keeping an eye on is
Danzel McDaniel
(Dodge City, Kan./Dodge City CC). A top-50 prospect, he is an aggressive, physical, tall (6-1) and athletic corner.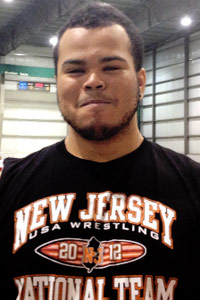 Josh Moyer/ESPNJermaine Eluemunor, the top-ranked juco offensive guard, is committed to Texas A&M.
Think big:
The strength of this 2014 junior college class is within the trenches as the offensive and defensive lines are the deepest group. A dozen offensive linemen landed in the top 50, including six in the top 20. The group is led by two offensive tackles and top-10 overall prospects in 6-6, 310-pound
Dominick Jackson
(San Mateo, Calif./College of San Mateo) and
Chad Mavety
(Garden City, N.Y./Nassau CC). Jackson, an Alabama verbal, brings good size, strength and agility and can offer some versatility as well. Mavety needs some polish but is a big tackle prospect (6-6, 320) with the tools to be a good, well-rounded OT and come in and contribute to a program.
Jordan Prestwood
(Tampa, Fla./Arizona Western) is a name that probably rings a bell to recruiting fans as he was a promising prospect in the 2011 class and bounced around some before landing in junior college. A good athlete for his size (6-6, 315), he has grown and gained some experience as he transitions back to the FBS level. The guard position features a pair of Lackawanna College teammates in
Jermaine Eluemunor
and
Jarell Broxton
. Eluemunor (6-6, 300), who is committed to Texas A&M, could contribute at offensive tackle, though we believe his best fit will be at guard. Broxton (6-5, 328) is a big man we believe is a bit underrated in this juco class. He is a nice pickup for Baylor.
The largest group represented is the defensive tackles, with 15 in the top 50. Three defensive tackles are among the top 10, including Tennessee verbal
DaVonte Lambert
(Milledgeville, Ga./Georgia Military College), a tough and disruptive player.
Dalvon Stuckey
(DeFuniak Springs, Fla./Pearl River CC) was a promising prospect coming out in the 2012 class and remains one as an active defensive tackle. One of the more interesting prospects in this class is
Alfonso Hampton
(Chula Vista, Calif./Southwestern College). Someone to keep an eye on, he didn't play football in high school and is a bit of an underrated prospect, but he possesses a nice combination of size, strength and agility and displays promising upside. Recent Nebraska verbal
Terrell Clinkscales
(Dodge City, Kan./Dodge City CC) brings very good size (6-3, 315) and strength to the trenches.
The defensive end group is not as strong as the interior group, but some good talent can be found, led by Oregon verbal
Tui Talia
(Pleasant Hill, Calif./Diablo Valley) and
D.J. Pettway
(Pensacola, Fla./East Mississippi).
An interesting prospect in this group is jumbo athlete
Jeremy Liggins
(Oxford, Miss./Northwest Mississippi). With an excellent blend of size (6-4, 285) and athleticism, he has played quarterback in both high school and junior college, but we believe his best long-term fit is along the defensive line. Listed as an athlete, he could contribute in more than one way, though his lack of focus at one position could be a bit of a concern.
Empty backfield:
While we believe there are some good prospects to be found on the perimeter offensively, this is not a strong group for those looking for some help in the backfield.
At quarterback, we don't see another Cam Newton, Zach Mettenberger or Nick Marshall in this group and no quarterbacks landed in the top 50.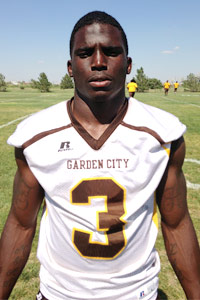 Jeremy Crabtree/ESPNVersatile athlete Tyreek Hill is committed to Oklahoma State.
The running back position is slightly stronger, but only one player, Ole Miss verbal
Akeem Judd
(Milledgeville, Ga./Georgia Military College), is ranked among the top 50. Sitting just outside the top 50 is
De'Chavon Hayes
(Richmond, Va./Lackawanna College), a good all-purpose back who flashes big-play ability. Listed in the athlete category but capable of making a play in more than one way offensively -- including out of the backfield -- is
Tyreek Hill
(Garden City, Kan./Garden City CC). An Oklahoma State verbal, Hill is ranked No. 4 overall and can be an explosive weapon with his speed, ability to make defenders miss and ball skills. He is capable of making plays as a running back, wide receiver and in the return game.
Look beyond:
The ESPN JC 50 represents the top prospects in the class, but there are also some promising prospects beyond the top 50.
Geronimo Allison
(Council Bluffs, Iowa/Iowa Western CC) is a tall receiver who can win foot races and make plays.
Dominique Robertson
(Riverside, Calif./Riverside CC) is a physical and nasty offensive tackle who landed just outside the top 50.
David Moala
(Norwalk, Calif./Cerritos College) is a wide-bodied and surprisingly agile defensive tackle who can be a disruptive presence.
These are just a few of the prospects who didn't make the top 50 but can still help an FBS program. You can look at the
Recruiting Nation database
for evaluations of more than 100 juco prospects.
December, 3, 2013
Dec 3
4:30
PM ET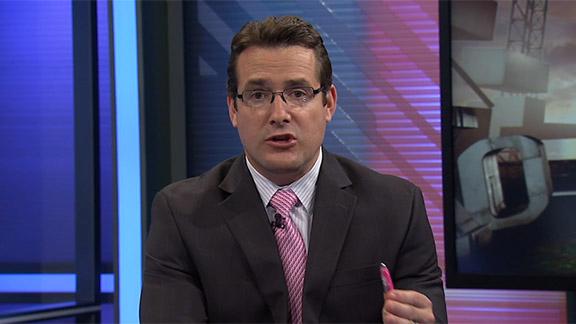 Junior-college prospects are often an outstanding way for programs to fill their rosters. Because of the experience the prospects have with a higher level of play, they can immediately help at positions of need.
Big Ten schools are after plenty of juco prospects to round out the remainder of the Class of 2014. With the
2014 ESPN Junior College 50
rankings releasing today, here is a look at five junior-college targets for the conference.
OL Chad Mavety
Garden City, N.Y./Nassau community college
ESPN JC 50 ranking: No. 8
To continue reading this article you must be an Insider
December, 2, 2013
Dec 2
8:00
AM ET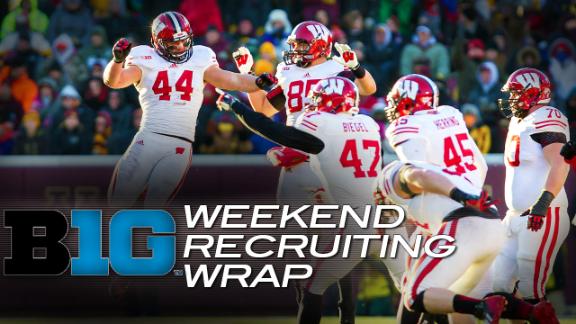 This was the final week of regulation for Big Ten teams, so naturally it meant one last push with visiting prospects. A few teams hit big over the weekend and a few are still left with questions.
Here is a look at what happened over the weekend within the conference.
To continue reading this article you must be an Insider
December, 1, 2013
Dec 1
7:20
PM ET
Nebraska didn't finish the season how it wanted after
losing to Iowa
on Friday, but that hasn't stopped the good news on the recruiting trail.
To continue reading this article you must be an Insider
October, 9, 2013
Oct 9
2:00
PM ET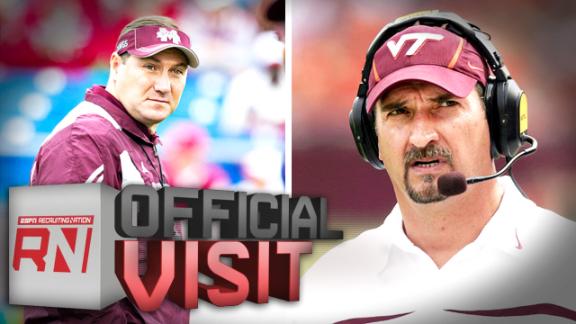 Each Wednesday, ESPN RecruitingNation updates its
national class rankings
. For an in-depth look at the Big 12 conference, check out our conference rankings:

1. Texas, 24 commits:
The Longhorns check in at No. 7 in the RecruitingNation class rankings with the headliners being No. 79 overall
Derick Roberson
(San Antonio, Texas/Williams J. Brennan High), No. 119
Armanti Foreman
(Texas City, Texas/Texas City High) and No. 138
Jerrod Heard
(Denton, Texas/John H. Guyer High). Texas, which currently has seven ESPN300 commits, has its sights set on No. 31 overall
Solomon Thomas
(Coppell, Texas/Coppell High), No. 13
Tony Brown
(Beaumont, Texas/Ozen High) and No. 25
Jamal Adams
(Lewiville, Texas/Hebron High).
To continue reading this article you must be an Insider
October, 8, 2013
Oct 8
8:00
AM ET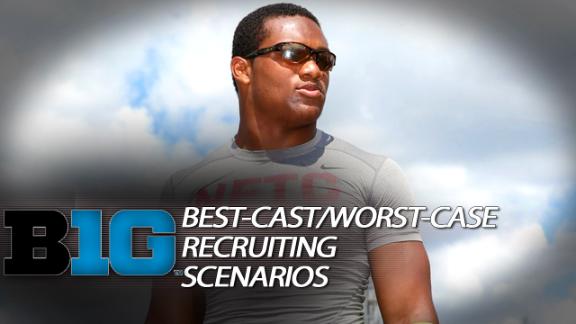 There are still a ton of prospects on the board for Big Ten teams, so conference recruiting reporters Tom VanHaaren and Brad Bournival take a look at the best and worst case scenarios remaining for each team.

Illinois
Best-case scenario:
Illinois picked up an offensive line commit on Monday with
Peter Cvijanovic
(Great Barrington, Mass./East Coast Prep), which gives the Illini two offensive line commits. Despite having four wide receiver commits on board, it looks like the staff would take another receiver in this class.
To continue reading this article you must be an Insider
September, 27, 2013
Sep 27
11:00
AM ET
By
Brad Bournival & Tom VanHaaren
| ESPN.com
It's time to dip into the Big Ten recruiting mailbag and answer some of your questions. We'll try to give everyone a chance to get their questions answered. We encourage you to send your questions by Twitter to
@bbournival
or
@TomVH
.
@JUSTINSMITH78: With the scholarships coming back to Penn State. Where do you think they stand this year with some kids?
Brad Bournival:
Targets like three-star
Mike Gesicki
(Manahawkin, N.J./Southern Regional) said it best following the announcement of the reduction of the scholarships when he talked about being happy for Penn State, but stated he always considered the Nittany Lions a destination. The feeling here is it won't affect the 2014 class that much as it will next year. The father of ESPN Junior 300 wide receiver
David Dowell
(Lakewood, Ohio/St. Edward) and his twin Andrew has said the fact scholarships will be up 20 percent will only help moving forward.
[+] Enlarge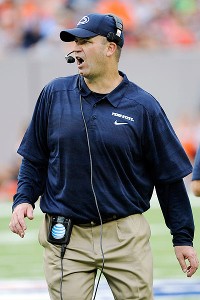 AP Photo/Bill KostrounGood news from the NCAA could lead to a recruiting windfall for Bill O'Brien and Penn State.
@PSUlions1121 How much does the reduction in sanctions for Penn State help them with recruiting?
Tom VanHaaren:
There are two sides of this, the short term and the long term.
In the short term it's great because it allows the Nittany Lions to potentially add five more prospects to the 2014 class. They can offer and pursue kids they might not have gone after with the scholarship reductions and it gives them a little more wiggle room.
In the long run it's outstanding because the potential hit to the depth chart is lowered drastically. Having a limit in scholarships doesn't necessarily affect the team right away, but once they get a few recruiting classes deep with limited numbers it starts to show its impact. Avoiding that is the biggest advantage.
@dannograef: How big is the gap in recruiting between the Big Ten and SEC right now?
Bournival:
It's still pretty large. One look at the top 25 in this year's class rankings shows seven SEC teams with Alabama (No. 1), Tennessee (3) and Georgia (5) in the top five. The Big Ten only has Michigan (No. 6), Ohio State (9) and Penn State (25) in the top 25.
The quality of athlete is still stronger in the SEC. Alabama (14), Tennessee (10), Georgia (9), Florida (9), Texas A&M (9), LSU (9) and Auburn (7) account for 67 ESPN 300 commitments. While Michigan (9), Ohio State (7) and Penn State (3) are doing well, the entire Big Ten Conference only has 24 in the top 300 and that doesn't even count the number of four-star athletes both conferences boast, which again weighs heavily in the SEC's favor.
@UofMKirwin12 What happens first, Michigan moves up in class rankings with a commit or moves down with commits elsewhere. The Wolverines have been at No. 6 for a while now.
VanHaaren:
Good question. I think they will move up before moving down. Da'Shawn Hand (Woodbridge, Va./Woodbridge) is announcing his decision on Nov. 14. Michigan is in his top three with Alabama and Florida and there is a realistic shot that the Wolverines land him.
If he does end up picking Michigan, it will be the only team with two top-five commits in the 2014 class. Hand, at No. 4 overall, would make two five-star commits along with
Jabrill Peppers
(Paramus, N.J./Paramus Catholic) and that would give them a boost.
@buckeyefan686: You've been right on the money with predicting the last Ohio State commits, so who and when do you predict is the next one?
Bournival:
For me all signs point to Gesicki, but with some underlying factors. First, the Buckeyes' commitments have to make him feel welcome this weekend -- they're very good at that, by the way -- and really make him feel like family. After that, Ohio State will have to survive a visit to Penn State on Oct. 12 when the Nittany Lions play Michigan. Both atmospheres will be lively, but I think the Buckeyes can sell the three-star tight end on coming to Columbus.
@MikeBelik1: Any jucos that can make a splash next year in the Big Ten?
VanHaaren:
Illinois is losing four wide receivers after this season, so it was highly important that the coaching staff filled that need. They landed some good looking receiver prospects including juco receiver
Tyrin Stone-Davis
(Philadelphia/Pierce College). He has good size and should be able to help right away.
Indiana landed a good looking offensive line prospect in
DeAndre Herron
(Avon, Ind./Iowa Western Community College), who was a big recruit out of high school. He might not play right away since the Hoosiers have a relatively young line, but he should eventually see the field.
A few uncommitted prospects who could end up in the Big Ten include offensive lineman
Luke Hayes
(El Dorado, Kan./Butler County Community College) and defensive linemen
Terrell Clinkscales
(Dodge City, Kan./Dodge City Community College) and
Joe Keels
(Highland, Kan./Highland Community College).
September, 3, 2013
Sep 3
7:42
AM ET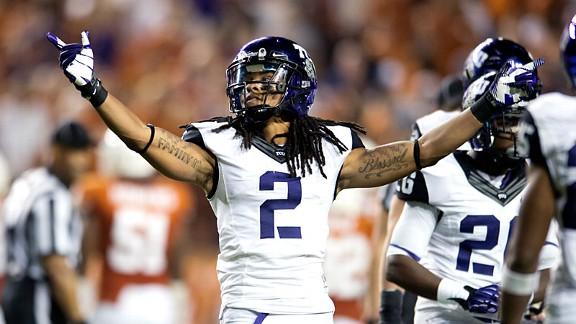 What's the most critical position in the Big 12? It depends on who you talk to. In a conference that rides its offensive reputation, some coaches are hoping to land players that will help them score points, while others are looking for the prospects to prevent points.
As official visits become finalized and uncommitted players get closer to announcing their commitments, here is a look at some of the most critical positions in recruiting for the Big 12 teams.
To continue reading this article you must be an Insider