NCF On The Trail:

Ryan Shazier
September, 20, 2013
9/20/13
11:00
AM ET
By
Brad Bournival & Tom VanHaaren
| ESPN.com
It's time to dip into the Big Ten recruiting mailbag and answer some of your questions. We'll try to give everyone a chance to get their questions answered. We encourage you to send your questions by Twitter to
@bbournival
or
@TomVH
.
@buckeyefan686
:
With so many wide receiver/athlete commitments in the last two years, where does Braxton Berrios stand with Ohio State and vice versa?
Brad Bournival:
More than likely, the four-star wide receiver is on the outside looking in. The fact the Buckeyes have so many players who can play the slot position leaves Berrios in a tight situation. The four-star wide receiver has been on official visits to Oregon, Miami and South Carolina already. He's got one more lined up for Tennessee on Oct. 4 and wants to make his decision a few weeks after that.
At this point, I would scratch Ohio State off the list unless the Buckeyes can talk the 5-foot-9, 181-pound Berrios into taking a greyshirt year.
---
[+] Enlarge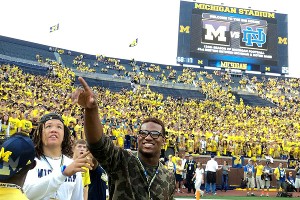 Courtesy John HarrisDa'Shawn Hand loved his trip to Michigan, but what would the Wolverines do if he decided to go elsewhere?
@Kaylen2009: If Michigan misses out on Da'Shawn Hand and Malik McDowell, is there a backup plan or with they save those scholarships for 2015?
Tom VanHaaren:
I think they need help along the defensive line, so if they miss on those two it would probably behoove them to look for help.
I don't think your scenario is very likely. I think Michigan will land those two, but anything can happen in recruiting. Hand had to change his visit schedules, which I believe helps Michigan even more. He has never been out to Florida and won't have much time to really digest his visit from that time until he decides.
If Hand were to choose a different school, Michigan is still technically in the top group with
Garrett Dickerson
(Oradell, N.J/Bergen Catholic). He has Stanford No. 1 and Northwestern in there, too, so he's not likely. That late in the game the coaching staff would likely have to evaluate some prospects and reach out to prospects to gauge interest before figuring out who to target.
It just doesn't seem likely, though, at this rate, that they will miss on those two.
---
@shermez07: Are the Penn State misses on potential pledges due to the sanctions or just normal recruiting reasons (playing time, coaching staff, etc.)?
Bournival:
With only 65 scholarships things can be tough in the recruiting world and it would be silly not to think the sanctions haven't played a role in the decision-making process.
Bowl games aren't just big business for colleges, they're a measuring stick for players as well. The fact the Nittany Lions are still dealing with that issue makes it a hard sell, although that part of the penalty becomes easier and easier with each class.
That said Bill O'Brien hasn't completely whiffed with the two classes he's been in charge of so far.
This year he grabbed ESPN 300 athlete
De'Andre Thompkins
(Swansboro, N.C./Swansboro), quarterback
Michael O'Connor
(Bradenton, Fla./IMG Academy) and wide receiver
Chris Godwin
(Middletown, Del./Middletown). In the 2013 class, quarterback
Christian Hackenberg
(Fork Union, Va./Fork Union Military Academy), tight end
Adam Breneman
(Camp Hill, Pa., Cedar Cliff) and offensive guard
Brendan Mahon
(Randolph, N.J./Randolph) were big gets.
---
@Cyan220 What is the feeling regarding Northwestern? Are they likely to get Parrker Westphal, Dickerson or Brandon Lee?
VanHaaren:
Linebacker Brandon Lee (Indianapolis/Lawrence Central) cancelled his visit to Northwestern on Thursday night. He tweeted that he wouldn't be taking any questions as to why he cancelled the visit either.
That's rather strange since he had been planning to take that trip on Wednesday. There is obviously more to this story, so it will be interesting to see what ends up happening.
The Wildcats do have a shot with Westphal and Dickerson, but it might be safe to say that Stanford leads for Dickerson. He has ties to Northwestern, so there is still a chance.
Westphal is a closed book as far as what he's thinking and what might be next. He and his family do that on purpose, so it's a guess as to where he ends up. Northwestern and Vanderbilt were thought to be the leaders for Westphal, but Michigan State might sneak in there as well.
---
l.fousie@sbcglobal.net: With the addition of Noah Brown to Ohio State's 2014 class, do they still have room for Marshon Lattimore? I have been reading they only have 18 spots for 2014, they have interest/needs in the offensive and defensive line, and they now have 18 commits. Do you think this helps Michigan's chances with Lattimore and do the Wolverines have room with the potential for Hand and McDowell added to this class?
Bournival:
Ohio State's max right now is 18, but remember that number is fluid and should the likes of
Devin Smith
,
Bradley Roby
and
Ryan Shazier
decide to go pro at the end of the season, numbers open back up. The number of scholarship athletes can change from one day to the next, so the Buckeyes would make room for someone like Lattimore.
While Ohio State does need offensive linemen, the Buckeyes are loaded at defensive line, so that part of the equation really doesn't apply. Many insiders believe it's only a matter of time before Lattimore says yes to Ohio State. Cleveland Glenville athletes are hard to pull away from the Buckeyes, so it would be an extreme uphill battle to land him. That could change if there's an official visit lined up to Ann Arbor, but for right now things lean towards Ohio State.
August, 29, 2013
8/29/13
12:30
PM ET
Want to ask ESPN RecruitingNation senior analyst Tom Luginbill a question about your team? Tweet it to @TomLuginbill using the hashtag #AskLoogs.
@TomLuginbill @RecruitingESPN after his showing @TheOpening2014 don't you think Curtis Samuel needs a bump? #AskLoogs #BuckeyeNation

— Alpo (@alpodev25) August 21, 2013
The commitment of
Curtis Samuel
and the placement of Ohio State in our class rankings have been hot topics on Twitter lately, so let's hit them head on.
First, let's talk about Samuel, who we have as the nation's No. 51 wide receiver. Camps and combines are a supplement to film study. They can enhance a prospect's worth, give cause for concern or, in many instances, confirm what we already thought. We'll be the first to admit that when it comes to position rankings, the difference between No. 23 and No. 50 can be negligible. Once you get past the top five-to-seven guys, it's debatable.
Curtis Samuel is a very gifted athlete, a four-star player. Could he be in the ESPN 300? Sure. Are there 20-30 guys better than him? Maybe, maybe not. It's an inexact science. But those clamoring for a five-star rating are those who believe there are 30-to-50 five-star recruits in every class, which is ludicrous. If that were true, there'd be 20 true freshmen a year making an immediate impact at BCS programs. We have always been very cautious with grading too high. Leave some room for upside and development to occur. If you over-grade, you have no room for a player to exceed expectations. You have nowhere to go but down. By under-grading, you give yourself a cushion. If we are going to be wrong on a guy, be wrong low, not high. Samuel is very fast, but also straight-lined. He sticks out like a sore thumb against this level of competition. Yes, he had a nice showing at The Opening, but we are taking a slower approach. It's a long time until national signing day, with lots of football to be played.
As fans, whether it's at Ohio State or anywhere else, it can be tough to understand and see things through an objective lens. However, we did not have a single Ohio State fan ask a question about Curtis Samuel in terms of where he was ranked until he committed to the Buckeyes. In fairness to Ohio State, if Samuel had committed to a different school, we would expect those fans to do the same—it's human nature. Fans want to compare rankings and why one entity has a guy here or there and another is different. Keep in mind, different doesn't necessarily mean wrong. It's not our job to be liked. We know we will not please everyone. Was it popular when we had Trent Richardson ranked ahead of Bryce Brown? Nope. We thought QB Star Jackson who signed with Alabama was going to be huge flop and that backlash was harsh. Again, different isn't always wrong.
I visit schools all across the nation (Ohio State included), sit in their meetings, visit with their staffs, look at their boards and no matter where I go, the boards generally all have the same premier players on it, but rarely in the same order. As fans, you would be surprised to see where players you perceive as the best are actually at on the board, regardless of what someone on the internet says. Sure, a guy may have an offer, but he might be the sixth or eighth guy they would take if they had their druthers. Offers rarely reflect priority.
I'll leave you Ohio State fans with this: There were three players we had ranked, evaluated and graded with BCS-level grades coming out and some other services didn't even have them ranked or give them a star rating --
Ryan Shazier
,
Bradley Roby
and Johnathan Hankins all turned out to be pretty darn good players, right?
It's a long process, full of further evaluation opportunities along the way. It's not a vendetta, it's not a conspiracy, it's just an opinion based off what we feel and see with the understanding that there are no guarantees.
May, 29, 2013
5/29/13
10:53
AM ET
BuckeyeNation continues to hit the road in search of budding Division I talent that should catch the eyes of Ohio State fans. Here's what we came up with this week:

This week's targets:
BuckeyeNation swung out to the Youngstown, Ohio, area and took a good look at Hubbard and Warren Harding high schools. While there, we talked to offensive guard
Matt Jones
and running back
Larry "LJ" Scott
of Hubbard. Both are Buckeyes targets as sophomores. Harding is the home of Denmark sensation
Hjalte Froholdt
and Ohio State legacy
James Daniels
, whose father LeShun Daniels Sr. played offensive guard for the Buckeyes in the 1990s. One other interesting note about Daniels is that his brother
LeShun Daniels Jr.
signed a letter of intent to play for Iowa this February.
Vividly Virginia:
The Buckeyes made it abundantly clear last week that Virginia was fertile recruiting ground. Ohio State long has had offers out to
Da'Shawn Hand
(Woodbridge/Woodbridge),
Andrew Brown
(Chesapeake/Oscar Frommel Smith) and
Quin Blanding
(Virginia Beach/Bayside), but last Wednesday the Buckeyes offered five Virginians in rapid fashion. The offers went out to outside linebacker
Ricky DeBerry
(Richmond, St. Christophers), cornerback
Garrett Taylor
(Richmond, St. Christophers), wide receiver
Scott Bracey
(Richmond/Benedictine School), wide receiver
Jaason Lewis
(Virginia Beach/Ocean Lakes) and inside linebacker
Jahvoni Simmons
(Virginia Beach/Ocean Lakes).
February, 13, 2013
2/13/13
5:32
PM ET