NCF On The Trail:

Russell Okung
May, 16, 2014
5/16/14
9:00
AM ET
Days after the NFL draft, some Texas Longhorns fans still scratch their heads in disbelief. How a celebrated college football program -- one with decorated, award-winning athletes -- have zero players drafted into the NFL?
For the first time since before World War II, a Longhorn wasn't selected in the draft. It became national news, and it's news that no program wants to have attached to it, let alone one of the nation's most established programs. When Memphis safety
Lonnie Ballentine
was selected by the Houston Texans as the 256
th
pick -- the last pick of the seven-round draft -- it opened the floodgates for barbs thrown by Texas antagonists.
What the draft ineffectiveness failed to do, however, was steer recruits -- committed and uncommitted -- away from the program's future. If anything, it's drawn some closer to the vision of new coach Charlie Strong and his staff.
"Some people are taking it all over the top," uncommitted ESPN 300 linebacker
Malik Jefferson
said. "Those weren't Charlie's people; he didn't develop any of those kids. Why would people want to change their minds off going to a great school like Texas because of something they couldn't control?"
[+] Enlarge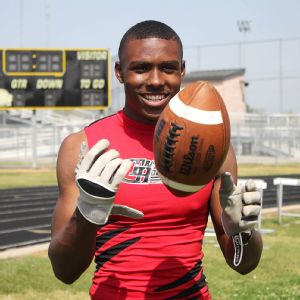 Sam Khan Jr./ESPNKendall Sheffield, the top-ranked player in Texas, said the fact the Longhorns had no draft picks has no bearing on his recruitment.
The draft has forced recruits to answer questions some might feel are slightly unnecessary:
"Will the draft affect your thoughts on Texas?"
"Can you trust the Longhorns to groom you into a pro-ready athlete after college?"
"Do you want to be a part of the laughingstock of college football?"
ESPN 300 cornerback
Kendall Sheffield
has had to answer some of these questions this week. The top-ranked player in Texas, Sheffield said he still has the Longhorns high on a list of several schools, a list that includes Texas A&M, Alabama, Baylor, Florida State, LSU, Oklahoma, Oregon and USC.
Sheffield admitted to being shocked that the Longhorns didn't have a draft pick, but to look at the program with a side eye -- particularly with a new coach in charge -- is something that never crossed his mind.
"I don't know if it plays a role in recruiting. I mean, they've still got to rebuild," Sheffield said. "I know they're going to still get some big recruits in. For me, I'm going to find the school that's the best fit for me and the place I feel has the best position coach. The draft won't have nothing to do with it."
Jefferson, believed to have Texas high on his list along with Texas A&M, Baylor, Alabama and others, reminded people that while the Longhorns went without a drafted player, Strong's former team at Louisville had three first-round picks in safety
Calvin Pryor
(No. 18 overall to the Jets), defensive end
Marcus Smith
(No. 26, Eagles) and quarterback
Teddy Bridgewater
(No. 32, Vikings).
"He knows what he's doing," Jefferson said of Strong.
During the Mack Brown era, 58 Longhorns were drafted. Safety
Kenny Vaccaro
was a first-round pick by the Saints last year. Receiver/return specialist
Marquise Goodwin
(Bills) and defensive end
Alex Okafor
(Cardinals) were selected in the third and fourth rounds in 2013.
This year's crop of undrafted talent included defensive end
Jackson Jeffcoat
and receiver
Mike Davis
. Jeffcoat was the Big 12 Defensive Player of the Year and the Ted Hendricks Award recipient, recognizing the nation's top defensive end. Davis caught 200 passes in his college career and is one of only four players in school history with 200 or more receptions.
Jeffcoat and Davis, as well as other Longhorns, signed with NFL teams as undrafted free agents, which is another reason why recruits aren't worried about the draft results. ESPN 300 offensive lineman
Patrick Vahe
-- who committed to Texas during the Brown era and chose to stay committed under Strong -- believes the draft is in full control of a player and not the coach.
Texas' ability to produce NFL offensive linemen has been sliding in recent years. The Longhorns haven't had an offensive lineman drafted since tackle
Tony Hills
in 2008. To assist in further developing linemen, Strong hired former Oklahoma State coach Joe Wickline, who coached NFL linemen
Russell Okung
,
Corey Hilliard
and
Charlie Johnson
at the college level. Okung is fresh off winning a Super Bowl with the Seahawks.
Vahe said he'll worry about being a pro athlete when that time comes. Right now, he's focused on being the best college athlete possible, and the 2014 draft isn't weighing on his decision.
"I think I can learn a lot from [Wickline]." Vahe said. "We talked about his game plan, and I'm putting a lot of trust with him. The rest of it … I think people are just taking it over the top."
Todd Dodge, head coach at Austin Westlake High School, former head coach at North Texas and a former quarterback for the Longhorns, said a draft should never have an effect on a recruit's decision.
Dodge played at Texas from 1982-85. In that span, he saw several teammates drafted, including first-round cornerbacks Mossy Cade and Jerry Gray. The 1984 draft class featured 17 Longhorns.
Not having a draftee was an eye-opener, Dodge said, but it shouldn't be a discussion piece in relation to Texas' recruiting -- particularly with the changing of the guard at head coach.
"If Coach Strong and his staff are on the road making their rounds and people are using common sense, they'll judge them by what they see," Dodge said. "Texas has always been in the hunt for great players in the state of Texas. If there's any doubt, you can always point to the players drafted from Louisville. Coach Strong has a track record that's proven."
As for the jokes from rival schools, Vahe understands that they come will with the territory, whether the program goes winless or earns a BCS championship. He also understands that the way to silence some of the jokes is by producing in practices and games and later during NFL combines and workouts. He believes a change for the better is near for the program.
"People love to talk, but it's nothing big, really," Vahe said. "I know [Strong] just got there, and they're all going to start a new era. Hopefully I'll be one of those who helps start the new era."
January, 8, 2014
1/08/14
2:00
PM ET
Charlie Strong's arrival at the University of Texas is going to change the Big 12.
The on-field impact of the former Louisville coach's arrival in Austin remains to be seen, but he will undoubtedly change the landscape of the conference. His words during his introductory news conference should put fear into the heart of two Big 12 teams in particular.
"Let's not get caught up in the five stars; let's not get caught up in the four stars," Strong said Monday. "Let's get caught up in the football players."
The Longhorns' new head coach went on to speak of American Athletic Conference Defensive Player of the Year
Marcus Smith
, who was a quarterback when Strong recruited him to Louisville, yet recorded 14.5 sacks and 18.5 tackles for loss as a defensive end in 2013. His words should be music to the ears of Longhorns fans, as recruiting has not been the problem in recent years at Texas. Poor evaluation and player development has been one of the biggest contributors to the program's slide.
[+] Enlarge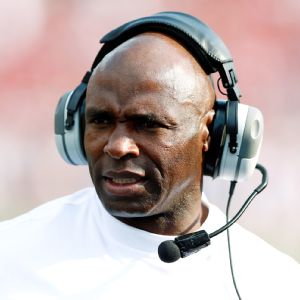 Joe Robbins/Getty ImagesCharlie Strong says his staff won't get caught up in recruiting rankings, which is a philosophy employed by a few Big 12 rivals.
Largely by taking advantage of those struggles, Oklahoma State and Baylor sat alongside the Longhorns in the Big 12 title race heading into the final weekend of the regular season and seem poised to be the teams most impacted by Strong's arrival. Oklahoma State and Baylor each went 3-2 against the Longhorns during the past five seasons after combining to go winless in 10 games against Texas in the previous five years. Their rise has had a direct correlation to the Longhorns' decline.
The biggest impact on those two teams could come on the recruiting trail. If Strong's priority is evaluation and development, as he contends, that's a shot across the bow to Oklahoma State and Baylor, two programs that have built their success upon their ability to better evaluate and develop their recruits. Those two schools featured 162 combined players from Texas and combined for 21 victories in 2013.
Running back Kendall Hunter, cornerback Justin Gilbert and tackle Russell Okung are just of few of the overlooked Texans that Oklahoma State pounced on. They had NFL-level talent and built the Cowboys into a Big 12 title contender. We all know about Heisman Trophy winner Robert Griffin III and his journey to Baylor, but receiver Kendall Wright -- an NFL first-round pick -- and guard
Cyril Richardson
-- a 2013 Lombardi Finalist -- have been key contributors to the Bears' rise. They each were overlooked by the Longhorns.
While Strong's arrival could make it harder for Oklahoma State and Baylor to repeat their Big 12 championship runs of recent years, both schools have created enough momentum that they could still consistently compete for Big 12 titles regardless of how well Strong does in Austin.
Of all the Big 12 teams, Strong's hire should have the least impact on Oklahoma. The Sooners are a tradition-rich program with the ability to compete for championships regardless of their surroundings. OU's 5-5 record against UT since 2005 is second only to Kansas State (5-1 in six meetings). And the Sooners should have no problem recruiting in Texas against Strong's Longhorns program, particularly with the stability head coach Bob Stoops brings to the program.
The rest of the Big 12 schools are less likely to be dramatically altered.
TCU and Texas Tech have combined to beat Texas once in the past five seasons, with the Horned Frogs' 20-13 victory in 2012 as the lone triumph. Although both schools are similar to Baylor and Oklahoma State in their ability to turn hidden gems into productive players, they haven't turned that into consistent on-field success against the Longhorns in a way the other two schools have, although TCU has only played UT twice during that five-year span. The impact on their recruiting will be similar to Oklahoma State and Baylor, but on a lower level as neither school can tout a Big 12 title as proof of their success when trying to land those hidden gems.
Kansas State, Kansas, West Virginia and Iowa State should see their biggest impact on the field, as their brushes with the Longhorns on the recruiting trail are few and far between.