NCF On The Trail:

Robert Griffin III
September, 24, 2014
9/24/14
11:00
PM ET
A rival recruiter believes Kevin Sumlin's not-so-subtle message to former Texas A&M pledge
DaMarkus Lodge
could come back to haunt the Aggies. Plus, one of Florida's top defensive commitments appears to be looking around.
June, 12, 2014
6/12/14
9:00
AM ET
When talking about the top young assistant coaches in college football, the name Kendal Briles continues to pop up. The son of
Baylor
coach Art Briles, Kendal has quickly earned the reputation as one of the top recruiters in the state of Texas and in the Big 12. Briles, who is the passing-game coordinator and offensive recruiting coordinator for the Bears, visited with RecruitingNation to talk about the difference in recruiting at Baylor now versus when his father's staff arrived, the emergence of BU as a regional power, and the future of recruiting.
[+] Enlarge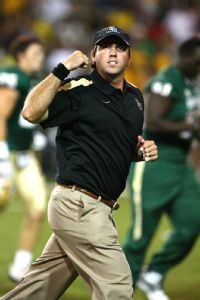 Matt Pearce/Icon SMIBaylor assistant coach Kendal Briles says the Bears only have "about four scholarships left" to give out in the Class of 2015.
When Art Briles got to Baylor, the Bears were 31-94 in the previous 11 seasons. Fast forward and Baylor has won 29 games in the last three seasons. How different is it walking into high schools to recruit versus when you guys arrived in Waco?
Kendal Briles:
Just completely different. It's really just the confidence of being a coach walking in a school and having 'BU' on your chest. It's a totally different image now than when we got here. Texas high school coaches respect what we have done here, and Art Briles being successful here has a lot of people excited and they respect what we have done here. I see a lot of Baylor shirts walking through high school now, which is great.
While anyone paying attention would know Baylor was headed in the right direction in 2010, was it Robert Griffin III winning the Heisman Trophy that really put the building of the program back on the map?
KB:
I think it was not only that, but the way he did it with the flair. He wasn't just a pocket guy who was real productive. There was a lot of flair with him, the offense we ran and the way he did it just being so dynamic and doing things with the football no one else can do ... that personality and style of our offense made it real intriguing for guys to see. Him winning the Heisman was a huge deal, beating Oklahoma at home and beating Texas later that year ... all those things added together, you can't say enough what those things did for our program.
Colleges often time have a former player that resonates and influences youths around the country. Do you see that with Robert Griffin III in Texas?
KB:
One hundred percent. That is the name I hear more than any other. I get kids telling me tell RGIII 'What's up?' I get things like that all the time.
When Art Briles took the Baylor job, you guys had goals that needed check marks. What did winning the Big 12 and going to a BCS Bowl do for the program from a recruiting perspective?
KB:
It's helped tremendously, and with the new stadium we are building right now. To be able to do something that is a reality, and not just that we are going to build a stadium is big. You can see [the stadium] right here on I-35, people are seeing pictures of it and all those things are big. Where we are at this year is the last three years we have had three different starting quarterbacks and to be able to keep growing as a program has been big. It was 'after RGIII is gone, Baylor will go back to the doormat,' then Nick Florence comes in and leads America in offense, then he is gone and then
Bryce Petty
comes in and what he did last year, so it shows you that we have a real football team.
You mentioned the new stadium set to open this season. Today's college football recruiting world continues to be an arms race and doesn't have the appearance of slowing down. Do the fans and media overplay the importance of facilities?
KB:
No, it's a huge deal. It's imperative if you are going to recruit on the highest level to have as good or better facilities as others. You have to be on a competitive playing field. Everybody was using our stadium against us saying, 'Baylor doesn't even have a stadium on campus' and stuff, and now we are on campus. You have to be very proactive with facilities nowadays without a doubt.
There is growing chatter about the need for an early signing period. Is that a subject that has been talked about in the Baylor football offices?
KB:
To be honest with you, we haven't discussed it all as a staff. I see the good and bad of it. The thing about it is when someone comes up with a new rule, everybody is on the same playing surface. Everyone has their strategies, you figure out what is going to be best for the Baylor Bears, then you go attack it and recruit. You can find negatives and positives with everything. For us, it really doesn't matter. However they lay it out, we will go out and play.
On that same topic, official visits for prospects in the spring of junior year is being tossed about with the costs of unofficial visits and the process becoming earlier and earlier. What are your thoughts on that possibility down the line?
KB:
For us, I wouldn't want that. We are in central Texas, we recruit Texas, so all these kids we are recruiting are three hours away and can always get to us. If they start flying all over the country, it kind of gives those schools an unrealistic advantage because kids can think 'This is great, I can just fly out here,' but that is not really reality because it costs money once you are at a far away school. I just think that I wouldn't want that, but I can see how schools that recruit Texas would really like that.
Baylor has the making of another impressive class with five ESPN 300 prospects already in the fold. What are the main needs remaining in the class?
KB:
We want another secondary guy. If we could find a great quarterback, then we would take one ... another linebacker, and we are going to sign a punter this year. Those are really the only needs we have left. We only have about four scholarships left in this class.
You are one of the lucky ones that played big time high school football in Texas, was a highly recruited prospect and now coaches big-time football in the state. What is it that continues to impress you the most about Texas high school football?
KB:
It's just incredible. The thing that impresses me the most is the football coaches. You are talking about great high school football coaches in Texas. Guys that are cutting edge and do great things on both sides of the ball. The talent to me is incredible to me how good some of these young kids are. We had a freshman at our camp [on Sunday] that you would think would be a 24-year old man. It's just incredible. The people that live outside the state that haven't been to Texas high school football, seen the one-horse town that everyone gets behind the team, it's an incredible experience. I feel very blessed to have grown up here and to be a part of it.
January, 29, 2014
1/29/14
10:30
AM ET
It's always fun to think back to the former stars of college football recruiting. The Big 12 had a few players who made an impact during their respective recruiting processes.
Here are five players from the Big 12 who made the top 50 of the
ESPN Ultimate 300
.
To continue reading this article you must be an Insider
January, 29, 2014
1/29/14
9:30
AM ET
By
RecruitingNation
| ESPN Insider
The
Ultimate ESPN 300
is RecruitingNation's ranking of the best prospects since we began evaluating high school athletes in 2006. Here are five players who exceeded expectations:
QB Robert Griffin III (Baylor):
Schools and evaluators missed on Griffin because they were quick to classify him as an athlete because he was an elite hurdler. We stated that "he has the arm strength to make all the throws and is an amazing athlete." However, Baylor coach Art Briles deserves credit -- he was the only coach to offer Griffin a scholarship at quarterback early in the process while at Houston, where Griffin committed despite already having talented QBs such as Case Keenum on board. When Briles took the Baylor job, Griffin followed because he was sold on Briles' system.
To continue reading this article you must be an Insider
January, 8, 2014
1/08/14
2:00
PM ET
Charlie Strong's arrival at the University of Texas is going to change the Big 12.
The on-field impact of the former Louisville coach's arrival in Austin remains to be seen, but he will undoubtedly change the landscape of the conference. His words during his introductory news conference should put fear into the heart of two Big 12 teams in particular.
"Let's not get caught up in the five stars; let's not get caught up in the four stars," Strong said Monday. "Let's get caught up in the football players."
The Longhorns' new head coach went on to speak of American Athletic Conference Defensive Player of the Year
Marcus Smith
, who was a quarterback when Strong recruited him to Louisville, yet recorded 14.5 sacks and 18.5 tackles for loss as a defensive end in 2013. His words should be music to the ears of Longhorns fans, as recruiting has not been the problem in recent years at Texas. Poor evaluation and player development has been one of the biggest contributors to the program's slide.
[+] Enlarge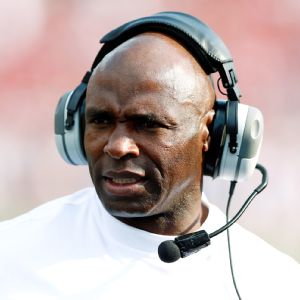 Joe Robbins/Getty ImagesCharlie Strong says his staff won't get caught up in recruiting rankings, which is a philosophy employed by a few Big 12 rivals.
Largely by taking advantage of those struggles, Oklahoma State and Baylor sat alongside the Longhorns in the Big 12 title race heading into the final weekend of the regular season and seem poised to be the teams most impacted by Strong's arrival. Oklahoma State and Baylor each went 3-2 against the Longhorns during the past five seasons after combining to go winless in 10 games against Texas in the previous five years. Their rise has had a direct correlation to the Longhorns' decline.
The biggest impact on those two teams could come on the recruiting trail. If Strong's priority is evaluation and development, as he contends, that's a shot across the bow to Oklahoma State and Baylor, two programs that have built their success upon their ability to better evaluate and develop their recruits. Those two schools featured 162 combined players from Texas and combined for 21 victories in 2013.
Running back Kendall Hunter, cornerback Justin Gilbert and tackle Russell Okung are just of few of the overlooked Texans that Oklahoma State pounced on. They had NFL-level talent and built the Cowboys into a Big 12 title contender. We all know about Heisman Trophy winner Robert Griffin III and his journey to Baylor, but receiver Kendall Wright -- an NFL first-round pick -- and guard
Cyril Richardson
-- a 2013 Lombardi Finalist -- have been key contributors to the Bears' rise. They each were overlooked by the Longhorns.
While Strong's arrival could make it harder for Oklahoma State and Baylor to repeat their Big 12 championship runs of recent years, both schools have created enough momentum that they could still consistently compete for Big 12 titles regardless of how well Strong does in Austin.
Of all the Big 12 teams, Strong's hire should have the least impact on Oklahoma. The Sooners are a tradition-rich program with the ability to compete for championships regardless of their surroundings. OU's 5-5 record against UT since 2005 is second only to Kansas State (5-1 in six meetings). And the Sooners should have no problem recruiting in Texas against Strong's Longhorns program, particularly with the stability head coach Bob Stoops brings to the program.
The rest of the Big 12 schools are less likely to be dramatically altered.
TCU and Texas Tech have combined to beat Texas once in the past five seasons, with the Horned Frogs' 20-13 victory in 2012 as the lone triumph. Although both schools are similar to Baylor and Oklahoma State in their ability to turn hidden gems into productive players, they haven't turned that into consistent on-field success against the Longhorns in a way the other two schools have, although TCU has only played UT twice during that five-year span. The impact on their recruiting will be similar to Oklahoma State and Baylor, but on a lower level as neither school can tout a Big 12 title as proof of their success when trying to land those hidden gems.
Kansas State, Kansas, West Virginia and Iowa State should see their biggest impact on the field, as their brushes with the Longhorns on the recruiting trail are few and far between.
December, 30, 2013
12/30/13
9:00
AM ET
There's no more important position in football than quarterback, and in many cases, fans look at quarterbacks that got away and wonder what might have been had they come to their favorite school. Some schools passed on a quarterback because he evaluated poorly or another QB appeared more attractive. Others simply didn't have enough recruiting ammunition to land the recruit in the first place. Here's a look at six quarterbacks that got away.
[+] Enlarge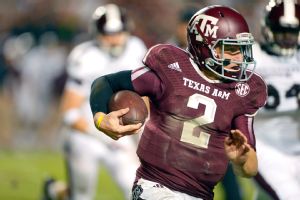 Thomas Campbell/USA TODAY SportsWhat might the offense at Oregon or Texas looked like with Johnny Manziel at the controls?
Teddy Bridgewater
Bridgewater had offers from Florida, LSU, Miami, Rutgers, USF and Tennessee when he was a senior coming out of Miami Northwestern. While there were notable programs after Bridgewater, it was hardly the amount of attention you would expect from the player who sits atop many NFL draft boards after a stellar career at Louisville. Some coaches will tell you Bridgewater's stock was lower coming out of high school because many expected him to land at Miami. He did commit to the Canes at one point, but eventually backed off that pledge and announced he was going to Louisville because of the opportunity for early playing time. "The toughest part of it was that I had to say that I wasn't going to the University of Miami," he said after selecting the Cards in 2011. "I told the coaches that I had to do what was best for me, and they understood that." It was a wise decision by Bridgewater and a miss that still haunts the Canes.
Robert Griffin III
Before he was RG III, he was a Houston commitment. Coming out of Copperas Cove, Texas, Griffin originally pledged to Art Briles when he was the coach at Houston. When Briles departed for Baylor, other schools like Kansas, Nebraska, Stanford, Oregon and Oregon State were in hot pursuit, but that was about it. He eventually followed Briles to Waco, and the rest is history. It's been pointed out a number of times that Texas passed on Griffin because it thought he was a defensive back, and A&M signed Tommy Dorman in that same 2008 class. Dorman played sparingly as a fullback and a tight end.
Kevin Hogan
What would Rutgers, Vanderbilt or Virginia been like had they been able to land Hogan? Hogan was a heavily recruited quarterback coming out of Washington (D.C.) Gonzaga in the 2011 class and his final five consisted of Rutgers, Vandy, UVa and the Cardinal. He decided to leave the East Coast and has settled in nicely on The Farm. Rutgers, Vandy and Virginia surely could have used Hogan this season, as they threw a combined 38 interceptions, while Hogan led the Cardinal to their second straight Pac-12 championship and Rose Bowl appearance.
[+] Enlarge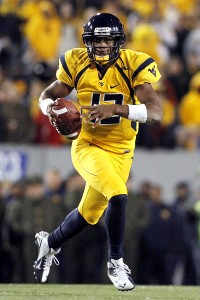 Justin K. Aller/Getty ImagesThe fortunes of two SEC teams might have changed drastically had Geno Smith not gone to West Virginia.
Collin Klein
Coming out of Loveland, Colo., Klein accepted the only scholarship offer he received. And despite a stellar high school career in football and basketball and a solid showing at the Nike Training Camp, the Wildcats were the only team to believe in him enough to offer. Klein went on to lead K-State to the Big 12 championship in 2012, finish second in the Heisman Trophy voting and win more than 20 games as a starter. At the same time, Colorado struggled at the quarterback spot, won only eight games in a three-year span and would have given anything to have an in-state star like Klein as its leader.
Johnny Manziel
You have to give credit to Oregon and Texas A&M, because they identified early on that Manziel had the goods to be a special quarterback. But they were about the only ones that did. Virtually every recruiting service had him as a three-star prospect and his offer sheet read more like a regionally recruited prospect, not a Heisman Trophy winner. Texas also had a chance to recruit Manziel, but the Horns saw him more as a defensive back prospect than a quarterback. Oregon had faith early in him, and it paid off with a commitment the summer after his junior season. He later flipped to the Aggies in September of his senior season.
Bryce Petty
Coming out of Midlothian, Texas, in the Class of 2009, Petty pledged to then-Tennessee coach Phillip Fulmer as a junior. When Fulmer was let go, Lane Kiffin thought Petty didn't fit what he wanted at quarterback, and Petty was left looking for a home two months before national signing day. Several teams showed interest in the talented young quarterback, including South Carolina, Nebraska and Oklahoma, but few had room. Virginia Tech and Baylor eventually offered Petty a grayshirt opportunity, and he took the Bears' offer. Surely a number of teams around the Big 12, or even the Hokies or Cornhuskers, would have loved to have Petty as their quarterback.
Geno Smith
Imagine Smith wearing an LSU or an Alabama uniform. It certainly was a possibility at one point in the recruiting process, as the Tigers and Tide were two of Smith's top teams coming out of Miramar (Fla.) High School. But after an official visit to West Virginia in November of his senior season, he was sold that West Virginia was the place for him. The Tide got their QB of the future in AJ McCarron in that same class and the Tigers hinged their hopes on highly recruited Russell Shepard. McCarron was the right choice for the Tide, but Shepard never developed as a quarterback and LSU had up-and-down play at the position for a number of years. Smith rewrote WVU's record books and is now an NFL starter.
November, 21, 2013
11/21/13
9:00
AM ET
For many recruiting targets, particularly those in the 2015 class, Texas and Oklahoma represent the old guard. Undefeated Baylor and one-loss Oklahoma State are the next big thing.
The Bears and Cowboys, No. 4 and No. 10, respectively, in the BCS, are the hottest teams in the Big 12, and Baylor is in the running for a berth in the BCS national title game. Although Texas and Oklahoma are still the conference's traditional powers, Art Briles and Mike Gundy have their teams making moves.
To continue reading this article you must be an Insider
September, 3, 2013
9/03/13
7:42
AM ET
What's the most critical position in the Big 12? It depends on who you talk to. In a conference that rides its offensive reputation, some coaches are hoping to land players that will help them score points, while others are looking for the prospects to prevent points.
As official visits become finalized and uncommitted players get closer to announcing their commitments, here is a look at some of the most critical positions in recruiting for the Big 12 teams.
To continue reading this article you must be an Insider
August, 14, 2013
8/14/13
2:06
PM ET
With the help of ESPN 300 prospects announcing their verbal commitments, two Big 12 schools saw a slight rise in
the latest ESPN class rankings
. Because of one Big 12 school's rise, another Big 12 school took a slight fall in the rankings. Here's a closer look at the rankings as it pertains to the conference.
Trending up
: Oklahoma State saw the biggest rise of the conference -- and of the nation -- by jumping from No. 33 to No. 28. Only Oklahoma State and Florida saw ranking spikes of that caliber during the week. The Cowboys' success stemmed from landing ESPN 300 CB
Chris Hardeman
(Houston/Alief Taylor) and three-star WR and high school teammate
Keenen Brown
. Both committed on Aug. 11. Hardeman, a former LSU commit, is a top-25 cornerback nationally, and Brown, at 6-foot-3 and 205 pounds, can be used as a reliable outside threat in Mike Gundy's potent offense.
To continue reading this article you must be an Insider