NCF On The Trail:

Randy Edsall
February, 6, 2015
Feb 6
2:00
PM ET
Recruiting can be a non-stop grind for the coaches who have to procure that talent. Some days are longer than others. We talked to several Big Ten head coaches this week and asked them to describe their longest days out on the trail. Here are their stories:
Nebraska's Mike Riley
"It seemed the whole thing was full of long, memorable days. But when recruiting reopened in January after the dead period, I've got our personnel staff and our coaches usually making my schedule, where I need to go. So my first day out, I visited North and Central High in Omaha. I did a home visit with
Michael Decker
. I went to the Outland (Trophy) banquet, and I did another home visit with
Daishon Neal
. And then it was 10 o'clock at night. It was a full day, and it was a great day, because I hadn't been in those high schools before. I loved meeting the coaches and seeing our players at the high schools. I always like home visits. I think it's a real important part of the process."
Northwestern's Pat Fitzgerald
"My last week of recruiting, I started on Sunday, flew from Chicago to the Bay Area. Then Sunday night, flew down to L.A. I was in L.A. on Monday and then Monday night I flew to Dallas, spent Tuesday in Dallas, flew Tuesday night to Houston, spent Wednesday in Houston, flew to Atlanta, spent Thursday in Atlanta, and then spent Friday in Chicago. Spent a lot of time at Chick-fil-A. It was a long week and our staff did a great job."
Michigan State's Mark Dantonio
"It hit me when I came out of a hotel room one day. I stayed in the same chain of hotels, and I walked out of the room and down the hall and I couldn't remember what room I was in. I walked back and took a guess on which room I was in, just to check my key to make sure I was in the same room. I was basically going from place to place for two weeks and sometimes two places in a day. I think I was in Orlando. I got back in the room. There were three doors and I guessed the right one."
Penn State's James Franklin
"One day I remember from a previous year. I had just taken a job [at Vanderbilt] and I was flying around and my luggage got lost and I wore the same suit for five days. I'm a hugger, and my hugs got a little less intimate as the week went on. My luggage couldn't keep up with me. Every time I got to a city or a state, the next day the luggage would get there and I'd already gone to the next state. It wasn't real fun. I was going to Target and buying underwear and undershirts, all that kind of stuff, and kept dousing myself with deodorant and cologne. It didn't help that we were flying commercially."
Rutgers' Kyle Flood
"We had one day where we went from New Jersey to Chicago to Tampa and then back to New Jersey. We started at about 6 in the morning and I finished at about 2 in the morning. I was with Norries Wilson and Jim Panagos at different legs of the trip. Norries came with me to Chicago and then to Tampa. He stayed there and went to Jacksonville. And then I picked up Coach Panagos in Tampa and he came back with me. We were fortunate. Everything ran according to schedule, the way I like it."
Maryland's Randy Edsall
"One day, I was here in Maryland, I was down on the east coast of Florida, then to the west coast, and then all the way to Mobile, Alabama. Then the next day I was in Charlotte and then Virginia Beach. Got all that done, really, in a day and a half. You kind of think, 'hey, what day is it, what time is it,' all those sort of things. But those are the things you have to do."
Minnesota's Jerry Kill
"I've gone from Mobile to Mississippi to Texas, and back to Chicago. But the most unique story I can tell you is something that happened for the first time ever this year. I was on a plane that was starting to go down the runway when I had a kid commit. Seriously, we were going down the runway, I didn't think we'd hear from the kid and he calls me. I'm trying to get the pilot to keep the wheels down so I can talk to him."
Indiana's Kevin Wilson
"My longest day was when we finished up on Martin Luther King day. We had a team leadership program going on, we had recruits on campus and then we had to leave Bloomington and go to Shadyshide, Ohio. By the time we get back to Columbus, it's about 1 a.m. Shoot, there was one day where we had official visits going, I was interviewing a couple of guys for behind-the-scenes jobs, and we had a walk-on day. Those kinds of days wear you out, and you're like, "Who planned all this [stuff]? You're killing me?" And it was me. I'm the guy who planned it. Sometimes we all get screwed by travel and those days, and you're like 'hey, just got to get it done. I'm kind of tired. I want to put my feet up here for like 15 minutes and take a little nap.'"
February, 5, 2015
Feb 5
4:30
PM ET
Maryland sits in one of the most hotly contested recruiting areas in the Big Ten footprint. The Terrapins battled some big-name schools on the recruiting trail this year and won a few of those skirmishes. I caught up with head coach Randy Edsall to talk about
his 2015 class
in this recruiting Q&A:
It's easy to see that you went heavy on offensive and defensive linemen with this class. Was that the priority this time around?
Randy Edsall:
That was out big focal point, offensive and defensive line. I was looking to bring in five to six offensive linemen, four to five defensive linemen. So we were able to meet our needs and bring in quality people, and that's going to allow us to be able to do more in the Big Ten. That's the one thing after being in the Big Ten for a year. I anticipated it, but being in the league for a year, it's a lineman league. And what we've got to do is get those guys who have that length and width and girth and power you're looking for, and we were able to do that.
Getting Adam McLean and Quarvez Boulware to stay home, along with a lot of other homegrown talent, how important was that?
[+] Enlarge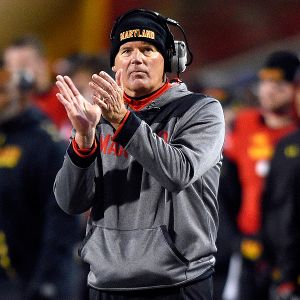 AP Photo/Nick WassRandy Edsall isn't afraid to go against big-name programs that recruit heavily in Maryland's footprint.
Edsall:
It was good. Nine out of our 18 guys are from the DMV, so from that standpoint it hits upon the message that we're trying to send. Having Adam change his mind and come to Maryland was big. He's an energy guy, a passionate guy, a guy with a lot of ability. He's a guy who has those unique qualities that people rally around him. Quarvez just continues that pipeline we've had from Friendship Collegiate Academy to our program. I think it says a lot about those kids, but it also says a lot about our program and what we've been able to do for those kids who have come here. To have another one come from Friendship is huge, and he's a powerful, quick, explosive young man.
You didn't get everybody you wanted on signing day, but you were swimming in some pretty deep waters in recruiting, going against SEC powers, Ohio State and others. What does that say about your program that you were in those battles and won some of them?
Edsall:
We're not afraid to compete against anybody. We're going to go out there and go after the guys that we feel can help us get better and be able to compete and win championships. It doesn't matter who it is; we'll go down swinging. As we continue to put more of the pieces together with our facilities coming and all the other things we've been able to do here, kids see this is a place where, 'I can accomplish all my goals, be around a coaching staff that's going to make me better in every phase of my life and have a lot of opportunities for life after football by being in this area.'
What did you see out of the quarterback in this class, Gage Shaffer?
Edsall:
He's a big, tall kid with good athleticism, and he's got a good arm. He's a competitor. He's got a lot of passion for the game. He was a basketball player in high school as well, so he's one of those guys who's a multisport athlete. And he's hungry and eager to continue to get better.
Being in the Big Ten for a year, how did that change or even help you in recruiting?
Edsall:
I thought it helped us. The conference and the side we're on, the division we're in and the competition we're going to go against year in and year out. The other thing I think is that the Big Ten Network played a part, because of the exposure. All the things we thought the Big Ten would bring us, we utilized and it really helped us in the recruiting process.
With all these offensive linemen coming in, what's your philosophy on whether to redshirt those guys or play them right away?
Edsall:
It depends on them. You usually say the closer you are to the line of scrimmage, the harder it is to play early. The thing about it is, you know hey, any of these guys, if they come in and they're the best guys, then guess what? They're going to be on the field playing. If there's a role we define or that they define for themselves by showing what they can do, and they pick everything up, then they'll be out on the field. But we're not going to put them on the field unless they're the best guy when they get here. We want them to have that mindset coming in. I don't like to tell them I'm going to redshirt anybody. I want them working as hard as they can to win a spot from the time they get here.
Can you describe how competitive it is now recruiting in your area? It seemed like just about everybody was coming in there this year.
Edsall:
By going to the Big Ten, it brought a lot more people in here. There are good players in this area. We know it's going to be a fight, and we know we're not going to go after every player in this area for a variety of reasons. Some might not fit what we're looking for, or we might not have a need that particular year. But the ones we go after, we know we have to put our best foot forward. And the biggest thing we've got to do is develop these relationships with these young men at an early age, and build those relationships so that they see everything that the university and this area has to offer them. So then they really can't say no. As we continue to get our facilities done and everything else, that gives us more ammunition in our belts to use.
January, 28, 2015
Jan 28
11:00
PM ET
Despite making a commitment to Alabama last week, ESPN 300 offensive tackle
Isaiah Prince
said Wednesday he's visiting Maryland and will give the Terps a solid look.
October, 16, 2014
10/16/14
11:00
PM ET
Randy Edsall knows recruiting is the lifeblood of his program, and he is really impressing local coaches with his effort. Plus, don't be surprised if you see NC State finish with a flurry.
To continue reading this article you must be an Insider
June, 4, 2014
6/04/14
9:00
AM ET
Momentum seems to be building for creating an early signing period in college football. The Conference Commissioners Association will discuss the idea as part of its agenda at a meeting later this month.
As with many things in life, the devil is in the details. The ACC
recommended an early signing date
of Aug. 1. The SEC at its meetings last month
came out against changing the recruiting calendar
, but would like to use the Monday after Thanksgiving if an early signing period does happen.
The Big Ten has not endorsed a specific stance on an early signing date as a conference. Based on interviews given to ESPN.com and other media outlets, most league coaches are in favor of it. Again, though, preferences on the when and the how differ.
Several coaches support the junior college signing period of mid-December as the right time to allow high school prospects who don't want to wait until February to sign their national letters of intent.
[+] Enlarge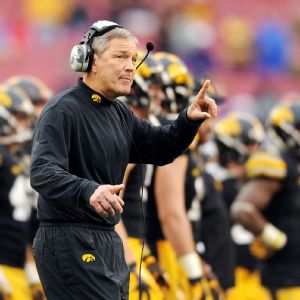 Steve Mitchell/USA TODAY SportsIowa's Kirk Ferentz is among the Big Ten coaches who favor an early signing period after the regular season.
"To me, that would be the perfect time," Iowa coach Kirk Ferentz said last summer. "I still don't understand the resistance. All it is is an opportunity to sign. They don't have to sign. I don't think anyone is going to lose a scholarship. It just gives everyone a chance to lay their cards on the table and say, 'I'm 100 percent sure now' or, 'Still not quite there.' That would be great for both parties, I think."
Northwestern coach Pat Fitzgerald, Wisconsin's Gary Andersen and Michigan State's Mark Dantonio are among others who back an early signing period in December.
"It sure would clear up recruiting for a lot of us," Andersen told ESPN.com. "In my opinion, if a kid's committed, let's have him go to the school where he wants to go, and we'll move on in recruiting and get the guys we want. I think it's the most logical answer."
A possible downside of having the early signing period in December would be that it puts more pressure on coaches to concentrate on recruiting late in the season, when championships could be on the line, or during bowl preparation. In-season recruiting pressures would grow even higher with the SEC's post-Thanksgiving recommendation.
Most who favor an early signing period say their schools and coaching staffs are spending too much valuable time, money and energy trying to re-recruit players who might have signed earlier. That's why some coaches, such as Indiana's Kevin Wilson, support a signing date before or right at the beginning of the season.
"I had guys who were committed in the summer who in the last weekend [before the February signing date] changed their minds," Wilson told ESPN.com. "It would be nice if there was an early signing period on the first of September. I don't know if we've got to move the calendar up, but we waste a lot of time and a lot of money babysitting kids who have made their decisions."
Michigan is one school that could have benefited in recent seasons from an early signing period. The Wolverines have sewn up the majority of their classes under Brady Hoke in the summer before the prospects' senior year of high school. Hoke's staff could have locked up those commitments and focused on filling out the final few spots or moving on to the following year's class.
Hoke would like to see an early signing date, but with a caveat.
"If there's an early signing period, there probably needs to be an early visitation period for those kids," he told ESPN.com. "Maybe the first two weeks in June to get on your campus."
That's a big deal for Big Ten coaches, who would love to see prospects be able to take official visits before the start of their senior year. An early signing date without an earlier visit calendar could put the league at a disadvantage against schools in more talent-rich areas. (We'll look more closely at this issue on Thursday in the blog.)
[+] Enlarge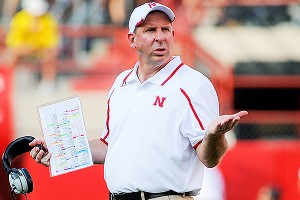 Eric Francis/Getty ImagesNebraska's Bo Pelini says allowing earlier official visits must be a part of any move toward an early signing period.
Nebraska's Bo Pelini has said he would not support an earlier signing date without those earlier visits (and even then, he said he would need more time to study the issue). Schools such as Nebraska and Minnesota, which are farther away from talent-rich hubs, simply wouldn't see many benefits to an early signing day if the rest of the recruiting calendar remained the same. Players in blue chip-heavy areas -- such as the South, Texas and California -- would be more apt to take unofficial visits at schools closer to home and then could get pressured into signing before they ever made a trip up north.
Ohio State under Urban Meyer has thrived during the final weeks of recruiting before the February signing day, as his staff has built a reputation of being great "closers." So it's no surprise that Meyer was one of three SEC coaches to vote against a proposal to support an early signing date in 2008, when he was still at Florida. Meyer said at the time that "recruiting should be done in December, January and February. I think [an early date] speeds up 17- and 18-year-olds to make a decision that affects the rest of their lives."
Maryland's Randy Edsall has proposed that schools shouldn't even send out any type of scholarship offer until Sept. 1 of a high school prospect's senior year in high school, and then those offers would come from the university's admissions office, not the coaches. That would slow things way down and make sure prospects have achieved the necessary test scores and admission standards. Yet Edsall also said this spring that if recruiting continues at its current accelerated pace, that "there definitely has to be an early signing period."
There are other issues with the early signing date, including what protection the players would have if the coach left for another job after they signed. Plus plans change in recruiting all the time.
"I see the pluses and the minuses with it," Dantonio told ESPN.com. "If you have a committed guy and he signs with you, he truly is committed. That's a positive. I also think if you take one quarterback and he thinks he's the only one, and all of a sudden you take two, how does that all play out?
"I do think it keeps people from poaching off you, whether it be us poaching off somebody or somebody else [poaching]. It makes people hold to their word. If they don't want to sign then, they're still open, and you know they're open. But I would make it a mid-December type deal. I'm not in favor of August; I'm not in favor of September. I'm in favor of, 'They've had a chance to at least visit and be on campus a couple places, so they have a feel.'"
College football does appear headed for an early signing date soon, if only the details can get ironed out.
"We get into these discussions, and everybody kind of has their own agenda of what's in the best interests for their school," Penn State coach James Franklin told ESPN.com. "But for a lot of different reasons, an early signing period makes sense for everybody."
March, 31, 2014
3/31/14
5:30
AM ET
The Early Offer is RecruitingNation's regular feature, giving you a dose of recruiting in the mornings. Monday's offerings: Maryland coach Randy Edsall raised eyebrows last week when he called for reform of the recruiting process by delaying scholarship offers to prospects, and his ideas were met with praise and criticism from his peers; A&M and Baylor landed big commitments over the weekend.
To continue reading this article you must be an Insider