NCF On The Trail:

Preston Williams
September, 27, 2013
9/27/13
8:45
AM ET
By
RecruitingNation
| ESPN.com
AAC
Louisville
Ross Trail
| QB-PP | Olive Branch, Miss./Olive Branch
HT: 6-2 WT: 200
Positional Rank: N/A
Stars: 3
Class of 2015
ACC
Duke
Shaun Wilson
| RB | Charlotte, N.C./West Mecklenburg
HT: 5-9 WT: 170
Positional Rank: #45 RB
Stars: 4
Florida State
Ryan Izzo
| TE-Y | Sparta, N.J./Pope John XXIII
HT: 6-6 WT: 215
Positional Rank: #18 TE-Y
Stars: 3
Georgia Tech
Gary Brown
| OG | Tampa, Fla./Alonso
HT: 6-1 WT: 284
Positional Rank: #71 OG
Stars: 3
Big 12
Iowa State
Colin Downing
| K | Whitefish Bay, Wis./Whitefish Bay
HT: 6-0 WT: 170
Positional Rank: #18 K
Stars: 3
Texas Tech
Keland McElrath
| DT | Clarksdale, Miss./Coahoma CC
HT: 6-5 WT: 290
Positional Rank: N/A
Stars: Evaluation Pending
Big Ten
Iowa
Marcel Joly
| ATH | Forestville, Md./Forestville
HT: 5-11 WT: 175
Positional Rank: #145 ATH
Stars: 3
Michigan State
Jake Hartbarger
| K | Whitehouse, Ohio/Anthony Wayne
HT: 6-3 WT: 171
Positional Rank: #4
Stars: 3
Wisconsin
Lubern Figaro
| S | Everett, Mass./Everett
HT: 6-1 WT: 180
Positional Rank: #98 S
Stars: 3
Pac-12
Arizona State
Brendan Landman
| TE-Y | Danville, Calif./Monte Vista
HT: 6-5 WT: 220
Positional Rank: N/A
Stars: Evaluation Pending
Washington State
Sean Krepsz
| OT | Riverside, Calif./M.L. King
HT: 6-4 WT: 293
Positional Rank: #84 OT
Stars: 3
Chandler Leniu
| OLB | Bellflower, Calif./St. John Bosco
HT: 6-0 WT: 216
Positional Rank: #113 OLB
Stars: 3
SEC
Georgia
Keyon Brown
| DE | Wauchula, Fla./Hardee County
HT: 6-3 WT: 235
Positional Rank: #19 DE
Stars: 4
ESPN 300 (#210)
LSU
Blake Ferguson
| LS | Buford, Ga./Buford
HT: 6-2 WT: 240
Class of 2015
Dylan Moses
| ILB | Baton Rouge, La./University Lab
HT: 6-1 WT: 213
Class of 2017
Missouri
Ishmael Witter
| RB | Tampa, Fla./Alonso
HT: 5-8 WT: 184
Positional Rank: #107 RB
Stars: 3
Tennessee
Preston Williams
| WR | Lovejoy, Ga./Lovejoy
HT: 6-4 WT: 185
Positional Rank: N/A
Stars: 3
Class of 2015
Mountain West
Hawaii
D.J. Riggins
| RB | Westlake Village, Calif./Oaks Christian
HT: 5-11 WT: 170
Positional Rank: #148 RB
Stars: 3
San Jose State
Trevon Benton
| OLB | Inglewood, Calif./Inglewood
HT: 6-0 WT: 180
Sun Belt
Texas State
Chris Bradley
| DE | Shreveport, La./Evangel Christian
HT: 6-2 WT: 255
September, 23, 2013
9/23/13
8:00
AM ET
With football season now in full swing, there was plenty of recruiting news over the weekend. From Georgia's big win over South Carolina with several top prospects in attendance to some impressive high school performances, here is the latest news around the SEC.
To continue reading this article you must be an Insider
September, 23, 2013
9/23/13
5:30
AM ET
The Early Offer is RecruitingNation's latest feature, giving you a daily dose of recruiting in the mornings. Today's offerings: When Florida recruited
Tyler Murphy
it knew he was an effective dual-threat quarterback, and now it's his job to lead the Gators through the rest of the SEC schedule; the Under Armour All-America Game is right around the corner and the roster is loaded again for the Class of 2014; Tennessee lost to Florida Saturday, but also received big recruiting news from the Class 2015.
To continue reading this article you must be an Insider
May, 7, 2013
5/07/13
9:00
AM ET
JEFFERSON, Ga. -- A bystander watching
Preston Williams
(Lovejoy, Ga./Lovejoy) warm up at the Georgia state track and field championships simply said, "Who is
that
guy?" Williams stood on the edge of the long jump pit -- where he was challenging for a state title as only a sophomore -- and exploded with a flat-footed jump to the middle of the pit, reaching a height and distance that turned heads.
As did his outfit. Williams wore blindingly bright yellow shoes, mismatched socks (one was a multi-colored, neon leopard print, while the other was decorated with cupcakes), cut-off camouflage sweat pants over black leggings and a Lovejoy t-shirt. The ensemble was topped off with a gray scarf that would look great on a 78-year-old retiree from Boca Raton but seemed out of place wrapped around Williams' noggin as a headband.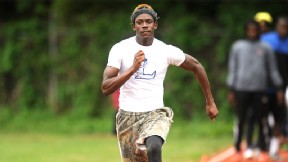 Radi Nabulsi/ESPNSophomore Preston Williams is turning heads, and for more than just his fashion sense.
"This is my look," Williams said. "My jumping look -- I am exotic."
While his fashion is eclectic, the true answer to who Williams is a lot more complicated.
To continue reading this article you must be an Insider