NCF On The Trail:

Pat Fitzgerald
February, 6, 2015
Feb 6
2:00
PM ET
Recruiting can be a non-stop grind for the coaches who have to procure that talent. Some days are longer than others. We talked to several Big Ten head coaches this week and asked them to describe their longest days out on the trail. Here are their stories:
Nebraska's Mike Riley
"It seemed the whole thing was full of long, memorable days. But when recruiting reopened in January after the dead period, I've got our personnel staff and our coaches usually making my schedule, where I need to go. So my first day out, I visited North and Central High in Omaha. I did a home visit with
Michael Decker
. I went to the Outland (Trophy) banquet, and I did another home visit with
Daishon Neal
. And then it was 10 o'clock at night. It was a full day, and it was a great day, because I hadn't been in those high schools before. I loved meeting the coaches and seeing our players at the high schools. I always like home visits. I think it's a real important part of the process."
Northwestern's Pat Fitzgerald
"My last week of recruiting, I started on Sunday, flew from Chicago to the Bay Area. Then Sunday night, flew down to L.A. I was in L.A. on Monday and then Monday night I flew to Dallas, spent Tuesday in Dallas, flew Tuesday night to Houston, spent Wednesday in Houston, flew to Atlanta, spent Thursday in Atlanta, and then spent Friday in Chicago. Spent a lot of time at Chick-fil-A. It was a long week and our staff did a great job."
Michigan State's Mark Dantonio
"It hit me when I came out of a hotel room one day. I stayed in the same chain of hotels, and I walked out of the room and down the hall and I couldn't remember what room I was in. I walked back and took a guess on which room I was in, just to check my key to make sure I was in the same room. I was basically going from place to place for two weeks and sometimes two places in a day. I think I was in Orlando. I got back in the room. There were three doors and I guessed the right one."
Penn State's James Franklin
"One day I remember from a previous year. I had just taken a job [at Vanderbilt] and I was flying around and my luggage got lost and I wore the same suit for five days. I'm a hugger, and my hugs got a little less intimate as the week went on. My luggage couldn't keep up with me. Every time I got to a city or a state, the next day the luggage would get there and I'd already gone to the next state. It wasn't real fun. I was going to Target and buying underwear and undershirts, all that kind of stuff, and kept dousing myself with deodorant and cologne. It didn't help that we were flying commercially."
Rutgers' Kyle Flood
"We had one day where we went from New Jersey to Chicago to Tampa and then back to New Jersey. We started at about 6 in the morning and I finished at about 2 in the morning. I was with Norries Wilson and Jim Panagos at different legs of the trip. Norries came with me to Chicago and then to Tampa. He stayed there and went to Jacksonville. And then I picked up Coach Panagos in Tampa and he came back with me. We were fortunate. Everything ran according to schedule, the way I like it."
Maryland's Randy Edsall
"One day, I was here in Maryland, I was down on the east coast of Florida, then to the west coast, and then all the way to Mobile, Alabama. Then the next day I was in Charlotte and then Virginia Beach. Got all that done, really, in a day and a half. You kind of think, 'hey, what day is it, what time is it,' all those sort of things. But those are the things you have to do."
Minnesota's Jerry Kill
"I've gone from Mobile to Mississippi to Texas, and back to Chicago. But the most unique story I can tell you is something that happened for the first time ever this year. I was on a plane that was starting to go down the runway when I had a kid commit. Seriously, we were going down the runway, I didn't think we'd hear from the kid and he calls me. I'm trying to get the pilot to keep the wheels down so I can talk to him."
Indiana's Kevin Wilson
"My longest day was when we finished up on Martin Luther King day. We had a team leadership program going on, we had recruits on campus and then we had to leave Bloomington and go to Shadyshide, Ohio. By the time we get back to Columbus, it's about 1 a.m. Shoot, there was one day where we had official visits going, I was interviewing a couple of guys for behind-the-scenes jobs, and we had a walk-on day. Those kinds of days wear you out, and you're like, "Who planned all this [stuff]? You're killing me?" And it was me. I'm the guy who planned it. Sometimes we all get screwed by travel and those days, and you're like 'hey, just got to get it done. I'm kind of tired. I want to put my feet up here for like 15 minutes and take a little nap.'"
February, 4, 2015
Feb 4
4:00
PM ET
No drama. Pat Fitzgerald wants as little of it as possible on national signing day. Northwestern's recent recruiting cycles follow a familiar pattern: the Wildcats load up early on commitments, pick up a few more later in the process and have few, if any, surprises on the first Wednesday of February.
[+] Enlarge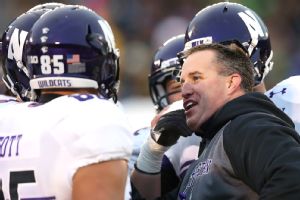 Jonathan Daniel/Getty ImagesOf the 20 players in the Wildcats' 2015 class, Pat Fitzgerald has recruited nine at WR and DB.
Although Northwestern had a few recruits head elsewhere late in the process, it finalized a diverse class Wednesday featuring 20 prospects from 11 states. The Wildcats went heavy on perimeter players with five wide receivers and four defensive backs.
ESPN.com caught up with Fitzgerald to discuss
the class
.
Was it another no-drama signing day? How would you describe finishing off this class?
Pat Fitzgerald:
It was a perfect job by our staff. We had 14 guys verbally committed prior to their senior years, which has become par for the course for us. We had to make some additions late in the process, six guys during their senior year. It's a great group of guys, a great group of families.
What positions were the biggest needs in this class?
PF:
Like everyone, you look at your needs not only for this year but next year's class of guys who will move out. We felt we had to get some competition on both sides of the line of scrimmage. Added six guys who I feel are going to do that. And our skill positions, especially at wide receiver and DB, to add nine guys who can really run, good size, physical DBs.
Guys seem to play earlier at the perimeter spots. What impact do you see the new guys making at those positions?
PF:
Singling one guy out would be a little premature.
Charlie Fessler
's a wide receiver who's a big, tall, athletic kid. Same thing with
Cameron Green
from here in Chicago, a tall, athletic wide receiver. And then in the slot we added two dynamic guys.
Flynn Nagel
is a
Julian Edelman
-type guy, 94 catches in his senior year. And
Jelani Roberts
is as fast a kid as we'll have in our program. He has the fastest 40-yard dash that I've timed at our camp that we've ended up signing. As an average, we had him at 4.3 flat. He just ran the 10th fastest 55-meter dash in high school in the country. He can really fly. In the secondary, that group is very talented, so it should add instant competition.
You also picked up several linebackers. What is your assessment of players such as Nathan Fox and Simba Short?
PF:
Fox,
[Tommy] Vitale
and Short are three thick, big, physical, athletic guys. We've looked at guys at linebacker who played in space and have played multiple positions throughout their high school careers. These three guys are similar to that, but they're a little bit bigger and still have that athleticism. With the Big Ten West, you have to be able to stop the run, first and foremost. We really like the additions of these three.
You've redshirted a lot of players in the past. Is that still the message or do you point to Justin Jackson and other freshmen who played a lot?
PF:
Philosophically, we've redshirted guys because the young men have redshirted themselves. I haven't really changed what I've told any kid. The No. 1 thing you do after you sign is you have to prepare yourself mentally, physically and emotionally to come here and staff. If you don't do that, you're going to redshirt yourself. I'm not going to have to make a decision. Each year, we've had from 4-10 guys who, two weeks into training camp, we feel like have an opportunity to play. But our staff have to evaluate whether those kids are going to play their position or just play in the kicking game. From a philosophy standpoint, I would prefer not to use a freshman year in the kicking game alone. Every coach has a different approach. I've gotten that reputation that we redshirt a lot of our guys. We don't necessarily do it as a staff. The young man does it to himself first and then if they get to a point where they're close to playing, I just don't believe in wasting a kid's year in the kicking game.
You always recruit nationally and this year saw a wide net -- Maryland, Georgia, California. Are there new areas coming up or the same target spots?
PF:
Yeah, 11 states in the class. We're always going to start and end here in Chicago, and to have 25 percent of the class from where we need to win is always going to be important. But we're a national university and to add a couple young men from Maryland, now having that footprint of the league expand; to get down in Georgia and get two DBs and recruit speed and athleticism; and the areas that we always have success because of the academic brand and the Northwestern brand of football -- Texas, California and Ohio -- are always going to be areas we should be strong in.
There are a lot of decommitments now and you saw some of it. Is that just the landscape or you guys struggling the past two years?
PF:
I don't think it had anything to do with us on the field. When kids watch us play a couple years ago when we started relationships, we won 10 games and you could argue we could have won some more or lost some. In the last two years, we're a handful of finishes away from me not being a
D-minus head coach
. That's football. It has more to do with the way the process is. The guys that fit, you have to recruit all the way to signing day. That's just the way it is.
Do I wish it was like other sports, that when you commit other schools stop recruiting kids? That's just not the case. It would be naive to say that. We go about our business a certain way and we've had things happen in the process. I wish those kids the best of luck. I appreciate their families allowing us to be part of the process. It's not the ones you don't get. It's the ones you get. We're fired up about the 20 guys we have.
June, 4, 2014
6/04/14
9:00
AM ET
Momentum seems to be building for creating an early signing period in college football. The Conference Commissioners Association will discuss the idea as part of its agenda at a meeting later this month.
As with many things in life, the devil is in the details. The ACC
recommended an early signing date
of Aug. 1. The SEC at its meetings last month
came out against changing the recruiting calendar
, but would like to use the Monday after Thanksgiving if an early signing period does happen.
The Big Ten has not endorsed a specific stance on an early signing date as a conference. Based on interviews given to ESPN.com and other media outlets, most league coaches are in favor of it. Again, though, preferences on the when and the how differ.
Several coaches support the junior college signing period of mid-December as the right time to allow high school prospects who don't want to wait until February to sign their national letters of intent.
[+] Enlarge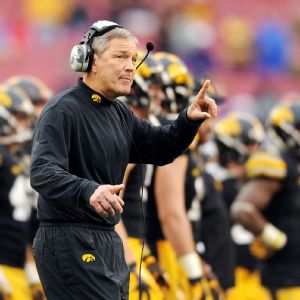 Steve Mitchell/USA TODAY SportsIowa's Kirk Ferentz is among the Big Ten coaches who favor an early signing period after the regular season.
"To me, that would be the perfect time," Iowa coach Kirk Ferentz said last summer. "I still don't understand the resistance. All it is is an opportunity to sign. They don't have to sign. I don't think anyone is going to lose a scholarship. It just gives everyone a chance to lay their cards on the table and say, 'I'm 100 percent sure now' or, 'Still not quite there.' That would be great for both parties, I think."
Northwestern coach Pat Fitzgerald, Wisconsin's Gary Andersen and Michigan State's Mark Dantonio are among others who back an early signing period in December.
"It sure would clear up recruiting for a lot of us," Andersen told ESPN.com. "In my opinion, if a kid's committed, let's have him go to the school where he wants to go, and we'll move on in recruiting and get the guys we want. I think it's the most logical answer."
A possible downside of having the early signing period in December would be that it puts more pressure on coaches to concentrate on recruiting late in the season, when championships could be on the line, or during bowl preparation. In-season recruiting pressures would grow even higher with the SEC's post-Thanksgiving recommendation.
Most who favor an early signing period say their schools and coaching staffs are spending too much valuable time, money and energy trying to re-recruit players who might have signed earlier. That's why some coaches, such as Indiana's Kevin Wilson, support a signing date before or right at the beginning of the season.
"I had guys who were committed in the summer who in the last weekend [before the February signing date] changed their minds," Wilson told ESPN.com. "It would be nice if there was an early signing period on the first of September. I don't know if we've got to move the calendar up, but we waste a lot of time and a lot of money babysitting kids who have made their decisions."
Michigan is one school that could have benefited in recent seasons from an early signing period. The Wolverines have sewn up the majority of their classes under Brady Hoke in the summer before the prospects' senior year of high school. Hoke's staff could have locked up those commitments and focused on filling out the final few spots or moving on to the following year's class.
Hoke would like to see an early signing date, but with a caveat.
"If there's an early signing period, there probably needs to be an early visitation period for those kids," he told ESPN.com. "Maybe the first two weeks in June to get on your campus."
That's a big deal for Big Ten coaches, who would love to see prospects be able to take official visits before the start of their senior year. An early signing date without an earlier visit calendar could put the league at a disadvantage against schools in more talent-rich areas. (We'll look more closely at this issue on Thursday in the blog.)
[+] Enlarge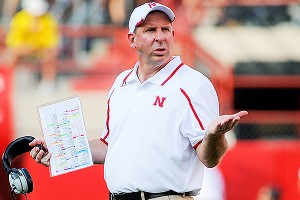 Eric Francis/Getty ImagesNebraska's Bo Pelini says allowing earlier official visits must be a part of any move toward an early signing period.
Nebraska's Bo Pelini has said he would not support an earlier signing date without those earlier visits (and even then, he said he would need more time to study the issue). Schools such as Nebraska and Minnesota, which are farther away from talent-rich hubs, simply wouldn't see many benefits to an early signing day if the rest of the recruiting calendar remained the same. Players in blue chip-heavy areas -- such as the South, Texas and California -- would be more apt to take unofficial visits at schools closer to home and then could get pressured into signing before they ever made a trip up north.
Ohio State under Urban Meyer has thrived during the final weeks of recruiting before the February signing day, as his staff has built a reputation of being great "closers." So it's no surprise that Meyer was one of three SEC coaches to vote against a proposal to support an early signing date in 2008, when he was still at Florida. Meyer said at the time that "recruiting should be done in December, January and February. I think [an early date] speeds up 17- and 18-year-olds to make a decision that affects the rest of their lives."
Maryland's Randy Edsall has proposed that schools shouldn't even send out any type of scholarship offer until Sept. 1 of a high school prospect's senior year in high school, and then those offers would come from the university's admissions office, not the coaches. That would slow things way down and make sure prospects have achieved the necessary test scores and admission standards. Yet Edsall also said this spring that if recruiting continues at its current accelerated pace, that "there definitely has to be an early signing period."
There are other issues with the early signing date, including what protection the players would have if the coach left for another job after they signed. Plus plans change in recruiting all the time.
"I see the pluses and the minuses with it," Dantonio told ESPN.com. "If you have a committed guy and he signs with you, he truly is committed. That's a positive. I also think if you take one quarterback and he thinks he's the only one, and all of a sudden you take two, how does that all play out?
"I do think it keeps people from poaching off you, whether it be us poaching off somebody or somebody else [poaching]. It makes people hold to their word. If they don't want to sign then, they're still open, and you know they're open. But I would make it a mid-December type deal. I'm not in favor of August; I'm not in favor of September. I'm in favor of, 'They've had a chance to at least visit and be on campus a couple places, so they have a feel.'"
College football does appear headed for an early signing date soon, if only the details can get ironed out.
"We get into these discussions, and everybody kind of has their own agenda of what's in the best interests for their school," Penn State coach James Franklin told ESPN.com. "But for a lot of different reasons, an early signing period makes sense for everybody."