NCF On The Trail:

Parris Campbell
October, 17, 2013
10/17/13
10:15
AM ET
Eric Glover-Williams
(Canton, Ohio/McKinley) knows all about the fact Ohio State has a chance to notch win No. 850 this season. He knows the Buckeyes are the favorite to win their 35th Big Ten title and, if the cards fall right, he knows an eighth national championship isn't out of the question.
The ESPN Junior 300 athlete took pause after an improbable 13-10 win where his squad converted a fake field goal to win on the last play of the game, to look at Ohio State past, present and future.
Named the face of the 2015 recruiting class, the 29th-ranked junior in the nation pointed to the big numbers Ohio State has put up in the last 100 years and alluded to the fact it has had 78 consensus All-Americans and 369 first-team All-Big Ten picks as a big draw to become a Buckeye.
"You know you're going to a place that always has a winning tradition and one that is known for winning championships and being in the big game," Glover-Williams said. "They're almost always great."
But the 5-foot-10, 170-pound Glover-Williams wasn't just talking about the teams of the past. Since he has been on the Buckeyes' radar the last 14 months, he has paid extra close attention to the school.
He saw a team bounce back from a 6-7 record in 2011 to become the only BCS team without a loss last season.
He knows the Buckeyes have won 18 games in a row and hold the nation's longest winning streak among BCS teams with Alabama (10) its next closest threat.
He has also seen Ohio State hold on for wins against Wisconsin and Northwestern this season when both teams were nationally ranked.
"They can be great," Eric Glover-Williams said. "I think they have a chance and I would like to see them play Alabama in the national championship. That's something I hope I can see them do.
"Their success is all about the personnel on the field. They have to find whoever is clicking and keep doing what they do to win the game. I still think the same about Ohio State win or lose, but those games, they're finding ways to win."
While the Bulldogs standout loves to talk about Ohio State past and present, it only makes sense to talk about the future as he's set to be a Buckeye in 2015.
Barring something strange happening, Glover-Williams knows players like
Devin Smith
and
Braxton Miller
will be out of the lineup at Ohio State when he gets there. That doesn't mean the stable will be empty with
J.T. Barrett
,
Cardale Jones
or
Stephen Collier
at quarterback.
May, 12, 2013
5/12/13
5:41
PM ET
Sometimes an athlete just knows what he wants.
While it took
Lonnie Johnson
(Gary, Ind./West Side) a few more months than anticipated, the two-way threat picked Ohio State on Sunday.
When an offer came in December from the Buckeyes, the 6-foot-2, 180-pound wide receiver said he wanted to make his announcement just days later, but instead held off to let his teammates from the Class of 2013 take center stage.
Five months removed from the Ohio State offer, Johnson made it official with a commitment to the Buckeyes, becoming the eighth member of the Buckeyes' 2014 class.
In choosing Ohio State, Johnson turned down offers from Bowling Green, Illinois, Kentucky, Indiana, Missouri, Nebraska and Purdue and interest from Michigan, Michigan State, Notre Dame and Texas A&M.
To continue reading this article you must be an Insider
February, 20, 2013
2/20/13
11:08
AM ET
By
Brian Stumpf
| Special to ESPN.com
MASSILLON, Ohio -- Over 1,400 athletes gathered on Feb. 16 just down the road from the NFL Hall of Fame at Washington High School in Massillon, Ohio, for the third stop of the 2013 Nike Football SPARQ Combine Tour. Here is a look at the 25 standout performers who make up the Ohio All-Combine Team.
Note: Selections are based upon combine performance as well as past and projected on-field performance. Athletes must have completed two of the four combine tests to be eligible for selection. Athletes are in the Class of 2014 unless otherwise noted.
OFFENSE
QB: Mike Berry
, 6-foot-1, 219 pounds, Beavercreek (Ohio) High
Results: 4.85 40-yard dash, 4.28 shuttle, 40-foot power ball throw, 29.1-inch vertical jump, 97.77 SPARQ Rating
Breakdown: The dual-threat QB also lines up at running back in the wing "T" system and can beat opponents with an impressive combination of speed and power.
RB: Jarred Brevard
, 5-7 1/2, 188, Pittsburgh Shady Side Academy
Results: 4.57 40, 4.20 shuttle, 39.0'PB, 34.5" VJ, 109.65 SPARQ
Breakdown: Rushed for over 1,200 yards and 10 touchdowns during his junior season.
[+] Enlarge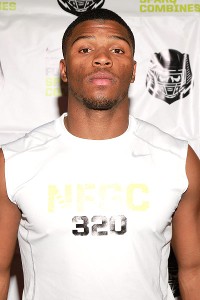 Tom Hauck/Student SportsRunning back L.J. Scott posted a 110.82 SPARQ Rating at the Ohio combine.
RB: Darrin Hall Jr. (2015)
, 5-11 1/2, 194, Youngstown (Ohio) Austintown Fitch
Results: 4.68 40, 4.35 shuttle, 34.5' PB, 27.9" VJ, 83.64 SPARQ
Breakdown: Becoming one of the more heavily recruited backs for 2015 with offers already from Illinois, Indiana and Nebraska.
RB: L.J. Scott
, 5-10, 224, Marion (Ohio) Harding
Results: 4.76 40, 4.25 shuttle, 42.0' PB, 30.4" VJ, 110.82 SPARQ
Breakdown: Well-built runner has been offered by Kent State and has an impressive list of suitors taking interest.
RB: Parris Campbell
, 6-0, 181, Akron (Ohio) St. Vincent-St. Mary's
Results: 4.47 40, 4.60 shuttle, 31.0' PB, 38.9" VJ, 92.37
Breakdown: Future Ohio State Buckeye carried his team to the OHSAA Division III State Championship.
RB: Jerome Baker Jr.
, 6-1, 190, Cleveland (Ohio) Benedictine
Results: 4.54 40, 4.09 shuttle, 35.5' PB, 32.8" VJ, 106.35 SPARQ
Breakdown: Made significant improvements in every test from last year, raising his SPARQ Rating over 25 points.
WR: Thaddeus Snodgrass
, 6-0, 180, Springfield (Ohio)
Results: 4.65 40, 4.30 shuttle, 35.0' PB, 30.8" VJ, 88.23 SPARQ
Breakdown: Highly ranked receiver has a long list of offers and recently picked up first two from SEC schools Kentucky and South Carolina.
WR: Terry McLaurin
, 6-0, 175, Indianapolis Cathedral
Results: 4.43 40, 4.29 shuttle, 39.0' PB, 38.0" VJ, 116.55 SPARQ
Breakdown: McLaurin was the go-to player through the air this season, leading Cathedral to another state championship.
TE: Beau Hoffman
, 6-1 1/2, 197, Massillon (Ohio) Washington
Results: 4.73 40, 4.03 shuttle, 42.5' PB, 33.2 VJ, 119.58 SPARQ
Breakdown: Extremely impressive to see a player of his size and position post the top SPARQ Rating on the day.
OL: Nathaniel Devers
, 6-3, 270, Massillon (Ohio) Washington
Results: 5.19 40, 4.76 shuttle, 38.0' PB, 22.5" VJ, 72.27 SPARQ
Breakdown: Moves extremely well for size; it's ideal for a guard prospect to be able to get out on edge.
OL: Brady Taylor
, 6-4, 267, Columbus (Ohio) Bishop Ready
Results: 5.12 40, 4.62 shuttle, 37.0' PB, 26.4" VJ, 80.04 SPARQ
Breakdown: Bowling Green and Toledo have jumped in early with offers and should see more to come.
ATH: Dennis Briggs
, 5-10, 195, Pittsburgh Shady Side Academy
Results: 4.65 40, 4.19 shuttle, 36.0' PB, 33.2" VJ, 100.53 SPARQ
Breakdown: After a strong junior year, the versatile back showed the speed necessary to possibly play ball on the collegiate level.
ATH: Malik Seales
, 5-9, 222, Flint (Mich.) Carmen-Ainsworth
Results: 4.83 40, 4.35 shuttle, 40' PB
Breakdown: Dual-threat type running back caught 82 passes for 832 yards as a junior.
DEFENSE
DL: Alex Neering
, 6-6 1/2, 230, Essexville (Mich.) Garber
Results: 5.10 40, 4.66 shuttle, 39.0' PB, 28.2" VJ, 78.15 SPARQ
Breakdown: Has ideal size with above-average speed to garner some attention as a rush end. He was named to multiple all-state teams this season.
DL: Charlie Yost
, 6-5, 231, Livonia (Mich.) Churchill
Results: 5.11 40, 4.47 shuttle, 35.5' PB, 26.0" VJ, 73.17 SPARQ
Breakdown: Monster junior season consisted of 12 tackles for loss with 102 total tackles and earned him Detroit Free Press All-Area honors.
DL: Kenny Finley
, 6-2, 269, Muskegon (Mich.)
Results: 5.23 40, 4.59 shuttle, 37.0' PB, 29.5" VJ, 85.02 SPARQ
Breakdown: Strong and athletic, Finley had a strong junior season and could really benefit from more impressive performances this spring.
LB: Dameon Willis
, 6-1, 210, Cleveland St. Ignatius
Results: 4.74 40, 4.60 shuttle, 38.0' PB, 32.8" VJ, 90.84 SPARQ
Breakdown: Don't be surprised to see a few schools come offering Willis, who was the top underclassman on the nationally ranked St. Ignatius squad.
LB: Chris Frey Jr.
, 6-2, 214, Columbus (Ohio) Upper Arlington
Results: 4.75 40, 4.31 shuttle, 37.5' PB, 33.3 VJ, 100.20 SPARQ
Breakdown: Versatile athlete has offers to play linebacker as well as safety.
LB: Airius Moore
, 5-11 1/2, 212, Beavercreek (Ohio) High
Results: 5.08 40, 4.41 shuttle, 41.0' PB, 28.3" VJ, 89.16 SPARQ
Breakdown: Was selected to multiple postseason teams, leading to offers from Illinois and Cincinnati.
DB: Jalen Fox
, 5-10, 175, Wyoming (Ohio) High
Results: 4.75 40, 4.40 shuttle 35.0' PB, 37.4" VJ, 90.27 SPARQ
Breakdown: Was a Division III all-state selection after recording five interceptions and 57 tackles during his junior season.
DB: Shaun Crawford (2015)
, 5-9, 168, Lakewood (Ohio) St. Edward's
Results: 4.51 40, 4.23 shuttle, 30.5' PB, 37.4" VJ, 90.03 SPARQ
Breakdown: The defensive back is also an electrifying wide receiver, but it's his cover skills that have earned him offers from Tennessee and Illinois.
DB: Jack Walz
, 5-10.5, 191, Lakewood (Ohio) St. Edward's
Results: 4.65 40, 3.90 shuttle, 34.0' PB, 33.6" VJ, 107.73 SPARQ
Breakdown: Fleet-footed cover corner posted the day's top shuttle time.
DB: Tim Cason
, 5-11 1/2, 179, Clarkston (Mich.) High
Results: 4.78 40, 4.25 shuttle, 37.0' PB, 30.3" VJ, 88.41 SPARQ
Breakdown: Had a breakout junior season, leading to offers from Bowling Green, Toledo and Michigan State.
ATH: Marcus Whitfield
, 5-11 1/2, 166, Massillon (Ohio) Washington
Results: 4.58 40, 3.95 SH, 35.0' PB, 29.6" VJ, 99.87 SPARQ
Breakdown: Akron, Toledo and Kent State have offered the speedy two-way standout.
ATH: Marcus Samuels
, 5-9, 169, Riverview (Mich.) High
Results: 4.46 40, 4.40 shuttle, 31.5' PB, 35.8" VJ, 92.82 SPARQ
Breakdown: Rushed for 1,285 yards last season earning a spot on the Division 3 AP All-State Team.
August, 30, 2012
8/30/12
10:00
AM ET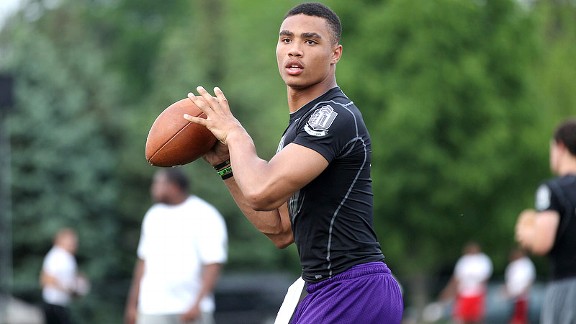 Tom Hauck/ESPNHSBuckeyes commit Jalin Marshall leads Middletown against Sprinfield on Friday night.
How does a team stop a player who ran for 312 yards and scored three touchdowns against St. Xavier (Ohio)?
How does a defense contain the No. 4-ranked pocket passer in the nation and 26th-ranked player in the ESPN 150?
The first of those questions will be answered when big-time recruit
Thaddeus Snodgrass
goes toe-to-toe with Ohio State commit
Jalin Marshall
on Friday, as Middletown travels to Springfield for a Friday night game slated for a 7:30 kickoff on Snodgrass' home field.
To continue reading this article you must be an Insider