NCF On The Trail:

nicodem pierre
November, 12, 2013
11/12/13
8:00
AM ET
It is a chicken or the egg argument. Has the SEC ruled college football for much of the last decade because the conference annually places five or more teams among the top 10 of the recruiting rankings? Or is the SEC's recruiting dominance a result of seven straight national championships?
The ACC, though, could be the David to the SEC on the field and in recruiting. In the 2014 cycle, two ACC schools have top-five classes. Will that remain the same come signing day?
We look at that question and nine others as we examine the most pressing ACC recruiting questions leading up to signing day.
1. Will FSU and Miami remain in the top five of the class rankings?
Both classes are close to completion, so it could be tough for the Noles and Canes to finish in the top five of the rankings. Alabama is at No. 1 and could end up running away with another recruiting title. The rest of the SEC will charge hard come signing day, too. Tennessee should be a safe bet to finish in the top five, and programs such as Florida, Georgia, LSU, Ole Miss and more could break into the exclusive group come February. Tennessee recently jumped both schools, pushing Florida State to No. 3 and Miami to No. 4.
2. Can Miami surpass Florida State for the ACC's top class?
If both were to fall out of the top five, there is still some pride in finishing with the top class in the conference. The Noles are ahead of the Canes at the moment, and it will be tough for the Canes to jump FSU. It looks as if Miami has two spots left and should finish with
Johnnie Dixon
and
Anthony Moten
. But the Noles could sign more than 30, and some of the country's truly elite prospects have Florida State among their finalists. It looks doubtful that Miami -- or any ACC team -- will catch and pass Jimbo Fisher's class.
[+] Enlarge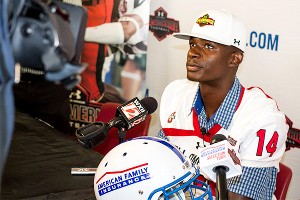 Courtesy of IntersportESPN 300 DE Lorenzo Featherston is a Clemson lean whose pledge would help the Tigers close strong.
3. Will Clemson finish in the top 10?
Sitting at No. 12 in the rankings, the Tigers have a good chance to finish in the top 10 and even an outside chance to crack the top seven. Defensive end
Lorenzo Featherston
(Greensboro, N.C./Page) is No. 27 in the ESPN 300 and a Clemson lean. It would be a surprise to see him land anywhere but with the Tigers. Cornerback
D.J. Smith
(Marietta, Ga./Walton), No. 88 in the ESPN 300, also looks to be leaning Clemson's way, and the same could be said for defensive end
Andrew Williams
(McDonough, Ga./Eagles Christian Landing), No. 168 in the rankings. The prize of the defensive class would be five-star inside linebacker
Raekwon McMillan
, however. He is slated to visit officially later this month, and the No. 12 player and top linebacker in 2014 has the Tigers among his top three.
4. Can Pitt close out with three of its four Western Pennsylvania targets?
For Pitt's class to be considered a success, Paul Chryst needs to do just that. The Panthers are struggling some with Pittsburgh-area prospects in 2014, but the same happened in 2013 before Pitt landed
Dorian Johnson
and
Tyler Boyd
. In February, the Panthers hope to land
Dravon Henry
(Aliquippa, Pa./Aliquippa),
Alex Bookser
(Pittsburgh/Mt. Lebanon),
Montae Nicholson
(Monroeville, Pa./Gateway) and
Shai McKenzie
(Washington, Pa./Washington); Henry, Bookser and Nicholson are all in the ESPN 300 and have Pitt among their finalists. Henry is a Pitt legacy. Bookser looks to be focused on Ohio State and Pitt; Nicholson will decide in December and is projected to Pitt.
5. Will Duke sign an ESPN 300 prospect?
The Blue Devils have never signed an ESPN 150 or ESPN 300 prospect since the rankings began almost a decade ago. That was going to change in 2014 with quarterback
Nicodem Pierre
(Miami/Coral Reef), but the dual-threat dropped from the ESPN 300 in October. However,
Trevon Lee
(Ft. Lauderdale, Fla./Cardinal Gibbons) could be leaning Duke's way with the Blue Devils on a roll this season. With a guaranteed winning regular season -- their first in nearly two decades -- Lee is thinking hard about Duke. Academics are big for the 241st-ranked player, so a decision could come down to Duke and Vanderbilt.
October, 9, 2013
10/09/13
2:00
PM ET
Each Wednesday, ESPN RecruitingNation updates its
national class rankings
. For an in-depth look at the ACC, check out our conference rankings:

1. Florida State, 24 commits:
The Seminoles have the top class in the ACC and the No. 2 class nationally. The class includes 10 ESPN300 prospects, including a trio of linebackers Kain Duab (Jackonsville, Fla./Sandalwood High),
Jacob Pugh
(Tallahassee, Fla./Godby High) and
Delvin Purifoy
(Pensacola, Fla./Pensacola Catholic High). The Semionles could close with a bang with up to 31 or 32 possible in the class. No. 6 Adoree' Jackson (Gardena, Calif./Junipero Serra High), No. 13
Tony Brown
(Beaumont, Texas/Ozen High), No. 22
Damian Prince
(Forestville, Md./Bishop McNamara High), No. 28 and Florida commit
Ermon Lane
(Homestead, Fla./Homestead High) and a number of others make up the wish list.
To continue reading this article you must be an Insider
October, 8, 2013
10/08/13
8:00
AM ET
Hope for the best but prepare for the worst. That is what college coaches must do when it comes to recruiting. Every coach would love to land their top target at every position, but coaches are forced to play the what-ifs and continue to recruit prospects lower on the recruiting board. With signing day a few months away and several classes close to completion, college staffs are pushing for those few final targets but also keeping a watchful eye on players down the board.
Here are the best- and worst-case scenarios for each of the ACC schools.
To continue reading this article you must be an Insider
October, 4, 2013
10/04/13
11:00
AM ET
Does Florida State land an elite receiver? What are Pittsburgh's chances with
Jamil Kamara
? And how has Miami recruited so well of late?
All this and more in this week's ACC recruiting mailbag.
@93warchant99 asks: How many out of Malone, Rudolph and Dupre do you think FSU gets, if any?
Dowlar
: It's so hard to pencil these guys into classes right now since there is a long way to go, but I could see Florida State grabbing one of these guys.
[+] Enlarge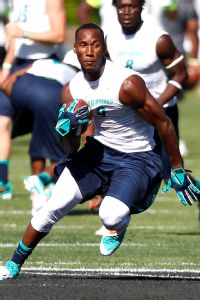 Steve Dipaola/NikeOhio State, Alabama and Florida are in the picture to land Travis Rudolph, but don't count Florida State out.
Malone is going to be tough for them. I really think he's headed to Georgia right now, but visits and results can change things. Tennessee is a huge player for him, too. He'll visit Tennessee this weekend, already took an official to Georgia and then will finally head to Tallahassee on the weekend of Nov. 1.
Malachi Dupre
is the longest shot of them all, to me. I think most people who follow recruiting realize how hard it is to get prospects from Louisiana away from LSU. And right now, the biggest competition appears to be UCLA. I would think he lands in Baton Rouge.
Travis Rudolph
is the best chance of the three for you, I think. Ohio State, Alabama and Florida are absolutely in the picture, but the Seminoles have been trending up for a while now. Rudolph has taken one official so far, and that was to Columbus to see the Buckeyes.
Ross_Abbott11 asks: what is the chance that #Pitt gets Jamil Kamara?
Shanker
: They still have to jump Virginia, but the Panthers should be happy with where they are at. Neither team looked good in last weekend's game, but Pitt did pull out the win, and the Cavs' offense was atrocious. I still think the Cavs lead here, but Pitt continues to impress Kamara. He won't decide until January and Pitt will certainly get an official visit.
Wisconsin is potentially a team to look out for, and he recently said Penn State could be a factor now with the increase in scholarships. I still see it as a top two of Pitt and Virginia -- with the Cavs still holding the lead. There are too many ties to the UVa program to project him anywhere but Charlottesville -- for now.
@fenstythenole asks: Will Florida State get any of the five-star offensive line prospects they are in the running for?
Dowlar
: Well, I don't know which rankings you're referencing, but there aren't any five-star offensive linemen FSU is in on, according to ESPN's rankings. I will assume, though, that you're probably talking about
David Sharpe
,
Chad Mavety
,
Damian Prince
and
Roderick Johnson
.
I think you can write off Sharpe now. I'm thinking he's headed to either Georgia or Florida. And Damian Prince no longer seems likely now. He'll probably end up at Maryland.
When talking about the other two, though, Florida State is in really good shape, especially with Johnson. There are a lot of factors going in the Seminoles' favor for him at the moment. Mavety is too close to call right now, but I have a feeling it is either going to be Florida State or Ohio State.
If FSU lands both of those guys, fans will have to feel really good about the incoming class up front.
@couloaksteelers asks: has Duke seen a bump in recruiting due to last year's bowl game appearance?
Shanker
: They don't play bowl games in basketball so ... oh, this is a Duke
football
recruiting question?
Blue Devils coach David Cutcliffe actually has taken full advantage and seized the opportunity set forth last winter when he coached Duke to a 6-7 record and an appearance in the Belk Bowl. From 2010-2013, the Blue Devils signed only one four-star prospect -- a placekicker. In the 2014 class alone, though, Duke has commitments from three four-star recruits including ESPN 300 Miami Coral Reef quarterback
Nicodem Pierre
. The Blue Devils have beat out the likes of NC State and UNC for a few in-state prospects as well.
Cutcliffe is also expanding Duke's borders, breaking into Ohio for three commitments in the 2014 class. Cincinnati Sycamore linebacker
Tinashe Bere
and Columbus (Ohio) Bishop Hartley defensive back
Alonzo Saxton
committed to Duke over Big Ten offers.
@EricHoudini12 asks: FSU and UF used to whip Miami in South Florida recruiting. That has changed. Was it as simple as Al Golden?
Dowlar
: No, I don't think so, but he's played a major role.
Even though Florida has made a larger impact down there this season, Florida State really hasn't and Miami has done very well. Why?
Well, take a look at your new offensive coordinator, James Coley. Miami's top-rated commitment,
Joe Yearby
, was once a Florida State commitment. Coley had a major, major impact there.
Move over to Booker T. Washington and guys like
Chad Thomas
and
Nigel Bethel
are Coley targets, too.
But the bottom line is there always has to be some kind of promise shown on the field. That's where Golden and his team come in to play. Sure, Miami's commitments mostly came before the win over Florida, but make no mistake about it, those pledges can be, and probably were, solidified because of it.
The short answer is that it is a lot of different moving parts pulling in the same direction at the moment. And it's working for them. Golden is helping to orchestrate it all.
July, 25, 2013
7/25/13
8:53
AM ET
By
RecruitingNation
| ESPN.com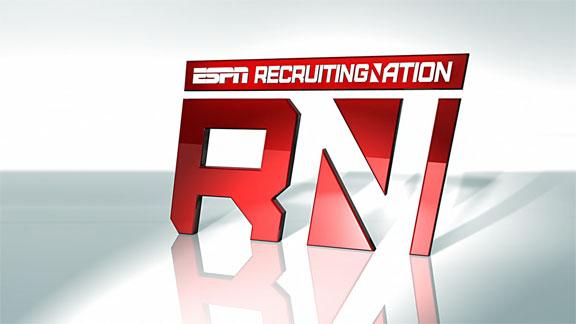 Nicodem Pierre
(Miami/Coral Reef), the nation's seventh-best dual-threat quarterback, has committed to play for Duke, according to multiple reports. He is now the Blue Devils' highest-rated recruit for 2014.
His list of scholarship offers includes Appalachian State, Cincinnati, Florida International, Florida A&M, Florida Atlantic, Howard, Kansas State, Louisville, Marshall, Mississippi State, Nebraska, South Alabama, South Florida, Wake Forest, Western Kentucky and Wisconsin.
Other programs, including Clemson and Miami (Fla.), also recruited the 6-foot-2, 203-pound prospect, who is No. 265 in the ESPN 300.
Pierre displayed impressive athleticism for a quarterback this spring on the Nike combine circuit, posting an electronically-timed 4.82 40-yard dash, 4.50 20-yard shuttle, 34.3-inch vertical, 40-foot power throw and 95.61 SPARQ.
Duke's Class of 2014 now holds 12 commitments.
February, 19, 2013
2/19/13
2:03
PM ET
By
Brian Stumpf
| Special to ESPN.com
MIAMI -- More than 900 athletes gathered on Jan. 5 at North Miami Stadium for the South Florida stop of the Nike Football SPARQ Combine tour. Here is a look at the 25 standout performers who comprise the Miami All-Combine team.
Note: Selections are based upon combine performance as well as past and projected on-field performance. Athletes must have completed two of the four combine tests to be eligible for selection. Athletes are in the Class of 2014 unless otherwise noted.
OFFENSE
QB: Quinton Flowers
, 6-foot-0, 203 pounds, Miami Jackson
Results: 4.72 40-yard dash, 4.53 shuttle, 37-foot power ball throw, 31.3-inch vertical jump, 87.33 SPARQ Rating
Breakdown: Flowers ranks amongst the top QBs in South Florida and was a Class 5A third team all-state pick this fall.
QB: Nicodem Pierre
, 6-1, 201, Miami Coral Reef
Results: 4.82 40, 4.50 shuttle, 40' PB, 34.3" VJ, 95.61 SPARQ
Breakdown: Pierre upped his rating 23 points from last year; favors Kansas State early on in his recruitment.
[+] Enlarge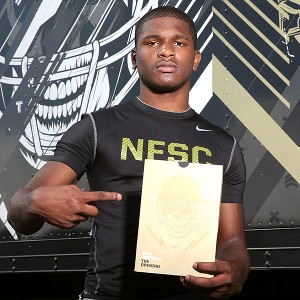 Tom Hauck/StudentSportsBooker T. Washington athlete Treon Harris earned this year's first invitation to The Opening.
RB: Jamal Adjamah
, 5-8, 178, Miami Southridge
Results: 4.63 40, 4.57 shuttle, 36.5' PB, 35.6" VJ, 90.39 SPARQ
Breakdown: Has been one of Dade County's top backs over the past two years.
RB: Krondis Larry
, 5-6, 140, Miami Booker T. Washington
Results: 4.36 40, 4.55 shuttle, 28.5' PB, 35.8" VJ, 81.30 SPARQ
Breakdown: Class 4A honorable mention all-state pick ran for 802 yards and 13 TDs this fall and clocked event's fastest 40 time.
RB: Mardre London
, 6-1, 197, Fort Lauderdale (Fla.) St. Thomas Aquinas
Results: 4.61 40, 4.62 shuttle, 36.5' PB, 32.3" VJ, 88.65 SPARQ
Breakdown: London saw sizable action behind
Fred Coppet
this fall and is in line for a big senior year this season.
WR: Jake McCrary
, 6-0, 171, Miami Coral Reef
Results: 4.51 40, 4.47 shuttle, 32' PB, 34.0" VJ, 86.43 SPARQ
Breakdown: McCrary looked to be back to full health after missing games this fall with a knee injury; has close to 20 offers so far.
WR: Isaiah McKenzie
, 5-8, 160, Plantation (Fla.) American Heritage
Results: 4.56 40, 4.54 shuttle, 35' PB, 36.0" VJ, 87.84 SPARQ
Breakdown: Showed great speed and is coming off of huge junior season in which he had 30 catches for 832 yards and 18 touchdowns.
WR: Lamar Parker
, 5-8, 152, Miami Booker T. Washington
Results: 4.44 40, 4.25 shuttle, 30' PB, 32.0" VJ, 87.24 SPARQ
Breakdown: Miami and FSU are amongst early offers for Parker, who helped the Tornadoes to a 4A state title this fall.
WR: JoJo Robinson
, 6-0, 174, Miami Northwestern
Results: 4.41 40, 4.53 shuttle, 37.5' PB, 32.0" VJ, 97.41 SPARQ
Breakdown: FSU commit put up the day's top SPARQ Rating.
OL: Kai Absheer, 6-5
, 296, Fort Lauderdale (Fla.) St. Thomas Aquinas
Results: 5.47 40, 5.07 shuttle, 38.5' PB, 22.6" VJ, 70.50 SPARQ
Breakdown: Athletic big man posted top SPARQ Rating for all OL and should draw his share of looks in the future.
OL: Trevor Darling
, 6-4, 307, Miami Central
Results: 5.82 40, 5.40 shuttle, 40' PB, 19.9" VJ, 66.96 SPARQ
Breakdown: Miami commit had event's second-best power ball toss.
OL: Ben Tirolia ('15)
, 6-2, 264, Miami Booker T. Washington
Results: 5.14 40, 4.84 shuttle, 38' PB, 19.1" VJ, 65.34 SPARQ
Breakdown: Sophomore starter for state champion has a great future ahead of himself.
OL: Reginald Bain
, 6-4, 251, Miami Central
Results: 5.32 40, 4.82 shuttle, 35' PB, 25.3" VJ, 63.63 SPARQ
Breakdown: Starter on 6A title team at Miami Central possesses great frame and athletic ability.
ATH: Treon Harris
, 5-11, 181, Miami Booker T. Washington
Results: 4.48 40, 4.31 shuttle, 34' PB, 30.4" VJ, 92.61 SPARQ
Breakdown: A Class 4A all-state pick at QB this fall, Harris earned the first invite to The Opening.
ATH: Marcelis Logan
, 5-8 ½, 170, Lexington (Ky.) Catholic
Results: 4.53 40, 4.44 shuttle, 34.5' PB, 36.5" VJ, 94.26 SPARQ
Breakdown: Son of former NFL RB Marc Logan scored eight TDs as a junior and posted event's fourth-best SPARQ Rating.
DEFENSE
DL: Keyon Brown
, 6-3, 235, Wauchula (Fla.) Hardee County
Results: 4.88 40, 4.47 shuttle, 33' PB, 34.4" VJ, 90.39 SPARQ
Breakdown: As physically put-together as any player at the event, Brown ranks amongst state's top DE prospects.
DL: Anthony Moten
, 6-4, 279, Fort Lauderdale (Fla.) St. Thomas Aquinas
Results: 5.19 40, 5.03 shuttle, 42' PB, 28.6" VJ, 91.68 SPARQ
Breakdown: Miami, FSU, Ohio State are among early offers for Moten, a Class 7A honorable mention all-state pick this fall.
DE/LB: Michael Smith
, 6-2, 196, Miami Northwestern
Results: 4.86 40, 4.53 shuttle, 33' PB, 30.2" VJ, 72.66 SPARQ
Breakdown: Was third team 6A all-state at DE for Northwestern this fall but could convert to outside linebacker in college.
LB: Kevin Bronson
, 6-3, 231, Delray Beach (Fla.) Village Academy
Results: 4.78 40, 4.57 shuttle, 40' PB, 31.1" VJ, 96.24 SPARQ
Breakdown: Big and athletic rush end put up day's second-best SPARQ Rating and wants to play LB in college.
LB: Juwuan Brown
, 6-2, 203, Tampa (Fla.) Jefferson
Results: 4.82 40, 4.60 shuttle, 36' PB, 35.6" VJ, 86.76 SPARQ
Breakdown: Indiana is the first offer for Brown, more should be coming shortly for athletic 'backer.
DB: Marques Gayot
, 6-1, 197, Lake Worth (Fla.) Park Vista
Results: 4.65 40, 4.62 shuttle, 32' PB, 30.6" VJ, 76.65 SPARQ
Breakdown: Physical hitter on film, ran well Saturday, was Class 8A all-state pick this fall.
DB: Jaquan Johnson
('15), 5-10, 169, Miami Killian
Results: 4.68 40, 4.38 shuttle, 33.5' PB, 31.9" VJ, 81.54 SPARQ
Breakdown: Johnson was a Class 8A all-state pick this fall and already has Florida and Florida State offers as a rising junior.
DB: Nigel Patten
, 5-9, 170, Miami Booker T. Washington
Results: 4.61 40, 4.44 shuttle, 29.5' PB, 31.8" VJ, 74.34 SPARQ
Breakdown: Class 4A second team all-state pick this fall has an FSU offer.
DB: Andrew Soroh
, 6-0, 189, Hialeah (Fla.) American
Results: 4.63 40, 4.37 shuttle, 36.5' PB, 31.9" VJ, 93.27 SPARQ
Breakdown: Missed most of junior year with shoulder injury but is healthy now and worth a look.
ATH: Trayone Gray
, 6-2, 194, Miami Carol City
Results: 4.66 40, 4.69 shuttle, 37' PB, 32.1" VJ, 85.23 SPARQ
Breakdown: Ready to takeover as QB this fall for Chiefs but also recruitable as WR or safety due to size and athleticism.