NCF On The Trail:

Mark Stoops
February, 7, 2014
Feb 7
11:15
AM ET
Quietly, Kentucky coach Mark Stoops made an emphatic statement with his 2014 recruiting class: The Wildcats aren't going to sit idly by and watch the big boy have all the fun.
Just months removed from a 2-10 debut that resulted in Kentucky's fourth straight losing season, Stoops secured the
No. 20 recruiting class in the ESPN rankings
. It was the highest-ever finish for Kentucky in ESPN's recruiting rankings.
Stoops rubbed shoulders with the SEC's best, signing 28 players, including six ESPN 300 members and eight four-stars. Stoops flipped a Florida State commit and beat out Alabama for a highly coveted defensive tackle. He snagged a top-10 quarterback and filled critical holes on both sides of the ball.
Stoops has zero SEC wins on his Kentucky resume, but he got a major win on signing day.
"We hit on a lot of areas," Stoops told ESPN.com Thursday.
[+] Enlarge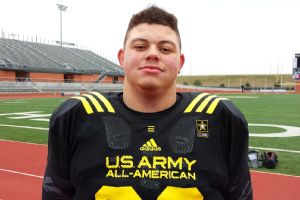 Damon Sayles/ESPNFour-star DT Matt Elam is one of the key pieces in Kentucky's 20th-ranked recruiting class.
"Last year, we did a nice job of piecing together a good a class as we could in five or six weeks. From that point on -- from signing day last year to signing day this year -- I thought it was absolutely the most critical time for us to have a great year in recruiting. We needed good players, we needed guys at every position."
But the Wildcats couldn't afford to just fill space. That would have been counterproductive for a team looking to rebuild. Kentucky needed both quality
and
quantity, which can be a tough task for a new coach at a struggling program.
Stoops said he and his coaches set out with a simple message of building relationships and getting in front of as many quality prospects as possible. They got players on campus for junior days when Stoops' crew first arrived last year, they got them to last year's record-setting spring game, they got them to basketball games to see that other historic program on campus, and they stayed confident in their message of the future.
There was no magic selling point, just very detailed process of showing prospects exactly what they were doing in the program, not just in games.
"They understood that we were in for a little bit of a struggle -- that this is a rebuild -- and we need good players to rebuild this program," Stoops said. "They understood very clearly the success that we've had before and what we do offensively and defensively. These coaches have been very successful and showed them exactly what our plan was for the future."
Stoops held a top-20 class for most of 2013, proving that players didn't waver, despite the Wildcats' on-field struggles. He was able to keep ESPN 300 defensive end
Denzel Ware
, who flip-flopped between Kentucky and Florida State for months before staying with the Wildcats. He kept ESPN 300 early enrollee quarterback
Drew Barker
, who went through winter workouts and has a chance to push for the starting spot this year.
Stoops also kept ESPN 300 standouts
Thaddeus Snodgrass
(wide receiver) and
Stanley Williams
(running back), and he sold Kentucky to four-star defensive tackle
Matt Elam
, who picked the Cats over Alabama last month.
"It's very important to win your fair share of battles, and we're going to win our fair share," Stoops said. "We're going to recruit very hard, we're going to recruit the best players, and we're not afraid to go in and compete. You're going to win some and lose some, but I thought we did a nice job of hitting a very high percentage of guys we targeted."
Where Kentucky really succeeded was in the secondary, signing ESPN 300 cornerbacks
Darius West
and
Kendall Randolph
. Stoops desperately needed offensive playmakers, but gaining talents like this in the secondary was crucial.
"It's a real issue," Stoops said of the depth in his secondary.
"For us, it's hard for me to pinpoint an area, but we were clearly not very good in the secondary so I thought that was very important to hit that [hard] as well."
Stoops left fingerprint in 10 states and came away with a handful of players who could make an immediate impact in Lexington. But Stoops understands that this class can't do it alone. He needs development to continue with his current players already on campus. He needs competition to blossom and he needs his upperclassmen to mesh with the youngsters in order to get Kentucky up and running.
"We're at a point where we're still trying to put together a top-notch first team," Stoops said. "Not only do we need depth, we need some playmakers with our starters as well.
"In our business, no one has patience, everybody wants to win now. But it is a process, and we're working to improve every day and we're getting better."
February, 3, 2014
Feb 3
12:45
PM ET
After 16 straight SEC losses, Kentucky needed something to get excited about in football.
Mark Stoops, who just finished his first season as the Wildcats' coach, has delivered with what's shaping up to be the program's highest-ranked signing class in history.
[+] Enlarge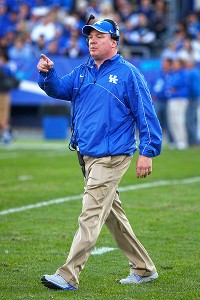 University of Kentucky AthleticsAs signing day approaches, Kentucky coach Mark Stoops is making an impact on the recruiting trail.
With Wednesday's national signing day fast approaching, Kentucky is currently ranked 20
th
in
ESPN's class rankings
, which would be the Wildcats' first-ever top 25 finish.
The big get last week was four-star defensive tackle
Matt Elam
of Elizabethtown, Ky. Kentucky was able to beat Alabama for the 6-5, 350-pound Elam, which is always a telltale sign that a program is headed in the right direction.
When you're beating the top teams in your league on the recruiting trail for marquee prospects, that's the quickest way to start beating them on the field. It's also significant that Stoops was able to keep one of the top prospects in the state of Kentucky at home. That has been a priority.
Three of the top four in-state prospects in the 2014 class have opted for the Wildcats. The other two were ESPN 300 quarterback
Drew Barker
of Hebron, and three-star defensive tackle
Adrian Middleton
of Bowling Green.
Stoops also has cashed in on his Ohio roots and done very well in that state. Nine of Kentucky's 28 commitments in this class are from Ohio, a state traditionally laden with talent. Ohio State and Michigan can't take them all.
Kentucky has eight four-star prospects committed in this class. In Stoops' first class a year ago, he reeled in six four-star prospects. That's 14 in two years. For perspective, in the three previous classes combined, the Wildcats signed a total of four four-star prospects.
Stoops knows what a talented roster looks like. He came to Kentucky from Florida State.
Upgrading the talent level is the only way Kentucky is going to make a move in the SEC, and based on these last two classes Stoops and his staff have put together, there's hope on the horizon.
January, 31, 2014
Jan 31
5:30
AM ET
The Early Offer is RecruitingNation's regular feature, giving you a daily dose of recruiting in the mornings. Today's offerings: Coaches say things like size and speed are important when determining whether or not they will pursue a recruit, but one ACC head coach has something else that's vital in his team's evaluation process; Les Miles and Nick Saban were in the home of the nation's No. 1 receiver prospect on Thursday.

Overlooked part of evaluation


January, 14, 2014
Jan 14
5:30
AM ET
The Early Offer is RecruitingNation's regular feature, giving you a daily dose of recruiting in the mornings. Today's offerings: Kentucky coach Mark Stoops admitted his first season didn't go like he had planned, but those struggles haven't hurt the Wildcats on the recruiting trail; Vanderbilt is in a tough recruiting situation if it moves too fast or too slow with its coaching search; and Clemson coach Dabo Swinney thought of a different way recruiting classes should be evaluated.
To continue reading this article you must be an Insider
November, 14, 2013
11/14/13
11:00
AM ET
While Missouri and Kentucky continue to zoom in opposite directions on the playing field, both appear to be having relative success off the field.
In the realm of recruiting, where futures are made -- and crushed -- Missouri and Kentucky are succeeding at an exciting pace, and for very different reasons.
For Missouri, it's quite simple: The Tigers have bounced back from a dreary 5-7 SEC debut in 2012 to become one of the nation's hottest teams. Mizzou is 9-1 (5-1 in SEC play) and sits at No. 9 in the BCS standings. At one point, the Tigers were unbeaten and as high as fifth in the BCS.
[+] Enlarge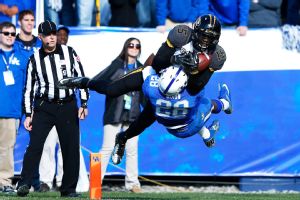 Joe Robbins/Getty ImagesThe physical attributes of ex-Missouri receiver Dorial Green-Beckham might not outweigh the potential distraction he could bring to Oklahoma.
The Tigers control their SEC Eastern Division destiny and have a legitimate shot at a BCS bowl game. Because of that, Missouri coach Gary Pinkel, who entered the year with a relatively warm seat below him, said he's seen a spike in interest in Mizzou on the recruiting trail.
"I don't think there's any question about that. Yeah, it's been very, very positive," said Pinkel, who is 99-62 in 13 seasons as Mizzou's head coach. "That's a benefit that happens with success.
"It's nice to have a lot of people interested in us."
Don't just take his word for it, either. At the beginning of the month, Mizzou had zero ESPN 300 commits, but in the past week has gained verbals from two -- offensive tackle
Andy Bauer
(St. Louis/De Smet Jesuit) and linebacker
Brandon Lee
(Indianapolis/Lawrence Central). Those two commitments helped the Tigers leap into ESPN's class rankings at No. 32. Since the season started, Mizzou has received six verbals to up its number to 26.
Pinkel welcomes this recruiting momentum, but he isn't shocked by the interest. To him, Mizzou has always had the appeal, even with last season's roadblock.
"We had a great reputation for winning and a consistency of winning, graduation, APR ranking and all those other things," Pinkel said. "It's not like a brand new staff that's just showed up somewhere."
At Kentucky, there is a new staff in town. In Mark Stoops' first year as Kentucky's head coach, he's seen he share of recruiting success without the wins. With only a couple of months to work with, Stoops snagged ESPN 300 members
Jason Hatcher
and
Ryan Timmons
-- along with junior college standouts
Za'Darius Smith
and
Javess Blue
-- in his first class. Smith leads Kentucky with 5.5 sacks, while Blue and Timmons are one and two, respectively, in catches and receiving yards.
But despite a 2-7 (0-5 SEC) season and no bowl game for the third straight season, the Wildcats are 17th in
ESPN's class rankings
with 25 commitments, five of which are ESPN 300 members.
Kentucky has had only two commitments since the season began, but Stoops said he feels confident that a class as good as this -- which could help solve the playmaker issue with the No. 7 quarterback, two running backs and five receivers -- can stay together come signing day, even with the on-field losses piling up.
"These guys know," Stoops said. "Most of these recruits knew we were going to be in for a tough year this year. They know we're progressing and working toward the future."
Both programs are trending up in recruiting, but neither job is done. For Mizzou, it's all about maintaining popularity in states such as Georgia and Florida, while keeping Missouri and Texas talent in check. Pinkel and his staff made Atlanta and southern Georgia a major priority with their billboard/letter-sending strategy last year, and he expects to keep making inroads in such a fertile area.
"It's important, I think it is," Pinkel said of recruiting in the heart of the Southeast. "It's great high school football. Obviously, you want to have a place in the geographical areas in which you play your games. That's why that was very important to us."
For Stoops, he just wants to hammer home is message that better days are coming. So far, a rough first season hasn't dented Stoops' recruiting success and he doesn't think it will in the waning recruiting months.
"I think anybody who is a fan of our program or involved in our program -- in any shape or form -- or in the future of our program would like to see us win some more games, but nobody is deterred," he said. "Everybody knows where we're headed and we're moving toward good things."
June, 13, 2013
6/13/13
4:41
PM ET
For years, Kentucky football fans have watched SEC rivals stomp into their recruiting territory and plunder some of the top players from the Bluegrass State. To change that, new Wildcats coach Mark Stoops knew he had to be creative, aggressive and forward-thinking when he arrived in Lexington.
Stoops immediately made it a priority to build relationships with high school coaches in Kentucky and in the neighboring states of Indiana and Ohio. It paid off with a 2013 class that finished No. 36 overall in ESPN's rankings and has helped the Wildcats push as high as No. 12 with this year's crop.
[+] Enlarge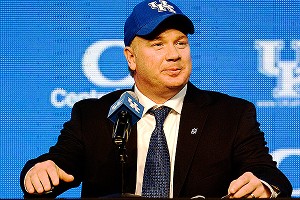 Mark Zerof/USA TODAY SportsWhen Mark Stoops took the Wildcats job, he made Kentucky, Indiana and Ohio recruiting priorities.
He also pushed his assistants to be ultra-aggressive targeting younger prospects. The Wildcats reportedly have extended offers to more than 40 prospects in the Class of 2015 as well as to a small handful of players in the 2016 group.
Word surfaced that the Wildcats had
extended an offer to Indiana eighth-grader-to-be Jairus Brents
on Thursday. Brents, along with his godfather, Chris Vaughn, said they received the offer from Kentucky cornerbacks coach Derrick Ansley after the 13-year-old defensive back starred at a Wildcats camp this past weekend.
Like it or not -- and the reaction from social media has trended quickly toward the negative -- recruiting is often a game of who asks first.
To continue reading this article you must be an Insider
May, 10, 2013
5/10/13
3:45
PM ET
Drew Barker
's commitment to Kentucky is further proof that first-year head coach Mark Stoops will be a recruiting force to be reckoned with.
The first signal that Stoops would be a recruiting presence in the SEC came when he landed defensive end
Jason Hatcher
from Louisville (Tenn.) Trinity in February.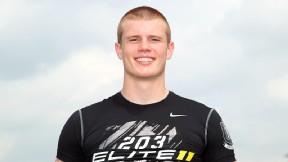 Tom Hauck for ESPNESPN 150 quarterback Drew Barker is rated No. 7 at his position nationally and is the No. 1 prospect in the state of Kentucky.
Hatcher's signing was startling. He was a longtime Southern California commitment who had shown strong interest in Tennessee and Louisville, his hometown school. Beating that trio was no small feat.
Compiling the Wildcats' 2013 class was impressive even without Hatcher. Of Kentucky's 22 commits, six were four-star prospects and 14 were rated as three-star prospects. This was not a bottom-feeder class that Kentucky fans had grown accustomed to.
Yet Barker is even a bigger pick-up than any of the 2013 signees.
He's a highly rated, highly sought-after quarterback to build a class around. The last time Kentucky secured this type of in-state talent was in 1996 when the Cats signed Tim Couch. That worked out pretty well.
No one knows if Barker can be Couch. That's a tall order. What is known is that under Stoops, Kentucky is far ahead of where they were a year ago in recruiting.
Kentucky already has six commitments, including Barker. The class is also headlined by receiver
Thaddeus Snodgrass
from Springfield (Ohio) High. Note the home state; it's a recurring theme. Other than Barker, all of Kentucky's commitments are from Ohio.
Kentucky can afford Midwest prospects a unique opportunity -- a chance to play in the SEC close to home. Tennessee plans to recruit in Ohio. So do other schools. Yet they aren't quite as close as Lexington.
Kentucky has also proven to several prospects that it is intent on being successful in football. Currently, the school is undergoing a massive upgrade to its football facilities, which were largely considered toward the bottom of the SEC.
Kentucky has also proven it can win at a championship level. Its basketball program is proof of that. Therein lies the contradiction, however. Is Kentucky doomed to be a basketball school?
There's reason to think that SEC teams can do both thanks to generous boosters and robust television contracts. Think Florida first, then LSU and Tennessee. All are considered football schools that have had at least sporadic success on the hardwood.
Kentucky can also use basketball to its advantage. Prospects will surely be impressed by 20-plus thousand fans in attendance for a mid-week Cats' basketball game. Ashley Judd in the stands won't hurt either.
To continue reading this article you must be an Insider
May, 10, 2013
5/10/13
10:19
AM ET
Inspired by
Florida's "#ComePlayWRFortheJoker" campaign
, our recruiting writers looked at other ways schools can sell themselves on the trail. Here's a look at recruiting pitches for the SEC:

Alabama Crimson Tide
What they are selling:
What's not to sell? Alabama is coming off back-to-back national championships, and the Crimson Tide had nine players taken in April's NFL draft, including three in the first round. For the critics who say you won't play early at UA, ask
T.J. Yeldon
and
Amari Cooper
how much they contributed as freshmen.
What they are missing:
Although they won a national championship, the Tide didn't generate much pass rush last fall, and they had trouble containing freshman sensation
Johnny Manziel
. Also, they need to rebuild the offensive line, a unit that anchored the offense last year.

Arkansas Razorbacks
What they are selling:
New head coach Bret Bielema runs a completely different offensive system than the previous two Arkansas coaches. The Razorbacks are selling an opportunity for freshmen to come in and earn playing time early in their careers.
What they are missing:
The Razorbacks signed only one offensive lineman,
Denver Kirkland
, who was rated a four-star prospect or higher last year. In this run-heavy system, look for Arkansas to focus on landing talented players along the offensive line.

Auburn Tigers
What they are selling:
It's a new regime for Auburn, but there's a familiar face running the show. New head coach Gus Malzahn knows the program from his days as offensive coordinator. He's already shown the ability to recruit, stealing ESPN 150 linebacker
Tre Williams
away from the Tide. There's a sense of excitement on The Plains again.
What they are missing:
Malzahn filled out his first recruiting class with playmakers, but Auburn needs to build up front on the offensive and defensive lines. No matter what offense you run, if you want to win in the SEC, you need to be able to compete up in the trenches.

Florida Gators
What they are selling:
With no proven wide receivers on the perimeter, Florida is attempting to sell early playing time at the position. A chance to play for one of the best defensive minds in college football in Will Muschamp is another selling point to defensive prospects.
What they are missing:
Production on offense. After finishing 114th nationally in passing offense, it will be hard to sell playing time to wide receivers without an explosive passing game in place.

Georgia Bulldogs
What they are selling:
Freshmen, if they're good enough, play early at Georgia. From running backs
Todd Gurley
and
Keith Marshall
to offensive tackle
John Theus
to defensive end
Jordan Jenkins
, several freshmen Bulldogs made major contributions on a team that was a few yards away from making the national championship game.
What they are missing:
Georgia has brought in four top-12 recruiting classes in the last four years. Depth might become an issue for some recruits, but Georgia has certainly shown a willingness to play younger players.

Kentucky Wildcats
What they are selling:
After finishing 2-10, Kentucky fired coach Joker Phillips. New head coach Mark Stoops is offering a fresh start and a chance to help build Kentucky in to a contender in the SEC East.
What they are missing:
Plain and simple -- tradition. Sure, Kentucky is full of basketball tradition, but the success on the hardwood completely overshadows the football program. A record 50,831 fans attended the Wildcats' spring game, so the interest level is certainly headed in the right direction.

LSU Tigers
What they are selling:
An unprecedented 10 underclassmen declared for the NFL draft. LSU is selling the opportunity, not only for early playing time because of the departures, but a chance to make it to the NFL in three years.
What they are missing:
Because of all the departures, there are some holes on both sides of the ball. Depth is now an issue at running back and LSU will need to replace
Eric Reid
,
Kevin Minter
, defensive ends
Sam Montgomery
and
Barkevious Mingo
, defensive tackle
Bennie Logan
and linebacker
Kevin Minter
.

Ole Miss Rebels
What they are selling:
Ole Miss landed the No. 5-ranked class in the country, including No. 1 overall player
Robert Nkemdiche
and No. 1 offensive tackle
Laremy Tunsil
. Look for Ole Miss to sell recruits on the opportunity to help build something special under head coach Hugh Freeze.
What they are missing:
Freeze brought a creative and innovative offense to the SEC, but the defense is still a work in progress. Ole Miss finished 12th in the SEC in pass defense and will need to continue to build depth in order to compete for the SEC West championship.

Mississippi State Bulldogs
What they are selling:
Only 11 of 22 starters return for a team that finished 8-5 last year. The Bulldogs offer recruits a chance to play early and play in the best division in college football.
What they are missing:
Mississippi State returns its starting quarterback
Tyler Russell
, but who will he be throwing to? Last year's four leading receivers, including Chad Bumphis, are gone. Look for the Bulldogs to focus on offensive weapons in this recruiting class.

Missouri Tigers
What they are selling:
The Tigers return 14 of 22 starters on a team that went 5-7 in its first year in the SEC East. Missouri runs a fun and innovative offense that is sure to attract recruits, and there is certainly an opportunity to play early.
What they are missing:
The defensive line is probably the most critical area on any defense in the SEC, and the Tigers lost their best lineman in Sheldon Richardson. Mizzou must find a viable replacement for Richardson and linebackers Zaviar Gooden and
Will Ebner
.

South Carolina Gamecocks
What they are selling:
The Gamecocks have been dominant on defense over the last few years, and a strong line is a big part of their success. South Carolina is selling an opportunity to be the next
Jadeveon Clowney
and be a part of one of the top defenses in the SEC.
What they are missing:
Hard to believe, but head coach Steve Spurrier needs help at wide receiver. The Gamecocks signed only one wide receiver in their 2013 class. They have young bodies, but not much depth or production from the returning group.

Tennessee Volunteers
What they are selling:
A fresh start under new head coach Butch Jones. Since 2011, Tennessee has finished with the No. 13, 21 and 29 recruiting classes in the country. There plenty of holes to fill, and any incoming freshman will have plenty of opportunities to earn a starting spot.
What they are missing:
Tennessee lost wide receivers Justin Hunter and Cordarrelle Patterson to the NFL draft and must replace their production on the outside. The Volunteers are also thin in the secondary and will look to recruiting to plug some key holes on defense.

Texas A&M Aggies
What they are selling:
There is a lot to sell a recruit on at Texas A&M right now. An explosive offense which led the SEC in total offense by more than 100 yards a game, Heisman Trophy winner
Johnny Manziel
and a team that went into Tuscaloosa and handed Alabama its only loss last season.
What they are missing:
There are still some holes to fill on defense. The Aggies finished with the No. 8-ranked defense in the SEC and the No. 10-ranked pass defense in the league. They also need to replace talented defensive end Damontre Moore, who is now in the NFL.

Vanderbilt Commodores
What they are selling:
Head coach James Franklin has taken Vanderbilt to a bowl in two consecutive years, and the Commodores are bringing in a solid recruiting class. Selling recruits on an opportunity to play at Vanderbilt during one of the best eras in the school's football history is enticing to high school recruits.
What they are missing:
Vanderbilt is not yet on par with other SEC schools as far as facilities. The Commodores, though, are certainly headed in the right direction. A new indoor practice facility is being constructed, and stadium renovations are in the planning stages.
May, 3, 2013
5/03/13
11:30
PM ET
LAKE BARRINGTON, Ill. — ESPN 150 quarterback
Drew Barker
(Hebron, Ky./Conner) is not succumbing to any pressure with a college decision a week away. In fact, he is enjoying it.
"It's pretty fun," Barker said. "You've got a lot of people pointing you in a lot of directions, but my parents and my coaches back at home and my friends really keep me down to earth and don't let it all get to my head. They'll talk to me about other things besides football and not always about football — 'Just sit down, relax.'
"So there are a lot of people pulling you in a lot of different directions, but it's kind of what I always wanted. I'm kind of blessed to be in the position and it's pretty awesome."
To continue reading this article you must be an Insider
February, 3, 2013
2/03/13
1:42
PM ET
Kentucky has had a high rate of success getting prospects from the state of Florida to commit, or eventually do so, after taking their official visit. The trend continued again over the weekend.
To continue reading this article you must be an Insider
February, 2, 2013
2/02/13
10:27
AM ET
Mark Stoops' 2013 class grew by two on Friday night.
To continue reading this article you must be an Insider
December, 17, 2012
12/17/12
9:19
AM ET
ESPN 300 athlete
Adrian Baker
(Hollywood, Fla./Chaminade-Madonna) confirmed Monday morning via text message he has decommitted from Florida State.
To continue reading this article you must be an Insider
July, 22, 2012
7/22/12
4:28
PM ET
After camping last week in Tallahassee,
Nigel Patten
(Miami, Fla./Booker T. Washington) came away with a Florida State offer. The Seminoles are hoping to make a lasting impact by being the first team to pull the trigger with the 2014 prospect. And, as it turns out, Patten already has a good understanding of Mark Stoops' defensive personnel.
"Florida State is a great team, they seem like they are always one of the top teams," said the 5-foot-9, 159-pound defensive back. "They are one of my favorite schools. I like the guys like Lamarcus Joyner and Greg Reid on the defensive side of the ball."
Patten isn't the only prospect Florida State is after at Booker T. Washington. Top 2013 prospects, including
Matthew Thomas
and
Denver Kirkland
, already are being heavily recruited.
Having his high school teammates in the picture obviously helps FSU's chances with Patten.
To continue reading this article you must be an Insider
January, 17, 2012
1/17/12
1:04
PM ET
Last weekend, the top prospect in Georgia, linebacker
Josh Harvey-Clemons
(Valdosta, Ga./Lowndes), was in Athens to check out the Bulldogs on an official visit. Harvey-Clemons took an official to Florida in December, and it appears that a Bulldogs versus Gators battle is brewing for the Army All-American. Having been to Georgia with his family three times, Harvey-Clemons had already seen most of what Athens has to offer. What caught the Valdosta native off-guard was seeing how well the players were rewarded for their successful season.
[+] Enlarge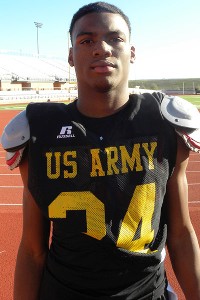 William Wilkerson/ESPN.comGeorgia coaches spent a lot of time last weekend showing top in-state prospect Josh Harvey-Clemons how well he would fit into Todd Grantham's defense.
"We were excited and surprised by the number of gifts the athletes receive for winning the SEC East and going to the bowl game," said Woodrow Clemons, Josh's grandfather and adoptive parent. "They get new watches, iPads, tote bags and several other items. I was very impressed with that."
With the two neighboring programs being so comparable, it was tough to determine a leader. So Josh and his family inquired about where each program would play him and evaluated what each program will offer on the gridiron next season.
To continue reading this article you must be an Insider