NCF On The Trail:

Mark Dantonio
February, 6, 2015
Feb 6
2:00
PM ET
Recruiting can be a non-stop grind for the coaches who have to procure that talent. Some days are longer than others. We talked to several Big Ten head coaches this week and asked them to describe their longest days out on the trail. Here are their stories:
Nebraska's Mike Riley
"It seemed the whole thing was full of long, memorable days. But when recruiting reopened in January after the dead period, I've got our personnel staff and our coaches usually making my schedule, where I need to go. So my first day out, I visited North and Central High in Omaha. I did a home visit with
Michael Decker
. I went to the Outland (Trophy) banquet, and I did another home visit with
Daishon Neal
. And then it was 10 o'clock at night. It was a full day, and it was a great day, because I hadn't been in those high schools before. I loved meeting the coaches and seeing our players at the high schools. I always like home visits. I think it's a real important part of the process."
Northwestern's Pat Fitzgerald
"My last week of recruiting, I started on Sunday, flew from Chicago to the Bay Area. Then Sunday night, flew down to L.A. I was in L.A. on Monday and then Monday night I flew to Dallas, spent Tuesday in Dallas, flew Tuesday night to Houston, spent Wednesday in Houston, flew to Atlanta, spent Thursday in Atlanta, and then spent Friday in Chicago. Spent a lot of time at Chick-fil-A. It was a long week and our staff did a great job."
Michigan State's Mark Dantonio
"It hit me when I came out of a hotel room one day. I stayed in the same chain of hotels, and I walked out of the room and down the hall and I couldn't remember what room I was in. I walked back and took a guess on which room I was in, just to check my key to make sure I was in the same room. I was basically going from place to place for two weeks and sometimes two places in a day. I think I was in Orlando. I got back in the room. There were three doors and I guessed the right one."
Penn State's James Franklin
"One day I remember from a previous year. I had just taken a job [at Vanderbilt] and I was flying around and my luggage got lost and I wore the same suit for five days. I'm a hugger, and my hugs got a little less intimate as the week went on. My luggage couldn't keep up with me. Every time I got to a city or a state, the next day the luggage would get there and I'd already gone to the next state. It wasn't real fun. I was going to Target and buying underwear and undershirts, all that kind of stuff, and kept dousing myself with deodorant and cologne. It didn't help that we were flying commercially."
Rutgers' Kyle Flood
"We had one day where we went from New Jersey to Chicago to Tampa and then back to New Jersey. We started at about 6 in the morning and I finished at about 2 in the morning. I was with Norries Wilson and Jim Panagos at different legs of the trip. Norries came with me to Chicago and then to Tampa. He stayed there and went to Jacksonville. And then I picked up Coach Panagos in Tampa and he came back with me. We were fortunate. Everything ran according to schedule, the way I like it."
Maryland's Randy Edsall
"One day, I was here in Maryland, I was down on the east coast of Florida, then to the west coast, and then all the way to Mobile, Alabama. Then the next day I was in Charlotte and then Virginia Beach. Got all that done, really, in a day and a half. You kind of think, 'hey, what day is it, what time is it,' all those sort of things. But those are the things you have to do."
Minnesota's Jerry Kill
"I've gone from Mobile to Mississippi to Texas, and back to Chicago. But the most unique story I can tell you is something that happened for the first time ever this year. I was on a plane that was starting to go down the runway when I had a kid commit. Seriously, we were going down the runway, I didn't think we'd hear from the kid and he calls me. I'm trying to get the pilot to keep the wheels down so I can talk to him."
Indiana's Kevin Wilson
"My longest day was when we finished up on Martin Luther King day. We had a team leadership program going on, we had recruits on campus and then we had to leave Bloomington and go to Shadyshide, Ohio. By the time we get back to Columbus, it's about 1 a.m. Shoot, there was one day where we had official visits going, I was interviewing a couple of guys for behind-the-scenes jobs, and we had a walk-on day. Those kinds of days wear you out, and you're like, "Who planned all this [stuff]? You're killing me?" And it was me. I'm the guy who planned it. Sometimes we all get screwed by travel and those days, and you're like 'hey, just got to get it done. I'm kind of tired. I want to put my feet up here for like 15 minutes and take a little nap.'"
February, 4, 2015
Feb 4
6:00
PM ET
Michigan State might be the nation's best developmental program, turning overlooked and undervalued prospects into stars. But after back-to-back top-5 finishes and major bowl wins, the Spartans are upgrading their profile on the recruiting trail. As coach Mark Dantonio said throughout signing day, MSU is no longer selling hope, but results.
The school on Wednesday signed a 20-member class that could crack the Top 25 of
ESPN RecruitingNation's final rankings
. Michigan State hit it big at quarterback, running back and offensive line, while adding some quality pieces to its signature defense as well. Unlike
signing day 2014
, Wednesday provided much less drama in East Lansing.
[+] Enlarge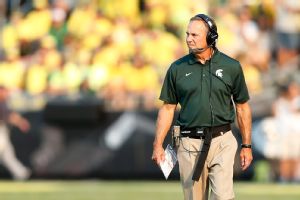 Joe Robbins/Getty Images"We're going to take the best players we can and get them to play as fast as they can," Michigan State coach Mark Dantonio said.
ESPN.com caught up with Dantonio to discuss Michigan State's latest class.
What stands out most about this class, especially on the heels of the team's success?
Mark Dantonio:
Just the quality of class as individuals. Everybody's got ability, but the way they went about their business, there was no drama involved. It was very much, 'This is what we're going to do,' and they stayed with their decisions. It's an outstanding class. I don't know how many top 300 players we have, probably 10 or so. We got an outstanding running back, a big-time defensive end. We've got enough defensive backs and somebody will play as a true freshman, no question about that. You've got active linebackers who can run and defensive linemen. As long as you continue to recruit quality defensive linemen, you're going to have a chance to be a good football team.
How do the recent results resonate in schools and homes?
MD:
When we came here, we had to sell hope. We had to invest in ourselves and people came here with the idea that, 'OK, things are going to possible," from what we were saying. Now there's credibility in what we've said. There's facilities, there's continuity, there's opportunities in the NFL, there's winning in a large degree, and when you go in there, you have much better name recognition. There's obviously things you have to be able to overcome in the area with who we compete against. It's always difficult. All of those players seem to be looking in our direction. They could be going other places, but they all look in this direction.
You made some lofty comparisons between the current recruits and some recent Spartans stars. What led you to make those?
MD:
You always tend to compare the guys who are coming with the guys who have left and have had great success. That's what coaches do. That's what I've always done, said, 'This guy reminds me of so-and-so who played for us and had great success.' I feel pretty strongly that a lot of these guys do that.
Cassius Peat
reminds me a bit of Will Smith when I was at Ohio State.
Can Scott compete immediately at running back after you lose a productive player in Jeremy Langford?
MD:
L.J. Scott
's going to be in the mix, but it all depends on how fast he learns the system, how he pass-protects at times, how well he catches the ball out of the backfield, which looks pretty good. I don't think there's any question whether he can run the football. And can he stay healthy? That's always key as a young player, get through camp and transition to the season. But he has the skills and he has the opportunity. We do not have a guy coming back with 200 carries. We lost two guys [Langford and
Nick Hill
] who had a combination of about 350 carries between them.
How does Brian Lewerke fit the profile of what you want at quarterback?
MD:
He's very, very similar to
Kirk Cousins
in the way he attacks things from a learning standpoint. He has a very live arm. We didn't take a quarterback last year so this is an ideal fit for him. He was heavily involved in the recruiting process early on. He had so many different people offering him, but he paired it down and he made a decision and he came here a number of times. The culture, the chemistry, the relationship he has with coach [Brad] Salem, all of those things were very big factors in him coming to school here. The fact that we're a pro-style team. We'll have four guys in the NFL playing quarterback, and that factors into it as well.
It was quite a process for the Dowell twins. How did you get involved and get them to come to Michigan State?
MD:
First of all, there always has to be a need because they were a package deal. They both wanted to go to school at the same place. We had a need for a defensive back/wide receiver, which happened. And then we needed to find another outside backer. Sometimes you watch a guy as a running back as a junior and all of a sudden, in the case of Andrew, he played safety his senior year and really was a downhill safety, much like a outside linebacker. You're always trying to find that guy who maybe on the first go-round you got somebody else and the second time around, you end up saying, 'Hey, we only have three scholarships left but I want that guy.' That's where we were with the Dowell brothers. We had four scholarships left or whatever it was and said, 'We want those two guys on our football team.'
With [Kyonta] Stallworth, you've upgraded your offensive line recently. Where do you see him fitting in?
MD:
Kyonta's a guy we've seen for a long time here. He's been in our camps, we watched him play in person, he's been in other camps we've watched him at. He was sort of a must guy early on, who we wanted to get. We offered early. Very active, very athletic, displays a lot of power and can really, really run.
Michigan State has been known as a great developmental program. Are you approaching this process any differently now, looking for more guys who can help immediately?
MD:
We're going to take the best players we can and get them to play as fast as they can. That's natural. There's been some guys here, so-called developmental guys, but the reality is Le'Veon Bell played as a true freshman, Darqueze Dennard played as a true freshman, Jack Conklin started as a redshirt freshman, and Chris Norman played as a true freshman. We've got some under-developed guys who played early in their careers. Kirk Cousins started as a sophomore. They came and they invested themselves right away.
February, 3, 2015
Feb 3
4:30
PM ET
Michigan State's Cotton Bowl win last month was the program's first game in Texas in five years. The program has plans to strengthen its ties to the Lone Star State moving forward.
The Spartans' recent success, especially during bowl season, has helped open recruiting doors outside the Midwest. Three high school seniors from Texas are expected to sign letters of intent Wednesday to play for Michigan State. Another, four-star quarterback
Brian Lewerke
, is coming from Arizona. Prior to this year's cycle the only Texan to sign during coach Mark Dantonio's tenure at Michigan State was quarterback Nick Foles, who headed south to Arizona after his freshman season.
Texas is one the nation's three most reliable exporters of football talent along with Florida and California. Michigan State has taken a more regional approach under Dantonio, filling its roster with overlooked overachievers en route to 42 wins in the past four years. The program is hoping to capitalize on its recent success on the field by expanding that footprint.
[+] Enlarge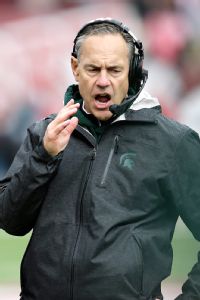 AJ Mast/Icon SportswireMark Dantonio and the Spartans are expected to get three high school seniors from Texas to sign letters of intent Wednesday.
"I think we've finally reached that point where people have seen the product several years in a row," said assistant coach Terry Samuel, a Houston native. "You win four bowl games in a row, and the high school coaches start to get really receptive to what you're doing."
Samuel said he's been planting seeds in Texas since he joined the Spartans staff four years ago. The Rose Bowl win a year ago was a turning point for gaining some traction among high school players in the state.
Before that 13-1 season, Samuel said, Texas prospects were interested but would hold out for offers from in-state powers like the Longhorns and Texas A&M. By the time some of those players were ready to commit to Michigan State, their spots had been filled.
"Now they're just jumping in. That's the difference," Samuel said. "That's the difference the exposure makes. Kids are seeing it's a top 10 program instead of a top 20."
All four of the Texas and Southwest recruits expected to sign this year committed to the Spartans before the end of the 2014 regular season. Three of the four -- Lewerke,
Josh Butler
and
Tyler Higby
-- were on board before summer training camp began.
"They've definitely built their brand over the past few years," said Jeff Neill, who coached Butler at West Mesquite High School.
Neill has worked at West Mesquite for the past 10 years. His program produces three or four Div. I prospects each year, and this is the first time he's seen Michigan State make a run at any of them. Neill said the Spartans no longer need to introduce themselves to most Texas football fans. Their growing reputation, along with their defensive philosophy (Butler is a cornerback) and their approach in recruiting attracted Butler.
Dana Zupke, who coached Lewerke at Pinnacle High in Phoenix, said Michigan State's staff also made a good first impression in his area this season.
"They've been incredible, just awesome guys that are really successful and down to earth," he said. "Brian is a very high character guy and that definitely resonated. Their staff and the vibe he got at Michigan State really resonated with Brian."
Samuel said seeking players with the personality and character that fit Michigan State is still a top priority. The Spartans are still looking for the same fish, just trying to search in a larger pond.
The wider net is still in experimental stage. Samuel said the 2015 season will be the first time the staff gets to see how recruits from an expanded recruiting area fit in on the field. If all goes well, he said Michigan State plans to increase its presence on the recruiting trail outside of the Midwest. The addition of new defensive assistant Mark Snyder, who spent the past three years at Texas A&M, should help open more doors in Texas.
With the influx of new aggressive coaches in the Big Ten -- from Urban Meyer to
James Franklin
to Jim Harbaugh -- competition for the best players in Michigan and Ohio will continue to increase. Michigan State has always carved its niche by finding a different type of athlete to fill its roster, but if the Spartans want to continue competing for conference titles and top-10 finishes, they will need to continue to upgrade their talent. Looking beyond the Midwest can be an important part of that process.
August, 19, 2014
8/19/14
9:30
AM ET
Boston College coach Steve Addazio remembers an era when players wanted to redshirt as true freshmen to better prepare them for the final four years of their college career.
"Now it's 'I want to play,' " Addazio, 55, said. "If you're talking about not playing them early, the majority are like 'What do you mean?'"
So, the ability to play or possibly even start as a true freshman has become a regular sales pitch for coaches from the Power Five to the Group of Five. It's certainly a tool in the belt for Florida State coach Jimbo Fisher. Last week, Fisher alluded to the number of freshmen All-Americans he's coached the last four seasons. Twenty-four hours later, it was on the program's official recruiting Twitter page.
"The last [four] years we've had 14 freshmen All-Americans," said Fisher, condensing multiple outlets' freshmen award teams into one, concise Florida State propaganda poster. "If you come in ready to play, we're willing to put you on the field. It's critical for guys to come in saying 'When I'm the best, I'll play.'"
Fisher has the goods to back up his claims, even if the numbers are obviously skewed to best represent his program. But how does his résumé compare to those coaching some of the country's other top programs?
I tried to come up with a way to accurately discern which schools play the most freshmen and decided true freshmen letterwinners was the simplest and most effective way to crunch the numbers. To earn a letter, a player has to actually play consistently through the season. The disclaimer is each program can use different benchmarks when awarding letters, but there is never going to be a perfect way.
I began with Florida State's, looking back at the 2011-2013 classes. To properly quantify the data from Florida State, I decided I'd look at the five schools ranked highest in the preseason polls that have had its coach in place at least five seasons. Oregon's Mark Helfrich was offered an exemption because he was promoted from within and is in his sixth season with the Ducks. Coaches in place at least five years was the stipulation since an incoming coach might be susceptible to playing the prospects he recruited or having a number of transfers that could open up starting or rotational spots.
The criteria: Each class was looked at and the total number of signees was pared down to just those who enrolled as members of the football team in the fall. Junior college signees were excluded, as were any recruits who were academically or medically disqualified before playing a game. That explains why the total number of freshmen for our purposes might look different than what might be seen on RecruitingNation. Any true freshmen who spent a year at a post-graduate or prep school was also excluded. Redshirt freshmen were disqualified, too.
Bottom line is if the player was not a part of the football team the fall following his high school graduation, he was excluded.
Nearly all of the data was collected after poring through media guides and archives, although the communications departments at some of the schools were also helpful providing numbers and deserve recognition.
So, here is the actual data:
It is hardly a coincidence that Fisher and Alabama's Nick Saban, who mentored Fisher at LSU, have identical percentages of true freshmen earning a letter. Fisher and Saban arguably have been the two best recruiters over the last few cycles, and, the data shows those two are not going to keep young talent off the field simply because of age. Nearly half of the true freshmen at Alabama and Florida State lettered over the last three seasons.
Mark Dantonio has built Michigan State into a national title contender in a different manor, relying on experience. Only 12 percent of true freshmen lettered over the last three seasons. Recruiting to Michigan State is not the easy task it is at some other top-10 programs, and the Spartans are not recruiting as many ESPN 300-level players as the likes of Alabama and Florida State.
It should be noted Michigan State, Oklahoma and Oregon don't have quite the recruiting base Alabama and Florida State do.
Inquiring minds want to see how that 45 percent stacks up to some of the other top programs in the country, so even though they did not fit the criteria I looked at a few other schools with coaches in place at least five seasons and lately in the top half of the rankings. LSU was worth a look considering it's Les Miles' 10th season in Baton Rouge and, like Fisher and Saban, has recruited exceptionally well for a long period of time. Mark Richt is in his 14th season at Georgia and, like Miles, usually has a highly-regarded recruiting class. Steve Spurrier is in his 10th season at South Carolina and has steadily improved the Gamecocks' class to the point that the 2015 class is No. 5 nationally. Dabo Swinney has turned Clemson from a perennial disappointment into a two-time BCS bowl participant. And Ohio State and Texas A&M, mainly because it's worth seeing how third-year Buckeyes coach Urban Meyer fares considering he frequently voices his preference to avoid redshirting. Kevin Sumlin is also in the process of trying to build an SEC power that can compete with Alabama and LSU in the SEC West.
For the Buckeyes, out of the 69 true freshmen to land in Columbus, Ohio, from 2011-2013, 31 lettered -- the same 45 percent. Looking at just Meyer's two seasons, however, he is decimals ahead of Fisher and Saban at 46 percent (21 out of 46), thanks in large part to 14 freshmen letterwinners in his first season.
Georgia's Mark Richt has a percentage of nearly 50 percent, but the Bulldogs' numbers might be the most skewed. Along with South Carolina, the Bulldogs had several recruits that either did not qualify or spent time at a prep school or junior college. Also, Georgia's long list of dismissals and transfers is well documented, and all of the departures has opened up spots for freshmen to earn immediate playing time.
It is Miles, though, who plays a higher percentage of freshmen than all of the others. Twelve true freshmen lettered for LSU in both 2012 and 2013, and another nine earned a letter in 2011. There were a total of 65 applicable freshmen to enter LSU during that span and 33 of them lettered. That's a percentage of 51 percent.
Certainly the numbers will fluctuate year to year, and coaches at every single program are playing freshmen more frequently than ever before. When taking into account the timeline is over three years, LSU averages just one more freshman letterwinner per season than Alabama and Florida State. For our intents and purposes, though, the data shows which top programs consistently play the most freshmen in this new era of freshmen phenoms.
And, uh, FYI, Alabama has 19 ESPN 300 players prepping for their freshmen season this fall. LSU has 16, and Florida State isn't far off with 13 of their own.
June, 5, 2014
6/05/14
9:00
AM ET
Unlike the
ACC
or
SEC
, the Big Ten hasn't taken an official position on an early signing period. Many
Big Ten coaches see the benefits
, but there has been no united front.
Here's a bit of advice: The Big Ten coaches should band together about an urgent recruiting item, but not the early signing period.
The Big Ten must campaign for official visits to be moved up. No other league is affected more by population shifts that have created dense pockets of top recruits located far from its footprint. The
Big Ten is expanding its recruiting reach
, especially to the Southeast, but its proximity to many talent bases remains a significant obstacle.
If the Big Ten can't get prospects to its campuses before decisions are made, it will continue to fall behind in the recruiting race.
[+] Enlarge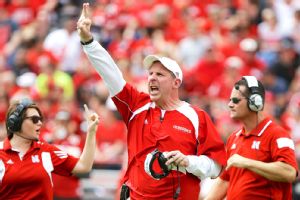 AP Photo/Nati HarnikEarlier official visits would be a boon to Bo Pelini and Nebraska, as the Cornhuskers have to recruit nationally because of a limited local talent base.
"The first thing we have to do is get kids on campus earlier," Michigan coach Brady Hoke told ESPN.com. "I'm sure our friends in the Pac-12 and the SEC would rather not that be the case. They'd rather have kids come in to Ann Arbor if it's winter.
"But I think it would help the guys from distance and the guys from those climates to come on campus to see what it is like."
NCAA rules state that prospects can't begin taking their five official visits -- paid for by the schools -- until the start of their senior year in high school. But many recruits make their college choices much earlier.
The accelerated recruiting cycle has minimized the significance of official visits. Many prospects commit after taking unofficial visits, for which they pay their own way. But the distance between Big Ten schools and the highest concentrations of elite prospects makes it challenging for recruits and their families to fund long, expensive trips.
"Since the trend is for early commitments, it makes sense that it favors schools located in population bases that produce a lot of players," said Big Ten Network analyst Gerry DiNardo, a former coach at Indiana, LSU and Vanderbilt. "So how do you combat that? How does a kid from Atlanta get to Lincoln, Nebraska, in the summer on their own expense?"
DiNardo views Nebraska as the FBS school most impacted by accelerated recruiting cycle. Nebraska always has recruited nationally because of its small local population base, but former coach Tom Osborne -- "a tireless recruiter," DiNardo said -- capitalized on the fact that recruits made their choices after an official visit to Lincoln.
Huskers coach Bo Pelini acknowledges earlier official visits "would help us."
"When you take official visits away from the equation, it really hurts a place like Nebraska," DiNardo said. "So early signing day has to be partnered up with official visits in a prospect's junior year.
"If just the date moves up without official visits, it sets the Big Ten even further behind."
DiNardo notes that a program such as Ohio State is less affected by the official visits timetable because it has a large local talent base that can easily reach its campus. But other Big Ten programs must cast a wider recruiting net.
It's especially true for programs in the western part of the league: Nebraska, Iowa, Minnesota and Wisconsin.
"It gives some of the schools that aren't surrounded by a lot of schools or a lot of places, it gives us a chance," Minnesota coach Jerry Kill said. "But I don't know if that's going to happen or not. People in Texas aren't going to vote for that because they never have to leave Texas."
Most Big Ten coaches interviewed by ESPN.com favor earlier official visits but want clear guidelines. One question is timing.
Several coaches mention late May or early June as the ideal time because many recruits already are touring schools unofficially and most staffs are conducting on-campus camps.
"With the way people are traveling around right now, it might be good to afford a prospect to take a couple of visits in June," Iowa coach Kirk Ferentz said. "Also, I think it'd be great to afford at least a parent the opportunity to join that prospect and make it part of the official trip."
Coaches say the parental component is critical.
"Sometimes kids just don't have the means to be able to get here, and they definitely don't have the means to have their parents come," Pelini said. "Hopefully, they'll change that. It's too big of a decision for a 17-year-old or 18-year-old kid to make without his parents or somebody being there."
[+] Enlarge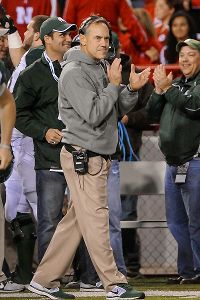 Eric Francis/Getty ImagesMark Dantonio wants an early official-visit period, but would prefer for it to be in a limited window instead of spanning the entire spring and summer.
Both Pelini and Michigan State coach Mark Dantonio want a limit on the number of official visitors schools could have in the spring. FBS teams can provide up to 56 official visits, but Dantonio rarely uses more than half of the allotment.
"It's not just carte blanche," Dantonio said. "I would make it a two-week window and cap those numbers."
Allowing 10-20 early official visits could work. Dantonio and Pelini also think prospects should be allowed to take multiple official visits to the same school.
Wisconsin coach Gary Andersen favors an earlier signing date in December, but he needs more clarity on official visits -- when they would take place, and for how long.
"I have to look at quality of life for my coaches," Andersen said. "Are we willing to take 4-5 weeks away in the summer? I don't want to do that."
Added Purdue coach Darrell Hazell: "You lose your life. The month of July, you need a little bit of decompression time."
The first two weeks in June makes the most sense. Create a dead period in July so coaches can take time off.
It also doesn't mean official visits in September and October will stop. Andersen can talk about Wisconsin's "Jump Around" and show videos, but, he said, "there's nothing like being there."
Big Ten teams still will have the chance to showcase their stadiums, facilities and campuses during football season. But they can't afford to wait that long for far-flung prospects to arrive, especially when they can afford to bring them in sooner.
"It would help everybody," Hoke said. "The other conferences aren't just staying in their region, either."
That's true, but the Big Ten has the most to gain, and pushing for change won't be easy.
"If that thing ever goes to a vote, everybody is going to say is that the Big Ten is just complaining," Indiana coach Kevin Wilson said. "They'll keep rallying their troops because they want to keep those kids at home."
The Big Ten coaches must rally, too. Otherwise, the recruiting gap will widen.
June, 4, 2014
6/04/14
9:00
AM ET
Momentum seems to be building for creating an early signing period in college football. The Conference Commissioners Association will discuss the idea as part of its agenda at a meeting later this month.
As with many things in life, the devil is in the details. The ACC
recommended an early signing date
of Aug. 1. The SEC at its meetings last month
came out against changing the recruiting calendar
, but would like to use the Monday after Thanksgiving if an early signing period does happen.
The Big Ten has not endorsed a specific stance on an early signing date as a conference. Based on interviews given to ESPN.com and other media outlets, most league coaches are in favor of it. Again, though, preferences on the when and the how differ.
Several coaches support the junior college signing period of mid-December as the right time to allow high school prospects who don't want to wait until February to sign their national letters of intent.
[+] Enlarge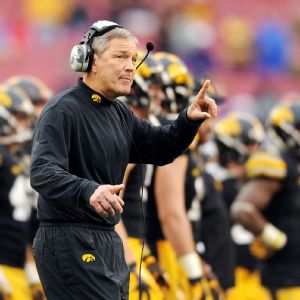 Steve Mitchell/USA TODAY SportsIowa's Kirk Ferentz is among the Big Ten coaches who favor an early signing period after the regular season.
"To me, that would be the perfect time," Iowa coach Kirk Ferentz said last summer. "I still don't understand the resistance. All it is is an opportunity to sign. They don't have to sign. I don't think anyone is going to lose a scholarship. It just gives everyone a chance to lay their cards on the table and say, 'I'm 100 percent sure now' or, 'Still not quite there.' That would be great for both parties, I think."
Northwestern coach Pat Fitzgerald, Wisconsin's Gary Andersen and Michigan State's Mark Dantonio are among others who back an early signing period in December.
"It sure would clear up recruiting for a lot of us," Andersen told ESPN.com. "In my opinion, if a kid's committed, let's have him go to the school where he wants to go, and we'll move on in recruiting and get the guys we want. I think it's the most logical answer."
A possible downside of having the early signing period in December would be that it puts more pressure on coaches to concentrate on recruiting late in the season, when championships could be on the line, or during bowl preparation. In-season recruiting pressures would grow even higher with the SEC's post-Thanksgiving recommendation.
Most who favor an early signing period say their schools and coaching staffs are spending too much valuable time, money and energy trying to re-recruit players who might have signed earlier. That's why some coaches, such as Indiana's Kevin Wilson, support a signing date before or right at the beginning of the season.
"I had guys who were committed in the summer who in the last weekend [before the February signing date] changed their minds," Wilson told ESPN.com. "It would be nice if there was an early signing period on the first of September. I don't know if we've got to move the calendar up, but we waste a lot of time and a lot of money babysitting kids who have made their decisions."
Michigan is one school that could have benefited in recent seasons from an early signing period. The Wolverines have sewn up the majority of their classes under Brady Hoke in the summer before the prospects' senior year of high school. Hoke's staff could have locked up those commitments and focused on filling out the final few spots or moving on to the following year's class.
Hoke would like to see an early signing date, but with a caveat.
"If there's an early signing period, there probably needs to be an early visitation period for those kids," he told ESPN.com. "Maybe the first two weeks in June to get on your campus."
That's a big deal for Big Ten coaches, who would love to see prospects be able to take official visits before the start of their senior year. An early signing date without an earlier visit calendar could put the league at a disadvantage against schools in more talent-rich areas. (We'll look more closely at this issue on Thursday in the blog.)
[+] Enlarge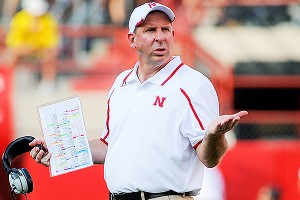 Eric Francis/Getty ImagesNebraska's Bo Pelini says allowing earlier official visits must be a part of any move toward an early signing period.
Nebraska's Bo Pelini has said he would not support an earlier signing date without those earlier visits (and even then, he said he would need more time to study the issue). Schools such as Nebraska and Minnesota, which are farther away from talent-rich hubs, simply wouldn't see many benefits to an early signing day if the rest of the recruiting calendar remained the same. Players in blue chip-heavy areas -- such as the South, Texas and California -- would be more apt to take unofficial visits at schools closer to home and then could get pressured into signing before they ever made a trip up north.
Ohio State under Urban Meyer has thrived during the final weeks of recruiting before the February signing day, as his staff has built a reputation of being great "closers." So it's no surprise that Meyer was one of three SEC coaches to vote against a proposal to support an early signing date in 2008, when he was still at Florida. Meyer said at the time that "recruiting should be done in December, January and February. I think [an early date] speeds up 17- and 18-year-olds to make a decision that affects the rest of their lives."
Maryland's Randy Edsall has proposed that schools shouldn't even send out any type of scholarship offer until Sept. 1 of a high school prospect's senior year in high school, and then those offers would come from the university's admissions office, not the coaches. That would slow things way down and make sure prospects have achieved the necessary test scores and admission standards. Yet Edsall also said this spring that if recruiting continues at its current accelerated pace, that "there definitely has to be an early signing period."
There are other issues with the early signing date, including what protection the players would have if the coach left for another job after they signed. Plus plans change in recruiting all the time.
"I see the pluses and the minuses with it," Dantonio told ESPN.com. "If you have a committed guy and he signs with you, he truly is committed. That's a positive. I also think if you take one quarterback and he thinks he's the only one, and all of a sudden you take two, how does that all play out?
"I do think it keeps people from poaching off you, whether it be us poaching off somebody or somebody else [poaching]. It makes people hold to their word. If they don't want to sign then, they're still open, and you know they're open. But I would make it a mid-December type deal. I'm not in favor of August; I'm not in favor of September. I'm in favor of, 'They've had a chance to at least visit and be on campus a couple places, so they have a feel.'"
College football does appear headed for an early signing date soon, if only the details can get ironed out.
"We get into these discussions, and everybody kind of has their own agenda of what's in the best interests for their school," Penn State coach James Franklin told ESPN.com. "But for a lot of different reasons, an early signing period makes sense for everybody."
January, 16, 2014
1/16/14
5:30
AM ET
The Early Offer is RecruitingNation's regular feature, giving you a daily dose of recruiting in the mornings. Today's offerings: Michigan State has never recruited top-10 classes but has produced on the field, but now more doors might open for it with the Rose Bowl victory; Kansas State's loss is about to be UCLA's gain; and it's been a good few days for the Florida Gators' 2014 class.


December, 20, 2013
12/20/13
5:30
AM ET
The Early Offer is RecruitingNation's regular feature, giving you a daily dose of recruiting in the mornings. Friday's offerings: We're getting closer and closer to the start of festivities for the Under Armour All-America Game, and there are plenty of major questions heading in; Michigan State coach Mark Dantonio has to be happy with class he's assembling; and we're going to take a break next week because of the holidays.
Many questions entering UA Game week
Next Friday the first batch of players will begin to arrive in Orlando for the Under Armour All-America Game. Official player registration begins on the 28
th
and RecruitingNation will have coverage of all the arrivals and practices, leading up to the game on Jan. 2. There are some tremendous story lines heading to the week I'm excited to learn more about. How solid is
Jabrill Peppers
with the Wolverines? What's
Marlon Humphrey
thinking, and is there a good chance he could truly end up at FSU? What does
Keller Chryst
think of Stanford offensive coordinator Mike Sanford's expected departure to Boise State? And what's going to happen with
Dalvin Cook
and
Laurence Jones
?
To continue reading this article you must be an Insider
November, 8, 2013
11/08/13
5:30
AM ET
The Early Offer is RecruitingNation's regular feature, giving you a daily dose of recruiting in the mornings. Friday's offerings: Michigan State doesn't get as much attention as Ohio State or Michigan, but the Spartans are putting together a very solid recruiting effort; is Los Angeles offensive lineman
Chris Brown
the hottest recruit in the country; and the Under Armour All-America Game is less than two months away.
Don't sleep on Spartans' class

Lost in the shuffle of Tennessee moving up to No. 2 in Wednesday's update of the
RecruitingNation class rankings
was the uptick of Michigan State to No. 38. Most of the attention in the Big Ten has been focused on Ohio State and Michigan's recruiting successes, and rightfully so, but the Spartans have put together a
sneaky good class
. The Spartans have always had a big Midwest footprint with their recruiting classes under Mark Dantonio and this year is no different. With Illinois still struggling, MSU has gone into the Illini's backyard and done some major damage. Center
Brian Allen
(Hinsdale, Ill./Central) is the fourth-best player at his position and a four-star recruit, and defensive tackle
Enoch Smith Jr.
(Chicago/Mt. Carmel) is another four-star addition who was heavily recruited by many.
To continue reading this article you must be an Insider
May, 10, 2013
5/10/13
11:52
AM ET
Inspired by
Florida's "#ComePlayWRFortheJoker" campaign
">Florida's "#ComePlayWRFortheJoker" campaign, our recruiting writers looked at other ways schools can sell themselves on the trail. Here's a look at recruiting pitches for the Big Ten:

Illinois Illini
What they're selling:
A chance to rebuild a program from the ground up, beginning with four-star quarterback
Aaron Bailey
, who signed in 2013.
What they're missing:
Just about all of the top prospects from their own state.

Indiana Hoosiers
What they're selling:
Indiana coach Kevin Wilson
embraces the idea of a college spring break
and is ready to head to Cancun with some of his players.
What they're missing:
Wilson looks like he might hold the group up in Mexico, however, as he still needs the assistance of a flotation device. Points that it is in the shape of a turtle, though.

Iowa Hawkeyes
What they're selling:
Iowa boasts one of the few staffs that can say they will be there all four years of a recruit's career and has the history to back it up. Kirk Ferentz is the longest tenured coach in the Big Ten and it's not even close.
What they're missing
: Out-of-state prospects tend to think Iowa is all cornfields, leaving the staff to battle that misconception countless times throughout the recruiting cycle.

Michigan Wolverines
What they're selling:
Michigan coach Brady Hoke looks like an outlaw patrolling the sideline on Saturdays without a headset.
What they're missing:
The player who graces the NCAA Football 2014 cover Denard Robinson. "Shoelace" was one of the Wolverines' best recruiting tools.

Michigan State Spartans
What they're selling:
Michigan State coach Mark Dantonio is the
man behind Little Giants
, one of the greatest trick plays of the last few decades.
What they're missing:
A trip to a Rose Bowl under Dantonio would put Michigan State over the top when it comes to recruiting. There is already a significant difference in the caliber of player the Spartans are now getting compared to just a few seasons ago.

Minnesota Gophers
What they're selling:
The Gophers boast the biggest locker room in college football.
What they're missing:
They have not had a winning season since 2008.

Nebraska Cornhuskers
What they're selling:
Bo Pelini whipped out
"The Bernie" in the Huskers' Harlem Shake video
. Harlem Shake equals instant credibility with recruits.
What they're missing:
A lack of a strong base of in-state talent makes it tough to recruit at Nebraska, and a Harlem Shake video can overcome only so much.

Northwestern Wildcats
What they're selling:
The new facilities are right near Lake Michigan, which, as assistant Bob Heffner is telling recruits, is a great spot for fishing.
What they're missing:
Not too many high schoolers in New Jersey have taken up fishing as a hobby. At least not yet.

Ohio State Buckeyes
What they're selling:
Urban Meyer is bringing SEC speed to the Big Ten.
What they're missing:
Has anyone actually clocked Meyer in the 40-yard dash? How fast is he really?

Penn State Nittany Lions
What they're selling:
Beaver Stadium fits more than 106,000 on Saturdays, making it the second largest stadium in the country. Inside is also one of the country's most passionate fan bases, and ESPN analyst Kirk Herbstreit once listed Penn State's student section as "simply the loudest, most supportive student section in college football."
What they're missing:
A full slate of scholarships and a chance to play for a Big Ten title the next few years.

Purdue Boilermakers
What they're selling:
Few programs have the history Purdue does at quarterback, and former Boilermakers Drew Brees, Kyle Orton and Curtis Painter are all on NFL rosters. The Boilermakers just signed ESPN 300 QB
Danny Etling
, too.
What they're missing:
Brees, Orton and Painter.

Wisconsin Badgers
What they're selling:
The Badgers have been to three straight Rose Bowls.
What they're missing:
The coach who took them there.