NCF On The Trail:

Kyonta Stallworth
February, 4, 2015
Feb 4
6:00
PM ET
Michigan State might be the nation's best developmental program, turning overlooked and undervalued prospects into stars. But after back-to-back top-5 finishes and major bowl wins, the Spartans are upgrading their profile on the recruiting trail. As coach Mark Dantonio said throughout signing day, MSU is no longer selling hope, but results.
The school on Wednesday signed a 20-member class that could crack the Top 25 of
ESPN RecruitingNation's final rankings
. Michigan State hit it big at quarterback, running back and offensive line, while adding some quality pieces to its signature defense as well. Unlike
signing day 2014
, Wednesday provided much less drama in East Lansing.
[+] Enlarge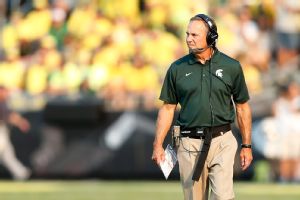 Joe Robbins/Getty Images"We're going to take the best players we can and get them to play as fast as they can," Michigan State coach Mark Dantonio said.
ESPN.com caught up with Dantonio to discuss Michigan State's latest class.
What stands out most about this class, especially on the heels of the team's success?
Mark Dantonio:
Just the quality of class as individuals. Everybody's got ability, but the way they went about their business, there was no drama involved. It was very much, 'This is what we're going to do,' and they stayed with their decisions. It's an outstanding class. I don't know how many top 300 players we have, probably 10 or so. We got an outstanding running back, a big-time defensive end. We've got enough defensive backs and somebody will play as a true freshman, no question about that. You've got active linebackers who can run and defensive linemen. As long as you continue to recruit quality defensive linemen, you're going to have a chance to be a good football team.
How do the recent results resonate in schools and homes?
MD:
When we came here, we had to sell hope. We had to invest in ourselves and people came here with the idea that, 'OK, things are going to possible," from what we were saying. Now there's credibility in what we've said. There's facilities, there's continuity, there's opportunities in the NFL, there's winning in a large degree, and when you go in there, you have much better name recognition. There's obviously things you have to be able to overcome in the area with who we compete against. It's always difficult. All of those players seem to be looking in our direction. They could be going other places, but they all look in this direction.
You made some lofty comparisons between the current recruits and some recent Spartans stars. What led you to make those?
MD:
You always tend to compare the guys who are coming with the guys who have left and have had great success. That's what coaches do. That's what I've always done, said, 'This guy reminds me of so-and-so who played for us and had great success.' I feel pretty strongly that a lot of these guys do that.
Cassius Peat
reminds me a bit of Will Smith when I was at Ohio State.
Can Scott compete immediately at running back after you lose a productive player in Jeremy Langford?
MD:
L.J. Scott
's going to be in the mix, but it all depends on how fast he learns the system, how he pass-protects at times, how well he catches the ball out of the backfield, which looks pretty good. I don't think there's any question whether he can run the football. And can he stay healthy? That's always key as a young player, get through camp and transition to the season. But he has the skills and he has the opportunity. We do not have a guy coming back with 200 carries. We lost two guys [Langford and
Nick Hill
] who had a combination of about 350 carries between them.
How does Brian Lewerke fit the profile of what you want at quarterback?
MD:
He's very, very similar to
Kirk Cousins
in the way he attacks things from a learning standpoint. He has a very live arm. We didn't take a quarterback last year so this is an ideal fit for him. He was heavily involved in the recruiting process early on. He had so many different people offering him, but he paired it down and he made a decision and he came here a number of times. The culture, the chemistry, the relationship he has with coach [Brad] Salem, all of those things were very big factors in him coming to school here. The fact that we're a pro-style team. We'll have four guys in the NFL playing quarterback, and that factors into it as well.
It was quite a process for the Dowell twins. How did you get involved and get them to come to Michigan State?
MD:
First of all, there always has to be a need because they were a package deal. They both wanted to go to school at the same place. We had a need for a defensive back/wide receiver, which happened. And then we needed to find another outside backer. Sometimes you watch a guy as a running back as a junior and all of a sudden, in the case of Andrew, he played safety his senior year and really was a downhill safety, much like a outside linebacker. You're always trying to find that guy who maybe on the first go-round you got somebody else and the second time around, you end up saying, 'Hey, we only have three scholarships left but I want that guy.' That's where we were with the Dowell brothers. We had four scholarships left or whatever it was and said, 'We want those two guys on our football team.'
With [Kyonta] Stallworth, you've upgraded your offensive line recently. Where do you see him fitting in?
MD:
Kyonta's a guy we've seen for a long time here. He's been in our camps, we watched him play in person, he's been in other camps we've watched him at. He was sort of a must guy early on, who we wanted to get. We offered early. Very active, very athletic, displays a lot of power and can really, really run.
Michigan State has been known as a great developmental program. Are you approaching this process any differently now, looking for more guys who can help immediately?
MD:
We're going to take the best players we can and get them to play as fast as they can. That's natural. There's been some guys here, so-called developmental guys, but the reality is Le'Veon Bell played as a true freshman, Darqueze Dennard played as a true freshman, Jack Conklin started as a redshirt freshman, and Chris Norman played as a true freshman. We've got some under-developed guys who played early in their careers. Kirk Cousins started as a sophomore. They came and they invested themselves right away.
January, 1, 2015
Jan 1
9:00
AM ET
Michigan State had another impressive season, although it didn't end with the Big Ten championship that Spartans fans were hoping for. The Spartans are still seeing gains in recruiting because of the on-field product, and the
2015 recruiting class
could provide some players who might contribute early. There are, however, still some questions heading toward signing day as to how this class will close and who will end up being the next star for Michigan State.
October, 8, 2014
10/08/14
10:00
AM ET
Recruiting is all about filling needs and replacing talent. With 25 ESPN 300 prospects committed within the Big Ten there is plenty of talent coming in to help teams with holes on the roster.
Some programs have different needs and different talent in their 2015 classes, so here is a look at each Big Ten team's need and what kind of help is on the way.
To continue reading this article you must be an Insider
April, 21, 2014
4/21/14
5:30
AM ET
The Early Offer is RecruitingNation's regular feature, giving you a dose of recruiting in the mornings. Today's offerings: Certain schools always manage to hit home runs at specific positions, despite a player's ranking. Michigan State is a perfect example of that with quarterbacks, and the Spartans hit one out of the park this past weekend. And Texas made the most out of its opportunity to host recruits at its spring game.
Spartans continue QB success

Four-star quarterback
Brian Lewerke
, who is ranked No. 255 in the nation,
announced his commitment to Michigan State
this past Saturday. For the Spartans it was their second ESPN 300 commitment in the 2015 class along with offensive lineman
Kyonta Stallworth
. But more important, it gives Michigan State additional quarterback depth, a position where it rarely misses.
To continue reading this article you must be an Insider
April, 13, 2014
4/13/14
12:07
AM ET
There wasn't a huge crop of prospects at the Chicago NFTC, but there were plenty of top recruits looking to prove their worth against their peers.
After an outstanding Elite 11 performance Saturday morning and going through passing drills later in the day, Missouri quarterback commit
Drew Lock
earned the camp's only invite to The Opening and Elite 11.
To continue reading this article you must be an Insider
February, 3, 2014
2/03/14
9:00
AM ET
National signing day is just 48 hours away. To get you ready, we checked in with our ESPN.com recruiting experts for their take on how the Big Ten is faring.
Senior national recruiting analyst Tom Luginbill and Big Ten recruiting reporter Tom VanHaaren spared time from their busy schedules to answer these questions:
Ohio State and Michigan again lead the way in the Big Ten recruiting rankings. How much late drama do you expect with those two programs?
[+] Enlarge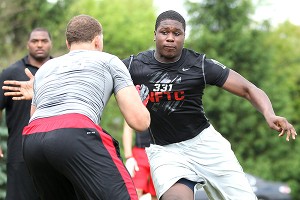 Tom Hauck for ESPNDE Malik McDowell, No. 60 in the ESPN 300, could come down to a signing day decision between Ohio State and Michigan.
Tom VanHaaren:
Probably not much for Michigan as it is really only targeting ESPN 300 defensive lineman
Malik McDowell
(Southfield, Mich./Southfield). McDowell visited Ohio State Jan. 31 and has hosted every head coach in his top four of Michigan, Michigan State, Ohio State and Florida State.
He will take his decision out to signing day, so there is a battle going on there, but there's still a chance he ends up at Michigan State or Florida State. He has kept everything close to the vest and it's anyone's guess as to where he ends up. Ohio State could have a little drama, but that happens when you land top ranked prospects.
Tom Luginbill:
I really just expect to see where McDowell falls.
What other Big Ten programs have impressed you?
TL:
Penn State and Wisconsin. Badgers coach Gary Andersen is adding more speed and athleticism to this class, including QB
D.J. Gillins
(Jacksonville, Fla./Ribault). They would love to close with CB
Chris Lammons
(Fort Lauderdale, Fla./Plantation).
TVH:
Michigan State has put together a good class. I really like ESPN 300 defensive back
Montae Nicholson
(Monroeville, Pa./Gateway) for the Spartans defense. I think Northwestern has put together a really good class as well with three ESPN 300 commitments. The Wildcats added in-state defensive back
Parrker Westphal
(Bolingbrook, Ill./Bolingbrook), which was a big get for them. Illinois did a lot to help fill immediate needs as well. The Illini lose four receivers and brought in some junior college prospects to compete right away.
How much impact has James Franklin made on Penn State's recruiting in a short time?
TVH:
It seems to be all positive for now. It's not surprising that he has flipped so many Vanderbilt commitments to Penn State, because he was the coach who recruited them. The recruits, however, that have flipped will all tell you that he is the guy they want to play for. There is already some excitement in the 2015 class and in the Pennsylvania area, so I think Penn State fans are going to be very happy with what Franklin and his staff does in the near future.
TL:
Significant, but it should be noted that
Michael O'Connor
(Bradenton, Fla./IMG Academy),
De'Andre Thompkins
(Swansboro, N.C./Swansboro) and
Chris Godwin
(Middletown, Del./Middletown) all enrolled early prior to his hire, but after Bill O'Brien departed, which tells you of their commitment to the program. Since his hiring, Penn State has added seven verbal commits, including flipping Rutgers commit WR
Saeed Blacknall
(Manalapan, N.J./Manalapan) this past week.
How much of an effect, if any, has Michigan State's on-field success had in its recruiting so far?
TL:
Minimal. They do what they do. The biggest myth is that they are made up of 2- and 3-star players, which is not true. It has been 4- or 3- star players the past three to four classes The Spartans develop players as well as anyone. They don't give in to external pressures to recruit anyone and they identify not only good players, but the right players for them.
TVH:
It had some impact in the 2014 class, but because that class was already almost over by the time the Spartans won the Rose Bowl, the real affect will likely be on 2015 and 2016 prospects. Michigan State already has one of the top in-state prospects committed with
Kyonta Stallworth
(St. Clair Shores, Mich./South Lake) and there is a realistic chance the Spartans could land most of the top prospects from the state of Michigan. They have already heard from some prospects that they otherwise would have been out of the running for, so I think 2015 could be where you see some of those affects.
How have Maryland and Rutgers done in recruiting, and are their efforts up to Big Ten standards?
TVH:
Rutgers has suffered a lot of decommitments in the 2014 class. It seems like this is a whole new class from what it used to be. The most recent was Blacknall, who flipped to Penn State. Maryland has had a better time recruiting in this class, but is still outside the top 40 in the class rankings. The Terrapins have had a lot of injuries to deal with, so I think once they get healthy and get back on track they will start to see a little more success. Now that they're in the Big Ten they can tell local recruits that they can stay close to home and still play in big stadiums and on national television, which will be a big draw.
TL:
Rutgers is crumbling. At one time they had four ESPN 300 prospects and all have decommitted. This is not a good start for the Knights heading into the Big Ten. We very much like the top third of Maryland's class, and the middle third has upside, but there is a significant drop off in talent in the bottom third, in our opinion.
What teams do you view as disappointing with this class?
TL:
Rutgers. The rest have essentially been as expected for the most part.
TVH:
Can I cop out and give everyone a trophy? I don't think anyone has a really disappointing class. I imagine Rutgers' coaches aren't thrilled with the way things have gone, but for the Big Ten teams from this season I think most of them have done a really nice job filling needs and getting a few big recruits in the class.
Finally, name a few players who we can expect to have an immediate impact in the 2014 season.
TVH:
Jabrill Peppers
(Paramus, N.J./Paramus Catholic) is probably the first name that sticks out. He is the No. 2-ranked prospect in the country for a reason and could end being an outstanding college football player once he's done. I expect him to play early in some capacity. Potentially, a guy like
Dominique Booth
(Indianapolis/Pike) at Indiana at receiver, running back
Jeff Jones
(Minneapolis/Washburn) if he sticks with Minnesota,
Johnnie Dixon
(Palm Beach Gardens, Fla./Dwyer) at Ohio State and maybe juco defensive lineman
Joe Keels
(Kenosha, Wisc./Highland (Kan.) Community College) at Nebraska.
TL:
Peppers, (Ohio State LB)
Raekwon McMillan
(Hinesville, Ga./Liberty County) and Jones, if he sticks.
January, 6, 2014
1/06/14
8:00
AM ET
Despite the dead period there was still plenty of action within the Big Ten on the recruiting trail. Here is a look at what happened throughout the conference this past week.
To continue reading this article you must be an Insider
December, 26, 2013
12/26/13
8:00
AM ET
With Michigan State's success on the field, the coaching staff is starting to see a rise in interest from high-profile recruits. Going 12-1, winning the Big Ten championship and earning a Rose Bowl berth will do that for a program, but will it be enough to beat out other top programs for big-name recruits?
The Spartans beat both Michigan and Ohio State this season despite only landing one of the top 25 Midwest prospects in each of the past three recruiting classes.
Michigan and Ohio State landed 13 of the top 25 Midwest recruits combined in the 2013 class and 14 in 2012. So if the Spartans are winning with lower-ranked recruits, what would it do for the program if they were able to land more highly ranked targets?
To continue reading this article you must be an Insider
December, 9, 2013
12/09/13
8:00
AM ET
The Big Ten championship was the main focus this week, but that just gave coaches extra time to put in on the recruiting trail. Here is a look at what happened around the conference over the weekend.
To continue reading this article you must be an Insider
December, 8, 2013
12/08/13
12:55
PM ET
Michigan State was always going to be the destination for ESPN Jr. 300 offensive lineman
Kyonta Stallworth
(St. Clair Shores, Mich./St. Clair South), but he made it official on Saturday.
Stallworth, the No. 187 ranked prospect in the 2015 class, had told the Spartans coaches he would likely commit back in August, but he wanted to make sure the decision was right before making it official.
"Everybody knew that I would be a Spartan. I just wanted to make sure my family is happy with where I'm at," he said. "I figured I would do it [Saturday] or at the North Carolina [basketball] game. I didn't know exactly when, but I came to the decision yesterday."
To continue reading this article you must be an Insider
August, 29, 2013
8/29/13
2:00
PM ET
Big Ten fodder is never hard to find, especially in recruiting. This week is no different as schools start positioning themselves in the recruiting world. Here's a look at a few programs that highligh a busy week in this week's Big Ten storylines.
Cornhusker in the making?
Defensive tackle
Peyton Newell
(Hiawatha, Kan./Hiawatha) is set to announce his decision on Friday. He is down to Kansas, Kansas State, Nebraska and South Carolina, but it's likely between South Carolina and Nebraska.
To continue reading this article you must be an Insider
April, 9, 2013
4/09/13
9:14
PM ET
When he got off the phone with Florida head coach Will Muschamp, 2015 offensive lineman
Kyonta Stallworth
(St. Clair Shores, Mich./South Lake) couldn't believe he just received an offer from the Gators.
It was the same feeling he got when UCLA extended an offer, and Stallworth is now realizing that he is slowly becoming a top prospect in his class.
To continue reading this article you must be an Insider