NCF On The Trail:

Kirk Ferentz
June, 5, 2014
6/05/14
9:00
AM ET
Unlike the
ACC
or
SEC
, the Big Ten hasn't taken an official position on an early signing period. Many
Big Ten coaches see the benefits
, but there has been no united front.
Here's a bit of advice: The Big Ten coaches should band together about an urgent recruiting item, but not the early signing period.
The Big Ten must campaign for official visits to be moved up. No other league is affected more by population shifts that have created dense pockets of top recruits located far from its footprint. The
Big Ten is expanding its recruiting reach
, especially to the Southeast, but its proximity to many talent bases remains a significant obstacle.
If the Big Ten can't get prospects to its campuses before decisions are made, it will continue to fall behind in the recruiting race.
[+] Enlarge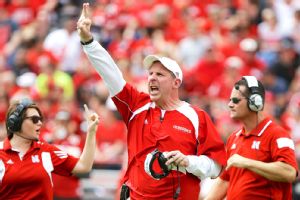 AP Photo/Nati HarnikEarlier official visits would be a boon to Bo Pelini and Nebraska, as the Cornhuskers have to recruit nationally because of a limited local talent base.
"The first thing we have to do is get kids on campus earlier," Michigan coach Brady Hoke told ESPN.com. "I'm sure our friends in the Pac-12 and the SEC would rather not that be the case. They'd rather have kids come in to Ann Arbor if it's winter.
"But I think it would help the guys from distance and the guys from those climates to come on campus to see what it is like."
NCAA rules state that prospects can't begin taking their five official visits -- paid for by the schools -- until the start of their senior year in high school. But many recruits make their college choices much earlier.
The accelerated recruiting cycle has minimized the significance of official visits. Many prospects commit after taking unofficial visits, for which they pay their own way. But the distance between Big Ten schools and the highest concentrations of elite prospects makes it challenging for recruits and their families to fund long, expensive trips.
"Since the trend is for early commitments, it makes sense that it favors schools located in population bases that produce a lot of players," said Big Ten Network analyst Gerry DiNardo, a former coach at Indiana, LSU and Vanderbilt. "So how do you combat that? How does a kid from Atlanta get to Lincoln, Nebraska, in the summer on their own expense?"
DiNardo views Nebraska as the FBS school most impacted by accelerated recruiting cycle. Nebraska always has recruited nationally because of its small local population base, but former coach Tom Osborne -- "a tireless recruiter," DiNardo said -- capitalized on the fact that recruits made their choices after an official visit to Lincoln.
Huskers coach Bo Pelini acknowledges earlier official visits "would help us."
"When you take official visits away from the equation, it really hurts a place like Nebraska," DiNardo said. "So early signing day has to be partnered up with official visits in a prospect's junior year.
"If just the date moves up without official visits, it sets the Big Ten even further behind."
DiNardo notes that a program such as Ohio State is less affected by the official visits timetable because it has a large local talent base that can easily reach its campus. But other Big Ten programs must cast a wider recruiting net.
It's especially true for programs in the western part of the league: Nebraska, Iowa, Minnesota and Wisconsin.
"It gives some of the schools that aren't surrounded by a lot of schools or a lot of places, it gives us a chance," Minnesota coach Jerry Kill said. "But I don't know if that's going to happen or not. People in Texas aren't going to vote for that because they never have to leave Texas."
Most Big Ten coaches interviewed by ESPN.com favor earlier official visits but want clear guidelines. One question is timing.
Several coaches mention late May or early June as the ideal time because many recruits already are touring schools unofficially and most staffs are conducting on-campus camps.
"With the way people are traveling around right now, it might be good to afford a prospect to take a couple of visits in June," Iowa coach Kirk Ferentz said. "Also, I think it'd be great to afford at least a parent the opportunity to join that prospect and make it part of the official trip."
Coaches say the parental component is critical.
"Sometimes kids just don't have the means to be able to get here, and they definitely don't have the means to have their parents come," Pelini said. "Hopefully, they'll change that. It's too big of a decision for a 17-year-old or 18-year-old kid to make without his parents or somebody being there."
[+] Enlarge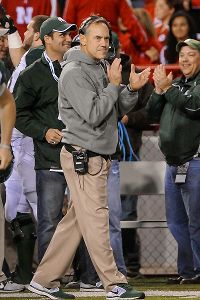 Eric Francis/Getty ImagesMark Dantonio wants an early official-visit period, but would prefer for it to be in a limited window instead of spanning the entire spring and summer.
Both Pelini and Michigan State coach Mark Dantonio want a limit on the number of official visitors schools could have in the spring. FBS teams can provide up to 56 official visits, but Dantonio rarely uses more than half of the allotment.
"It's not just carte blanche," Dantonio said. "I would make it a two-week window and cap those numbers."
Allowing 10-20 early official visits could work. Dantonio and Pelini also think prospects should be allowed to take multiple official visits to the same school.
Wisconsin coach Gary Andersen favors an earlier signing date in December, but he needs more clarity on official visits -- when they would take place, and for how long.
"I have to look at quality of life for my coaches," Andersen said. "Are we willing to take 4-5 weeks away in the summer? I don't want to do that."
Added Purdue coach Darrell Hazell: "You lose your life. The month of July, you need a little bit of decompression time."
The first two weeks in June makes the most sense. Create a dead period in July so coaches can take time off.
It also doesn't mean official visits in September and October will stop. Andersen can talk about Wisconsin's "Jump Around" and show videos, but, he said, "there's nothing like being there."
Big Ten teams still will have the chance to showcase their stadiums, facilities and campuses during football season. But they can't afford to wait that long for far-flung prospects to arrive, especially when they can afford to bring them in sooner.
"It would help everybody," Hoke said. "The other conferences aren't just staying in their region, either."
That's true, but the Big Ten has the most to gain, and pushing for change won't be easy.
"If that thing ever goes to a vote, everybody is going to say is that the Big Ten is just complaining," Indiana coach Kevin Wilson said. "They'll keep rallying their troops because they want to keep those kids at home."
The Big Ten coaches must rally, too. Otherwise, the recruiting gap will widen.
June, 4, 2014
6/04/14
9:00
AM ET
Momentum seems to be building for creating an early signing period in college football. The Conference Commissioners Association will discuss the idea as part of its agenda at a meeting later this month.
As with many things in life, the devil is in the details. The ACC
recommended an early signing date
of Aug. 1. The SEC at its meetings last month
came out against changing the recruiting calendar
, but would like to use the Monday after Thanksgiving if an early signing period does happen.
The Big Ten has not endorsed a specific stance on an early signing date as a conference. Based on interviews given to ESPN.com and other media outlets, most league coaches are in favor of it. Again, though, preferences on the when and the how differ.
Several coaches support the junior college signing period of mid-December as the right time to allow high school prospects who don't want to wait until February to sign their national letters of intent.
[+] Enlarge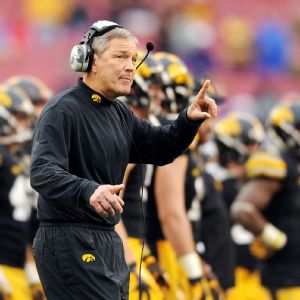 Steve Mitchell/USA TODAY SportsIowa's Kirk Ferentz is among the Big Ten coaches who favor an early signing period after the regular season.
"To me, that would be the perfect time," Iowa coach Kirk Ferentz said last summer. "I still don't understand the resistance. All it is is an opportunity to sign. They don't have to sign. I don't think anyone is going to lose a scholarship. It just gives everyone a chance to lay their cards on the table and say, 'I'm 100 percent sure now' or, 'Still not quite there.' That would be great for both parties, I think."
Northwestern coach Pat Fitzgerald, Wisconsin's Gary Andersen and Michigan State's Mark Dantonio are among others who back an early signing period in December.
"It sure would clear up recruiting for a lot of us," Andersen told ESPN.com. "In my opinion, if a kid's committed, let's have him go to the school where he wants to go, and we'll move on in recruiting and get the guys we want. I think it's the most logical answer."
A possible downside of having the early signing period in December would be that it puts more pressure on coaches to concentrate on recruiting late in the season, when championships could be on the line, or during bowl preparation. In-season recruiting pressures would grow even higher with the SEC's post-Thanksgiving recommendation.
Most who favor an early signing period say their schools and coaching staffs are spending too much valuable time, money and energy trying to re-recruit players who might have signed earlier. That's why some coaches, such as Indiana's Kevin Wilson, support a signing date before or right at the beginning of the season.
"I had guys who were committed in the summer who in the last weekend [before the February signing date] changed their minds," Wilson told ESPN.com. "It would be nice if there was an early signing period on the first of September. I don't know if we've got to move the calendar up, but we waste a lot of time and a lot of money babysitting kids who have made their decisions."
Michigan is one school that could have benefited in recent seasons from an early signing period. The Wolverines have sewn up the majority of their classes under Brady Hoke in the summer before the prospects' senior year of high school. Hoke's staff could have locked up those commitments and focused on filling out the final few spots or moving on to the following year's class.
Hoke would like to see an early signing date, but with a caveat.
"If there's an early signing period, there probably needs to be an early visitation period for those kids," he told ESPN.com. "Maybe the first two weeks in June to get on your campus."
That's a big deal for Big Ten coaches, who would love to see prospects be able to take official visits before the start of their senior year. An early signing date without an earlier visit calendar could put the league at a disadvantage against schools in more talent-rich areas. (We'll look more closely at this issue on Thursday in the blog.)
[+] Enlarge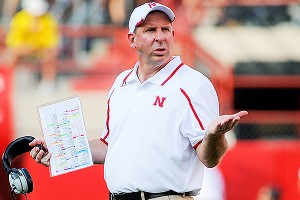 Eric Francis/Getty ImagesNebraska's Bo Pelini says allowing earlier official visits must be a part of any move toward an early signing period.
Nebraska's Bo Pelini has said he would not support an earlier signing date without those earlier visits (and even then, he said he would need more time to study the issue). Schools such as Nebraska and Minnesota, which are farther away from talent-rich hubs, simply wouldn't see many benefits to an early signing day if the rest of the recruiting calendar remained the same. Players in blue chip-heavy areas -- such as the South, Texas and California -- would be more apt to take unofficial visits at schools closer to home and then could get pressured into signing before they ever made a trip up north.
Ohio State under Urban Meyer has thrived during the final weeks of recruiting before the February signing day, as his staff has built a reputation of being great "closers." So it's no surprise that Meyer was one of three SEC coaches to vote against a proposal to support an early signing date in 2008, when he was still at Florida. Meyer said at the time that "recruiting should be done in December, January and February. I think [an early date] speeds up 17- and 18-year-olds to make a decision that affects the rest of their lives."
Maryland's Randy Edsall has proposed that schools shouldn't even send out any type of scholarship offer until Sept. 1 of a high school prospect's senior year in high school, and then those offers would come from the university's admissions office, not the coaches. That would slow things way down and make sure prospects have achieved the necessary test scores and admission standards. Yet Edsall also said this spring that if recruiting continues at its current accelerated pace, that "there definitely has to be an early signing period."
There are other issues with the early signing date, including what protection the players would have if the coach left for another job after they signed. Plus plans change in recruiting all the time.
"I see the pluses and the minuses with it," Dantonio told ESPN.com. "If you have a committed guy and he signs with you, he truly is committed. That's a positive. I also think if you take one quarterback and he thinks he's the only one, and all of a sudden you take two, how does that all play out?
"I do think it keeps people from poaching off you, whether it be us poaching off somebody or somebody else [poaching]. It makes people hold to their word. If they don't want to sign then, they're still open, and you know they're open. But I would make it a mid-December type deal. I'm not in favor of August; I'm not in favor of September. I'm in favor of, 'They've had a chance to at least visit and be on campus a couple places, so they have a feel.'"
College football does appear headed for an early signing date soon, if only the details can get ironed out.
"We get into these discussions, and everybody kind of has their own agenda of what's in the best interests for their school," Penn State coach James Franklin told ESPN.com. "But for a lot of different reasons, an early signing period makes sense for everybody."
May, 10, 2013
5/10/13
11:52
AM ET
Inspired by
Florida's "#ComePlayWRFortheJoker" campaign
">Florida's "#ComePlayWRFortheJoker" campaign, our recruiting writers looked at other ways schools can sell themselves on the trail. Here's a look at recruiting pitches for the Big Ten:

Illinois Illini
What they're selling:
A chance to rebuild a program from the ground up, beginning with four-star quarterback
Aaron Bailey
, who signed in 2013.
What they're missing:
Just about all of the top prospects from their own state.

Indiana Hoosiers
What they're selling:
Indiana coach Kevin Wilson
embraces the idea of a college spring break
and is ready to head to Cancun with some of his players.
What they're missing:
Wilson looks like he might hold the group up in Mexico, however, as he still needs the assistance of a flotation device. Points that it is in the shape of a turtle, though.

Iowa Hawkeyes
What they're selling:
Iowa boasts one of the few staffs that can say they will be there all four years of a recruit's career and has the history to back it up. Kirk Ferentz is the longest tenured coach in the Big Ten and it's not even close.
What they're missing
: Out-of-state prospects tend to think Iowa is all cornfields, leaving the staff to battle that misconception countless times throughout the recruiting cycle.

Michigan Wolverines
What they're selling:
Michigan coach Brady Hoke looks like an outlaw patrolling the sideline on Saturdays without a headset.
What they're missing:
The player who graces the NCAA Football 2014 cover Denard Robinson. "Shoelace" was one of the Wolverines' best recruiting tools.

Michigan State Spartans
What they're selling:
Michigan State coach Mark Dantonio is the
man behind Little Giants
, one of the greatest trick plays of the last few decades.
What they're missing:
A trip to a Rose Bowl under Dantonio would put Michigan State over the top when it comes to recruiting. There is already a significant difference in the caliber of player the Spartans are now getting compared to just a few seasons ago.

Minnesota Gophers
What they're selling:
The Gophers boast the biggest locker room in college football.
What they're missing:
They have not had a winning season since 2008.

Nebraska Cornhuskers
What they're selling:
Bo Pelini whipped out
"The Bernie" in the Huskers' Harlem Shake video
. Harlem Shake equals instant credibility with recruits.
What they're missing:
A lack of a strong base of in-state talent makes it tough to recruit at Nebraska, and a Harlem Shake video can overcome only so much.

Northwestern Wildcats
What they're selling:
The new facilities are right near Lake Michigan, which, as assistant Bob Heffner is telling recruits, is a great spot for fishing.
What they're missing:
Not too many high schoolers in New Jersey have taken up fishing as a hobby. At least not yet.

Ohio State Buckeyes
What they're selling:
Urban Meyer is bringing SEC speed to the Big Ten.
What they're missing:
Has anyone actually clocked Meyer in the 40-yard dash? How fast is he really?

Penn State Nittany Lions
What they're selling:
Beaver Stadium fits more than 106,000 on Saturdays, making it the second largest stadium in the country. Inside is also one of the country's most passionate fan bases, and ESPN analyst Kirk Herbstreit once listed Penn State's student section as "simply the loudest, most supportive student section in college football."
What they're missing:
A full slate of scholarships and a chance to play for a Big Ten title the next few years.

Purdue Boilermakers
What they're selling:
Few programs have the history Purdue does at quarterback, and former Boilermakers Drew Brees, Kyle Orton and Curtis Painter are all on NFL rosters. The Boilermakers just signed ESPN 300 QB
Danny Etling
, too.
What they're missing:
Brees, Orton and Painter.

Wisconsin Badgers
What they're selling:
The Badgers have been to three straight Rose Bowls.
What they're missing:
The coach who took them there.