NCF On The Trail:

Kirby Smart
June, 9, 2014
6/09/14
8:00
AM ET
It's next to impossible to limit the list of top recruiters in the SEC to just five, but that was the assignment here. It's no surprise to see an Alabama assistant at the top of the list with the recent run the Crimson Tide have been on, but those who follow it closely enough also know there's some tremendous recruiters across the state at Auburn.


February, 7, 2014
2/07/14
5:30
AM ET
The Early Offer is RecruitingNation's regular feature, giving you a daily dose of recruiting in the mornings. Today's offerings: The ink was barely dry on the letters of intent for 2014 class when one of the best for the 2015 class came off the board; and what schools and recruiters have jumped out of the gate with success with players that won't sign for another 360-plus days.
To continue reading this article you must be an Insider
February, 3, 2014
2/03/14
2:00
PM ET
This is part of a series on the nation's top uncommitted recruits leading up to signing day. Click here for the full series.
AUBURN, Ala. --
Rashaan Evans
(Auburn, Ala./Auburn) is known for his infectious personality. He's typically the life of the party and has a smile that can light up a room. But on Sunday, when the ESPN 300 linebacker sat down at his home for what he said would be his final interview before announcing his college decision Wednesday on signing day, it was clear the recruiting process had taken its toll.
It was evident in his mannerisms. It was evident in the way he answered questions. It was evident in the tension that filled the Evans household. It wasn't intentional, but the signs of stress were there.
[+] Enlarge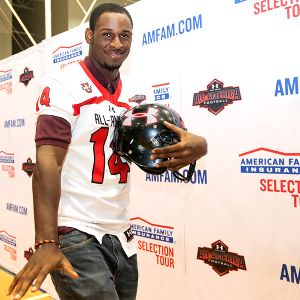 Courtesy of IntersportRashaan Evans is down to in-state powers Alabama and Auburn, and he will announce on Wednesday.
"Sometimes it feels like it's getting worse every day," Evans said.
Five minutes into the interview, his mother tried to cut it short. She wasn't trying to be rude; she had simply had enough. She said she wanted to spend time together as a family. It was something they hadn't been able to do for what seemed like an eternity, and Sunday just happened to be her birthday.
"It's been pretty hectic," Evans said. "I really haven't had just a good week to myself, with me and my family, where we don't have people calling us or coming to see us or having to go on visits or anything."
Saturday night was a prime example, as not even his grandfather's birthday party proved to be off-limits.
Evans and his family attended the party for his grandfather 24 hours earlier at a nearby hotel. It seemed like a perfect opportunity to get away from the world of recruiting for at least one night. But Auburn coach Gus Malzahn and Alabama defensive coordinator Kirby Smart found themselves on the guest list, and a handful of coaches from each school showed up as well. All were hoping to make one final good impression on the four-star prospect, one of a dwindling number of uncommitted prospects remaining in the ESPN 300.
"The fact that they came all to one place, it was pretty interesting," Evans said. "But I don't think it was a bad deal. The party was really about my granddad, and they just tagged along. That's all it was. That's the type of atmosphere it was. It wasn't a competition."
It was a competition, though. The coaches might have acted civil during the party -- the two sides even talked to each other when they first arrived -- but it's all part of the ongoing competition to land Evans' signature on signing day.
It started more than a year ago when Alabama and Auburn first offered Evans a scholarship. The Tigers came first in May 2012; the Tide followed suit five months later. It escalated when Evans started to shine at events such as the regional Nike Football Training Camp and The Opening, and it continued with strong performances at the Alabama-Mississippi All-Star Game and last month's Under Armour All-America Game.
Now, just before he makes his final decision, the competition has reached a fever pitch, and all Evans wants to do is escape it. It's time for him to be selfish.
Local fans who say "War Eagle" when he goes out in public don't matter anymore. Alabama fans tweeting him "Roll Tide" don't matter either. Even though his friend and former teammate
Reuben Foster
has helped with the recruiting process, it no longer matters what he says. Even his mom and dad, who both went to Auburn, are telling Evans to make the best decision for him, not for other people.
"I just try to get him to understand that his main concern should be himself," said his father, Alan Evans. "He should not be worrying about the pressures of going to school because I went there. He should be worried about his own career and where he wants to go with it."
It's not an easy decision for 18-year-old kid, but it's one Evans has to make.
At one point, between talking about his grandfather's party and one of the visits he took, a smile appeared on Evans' face. He was reminiscing about the process, and as stressful as it got at times and as much of a toll as it took on his family, he knows it was a once-in-a-lifetime opportunity.
"Sometimes whenever I'm stressed about it, I always click over to another mode and just try to enjoy it," Evans said. "I know these are precious times in my life. ... I try to look at it as a way to make memories."
In the hours leading up to signing day, Evans plans to sit down with his family and look at what each school has to offer. He's done with interviews. He's done talking to coaches. He's done with every part of the process that isn't about making an actual decision.
He has one more memory to make on Wednesday, and he wants to make sure it's one he won't regret.
October, 17, 2013
10/17/13
5:30
AM ET
The Early Offer is RecruitingNation's regular feature, giving you a daily dose of recruiting in the mornings. Today's offerings: Oregon State coach Mike Riley launched a new Twitter campaign on Tuesday to help the Beavers connect with recruits across the country; LSU's
Frank Wilson
didn't make the first edition of the ESPN recruiting power rankings, but he could be leading the poll by signing day; and a question and answer session on Wednesday helped identify what topics are most important with recruiting fans today.
#SmartRecruitingTool
Oregon State coach Mike Riley has more than 18,900 followers and is great communicating with fans on Twitter. So it was no surprise to see him launch a campaign Tuesday called "Tweet Film Tuesday" where he asked recruits to send him links to their film, and he and his staffers will then select 10 recruits to evaluate each week. With only 140 characters to work with, Riley didn't explain how he and his assistants would pick the 10 recruits to evaluate, but the idea is ingenious. Not only does it help Riley and the Beaver coaches communicate with prospects in a way they're already familiar with, it also allows the OSU coaches to find prospects they might not have been familiar with who are truly interested in the program. Also with Riley's track record of uncovering hidden talent, you can all but guarantee there will be a story a few years down the road where the Beavers found a sleeper through this approach.
To continue reading this article you must be an Insider
October, 15, 2013
10/15/13
8:00
PM ET
Editor's note: For a look at the national recruiter power rankings based only on Class of 2014 success,
click here
.
It's no secret that Southeastern Conference has been the top conference in the country as far as recruiting over the last several years. The league currently has six teams ranked in the top 11 of the team recruiting rankings. Here's a look at the top 10 recruiters around the ultra-competitive conference.
To continue reading this article you must be an Insider
August, 9, 2013
8/09/13
11:00
AM ET
It's time to dip into the SEC recruiting mailbag and answer your questions. Because of the amount of questions we've received, we won't be able to get to all of them today -- but we encourage you to ask again next week by tweeting your questions to
@DerekTysonESPN.

@cpage2911: who are the top SEC assistant coaches recruiting wise?
Derek Tyson:
As evident by having 10 SEC schools ranked in the top 25 of the Recruiting Nation class rankings, the SEC is full of recruiting savvy coaches. The list is long and full of quality coaches, and I could make a case for a number of SEC coaches, but here's a glance at three coaches who stand out to me this year.
Auburn co-offensive coordinator Dameyune Craig is responsible for Auburn landing commits from five ESPN 300 members including
Tre' Williams
,
Nicholas Ruffin
,
Justin Thornton
,
Kamryn Pettway
and
Stanton Truitt
. Florida defensive backs coach Travaris Robinson is the primary recruiter for four committed ESPN 300 prospects --
Dalvin Cook
,
Khairi Clark
,
J.C. Jackson
and
Duke Dawson
. He is also the primary recruiter for ESPN 300 prospects
Ermon Lane
and
Quincy Wilson
, who the Gators have a shot of landing on Monday.
Alabama defensive coordinator Kirby Smart continues to be an outstanding recruiter and has helped the Tide stand firm in the top five of the class rankings. Smart is the primary recruiter for ESPN 300 committed players
Kalvaraz Bessent
,
Stephen Roberts
,
Shaun Dion Hamilton
and Zach Whitley.
@SleeperAthletes: Out of all the #SEC states, which state is most heavily recruited?
DT:
As far as sheer numbers, Florida is always one of the most heavily recruited areas in the country. In fact, 17 percent (52) of the prospects ranked in the ESPN 300 are from the state of Florida. Texas is the next state in SEC territory with 34 players on the ESPN 300 followed by Georgia with 29 players.
Louisiana might not have the total number of prospects as Florida, Texas and Georgia, but what it lacks in numbers it makes up for in quality. Three of the top 10 players in the country including the No. 1 overall prospect,
Leonard Fournette
, and eight of the top 50 players in the country are from Louisiana.
SECfan: Will an SEC team take home the recruiting championship again?
DT:
Five of the top 10 recruiting classes are from the SEC including three -- Alabama, Tennessee and Georgia in the top five. When it's all said and done, though, I believe it will be a battle between Alabama and LSU. Alabama is at No. 2 while LSU is at No. 10, and with several key targets still available LSU could certainly jump to the top.
Louisiana natives and top 10 players including Fournette,
Cameron Robinson
and
Speedy Noil
are high on the Tigers. Linebacker
Clifton Garrett
, wide receivers
Trey Quinn
and
Malachi Dupre
, safety
Laurence Jones
and defensive tackle
Gerald Willis III
are just some of the top prospects considering LSU and the Tigers could end up with a monster class. Alabama, however, is still very much in contention for both Fournette and Robinson which could quickly cement the Tide as the top overall class. Bottom line is, yes, I believe the SEC will land the No. 1 recruiting class for the third straight year.
February, 23, 2013
2/23/13
4:15
PM ET
ESPN Watch List linebacker
Kain Daub
(Jacksonville, Fla./Sandalwood) is zeroing in on two programs.
A former commitment to LSU, the 6-foot-2, 243-pound linebacker is still looking at the SEC West, but also an ACC program.
To continue reading this article you must be an Insider
January, 18, 2013
1/18/13
9:18
AM ET
ESPN 150 running back
Alvin Kamara
(Norcross, Ga./Norcross) lives in the heart of a fiercely contested recruiting battle between Alabama and Georgia. He has received hundreds of letters, countless phone calls and innumerable visits from coaches. Kamara is used to answering phone calls from the likes of Nick Saban and Mark Richt. To him it is all old hat.
But it is not to his mother, Adama Kamara, who had Saban in her den on Wednesday night.
To continue reading this article you must be an Insider
October, 9, 2012
10/09/12
11:00
AM ET
NORCROSS, Ga. -- The Alabama coaches were not joking when they sent ESPN 150 running back
Alvin Kamara
(Norcross, Ga./Norcross) 105 recruiting letters back in February. In spite of the recent commitment of ESPN 150 athlete
Derrick Henry
(Yulee, Fla./Yulee) to the Crimson Tide, Nick Saban and Kirby Smart are still pursuing Kamara.
That might surprise plenty of Georgia fans who thought that Henry's decision would send Kamara, who had named Georgia and Alabama as his leaders, straight to Athens, Ga.
[+] Enlarge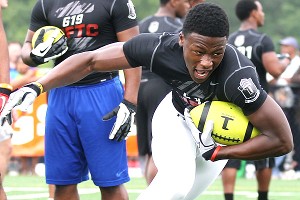 Tom Hauck for ESPN.comEven with Alabama seemingly stocked at running back, the Crimson Tide are still after Alvin Kamara.
"Coach Smart is out here tonight," Kamara said. "They are still after me as hard as when it all started. They called me after Derrick committed. Coach Smart and I talked and he said, 'You know we still want you as bad as we did before.' Bama puts guys in the NFL and the atmosphere up there is crazy. I love it. I am comfortable when I get into Tuscaloosa.
To continue reading this article you must be an Insider