NCF On The Trail:

Jordan Prestwood
December, 5, 2013
12/05/13
10:30
AM ET
The Junior College signing period is almost here, and with that is the release of the
2014 JC player rankings
.
The best way to build a program is through recruiting high school prospects who can be developed in a particular program's mold and will be around for a longer period of time.
As someone who both played (Nassau) and coached (Hutchinson) at the junior college level, I have a tremendous respect for this level of football and the opportunities it can offer to young prospects and the talent it can produce. Junior colleges can provide college programs with opportunities to fill holes on their rosters with older and more experienced players while they recruit and develop high school prospects for the long term.
Junior colleges can provide a program with an impact-type player at times, the way quarterback Cam Newton was at Auburn or linebacker Lavonte David was at Nebraska. At other times and more frequently, it can provide ways for a college program to supplement and strengthen its depth chart.
Below is an overview of the 2014 crop of junior college prospects and what they have to offer for college programs.
The big catch:
The battle for the top spot came down to a pair of receivers, and it was a close call. The edge went to
D'haquille Williams
(Laplace, La./Mississippi Gulf Coast CC), a receiver with an excellent combination of size and athleticism. A current Auburn verbal, Williams is still a bit raw in areas, but he possesses great ball skills and big-play ability and is talented enough to come in and make an impact as a receiving target.
An argument for the No. 1 spot was also made for
Lavon Pearson
(Quincy, Calif./Feather River College), who is close behind at No. 2. A Tennessee verbal, Pearson is arguably a little more well-rounded as a pure receiver prospect at this point than Williams, but he doesn't possess quite the same stature or physical tools. What the fluid receiver does bring is excellent ball skills and the ability to be dangerous after the catch. Pearson could come in and have an immediate impact in a similar manner to former Volunteers receiver and juco import Cordarrelle Patterson.
Tight coverage:
It is not a particularly strong crop of secondary prospects, but a pair of talented cornerbacks lead this group and landed in the top 10.
Shattle Fenteng
(Loganville, Ga./Hutchinson CC) is the top-rated CB. He is a physical, explosive man-to-man matchup defender. A Georgia commit, he possesses the ability to mirror quicker wide receivers. Standing 6-foot-1, he also holds up against bigger targets in red-zone/jump-ball matchups.
The other top-10 defensive back is
Tee Shepard
(Fresno, Calif./Holmes Community College), likely a familiar name to many recruiting fans as he was a Notre Dame commit in the 2012 class out of high school. A corner with nice size, he displays good leaping ability and ball skills and can be a physical presence at the position.
Another cornerback outside the top 10 who we believe is worth keeping an eye on is
Danzel McDaniel
(Dodge City, Kan./Dodge City CC). A top-50 prospect, he is an aggressive, physical, tall (6-1) and athletic corner.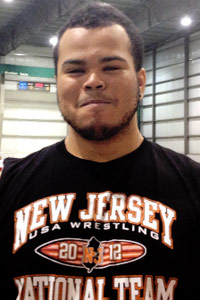 Josh Moyer/ESPNJermaine Eluemunor, the top-ranked juco offensive guard, is committed to Texas A&M.
Think big:
The strength of this 2014 junior college class is within the trenches as the offensive and defensive lines are the deepest group. A dozen offensive linemen landed in the top 50, including six in the top 20. The group is led by two offensive tackles and top-10 overall prospects in 6-6, 310-pound
Dominick Jackson
(San Mateo, Calif./College of San Mateo) and
Chad Mavety
(Garden City, N.Y./Nassau CC). Jackson, an Alabama verbal, brings good size, strength and agility and can offer some versatility as well. Mavety needs some polish but is a big tackle prospect (6-6, 320) with the tools to be a good, well-rounded OT and come in and contribute to a program.
Jordan Prestwood
(Tampa, Fla./Arizona Western) is a name that probably rings a bell to recruiting fans as he was a promising prospect in the 2011 class and bounced around some before landing in junior college. A good athlete for his size (6-6, 315), he has grown and gained some experience as he transitions back to the FBS level. The guard position features a pair of Lackawanna College teammates in
Jermaine Eluemunor
and
Jarell Broxton
. Eluemunor (6-6, 300), who is committed to Texas A&M, could contribute at offensive tackle, though we believe his best fit will be at guard. Broxton (6-5, 328) is a big man we believe is a bit underrated in this juco class. He is a nice pickup for Baylor.
The largest group represented is the defensive tackles, with 15 in the top 50. Three defensive tackles are among the top 10, including Tennessee verbal
DaVonte Lambert
(Milledgeville, Ga./Georgia Military College), a tough and disruptive player.
Dalvon Stuckey
(DeFuniak Springs, Fla./Pearl River CC) was a promising prospect coming out in the 2012 class and remains one as an active defensive tackle. One of the more interesting prospects in this class is
Alfonso Hampton
(Chula Vista, Calif./Southwestern College). Someone to keep an eye on, he didn't play football in high school and is a bit of an underrated prospect, but he possesses a nice combination of size, strength and agility and displays promising upside. Recent Nebraska verbal
Terrell Clinkscales
(Dodge City, Kan./Dodge City CC) brings very good size (6-3, 315) and strength to the trenches.
The defensive end group is not as strong as the interior group, but some good talent can be found, led by Oregon verbal
Tui Talia
(Pleasant Hill, Calif./Diablo Valley) and
D.J. Pettway
(Pensacola, Fla./East Mississippi).
An interesting prospect in this group is jumbo athlete
Jeremy Liggins
(Oxford, Miss./Northwest Mississippi). With an excellent blend of size (6-4, 285) and athleticism, he has played quarterback in both high school and junior college, but we believe his best long-term fit is along the defensive line. Listed as an athlete, he could contribute in more than one way, though his lack of focus at one position could be a bit of a concern.
Empty backfield:
While we believe there are some good prospects to be found on the perimeter offensively, this is not a strong group for those looking for some help in the backfield.
At quarterback, we don't see another Cam Newton, Zach Mettenberger or Nick Marshall in this group and no quarterbacks landed in the top 50.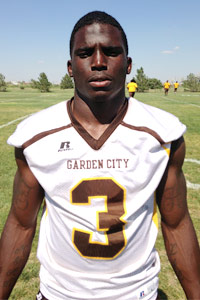 Jeremy Crabtree/ESPNVersatile athlete Tyreek Hill is committed to Oklahoma State.
The running back position is slightly stronger, but only one player, Ole Miss verbal
Akeem Judd
(Milledgeville, Ga./Georgia Military College), is ranked among the top 50. Sitting just outside the top 50 is
De'Chavon Hayes
(Richmond, Va./Lackawanna College), a good all-purpose back who flashes big-play ability. Listed in the athlete category but capable of making a play in more than one way offensively -- including out of the backfield -- is
Tyreek Hill
(Garden City, Kan./Garden City CC). An Oklahoma State verbal, Hill is ranked No. 4 overall and can be an explosive weapon with his speed, ability to make defenders miss and ball skills. He is capable of making plays as a running back, wide receiver and in the return game.
Look beyond:
The ESPN JC 50 represents the top prospects in the class, but there are also some promising prospects beyond the top 50.
Geronimo Allison
(Council Bluffs, Iowa/Iowa Western CC) is a tall receiver who can win foot races and make plays.
Dominique Robertson
(Riverside, Calif./Riverside CC) is a physical and nasty offensive tackle who landed just outside the top 50.
David Moala
(Norwalk, Calif./Cerritos College) is a wide-bodied and surprisingly agile defensive tackle who can be a disruptive presence.
These are just a few of the prospects who didn't make the top 50 but can still help an FBS program. You can look at the
Recruiting Nation database
for evaluations of more than 100 juco prospects.
December, 3, 2013
12/03/13
4:30
PM ET
Recruiting junior college players is no longer a college football taboo, as even No. 1 Florida State has a handful of juco targets. Prospects from the juco ranks such as
Cam Newton
and
Terrence Cody
have helped programs to national championships over the last few seasons, so coaches are willing to go to juco programs to provide immediate help.
Here are the top five juco players in the
ESPN JC 50
being recruited by ACC teams.
1. OT Chad Mavety (Garden City, N.Y./Nassau)
The second-ranked tackle and No. 8 overall among juco recruits, Mavety is down to Florida State and Ohio State. Clearly Mavety is a player who could have an impact on the national title race next season as both the Seminoles and Buckeyes are poised to make another title run . Mavety visited both schools in November, and a decision should come soon. The offensive line is priority No. 1 for the Noles between now and signing day.
November, 15, 2013
11/15/13
9:00
AM ET
When Auburn takes on SEC East opponent Georgia on Saturday afternoon, there will be plenty of top recruits either in attendance or watching on television. Auburn is trying to capitalize on its 9-1 record by bringing in several recruits, both for 2014 and 2015. Here's a closer look at who will be paying close attention to this game.
1. WR Travis Rudolph (West Palm Beach, Fla./Cardinal Newman):
The No. 61 prospect in the country will be taking an official visit to Auburn this weekend. Rudolph mentioned Auburn early in his recruitment, but he hasn't said much about the Tigers until he announced he will be visiting there this weekend. Rudolph likes FSU and with losses starting to mount for other in-state programs Florida and Miami, Auburn is trying to get back in the picture for this talented wideout.
To continue reading this article you must be an Insider
November, 14, 2013
11/14/13
2:00
PM ET
A week after LSU-Alabama took center stage in the recruiting universe, the Auburn Tigers will take the spotlight this weekend with a number of big-time prospects expected on the Plains.
Stellar visitor list expected on the Plains
To continue reading this article you must be an Insider
November, 13, 2013
11/13/13
2:00
PM ET
With Missouri's recent run on the field and the recruiting trail, all 14 teams in the SEC are in RecruitingNation's top-40 class rankings. While Missouri and Tennessee have made the most news of late, the strangle hold on the top spot remains in the hands of Alabama.

Trending up:
Missouri and Auburn are a pair of schools on upward trends. Missouri's Tigers had a huge week with commitments from ESPN300 No. 82
Andy Bauer
(Saint Louis, Mo./De Smet Jesuit High) and No. 239
Brandon Lee
(Indianapolis, In./Lawrence Central High). The SEC East leaders are now clearly in the picture for No. 145
Brian Wallace
(Saint Louis, Mo./Christian Brothers College High), No. 156
Roderick Johnson
(Florissant, Mo./Hazelwood Central High) and others.
To continue reading this article you must be an Insider
October, 28, 2013
10/28/13
11:56
AM ET
Florida State hosted four players on official visits this past weekend for the NC State game. Two were from the junior college ranks and have played for big programs before.
More details on each below.
To continue reading this article you must be an Insider
October, 28, 2013
10/28/13
8:00
AM ET

It wasn't a banner day for the ACC on Saturday, but Florida State, the conference's top-ranked team, was the center of the focus with several impact visitors on campus.
<!—-offer-->
[+] Enlarge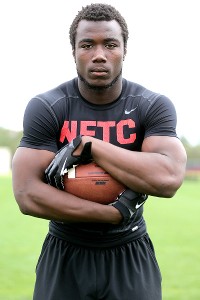 Tom Hauck for Student SportsHow will Florida State compare to Florida for Dalvin Cook?
Biggest visitor:
Dalvin Cook
(Miami/Miami Central) was the star visitor in Tallahassee Saturday afternoon. The Florida Gators' running back commitment took an official visit to their in-state rivals to see what the Seminoles offense might have to offer him. Cook isn't necessarily wavering in his commitment to Florida, but has made comments that he is paying attention to their offensive struggles. His recruitment probably won't change for a while, if at all, but this was a big chance to get one of the country's top running backs on campus for Florida State. Cook is a four-star recruit and the No. 23 prospect in the country.
Biggest offer:
There weren't any major commitments made this weekend, and offers were hard to find. Duke and Virginia issued some. The Cavaliers have targeted
Cornelius Floyd
(Miami/Gulliver Prep), a 2014 athlete who also has offers from ACC programs Pittsburgh and Wake Forest. Duke offered 2015 defensive lineman
David Ryslik
(Highstown, N.J./The Peddie School). The Blue Devils are the first to go ahead and offer Ryslik, but he's been getting plenty of interest at 6-foot-4, 270 pounds.
To continue reading this article you must be an Insider
October, 25, 2013
10/25/13
9:00
AM ET
It is not the sexiest matchup on Florida State's schedule. It is sandwiched by Clemson last week and Miami on Nov. 2. But the Seminoles have a litany of visitors coming to Tallahassee, Fla., for the NC State game, including the top commitment from a rival school.
Following the 51-14 prime-time drubbing of Clemson last weekend, the Seminoles' arrow is pointing up with recruits. There will be four official visitors on campus. Here are 10 prospects who will be watching Florida State closely Saturday, whether from the seats in Doak Campbell or at home on the couch.
[+] Enlarge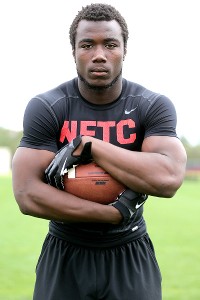 Tom Hauck for Student SportsDalvin Cook remains committed to Florida, but could Florida State pry him away?
RB Dalvin Cook (Miami/Miami Central):
He contends he is 100 percent committed to the Gators, but Cook is making the trip north to Tallahassee for an official visit this weekend. It is the second of three official visits scheduled to locations other than Gainesville, Fla. The Gators' offense is sputtering. On the opposite side of the spectrum are the Seminoles, who have impressed the No. 4 running back nationally with a high-powered offense led by Heisman candidate
Jameis Winston
. A successful visit to Florida State and another flop by Florida and Cook's commitment to the Gators could be in question.
To continue reading this article you must be an Insider
October, 24, 2013
10/24/13
2:00
PM ET
The recruiting week in the ACC has centered around two states, as both Florida and Virginia programs added commitments while Miami has learned its NCAA fate.
To continue reading this article you must be an Insider