NCF On The Trail:

Johnny Manziel
April, 10, 2013
Apr 10
6:47
PM ET
ALLEN, Texas -- If it's left up to him, Houston Lamar 2014 quarterback
Darrell Colbert Jr.
isn't going to be defined by his height.
If he has any say, it will be his play that people will talk about. Some have already noticed. SMU noticed enough to offer Colbert a scholarship and he rewarded the Mustangs for being the first to do so by committing when attending the Mustangs' junior day earlier this year.
Over the weekend at the Elite 11 Dallas regionals and the Dallas Nike Football Training Camp, Colbert set out to showcase his skills and why head coach June Jones and his staff felt it appropriate to target the accomplished signal-caller, who led his Redskins to the Texas Class 5A Division I championship game in 2012.
To continue reading this article you must be an Insider
February, 19, 2013
Feb 19
6:55
PM ET
INDIANAPOLIS -- Turnabout is fair play, and
Lonnie Johnson
(Gary, Ind./West Side) is starting to play the recruiting game.
A longtime Ohio State lean who wanted to commit to the Buckeyes a few months ago, Johnson stopped himself short of naming Ohio State his leader Monday.
Asked if Ohio State was still his top school, Johnson said: "Yeah, Ohio State," then paused before he said "... really I got a three-headed dragon: It's Illinois, Nebraska and Ohio State. They're all at the top of my list. I don't know where I'm going to go at this point."
To continue reading this article you must be an Insider
January, 31, 2013
Jan 31
10:00
AM ET
Most programs would dwell on the fact that they lost a future Heisman Trophy winner after earning his commitment.
[+] Enlarge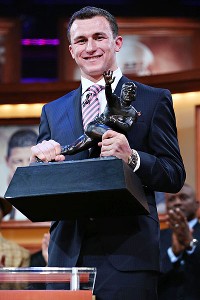 Kelly Kline/USA TODAY SportsJohnny Manziel made Heisman Trophy history, but the Oregon Ducks have no problem with their current quarterback from the same recruiting class.
Luckily for the Oregon Ducks, getting a commitment from
Marcus Mariota
made losing
Johnny Manziel
from the Class of 2011 easy to absorb. Mariota and Manziel both committed to the Ducks within two weeks of ESPN 150 QB
Jerrard Randall
doing the same.
At the time, most followers were focused on Randall, who was the biggest name at the time. Randall eventually signed with LSU after academic issues with Oregon and is currently enrolled at Northeast Mississippi Community College. Manziel won the Heisman Trophy at Texas A&M and Mariota had a fabulous redshirt freshman season with the Ducks.
To continue reading this article you must be an Insider
December, 6, 2012
12/06/12
5:14
PM ET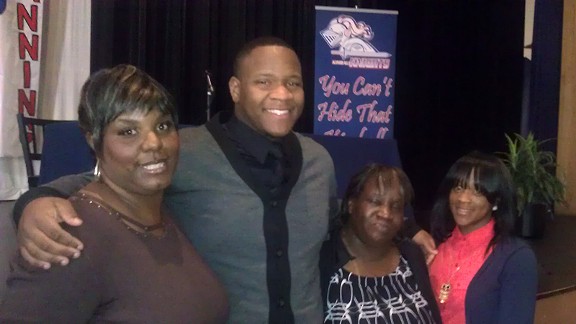 Damon Sayles/ESPN.comESPN 150 prospect Justin Manning is Texas A&M's fifth defensive tackle commit for the Class of 2013.
DALLAS -- With one declaration, ESPN 150 defensive tackle
Justin Manning
(Dallas/Kimball) did more than verbally commit.
He officially became his own identity -- and decided against continuing a legacy.
The Kimball High School auditorium in Dallas' Oak Cliff community erupted as Manning, one of the nation's best defensive players, announced to family, friends and school representatives that he would play college football at Texas A&M. With the move, Manning became the Aggies' 33rd overall commit of the 2013 recruiting class and the fifth defensive tackle of the class to give his pledge.
Ranked No. 88 in the ESPN 150, Manning chose Texas A&M over Oklahoma and TCU. Manning, recruited by wide receivers coach David Beaty, chose against following the footsteps of his older brother, DeMarcus Granger, a former Kimball star who played on Oklahoma's defensive line from 2006-09.
"I can trust [A&M], and I feel like it'll be a challenge," Manning said. "I feel like I'm challenging myself to be better.
"Oklahoma has been my dream school since Day 1. The only doubts I had about them was when I arrived, would I feel too comfortable?"
Manning has gone on the record several times to discuss how difficult his process was. All three schools were very much alive in the race, but he said the decision ultimately came down to trust and potential success. The Aggies, under coach Kevin Sumlin and led by quarterback
Johnny Manziel
, have been outstanding in their first year in the SEC.
What added to Manning's decision is how this year's team is relatively young on both sides of the ball. Manziel is a redshirt freshman. One of the Aggies' primary defensive players, defensive lineman
Damontre Moore
, is a junior.
"They have a lot of talent there, and I feel like I can get a national championship at least three years," Manning said. "I've gone through my high school career trying to get to state, and when I think about it, it's almost impossible to get to state if you don't have talent at each position."
Manning thanked the coaching staffs at Oklahoma and TCU for recruiting him and expects big things from both programs in the future. Oklahoma is an established Big 12 competitor that is in the running for a conference title every year. TCU has established itself as a Big 12 power in its first year.
"It was close; it was always close," Manning said. "With TCU, it's just a great school. The thing that stuck out is [cornerbacks] Coach [Clay] Jennings. Just the way he is, I feel like I'm back at high school with them. It's a comfortable feeling."
For Manning, the most comfort, however, relies in College Station, Texas. He expects to come in and be an immediate impact player for a program he has high expectations for.
"Bring your popcorn," he said. "You'll see."
November, 14, 2012
11/14/12
8:30
AM ET
COLLEGE STATION, Texas -- Tom Rossley and Mark Smith knew each other well. Rossley, the former Texas A&M quarterbacks coach, recruited the San Antonio and surrounding areas when Smith was the head coach at Kerrville (Texas) Tivy, a small town outside of San Antonio.
[+] Enlarge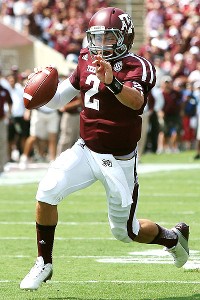 Cal Sport Media via AP ImagesAggies quarterback Johnny Manziel has accounted for 3,794 yards and 33 touchdowns this season.
Smith generally enjoyed his conversations with Rossley when the two visited and felt comfortable enough to be bluntly honest with him, particularly when it came to the subject of Smith's then-star quarterback,
Johnny Manziel
.
Rossley recruited Manziel while at Texas A&M and liked virtually everything he saw, from his athleticism to his throwing ability. Like many college coaches, there's a wish list when it comes to quarterbacks, and height is on that list. That wasn't Manziel's strong suit, as the dual-threat quarterback stood just 6-foot-1.
Smith recalled the story from a coaching friend of his who used to be an assistant at Austin (Texas) Westlake. The way the story goes, a different former Texas A&M assistant stopped by Westlake in the mid-1990s and checked out a relatively small-statured but strong-armed quarterback named
Drew Brees
. The A&M assistant told the Westlake coaches that Brees was a little too short and had too awkward a throwing motion for the Aggies.
"So I looked at Tom and I told him the same story," Smith recalls. "And I said, 'Tom, I can remember you as the guy who made the greatest decision of your life or I can remember you like that other coach that I did that didn't recruit a Super Bowl-winner. I don't know which one you want to be, but it's up to you. I wouldn't worry about his height because he's going to win for you.'"
Fortunately for the Aggies, Rossley convinced head coach Mike Sherman that Manziel's lack of prototypical quarterback height was worth overlooking. And Smith's prophetic words are proving true as Manziel has become perhaps the brightest young star in college football this year, leading the No. 8 Aggies to an 8-2 record and, most recently, an upset road win over then-No. 1 Alabama.
The young man dubbed "Johnny Football" is breaking records and is a Heisman Trophy candidate, but coming out of high school he was an intriguing yet often-overlooked prospect.
Rated as a three-star recruit by ESPN, Manziel was not offered by the vast majority of Texas FBS colleges. Smith recalls only the Aggies and Rice offering Manziel, who became a Parade All-American, the Texas Associated Press Player of the Year and the National High School Coaches Association's Football Player of the Year as a senior.
Smith believes height was one of the primary concerns of many Texas colleges. Manziel did field offers from several out-of-state schools and despite his height, his production was through the roof. He threw for 2,903 yards and 19 touchdowns and ran for 1,544 and 34 scores as a junior then surpassed those totals as a senior (3,609 passing yards with 45 touchdowns; 1,674 rushing yards and 30 touchdowns). He even caught a touchdown pass and returned a kickoff for a touchdown as a senior.
Oregon found Manziel attractive enough to offer him a scholarship, and Manziel committed in June 2010. But Rossley, who saw him throw in the spring and was sold on him as a college quarterback, continued to recruit him.
"A guy that has done as much as he did as a high school player, he was probably one of the best high school quarterbacks maybe to ever play in Texas," Rossley said. "It's just such a great football state, that to have him leave and go to Oregon or California or anywhere, would have been a sin to the state of Texas."
Rossley sold Sherman on him and, eventually, the Aggies offered. Manziel loved Oregon, but the relationship he built with Rossley and Sherman, coupled with A&M's location, made him reconsider. Smith recalls sitting down with Manziel during his recruitment and going through the pros and cons.
To continue reading this article you must be an Insider
November, 14, 2012
11/14/12
6:30
AM ET
In June 2010, a pair of overlooked quarterback recruits committed to the Oregon Ducks within three days of each other. Two years later, they have taken the college football world by storm.
[+] Enlarge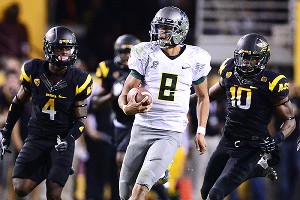 Mark J. Rebilas/US PresswireNo one has been able to catch Marcus Mariota and the Ducks this year.
In August, few outside of College Station, Texas, had heard of
Johnny Manziel
. Outside of Eugene, Ore., even fewer knew about
Marcus Mariota
. Now in November, Manziel is generating Heisman buzz after a historic upset of Alabama, while Mariota is piloting a Ducks squad that seems destined for the BCS title game.
Manziel and Mariota committed to the Ducks within days of attending Oregon's summer camp, but neither raised so much as an eyebrow. Instead, Ducks fans were more focused on
Jerrard Randall
, a quarterback rated No. 126 in the 2011 ESPN 150 from Florida who committed in mid-June. Randall was the No. 8 QB in the class, while Manziel was No. 39. Mariota? He was ranked 123rd and had only a Memphis offer before the Ducks came calling.
ESPN's National Director of Recruiting, Tom Luginbill, said in 2011 that Mariota
was raw
but had the potential to grow as a quarterback.
"He is the perfect example of the inexact science that evaluating 16-year-olds truly is," Luginbill said. "It can be easy to focus on the ESPN 150 or ESPN 300, but the reality is that players 301-1,000 are what make up most college rosters. They are the hardest to project and, in Mariota's case, even hard to find."
It's hard to blame the scouts and coaches for missing Mariota. As a sophomore and junior, he had to fight for playing time with
Jeremy Higgins
, now a quarterback at Hawaii.
"He learned how to compete," Honolulu St. Louis School quarterbacks coach Vinnie Passas said. "I think that's why when he got to Oregon and had to compete, he was ready to go. No moment is too big for him."
As a senior, the job was his, and Mariota excelled. Still, his signing with the Ducks didn't really register with fans. Neither did Manziel's switch to Texas A&M. Instead, Oregon fans were much more concerned when Randall didn't put pen to paper. All of a sudden, the Ducks went from having three quarterbacks in the fold to having one. And that one was a lanky, one-year starter who looked more like a wide receiver than a quarterback.
Oregon coach Chip Kelly has called Mariota the perfect fit for the Ducks offense. On signing day in 2011, he was easily overlooked.
De'Anthony Thomas
had flipped from USC to Oregon. Thomas was the capper to a class that featured five ESPN 150 players -- and eight who played in either the Under Armour or U.S. Army All-American games -- and was the best class on paper in school history.
"He's a great athlete first and foremost," Kelly said of Mariota in 2011. "I mean, you watch him on tape, and he can really, really run. That speed's not a lie. Some kids inflate their 40 times, but you can see that he is that fast. They had a really good quarterback at St. Louis last year, so he split time and didn't have much film. We loved what we saw on film. It was just a matter of getting him in person."
Kelly will not offer a quarterback unless he has seen him throw in person. After Mariota arrived on campus for the Ducks summer camp, the coach knew he had a hidden gem.
To continue reading this article you must be an Insider
October, 25, 2012
10/25/12
8:24
PM ET
Auburn (Ala.) High School athlete
Cameron Echols-Luper
already had his chance to travel to College Station, Texas, to see his future team, Texas A&M play. Echols-Luper made his official visit the weekend of Sept. 8 when the Aggies hosted Florida.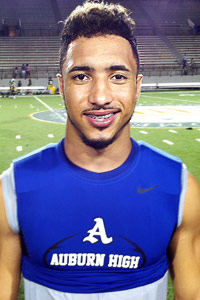 Greg Ostendorf/ESPN.comCameron Echols-Luper will get a chance to see the Aggies again Saturday when they play at Auburn.
Now, the Aggies are coming to Echols-Luper's neck of the woods to play Auburn University, and he couldn't be more excited to see them in person again.
"I'm extremely excited," Echols-Luper said. "Of course I'll be there. That's not even a question. I'll be there cheering my guys on."
To continue reading this article you must be an Insider