NCF On The Trail:

Jerry Kill
February, 6, 2015
Feb 6
2:00
PM ET
Recruiting can be a non-stop grind for the coaches who have to procure that talent. Some days are longer than others. We talked to several Big Ten head coaches this week and asked them to describe their longest days out on the trail. Here are their stories:
Nebraska's Mike Riley
"It seemed the whole thing was full of long, memorable days. But when recruiting reopened in January after the dead period, I've got our personnel staff and our coaches usually making my schedule, where I need to go. So my first day out, I visited North and Central High in Omaha. I did a home visit with
Michael Decker
. I went to the Outland (Trophy) banquet, and I did another home visit with
Daishon Neal
. And then it was 10 o'clock at night. It was a full day, and it was a great day, because I hadn't been in those high schools before. I loved meeting the coaches and seeing our players at the high schools. I always like home visits. I think it's a real important part of the process."
Northwestern's Pat Fitzgerald
"My last week of recruiting, I started on Sunday, flew from Chicago to the Bay Area. Then Sunday night, flew down to L.A. I was in L.A. on Monday and then Monday night I flew to Dallas, spent Tuesday in Dallas, flew Tuesday night to Houston, spent Wednesday in Houston, flew to Atlanta, spent Thursday in Atlanta, and then spent Friday in Chicago. Spent a lot of time at Chick-fil-A. It was a long week and our staff did a great job."
Michigan State's Mark Dantonio
"It hit me when I came out of a hotel room one day. I stayed in the same chain of hotels, and I walked out of the room and down the hall and I couldn't remember what room I was in. I walked back and took a guess on which room I was in, just to check my key to make sure I was in the same room. I was basically going from place to place for two weeks and sometimes two places in a day. I think I was in Orlando. I got back in the room. There were three doors and I guessed the right one."
Penn State's James Franklin
"One day I remember from a previous year. I had just taken a job [at Vanderbilt] and I was flying around and my luggage got lost and I wore the same suit for five days. I'm a hugger, and my hugs got a little less intimate as the week went on. My luggage couldn't keep up with me. Every time I got to a city or a state, the next day the luggage would get there and I'd already gone to the next state. It wasn't real fun. I was going to Target and buying underwear and undershirts, all that kind of stuff, and kept dousing myself with deodorant and cologne. It didn't help that we were flying commercially."
Rutgers' Kyle Flood
"We had one day where we went from New Jersey to Chicago to Tampa and then back to New Jersey. We started at about 6 in the morning and I finished at about 2 in the morning. I was with Norries Wilson and Jim Panagos at different legs of the trip. Norries came with me to Chicago and then to Tampa. He stayed there and went to Jacksonville. And then I picked up Coach Panagos in Tampa and he came back with me. We were fortunate. Everything ran according to schedule, the way I like it."
Maryland's Randy Edsall
"One day, I was here in Maryland, I was down on the east coast of Florida, then to the west coast, and then all the way to Mobile, Alabama. Then the next day I was in Charlotte and then Virginia Beach. Got all that done, really, in a day and a half. You kind of think, 'hey, what day is it, what time is it,' all those sort of things. But those are the things you have to do."
Minnesota's Jerry Kill
"I've gone from Mobile to Mississippi to Texas, and back to Chicago. But the most unique story I can tell you is something that happened for the first time ever this year. I was on a plane that was starting to go down the runway when I had a kid commit. Seriously, we were going down the runway, I didn't think we'd hear from the kid and he calls me. I'm trying to get the pilot to keep the wheels down so I can talk to him."
Indiana's Kevin Wilson
"My longest day was when we finished up on Martin Luther King day. We had a team leadership program going on, we had recruits on campus and then we had to leave Bloomington and go to Shadyshide, Ohio. By the time we get back to Columbus, it's about 1 a.m. Shoot, there was one day where we had official visits going, I was interviewing a couple of guys for behind-the-scenes jobs, and we had a walk-on day. Those kinds of days wear you out, and you're like, "Who planned all this [stuff]? You're killing me?" And it was me. I'm the guy who planned it. Sometimes we all get screwed by travel and those days, and you're like 'hey, just got to get it done. I'm kind of tired. I want to put my feet up here for like 15 minutes and take a little nap.'"
February, 5, 2015
Feb 5
12:00
PM ET
Minnesota's Jerry Kill was the Big Ten coach of the year in 2014, but coaches are only as good as the players they recruit. We caught up with Kill to ask him about
his latest Gophers class
for this recruiting Q&A:
Brian Bennett: You loaded up on defensive backs and the offensive line. Was that the plan going in?
Jerry Kill:
Yeah. We have a very, very talented secondary coming back this year, and we're going to lose four of those young people. So we felt like we had to load up this class to make sure we have the depth that we need the following year. And then we'll still add some more the next year. The good thing is, we've had a lot of evaluations on every kid and did our homework, and they can all really run. We've got some guys that are long and some kids in the 5-foot-10, 5-11 range with good ball skills.
The offensive line, I feel very, very good about. I think it's the best up-front class we've signed since we've been here. They're big, they're athletic and we're still recruiting one. I felt like we really, really improved ourselves up front. We needed it, and we're real excited about it.
[+] Enlarge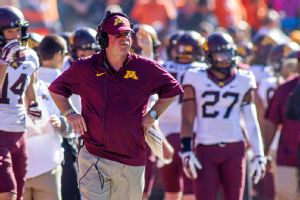 Trevor Ruszkowski/USA TODAY Sports"When you're in our situation, you can't afford to make many mistakes," Jerry Kills said. "I think our class last year, we proved that we had talent -- we played eight freshmen. We have to go and hunt, so to speak, and work at it."
BB: Big is right. These look like kids that you don't have to worry about putting much weight on.
JK:
Yeah they're big and they're lean. None of them are sloppy. Like
Bronson Dovich
. He's only 17 years old, and he's 6-5, 295. We've got a defensive end,
Winston DeLattiboudere
, he's 6-3, 216, but he just turned 17 about a week ago. So we've got three or four young guys that are going to continue to get bigger.
BB: Tell us about the quarterback in this class, Demry Croft.
JK:
You know what, I think that's a tremendous steal for us. I'm glad he kind of stayed hidden. He played receiver the year before and about halfway through they moved him to quarterback because of an injury, and he just did a great job the last part of his junior year. We had him in camp and he ran a 4.6 [40-yard dash] -- which our guys are awfully stiff on. He's 6-5, 200 pounds, and he can wing the ball around and he's athletic. You look at some of the guys we're playing in the league, certainly Ohio State with the three guys they have, and you've got to have somebody like that. He's a very, very talented kid and his best years are ahead of him.
BB: How much did your connections to his hometown (Rockford, Illinois) help in getting him?
JK:
It absolutely helped, being at Northern Illinois, and we've got a coach who was raised in Rockford. I don't know if we would have made the offer if he hadn't come to camp. We spent time with him and were like, "Holy cow, this guy's talented. What's going on here?" All along, I kept thinking, "Oh, somebody is going to jump on this deal." And I think he had some people reach out to him, but we built a good enough relationship early enough that he stayed with us.
BB: You've got recruits from as far away as El Paso, Texas, along with some from Louisiana, Alabama, Kansas and Canada. You cast a pretty wide net, huh?
JK:
Yeah, we do, and I think part of that has to do with the relationships we've built. This is my 31st year, and I've built a lot of relationships. We've been able to do a good job in Texas since we've been here. We've always been able to do a good job in the south all the way back to our Southern Illinois days.
When you're in our situation, you can't afford to make many mistakes. I think our class last year, we proved that we had talent -- we played eight freshmen. We have to go and hunt, so to speak, and work at it.
The receiver from El Paso (
Rashad Still
), he only played two years of football and was on an outstanding basketball team. Not many people are going to go clear to El Paso to find a player. We did our homework. We watched him play basketball, evaluated him in football and again we were just hoping nobody would really know much about him and that we could get one there. We're big at receiver now. We redshirted four kids last year, and with the addition of the two receivers we got in this class, we're going to be big at receiver.
BB: With the success you guys have had the past two seasons on the field, has the reception on the recruiting trail improved?
JK
: There's no question about that. Just going to speak at clinics and people reaching out from these states like Texas and Alabama -- they want our coaches to go speak there. And then the recruiting trail is much more open. Even today, we had a situation where we had to turn a good player away because we were filled up. He was a player that was going to a really, really good Power 5 school but he wanted to come here at the last straw. And there wasn't anything to do about it because we were filled up at that position. That hasn't happened before since I've been here, but we've had that happen a couple times in the last few days. I wish we had a few more scholarships. One of them was a four-star player.
BB: The school is undergoing a major facilities campaign. Were you able to sell those plans in recruiting?
JK:
Absolutely. We showed them what we're going to do, and we're going to do it, which is even better. I think that certainly opens up the doors a little bit. However, nothing is better than seeing the visual part of it. And that visual part will start in August or September. So I think next year is when that will really help us out.
November, 6, 2014
11/06/14
11:00
PM ET
Kansas State and TCU battle in one of the biggest games of the weekend, and Horned Frog coach Gary Patterson said both teams have been built off a comparable recruiting philosophy. Could landing ESPN 300 Junior recruit
Jovanny Garcia
start a trend for Minnesota?
October, 31, 2014
10/31/14
10:00
AM ET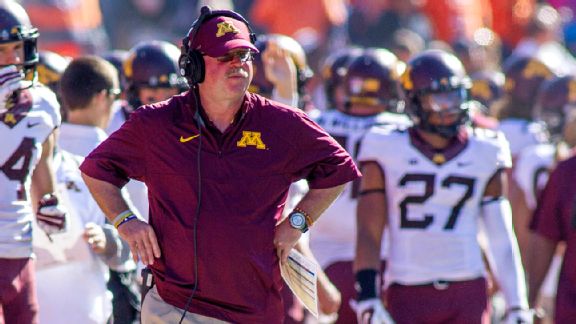 Trevor Ruszkowski/USA TODAY SportsJerry Kill has been patient when recruiting -- waiting for the right type of players as he rebuilt the Gophers.
Minnesota coach Jerry Kill has taken over three football programs since 2001 and has brought all three to see winning records by his third season. That stat is why Kill has people talking about his ability to resurrect programs and rebuild teams in a short period of time.
At Southern and Northern Illinois and now Minnesota, none of the three schools had more than three wins the season prior to his hiring, yet Kill has still managed to turn each around.
Kill says there isn't a secret formula to his success, but that he and his staff follow a pretty similar process no matter where they are. A big part of that process is recruiting and evaluating the right prospects.
"I think the big thing is we recruit to what we need and what we believe in. We want length and speed period," he said. "We always feel like we can build them up in the weight room, but if they can't run then we don't want them. We want people that are going to work and we do a lot of background checks."
To continue reading this article you must be an Insider
June, 5, 2014
6/05/14
9:00
AM ET
Unlike the
ACC
or
SEC
, the Big Ten hasn't taken an official position on an early signing period. Many
Big Ten coaches see the benefits
, but there has been no united front.
Here's a bit of advice: The Big Ten coaches should band together about an urgent recruiting item, but not the early signing period.
The Big Ten must campaign for official visits to be moved up. No other league is affected more by population shifts that have created dense pockets of top recruits located far from its footprint. The
Big Ten is expanding its recruiting reach
, especially to the Southeast, but its proximity to many talent bases remains a significant obstacle.
If the Big Ten can't get prospects to its campuses before decisions are made, it will continue to fall behind in the recruiting race.
[+] Enlarge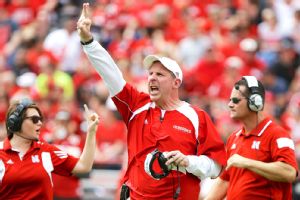 AP Photo/Nati HarnikEarlier official visits would be a boon to Bo Pelini and Nebraska, as the Cornhuskers have to recruit nationally because of a limited local talent base.
"The first thing we have to do is get kids on campus earlier," Michigan coach Brady Hoke told ESPN.com. "I'm sure our friends in the Pac-12 and the SEC would rather not that be the case. They'd rather have kids come in to Ann Arbor if it's winter.
"But I think it would help the guys from distance and the guys from those climates to come on campus to see what it is like."
NCAA rules state that prospects can't begin taking their five official visits -- paid for by the schools -- until the start of their senior year in high school. But many recruits make their college choices much earlier.
The accelerated recruiting cycle has minimized the significance of official visits. Many prospects commit after taking unofficial visits, for which they pay their own way. But the distance between Big Ten schools and the highest concentrations of elite prospects makes it challenging for recruits and their families to fund long, expensive trips.
"Since the trend is for early commitments, it makes sense that it favors schools located in population bases that produce a lot of players," said Big Ten Network analyst Gerry DiNardo, a former coach at Indiana, LSU and Vanderbilt. "So how do you combat that? How does a kid from Atlanta get to Lincoln, Nebraska, in the summer on their own expense?"
DiNardo views Nebraska as the FBS school most impacted by accelerated recruiting cycle. Nebraska always has recruited nationally because of its small local population base, but former coach Tom Osborne -- "a tireless recruiter," DiNardo said -- capitalized on the fact that recruits made their choices after an official visit to Lincoln.
Huskers coach Bo Pelini acknowledges earlier official visits "would help us."
"When you take official visits away from the equation, it really hurts a place like Nebraska," DiNardo said. "So early signing day has to be partnered up with official visits in a prospect's junior year.
"If just the date moves up without official visits, it sets the Big Ten even further behind."
DiNardo notes that a program such as Ohio State is less affected by the official visits timetable because it has a large local talent base that can easily reach its campus. But other Big Ten programs must cast a wider recruiting net.
It's especially true for programs in the western part of the league: Nebraska, Iowa, Minnesota and Wisconsin.
"It gives some of the schools that aren't surrounded by a lot of schools or a lot of places, it gives us a chance," Minnesota coach Jerry Kill said. "But I don't know if that's going to happen or not. People in Texas aren't going to vote for that because they never have to leave Texas."
Most Big Ten coaches interviewed by ESPN.com favor earlier official visits but want clear guidelines. One question is timing.
Several coaches mention late May or early June as the ideal time because many recruits already are touring schools unofficially and most staffs are conducting on-campus camps.
"With the way people are traveling around right now, it might be good to afford a prospect to take a couple of visits in June," Iowa coach Kirk Ferentz said. "Also, I think it'd be great to afford at least a parent the opportunity to join that prospect and make it part of the official trip."
Coaches say the parental component is critical.
"Sometimes kids just don't have the means to be able to get here, and they definitely don't have the means to have their parents come," Pelini said. "Hopefully, they'll change that. It's too big of a decision for a 17-year-old or 18-year-old kid to make without his parents or somebody being there."
[+] Enlarge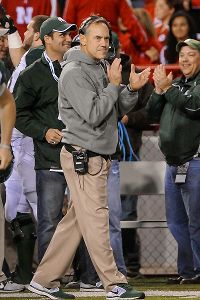 Eric Francis/Getty ImagesMark Dantonio wants an early official-visit period, but would prefer for it to be in a limited window instead of spanning the entire spring and summer.
Both Pelini and Michigan State coach Mark Dantonio want a limit on the number of official visitors schools could have in the spring. FBS teams can provide up to 56 official visits, but Dantonio rarely uses more than half of the allotment.
"It's not just carte blanche," Dantonio said. "I would make it a two-week window and cap those numbers."
Allowing 10-20 early official visits could work. Dantonio and Pelini also think prospects should be allowed to take multiple official visits to the same school.
Wisconsin coach Gary Andersen favors an earlier signing date in December, but he needs more clarity on official visits -- when they would take place, and for how long.
"I have to look at quality of life for my coaches," Andersen said. "Are we willing to take 4-5 weeks away in the summer? I don't want to do that."
Added Purdue coach Darrell Hazell: "You lose your life. The month of July, you need a little bit of decompression time."
The first two weeks in June makes the most sense. Create a dead period in July so coaches can take time off.
It also doesn't mean official visits in September and October will stop. Andersen can talk about Wisconsin's "Jump Around" and show videos, but, he said, "there's nothing like being there."
Big Ten teams still will have the chance to showcase their stadiums, facilities and campuses during football season. But they can't afford to wait that long for far-flung prospects to arrive, especially when they can afford to bring them in sooner.
"It would help everybody," Hoke said. "The other conferences aren't just staying in their region, either."
That's true, but the Big Ten has the most to gain, and pushing for change won't be easy.
"If that thing ever goes to a vote, everybody is going to say is that the Big Ten is just complaining," Indiana coach Kevin Wilson said. "They'll keep rallying their troops because they want to keep those kids at home."
The Big Ten coaches must rally, too. Otherwise, the recruiting gap will widen.
November, 20, 2013
11/20/13
9:00
AM ET
Minnesota is in second place in the Big Ten Legends Division, on a four-game win streak and riding a wave of momentum. The Golden Gophers still have a few big games left, but the positives from the season thus far are noticeable from all angles, including recruiting.
Because of the winning, the coaching staff has already noticed an increase in interest from prospects.
To continue reading this article you must be an Insider