NCF On The Trail:

Jackson Jeffcoat
May, 16, 2014
5/16/14
9:00
AM ET
Days after the NFL draft, some Texas Longhorns fans still scratch their heads in disbelief. How a celebrated college football program -- one with decorated, award-winning athletes -- have zero players drafted into the NFL?
For the first time since before World War II, a Longhorn wasn't selected in the draft. It became national news, and it's news that no program wants to have attached to it, let alone one of the nation's most established programs. When Memphis safety
Lonnie Ballentine
was selected by the Houston Texans as the 256
th
pick -- the last pick of the seven-round draft -- it opened the floodgates for barbs thrown by Texas antagonists.
What the draft ineffectiveness failed to do, however, was steer recruits -- committed and uncommitted -- away from the program's future. If anything, it's drawn some closer to the vision of new coach Charlie Strong and his staff.
"Some people are taking it all over the top," uncommitted ESPN 300 linebacker
Malik Jefferson
said. "Those weren't Charlie's people; he didn't develop any of those kids. Why would people want to change their minds off going to a great school like Texas because of something they couldn't control?"
[+] Enlarge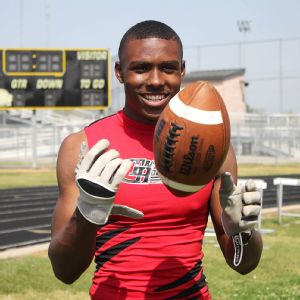 Sam Khan Jr./ESPNKendall Sheffield, the top-ranked player in Texas, said the fact the Longhorns had no draft picks has no bearing on his recruitment.
The draft has forced recruits to answer questions some might feel are slightly unnecessary:
"Will the draft affect your thoughts on Texas?"
"Can you trust the Longhorns to groom you into a pro-ready athlete after college?"
"Do you want to be a part of the laughingstock of college football?"
ESPN 300 cornerback
Kendall Sheffield
has had to answer some of these questions this week. The top-ranked player in Texas, Sheffield said he still has the Longhorns high on a list of several schools, a list that includes Texas A&M, Alabama, Baylor, Florida State, LSU, Oklahoma, Oregon and USC.
Sheffield admitted to being shocked that the Longhorns didn't have a draft pick, but to look at the program with a side eye -- particularly with a new coach in charge -- is something that never crossed his mind.
"I don't know if it plays a role in recruiting. I mean, they've still got to rebuild," Sheffield said. "I know they're going to still get some big recruits in. For me, I'm going to find the school that's the best fit for me and the place I feel has the best position coach. The draft won't have nothing to do with it."
Jefferson, believed to have Texas high on his list along with Texas A&M, Baylor, Alabama and others, reminded people that while the Longhorns went without a drafted player, Strong's former team at Louisville had three first-round picks in safety
Calvin Pryor
(No. 18 overall to the Jets), defensive end
Marcus Smith
(No. 26, Eagles) and quarterback
Teddy Bridgewater
(No. 32, Vikings).
"He knows what he's doing," Jefferson said of Strong.
During the Mack Brown era, 58 Longhorns were drafted. Safety
Kenny Vaccaro
was a first-round pick by the Saints last year. Receiver/return specialist
Marquise Goodwin
(Bills) and defensive end
Alex Okafor
(Cardinals) were selected in the third and fourth rounds in 2013.
This year's crop of undrafted talent included defensive end
Jackson Jeffcoat
and receiver
Mike Davis
. Jeffcoat was the Big 12 Defensive Player of the Year and the Ted Hendricks Award recipient, recognizing the nation's top defensive end. Davis caught 200 passes in his college career and is one of only four players in school history with 200 or more receptions.
Jeffcoat and Davis, as well as other Longhorns, signed with NFL teams as undrafted free agents, which is another reason why recruits aren't worried about the draft results. ESPN 300 offensive lineman
Patrick Vahe
-- who committed to Texas during the Brown era and chose to stay committed under Strong -- believes the draft is in full control of a player and not the coach.
Texas' ability to produce NFL offensive linemen has been sliding in recent years. The Longhorns haven't had an offensive lineman drafted since tackle
Tony Hills
in 2008. To assist in further developing linemen, Strong hired former Oklahoma State coach Joe Wickline, who coached NFL linemen
Russell Okung
,
Corey Hilliard
and
Charlie Johnson
at the college level. Okung is fresh off winning a Super Bowl with the Seahawks.
Vahe said he'll worry about being a pro athlete when that time comes. Right now, he's focused on being the best college athlete possible, and the 2014 draft isn't weighing on his decision.
"I think I can learn a lot from [Wickline]." Vahe said. "We talked about his game plan, and I'm putting a lot of trust with him. The rest of it … I think people are just taking it over the top."
Todd Dodge, head coach at Austin Westlake High School, former head coach at North Texas and a former quarterback for the Longhorns, said a draft should never have an effect on a recruit's decision.
Dodge played at Texas from 1982-85. In that span, he saw several teammates drafted, including first-round cornerbacks Mossy Cade and Jerry Gray. The 1984 draft class featured 17 Longhorns.
Not having a draftee was an eye-opener, Dodge said, but it shouldn't be a discussion piece in relation to Texas' recruiting -- particularly with the changing of the guard at head coach.
"If Coach Strong and his staff are on the road making their rounds and people are using common sense, they'll judge them by what they see," Dodge said. "Texas has always been in the hunt for great players in the state of Texas. If there's any doubt, you can always point to the players drafted from Louisville. Coach Strong has a track record that's proven."
As for the jokes from rival schools, Vahe understands that they come will with the territory, whether the program goes winless or earns a BCS championship. He also understands that the way to silence some of the jokes is by producing in practices and games and later during NFL combines and workouts. He believes a change for the better is near for the program.
"People love to talk, but it's nothing big, really," Vahe said. "I know [Strong] just got there, and they're all going to start a new era. Hopefully I'll be one of those who helps start the new era."
February, 3, 2014
2/03/14
4:30
PM ET
As we close in on national signing day, it's an appropriate time to look back at how the top Big 12 recruits from four years ago performed.
2010 was a banner year for the Big 12 in recruiting, as the league
collectively landed 23 from the ESPN 150
.
A few, such as
Jackson Jeffcoat
,
Ahmad Dixon
and
Shaun Lewis
, became stars. Others washed out before their careers ever got off the ground.
[+] Enlarge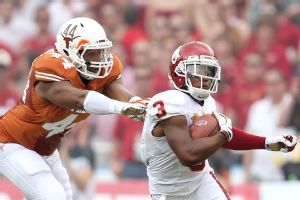 Matthew Emmons/USA TODAY SportsFormer five-star prospect Jackson Jeffcoat finished his career as the best defensive end in the Big 12.
Below is a closer look at what happened to
ESPN 150
players who signed with Big 12 schools:
No. 2: Jackson Jeffcoat, DE, Texas –
Though he never reached a high level of team success, Jeffcoat had a great individual end to his career, earning Big 12 co-Defensive Player of the Year honors and leading the league with 13 sacks.
No. 4: Jordan Hicks, LB, Texas –
Hicks has been good when he has played. Because of multiple injuries, that hasn't been often. Hicks missed most of last season with a torn Achilles, just a year after also being knocked out with a hip flexor injury. After getting a medical redshirt from his 2012 season, Hicks has one more year of eligibility remaining.
No. 13: Mike Davis, WR, Texas –
Davis finished in the Big 12's top 10 in receiving the last two seasons, compiling 200 career catches and 18 touchdown receptions.
No. 14: Taylor Bible, DT, Texas
– Bible never played a down at Texas, leaving after his redshirt freshman season because of issues with grades. Bible ended up at Carson-Newman.
No. 15: Ahmad Dixon, S, Baylor –
Dixon had a tremendous tenure with his hometown school, earning All-Big 12 and All-American honors as a senior as Baylor captured its first Big 12 title in 2013.
No. 18: Demarco Cobbs, ATH, Texas
– The Tulsa, Okla., native has appeared in 29 games on special teams and as a defensive reserve. He missed all of the 2013 season with a knee injury.
No. 20: Darius White, WR, Texas
– After making just six catches his first two seasons, White transferred to Missouri. He caught just seven passes this season for the Tigers, but has another year of eligibility left.
No. 21: Tony Jefferson, S, Oklahoma
– In his first season, Jefferson was the Big 12 co-Defensive Freshman of the year, and he was a three-year starter before leaving early to go pro.
No. 46: Ashton Dorsey, DT, Texas –
After serving as a reserve throughout his career, Dorsey was projected to start this season, but he transferred out days before Texas' season opener.
No. 48: Austin Haywood, TE, Oklahoma –
After getting playing time as a third tight end early in his career, Haywood unexpectedly quit in the middle of the season, tried to earn his way back on the team, failed and ended up transferring to Central Arkansas. After getting suspended there, Haywood gave up football.
No. 62: Corey Nelson, LB, Oklahoma –
Nelson shined early this season after finally getting a chance to be a full-time starter. That, however, was short-lived, as Nelson tore his pectoral muscle in an early October win over TCU and sat out the rest of his final season.
No. 65: Blake Bell, QB, Oklahoma –
The "Belldozer" starred his first two seasons as a situational, short-yardage QB. But in the preseason, Bell was beaten out by
Trevor Knight
for the starting job. Bell, however, still had his moments this season because of injuries to Knight. He led OU to a win at Notre Dame, then quarterbacked OU's game-winning touchdown drive at Oklahoma State.
No. 72: Reggie Wilson, DE, Texas –
He appeared in 51 games as a defensive reserve. Wilson had 19 tackles and a sack as a senior.
No. 73: Chris Jones, WR, Texas
– Jones transferred out after one year, and never played.
No. 75: Shaun Lewis, LB, Oklahoma State –
Lewis made an immediate impact, earning Big 12 co-Defensive Freshman of the Year honors along with Tony Jefferson. Lewis was a four-year starter and a big piece in Oklahoma State's defensive turnaround this season.
[+] Enlarge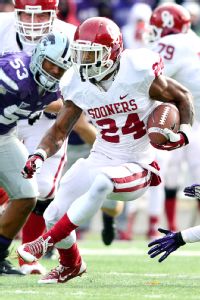 Jasen Vinlove/USA TODAY SportsFormer ESPN 150 recruit Brennan Clay was a solid, not spectacular, tailback for the Sooners.
No. 77: Quentin Hayes, S, Oklahoma –
After serving a year-long suspension, Hayes returned to win a starting job this past season. He has another year left.
No. 86: Tevin Jackson, LB, Texas
– Jackson has been a backup linebacker for the Longhorns and will be part of the team's great depth there in 2014.
No. 103: Adrian White, CB, Texas
– Played in 17 games, then joined the mass transfer exodus from this Texas class.
No. 109: Ivan McCartney, WR, West Virginia
– McCartney never became a No. 1 receiver, though he did contribute on West Virginia's explosive offenses in 2011-12. He only had 12 catches this past season as a senior, however.
No. 114: Aaron Benson, LB, Texas
– The cousin of former Texas running back great Cedric Benson has only been a contributor on special teams.
No. 122: Carrington Byndom, S, Texas
– One of the few players from this Texas class to pan out. Byndom made 39 career starts and was a second-team All-Big 12 selection this past season.
No. 129: Brennan Clay, RB, Oklahoma –
Clay proved to be a reliable and steady force in the OU backfield. He finished his career with 1,913 rushing yards, including 957 in 2013.
No. 134: Adrian Philips, ATH, Texas –
Phillips
settled in the Texas secondary, collecting 28 career starts there. He was second on the team this past season with 82 tackles.
No. 141: Trey Hopkins, OG, Texas –
Hopkins became a stalwart up front, making 42 career starts along the offensive line. He was a two-time, second-team All-Big 12 selection.
No. 142: Justin McCay, ATH, Oklahoma
– McCay transferred to Kansas after two years in Norman. He had nine receptions and a touchdown, which also was the first scoring catch by a Kansas wide receiver in almost two full seasons.
February, 3, 2014
2/03/14
9:15
AM ET
According to ESPN's recruiting rankings, only Alabama and Florida have landed more four- and five-star players in the last four years than Texas.
In fact, other than Oklahoma, the Longhorns have signed roughly four times more four- and five-star players than every other program in the Big 12.
Success in the league, however, hasn't hinged on who has been able to pile up the most four- and five-star players. Instead, it has been about the teams who have been able to hit on the players who actually weren't four- and five-star recruits.
[+] Enlarge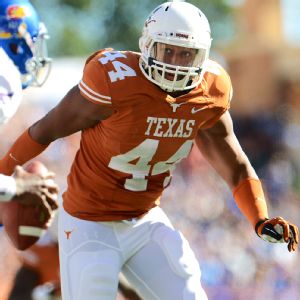 John Albright/Icon SMIJackson Jeffcoat was a first-team All-Big 12 selection this past season, the only one of 60 four- and five-star players Texas has signed in the past four years to achieve that status so far.
No two teams better underscored this premise this past season than Baylor and Oklahoma State.
True, both schools have enjoyed an uptick in recruiting lately.
In the last four years, the Cowboys rank third in the Big 12 in signing four- and five-star prospects with 16, including eight last year. Oklahoma State also has eight four-star recruits committed in this class.
Baylor ranks fourth in the league with 15 four- and five-star players in the past four classes, and the Bears have put together their best class yet in 2014.
But that hasn't been the primary reason for either team's recent surge.
Together, Baylor and Oklahoma State comprised 21 of the 59 (36 percent) players who earned first- or second-team All-Big 12 honors. As a result, the Bears and Cowboys both pulled off double-digit winning seasons.
But of those 21 players, only three – Baylor offensive tackle
Spencer Drango
and safety
Ahmad Dixon
and Oklahoma State linebacker
Shaun Lewis
– were former four- or five-star players signed by the Bears or Cowboys out of high school (Baylor running back
Lache Seastrunk
and Oklahoma State defensive tackle
Calvin Barnett
were four-star prospects out of high school, but both players transferred in -- Seastrunk from Oregon and Barnett from junior college via Arkansas).
Meanwhile, of the 60 four- and five-star players Texas has signed in the last four years, only defensive end
Jackson Jeffcoat
was a first-team All-Big 12 selection this season.
And while Jeffcoat was also the co-Big 12 Defensive Player of the Year, the Longhorns lost to Oklahoma State at home 38-13. Then fell at Baylor 30-10.
This week, fans across the Big 12 will be abuzz with how many four- and five-star recruits their schools end up signing.
But as this season showed, success on the field isn't just about getting the four- and five-star players. It's about getting the future stars that aren't.
January, 30, 2014
1/30/14
10:30
AM ET
The Texas-Oklahoma rivalry is bigger than football, but it's always a fun topic of discussion when the rivalry talk turns to past success. It's a conversation starter with the release of the
Ultimate ESPN 300 class rankings
, which ranks every top recruit since 2006. Oklahoma has a dozen players in the
Ultimate ESPN 300
; Texas has nine.
Here is a look at the top five Big 12 programs that have consistently put together stellar recruiting classes since ESPN began ranking recruits:
1. Oklahoma

The Sooners might start slow some years, but each year they continue to put together top recruiting classes that produce talent that can compete with any team in the country. The 2006 class was one of Bob Stoops' best, as it produced the No. 1 running back in
DeMarco Murray
, a future Heisman Trophy winner in quarterback
Sam Bradford
and defensive tackle
Gerald McCoy
, who was the No. 3 overall pick in the 2010 NFL draft. With players such as offensive lineman
Trent Williams
, wide receiver
Ryan Broyles
and tight end
Jermaine Gresham
, Oklahoma is one of the most consistent teams in college football. Stoops produces winners.
January, 29, 2014
1/29/14
10:30
AM ET
It's always fun to think back to the former stars of college football recruiting. The Big 12 had a few players who made an impact during their respective recruiting processes.
Here are five players from the Big 12 who made the top 50 of the
ESPN Ultimate 300
.
To continue reading this article you must be an Insider
June, 21, 2013
6/21/13
1:07
PM ET
By
RecruitingNation
| ESPN Insider
As Michigan
looks to add to a No. 1 recruiting class

that already includes No. 2
Jabrill Peppers
, we look back at other schools that landed multiple top 10 recruits fared in those players' tenures. While Alabama hit a home run in 2009 -- landing future first-round picks
Dre Kirkpatrick
and
Trent Richardson
-- others have seen mixed results.
[+] Enlarge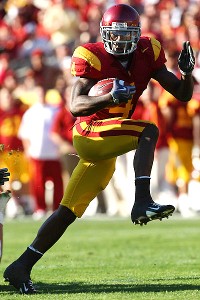 Stephen Dunn/Getty ImagesJoe McKnight never quite reached the lofty expectations placed on him as the No. 1 recruit in USC's stacked 2006 class.
2006
USC Trojans
Vidal Hazelton
(No. 3 recruit)
Taylor Mays
(8), Antwine Perez (10)
The trio signed with a USC program that was coming off back-to-back BCS title game appearances, but their reality ended up being a pair of transfers and a final game for Mays in the Emerald Bowl. Perez played sparingly as a true freshman and then transferred to Maryland. Hazelton was the leading receiver for the Trojans in his sophomore year with 50 catches but transferred to Cincinnati after his junior year. Mays stayed all four years and earned All-American status before being drafted in the second round of the 2010 NFL draft by the 49ers.
-- Garry Paskwietz
To continue reading this article you must be an Insider
December, 7, 2012
12/07/12
9:00
AM ET
What if Manny Diaz is replaced as Texas' defensive coordinator after the Alamo Bowl?
Diaz is a young, energetic, inventive defensive coordinator who led the top defense in the Big 12 in his first season with Texas, as the Longhorns ranked first in the conference in total defense, rushing defense and pass defense.
But he suffered through a drastic sophomore slump in Austin that saw Texas finish as the Big 12's worst rush defense and give up 33.9 points per game, fifth-most in the conference.
To continue reading this article you must be an Insider