NCF On The Trail:

Hugh Freeze
February, 10, 2015
Feb 10
12:15
PM ET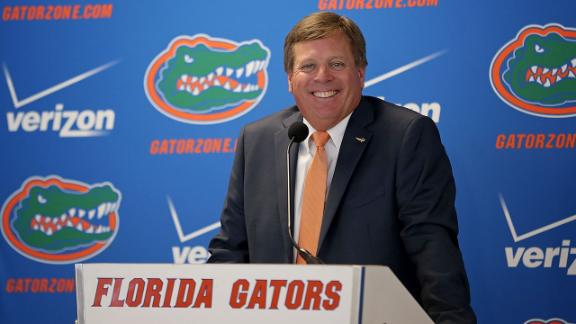 For all the solid work Jim McElwain and his coaches did down the critical 2015 recruiting stretch in the past month, those efforts should stand as a starting point for Florida's football program. That is by no means an end game or a standard for the Gators.
Not to sound like I'm getting ahead of myself too much, but Florida's 2016 recruiting class is critical to the success McElwain hopes to have during his tenure in Gainesville. The SEC is too good and the threat of sliding further and further in the SEC is nothing for the Gators to play around with. Just look at how long it's taken Tennessee to get back to relevancy, and that journey back toward the top still has a steep climb ahead for the Vols.
McElwain has yet to name a starting quarterback, let alone coach a single moment of practice, but in a fast-paced, cutthroat college football society, he and his coaches can't waste any time getting some sort of time with this 2016 class, which really could make or break McElwain's time at Florida. That might sound harsh or even like a bit of hyperbole, but look where Florida's program is now and look at the SEC around it. You can't afford to be a weak link in a conference as cannibalistic as the SEC.
The good news for McElwain is that he and his staff proved they have a clutch closing gene that helped transform a once hopeless 2015 Florida class into a
top-20 group
equipped with
two five-stars and six ESPN 300 members
. Another thing to consider is that recent new coaches in this league have had very good success with their second recruiting classes. From Urban Meyer to Butch Jones, a handful of first-year coaches in the SEC have cleaned up in recruiting with their second classes, and McElwain has to continue that trend.
What McElwain got in his first class with the Gators was a mixed bag -- some contents quality, some unknown. Landing immediate-impact five-star prospects
Martez Ivey
(offensive tackle) and
CeCe Jefferson
(defensive end) and playmaking hopefuls like running back
Jordan Scarlett
, wide receiver
Antonio Callaway
, and athletes
D'Anfernee McGriff
,
Jordan Cronkrite
and
Chris Williamson
gives the Gators a solid early foundation to work with, but it's no secret Florida needs more star power in its 2016 class.
McElwain desperately needed depth along the offensive line and signed five lineman, including two ESPN 300 recruits. That certainly helps with depth, but getting a little more quality there in 2016 will be essential. The same is absolutely true about the wide receiver spot, where Florida again needs legit playmakers, and quarterback, where questions abound this season.
Florida currently has just
one 2016 commitment
-- wide receiver
Rick Wells
-- but if recent history is any indication, McElwain and Co., who can sign a big class with such low scholarship numbers for this current team, could really make a statement with next year's class.
Not to immediately compare McElwain to Meyer and Nick Saban -- although Gators fans are hoping he reaches their level -- but those two went from having OK first classes at Florida and Alabama, respectively, to consensus top-five classes by major recruiting services (ESPN.com, Rivals.com and Scout.com) in Year 2. Florida ranked
No. 1 in ESPN's class rankings
in Meyer's second year (2006), while Alabama
ranked third
in Saban's second year (2008). Meyer went on to win two national titles at Florida, while Saban has won three at Alabama.
After bringing in a top-20 class during his first year at LSU in 2005, Les Miles landed a consensus
top-eight class
nationally in 2006 and won the national title in 2007. Former Auburn coach Gene Chizik reeled in a top-25 class in 2009, then won a national title in his second year and brought home a
top-five class in 2010
.
Even coaches who haven't won titles have recently had second-year recruiting success in the SEC. Hugh Freeze began his time as Ole Miss' coach in 2012 with a class that barely registered on the recruiting radar and then signed arguably the school's
best class ever in 2013
with headliners like
Robert Nkemdiche
,
Laquon Treadwell
and
Laremy Tunsil
.
Butch Jones signed a top-30 class in 2013 and now has back-to-back
No. 5 classes
in ESPN RecruitingNation's class rankings. Of course, Auburn coach Gus Malzahn has signed back-to-back
top-10 classes
in his two years at Auburn, but he's just bragging at this point.
McElwain has a long way to go as a coach and a recruiter at Florida, and he hasn't even seen his team run actual plays on a field yet. But having a strong second year of recruiting is essential to righting Florida's ship. Heck, even his predecessor, Will Muschamp, signed the No. 4 class nationally in his second year, so there's a formula for recruiting success McElwain can follow. And with the way the SEC is moving, McElwain can't afford to get behind and must emulate those before him.
February, 10, 2015
Feb 10
10:00
AM ET
By
ESPN.com staff
| ESPN.com
There is only one new face among SEC head coaches this year -- Florida's Jim McElwain -- but a number of the league's head honchos face increased pressure to perform in 2015.
Continuing this week's SEC series of post-signing day roundtable discussions, today we'll examine the conference coaches who are under pressure to make something happen after signing their newest class of recruits.
Edward Aschoff: Hugh Freeze, Ole Miss
Year 4 of the Freeze era is beginning, and expectations are about to explode in Oxford. After being on the cusp of an SEC West title and a spot in the first College Football Playoff, Ole Miss now has to stay in the thick of the title hunts. While Freeze has been enormously successful during his time at Ole Miss, he has now signed three straight top-20 classes, and now the 2013 class (the crown jewel of Freeze's tenure) will be all grown up. If the bulk of that class is going to bring a championship to Ole Miss, the time is now because the heavy hitters, like
Robert Nkemdiche
,
Laquon Treadwell
and
Laremy Tunsil
, will likely head to the NFL after this coming season. There's too much talent in Oxford for Ole Miss not to compete for a spot in Atlanta, and anything else will be considered a failure.
David Ching: Derek Mason, Vanderbilt
I was tempted to focus on Mark Richt or Les Miles because the natives seem to be getting restless at Georgia and LSU, but let's go in a different direction. Mason probably needs to get more out of this 2015 class immediately than those two SEC veterans. Last season was a mess at Vandy, with the Commodores failing to put up a good fight in most of their nine losses. Their three wins came against UMass (by three points), Charleston Southern (by one) and Old Dominion (by 14), and they lost by an average of 18 points per game in SEC play. Now Mason enters his second season with two new coordinators (actually he'll be his own defensive coordinator) and a recruiting class that
ESPN ranked No. 44 nationally
, dead last in the SEC. Mason told reporters on signing day that he staked his reputation on the quality of this class, which is all well and good. But if the Commodores don't start looking like a more competent team this fall, I'm not sure Mason's reputation as a head coach will be too great.
Sam Khan Jr.: Kevin Sumlin, Texas A&M
I think
Travis Haney said it best

that Sumlin must begin to reap the fruits of the recruiting labor he and his staff have put in over the last three years. The Aggies' classes ranked
eighth
,
fourth
and
12th
nationally in Sumlin's first three full recruiting cycles, and the team now enters its fourth year in the SEC. He made significant coaching staff changes (including paying a pretty penny for former LSU defensive coordinator John Chavis), and overall the Aggies have recruited better than any team in their own state -- which is talent-rich -- since Sumlin has been there. It's time for the recruiting hauls to translate to the standings.
Chris Low: Mark Stoops, Kentucky
As it turns out, the sky didn't fall at Kentucky after the Wildcats lost six commitments in a span of eight days leading up to signing day. Thanks to some hustle by Stoops and his staff, Kentucky was able to plug some of the gaps late and finish with the
nation's 43rd-ranked class
. The problem was that Stoops reeled in the
20th-ranked class
the year before, so expectations were lofty. As Stoops enters his third season at Kentucky -- with a brand-new contract that will pay him an average of $3.57 million per year -- expectations will be equally high on the field. Kentucky will be aiming for its first winning season since 2009. The Wildcats looked like they were on their way in 2014 after starting out 5-1, but wound up losing their last six games.
Greg Ostendorf: Jim McElwain, Florida
All things considered, McElwain deserves credit for this class. He took over two months before signing day and closed with a
top-20 class
that included five-star prospects
Martez Ivey
and
CeCe Jefferson
. But this class had a chance to be more than solid. It had the potential to be great. Florida missed on a number of homegrown prospects, including
Byron Cowart
and
Jeff Holland
, who both decided to leave home to play at Auburn for the man McElwain replaced. The first-year coach deserves a pass for this class, but he can't keep letting the top players out of the state. Losing battles to Florida State is one thing. Losing battles to Will Muschamp and Auburn is another.
Alex Scarborough: Steve Spurrier, South Carolina
The great thing about Steve Spurrier is that you can take him at his word. But this time I think his openness hurt him. By telling reporters he thought he'd stay at South Carolina 2-3 more years, he had to turn some recruits off. I mean, who would commit to a program knowing the head coach wouldn't be there the whole way through? Though his 31-man signing class was solid,
coming in at No. 21 overall in the country
, it was what was missing that Gamecocks fans should find troubling -- most notably, four-star defensive players
Damon Arnette
and
Arden Key
, who both decommitted heading down the stretch. While you have to appreciate Spurrier's honest assessment of himself, reading a head coach say this has to be jarring: "I don't think I did a very good job of maybe going full-speed as much as we needed as it turned out."
Derek Tyson: Butch Jones, Tennessee
After two top-five recruiting classes in a row, Tennessee head coach Butch Jones now has the talent on his roster to make a move in the SEC East. With
Josh Dobb
s showing promise last season and several other freshmen having standout years, including
Derek Barnett
,
Jalen Hurd
and
Todd Kelly Jr.
, the talent is in place to have a big season on the field this year. Another 7-6 season could have Tennessee fans getting a little restless.
February, 6, 2015
Feb 6
1:00
PM ET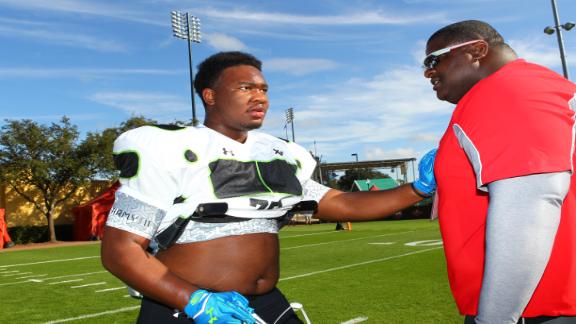 OXFORD, Miss. -- Just like every other coach, Hugh Freeze stood in front of the media on national signing day and discussed his 2015 recruiting class. He said it might be the best class, top to bottom, since he has been at Ole Miss. He called the mid-year group a home run.
That's all fine and dandy, but it didn't hide the fact it was a disappointing finish for the Rebels. The fans were hoping for more.
Maybe it was because the memory of signing day two years ago was still fresh in their minds. The day started with
Robert Nkemdiche
choosing Ole Miss and by the time it was over, fellow ESPN 300 stars
Laremy Tunsil
,
Tony Conner
and
Austin Golson
had followed suit.
[+] Enlarge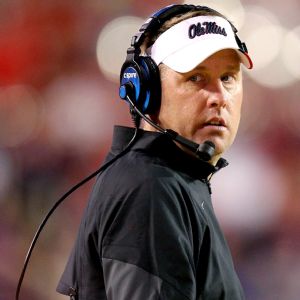 Chris Graythen/Getty ImagesOle Miss' Hugh Freeze wouldn't object to an early signing period, but he's just not sure what it would look like.
Or maybe it was the sting of losing two longtime commitments, offensive tackle
Drew Richmond
and linebacker
Leo Lewis
, in the final weeks leading up to signing day. Both players were ranked among the top five nationally at their position, and both would have been cornerstone pieces for the Rebels in the future.
Freeze made sure to touch on that, too, when he addressed the media on Wednesday.
"I have kind of had that on my soap box this morning with our coaches," he said. "We have created a media frenzy around this circus, and so many more people have become involved in the recruiting process. The kids are genuine and nice and want to communicate with every staff. Every staff is good at recruiting. The last one that is on the phone with them sometimes has them confused and leaning that way. As long as they are taking those calls, there are possibilities."
The number of recruits to switch their commitments in the final weeks has seemingly increased every year, and this year was no different.
Richmond signed with Tennessee. Lewis signed with Mississippi State. ESPN 300 defensive end
Arden Key
flipped from South Carolina to LSU in the days leading up to signing day, and
Van Jefferson
, a longtime Georgia commitment, flipped to Ole Miss in late January and nearly switched again before ultimately signing with the Rebels. That's just the SEC.
And how about Kentucky? After losing six straight games to finish the season, the Wildcats had nine players decommit from their 2015 class. It was no wonder third-year coach Mark Stoops was calling for an early signing period.
But he wasn't alone.
"I have always been in favor of it," Freeze said. "Always. The only problem is, I do not know if any of us could ever agree on what it looks like. But, I think an early signing period in some form or fashion would be good.
"I actually like the idea someone had of as soon as someone commits, having them sign the paper. So you will know right away who is really committed. Then we can save a lot of time and money in the last six weeks on the ones who really are."
It looks easy in principle, but just like adding a ninth conference game, good luck getting all the SEC coaches to agree on it. When would the early signing period be? Before the season? During the season? What about the kids? Is it fair to make them sign early before they have looked at all their options? There are a lot of variables involved.
In the meantime, Freeze says he plans to revisit the entire recruiting process, including the idea of letting committed guys take visits to other schools. Maybe Richmond and/or Lewis would have signed with Ole Miss if not for visits taken to other schools. Or maybe not.
The important thing for Freeze now is that he has a group of 22 signees who will be the future of Ole Miss football. And he's happy with that group … even if he missed on a few.
"You always lose some when you are battling for the best," he said. "Every school does. We had a few of those, but we also won many battles of kids who really want to be at Ole Miss, in this program, and representing this great university. I am excited to get to work with them."
December, 3, 2014
12/03/14
11:00
PM ET
Jordan Howard
rushed for 1,600 yards at UAB this season, and now that the program has been shuttered, recruiters are lining up to get his transfer. Plus, with the Brady Hoke news, Michigan lost four-star tight end commitment
Chris Clark
. So where do recruits think he'll end up?
November, 20, 2014
11/20/14
9:30
AM ET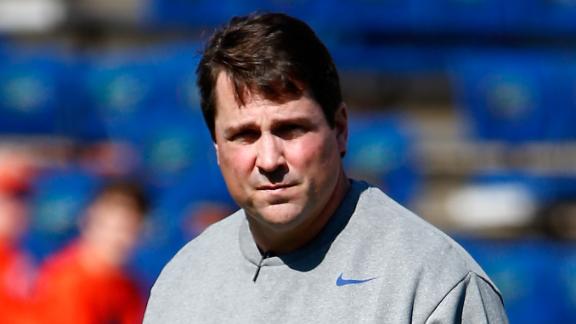 The list of reasons why the Florida head coaching job is so attractive is awfully long, but the biggest reason is recruiting.
Texas might produce more Division I prospects, and you can find high concentrations of talent in California, but if you want to find difference-makers -- the kind you need to win the SEC and the national championship -- you head to the Sunshine State. The University of Florida sits in the heart of the highest quality and quantity of high school football talent in America, and to win big the Gators must hire somebody who can tap into that local pipeline. Will Muschamp's replacement must beat Florida State and Miami regularly for these players and also keep Nick Saban, Gus Malzahn, Les Miles, Urban Meyer and others from poaching players away.
It's a tall task indeed, but here are top 10 candidates who would make sense at Florida because they have the recruiting chops to be successful.
[+] Enlarge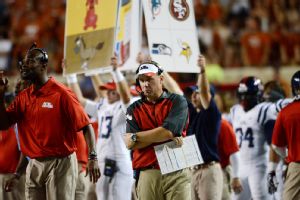 Brendan Maloney/USA TODAY SportsHugh Freeze has proven he can win recruiting battles against the SEC heavyweights.
1. Hugh Freeze
Head coach, Ole Miss
Freeze might be tough to pry away from Oxford because of his close ties to the state of Mississippi and the fact that he still has more time left with the vaunted
2013 top-five recruiting class
he brought in to Ole Miss. But from a recruiting standpoint, it's hard to think of somebody who would be in a better position to lure talent to Gainesville. Freeze already knows how to recruit in the cutthroat SEC and has recruited against the big dogs with a lot of success in Florida since he arrived at Ole Miss.
To continue reading this article you must be an Insider
October, 30, 2014
10/30/14
11:00
PM ET
About this time of year coaches scour junior college ranks for offensive line talent, and thathas helped
Tyler Howell
become one of hottest targets around. Plus, is Clemson in danger of losing ESPN 300 commitment
Juwuan Briscoe
?
To continue reading this article you must be an Insider
September, 11, 2014
9/11/14
11:00
PM ET
Oklahoma is the place to be this weekend as the Sooners are bringing in a number of elite recruits for what is shaping up to be the biggest recruiting weekend by any program so far, and despite losing last week to Virginia Tech it looks like Ohio State is still in good shape with prospects.
To continue reading this article you must be an Insider
September, 9, 2014
9/09/14
11:00
PM ET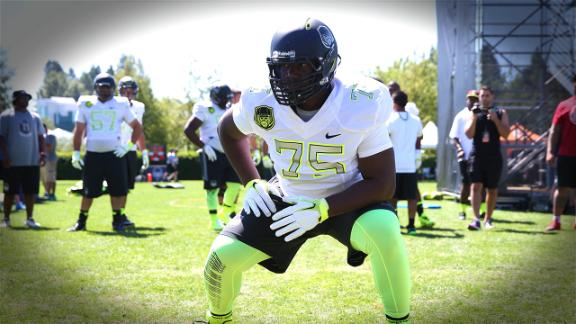 To win at the highest level in the SEC,
Ole Miss
coach Hugh Freeze knows he has to recruit well in Memphis, Tennessee, and Charlie Strong's job of returning
Texas
to the top just got more difficult after the loss to
BYU
this past weekend.
To continue reading this article you must be an Insider
May, 10, 2013
5/10/13
10:19
AM ET
Inspired by
Florida's "#ComePlayWRFortheJoker" campaign
, our recruiting writers looked at other ways schools can sell themselves on the trail. Here's a look at recruiting pitches for the SEC:

Alabama Crimson Tide
What they are selling:
What's not to sell? Alabama is coming off back-to-back national championships, and the Crimson Tide had nine players taken in April's NFL draft, including three in the first round. For the critics who say you won't play early at UA, ask
T.J. Yeldon
and
Amari Cooper
how much they contributed as freshmen.
What they are missing:
Although they won a national championship, the Tide didn't generate much pass rush last fall, and they had trouble containing freshman sensation
Johnny Manziel
. Also, they need to rebuild the offensive line, a unit that anchored the offense last year.

Arkansas Razorbacks
What they are selling:
New head coach Bret Bielema runs a completely different offensive system than the previous two Arkansas coaches. The Razorbacks are selling an opportunity for freshmen to come in and earn playing time early in their careers.
What they are missing:
The Razorbacks signed only one offensive lineman,
Denver Kirkland
, who was rated a four-star prospect or higher last year. In this run-heavy system, look for Arkansas to focus on landing talented players along the offensive line.

Auburn Tigers
What they are selling:
It's a new regime for Auburn, but there's a familiar face running the show. New head coach Gus Malzahn knows the program from his days as offensive coordinator. He's already shown the ability to recruit, stealing ESPN 150 linebacker
Tre Williams
away from the Tide. There's a sense of excitement on The Plains again.
What they are missing:
Malzahn filled out his first recruiting class with playmakers, but Auburn needs to build up front on the offensive and defensive lines. No matter what offense you run, if you want to win in the SEC, you need to be able to compete up in the trenches.

Florida Gators
What they are selling:
With no proven wide receivers on the perimeter, Florida is attempting to sell early playing time at the position. A chance to play for one of the best defensive minds in college football in Will Muschamp is another selling point to defensive prospects.
What they are missing:
Production on offense. After finishing 114th nationally in passing offense, it will be hard to sell playing time to wide receivers without an explosive passing game in place.

Georgia Bulldogs
What they are selling:
Freshmen, if they're good enough, play early at Georgia. From running backs
Todd Gurley
and
Keith Marshall
to offensive tackle
John Theus
to defensive end
Jordan Jenkins
, several freshmen Bulldogs made major contributions on a team that was a few yards away from making the national championship game.
What they are missing:
Georgia has brought in four top-12 recruiting classes in the last four years. Depth might become an issue for some recruits, but Georgia has certainly shown a willingness to play younger players.

Kentucky Wildcats
What they are selling:
After finishing 2-10, Kentucky fired coach Joker Phillips. New head coach Mark Stoops is offering a fresh start and a chance to help build Kentucky in to a contender in the SEC East.
What they are missing:
Plain and simple -- tradition. Sure, Kentucky is full of basketball tradition, but the success on the hardwood completely overshadows the football program. A record 50,831 fans attended the Wildcats' spring game, so the interest level is certainly headed in the right direction.

LSU Tigers
What they are selling:
An unprecedented 10 underclassmen declared for the NFL draft. LSU is selling the opportunity, not only for early playing time because of the departures, but a chance to make it to the NFL in three years.
What they are missing:
Because of all the departures, there are some holes on both sides of the ball. Depth is now an issue at running back and LSU will need to replace
Eric Reid
,
Kevin Minter
, defensive ends
Sam Montgomery
and
Barkevious Mingo
, defensive tackle
Bennie Logan
and linebacker
Kevin Minter
.

Ole Miss Rebels
What they are selling:
Ole Miss landed the No. 5-ranked class in the country, including No. 1 overall player
Robert Nkemdiche
and No. 1 offensive tackle
Laremy Tunsil
. Look for Ole Miss to sell recruits on the opportunity to help build something special under head coach Hugh Freeze.
What they are missing:
Freeze brought a creative and innovative offense to the SEC, but the defense is still a work in progress. Ole Miss finished 12th in the SEC in pass defense and will need to continue to build depth in order to compete for the SEC West championship.

Mississippi State Bulldogs
What they are selling:
Only 11 of 22 starters return for a team that finished 8-5 last year. The Bulldogs offer recruits a chance to play early and play in the best division in college football.
What they are missing:
Mississippi State returns its starting quarterback
Tyler Russell
, but who will he be throwing to? Last year's four leading receivers, including Chad Bumphis, are gone. Look for the Bulldogs to focus on offensive weapons in this recruiting class.

Missouri Tigers
What they are selling:
The Tigers return 14 of 22 starters on a team that went 5-7 in its first year in the SEC East. Missouri runs a fun and innovative offense that is sure to attract recruits, and there is certainly an opportunity to play early.
What they are missing:
The defensive line is probably the most critical area on any defense in the SEC, and the Tigers lost their best lineman in Sheldon Richardson. Mizzou must find a viable replacement for Richardson and linebackers Zaviar Gooden and
Will Ebner
.

South Carolina Gamecocks
What they are selling:
The Gamecocks have been dominant on defense over the last few years, and a strong line is a big part of their success. South Carolina is selling an opportunity to be the next
Jadeveon Clowney
and be a part of one of the top defenses in the SEC.
What they are missing:
Hard to believe, but head coach Steve Spurrier needs help at wide receiver. The Gamecocks signed only one wide receiver in their 2013 class. They have young bodies, but not much depth or production from the returning group.

Tennessee Volunteers
What they are selling:
A fresh start under new head coach Butch Jones. Since 2011, Tennessee has finished with the No. 13, 21 and 29 recruiting classes in the country. There plenty of holes to fill, and any incoming freshman will have plenty of opportunities to earn a starting spot.
What they are missing:
Tennessee lost wide receivers Justin Hunter and Cordarrelle Patterson to the NFL draft and must replace their production on the outside. The Volunteers are also thin in the secondary and will look to recruiting to plug some key holes on defense.

Texas A&M Aggies
What they are selling:
There is a lot to sell a recruit on at Texas A&M right now. An explosive offense which led the SEC in total offense by more than 100 yards a game, Heisman Trophy winner
Johnny Manziel
and a team that went into Tuscaloosa and handed Alabama its only loss last season.
What they are missing:
There are still some holes to fill on defense. The Aggies finished with the No. 8-ranked defense in the SEC and the No. 10-ranked pass defense in the league. They also need to replace talented defensive end Damontre Moore, who is now in the NFL.

Vanderbilt Commodores
What they are selling:
Head coach James Franklin has taken Vanderbilt to a bowl in two consecutive years, and the Commodores are bringing in a solid recruiting class. Selling recruits on an opportunity to play at Vanderbilt during one of the best eras in the school's football history is enticing to high school recruits.
What they are missing:
Vanderbilt is not yet on par with other SEC schools as far as facilities. The Commodores, though, are certainly headed in the right direction. A new indoor practice facility is being constructed, and stadium renovations are in the planning stages.
April, 14, 2013
4/14/13
6:20
PM ET
MEMPHIS, Tenn. -- The Nike Football Training Camp circuit stayed in the southeast on Sunday, stopping at the Memphis University School for an event that, to the surprise of no one, featured solid line play. No doubt, it's a staple in this part of the country. In fact, coaches praised the participants for play as strong in the trenches as they've seen at any Nike camp this spring.
Mitch Sherman of Recruiting Nation attended the event. Here's what he learned:
Youth has been served
While a strong contingent of upperclassmen dominated the positional MVP honors, a few 14- and 15-year-old prospects shared time in the spotlight. Notably, linebacker Dylan Moses of Baton Rouge, La., showed no hesitation in facing players four years his senior. Moses, an eighth-grader set to begin high school at LSU Laboratory School in the fall, added an offer on Saturday from Ole Miss to a list that already featured Alabama and LSU. Running back
Gabe Angel
, a freshman at Lebanon (Tenn.) Wilson Central, performed well on Sunday after recently adding Ole Miss, Vanderbilt and Tennessee to a Mississippi State offer he received last year. Another 2016 prospect, receiver Harry Ballard of Florissant (Mo.) McCluer North, showed well, too.
Ole Miss is surging
To continue reading this article you must be an Insider
April, 13, 2013
4/13/13
10:07
PM ET
OXFORD, Miss. -- Ole Miss continues to capitalize on the momentum produced in February by a No. 5-rated signing class that turned heads in the Southeastern Conference and nationally.
The Rebels drew a crowd at Vaught-Hemingway Stadium on Saturday estimated at 28,000 by the school for its final spring practice, the Grove Bowl, despite a scaled-down event that included minimal game-like activity after injuries hit hard in practice.
To continue reading this article you must be an Insider
February, 6, 2013
2/06/13
10:37
AM ET
By
RecruitingNation
| ESPN Insider
Defensive end
Chris Jones
of Houston, Miss., No. 46 in the ESPN 150, stayed true to his longtime commitment to Mississippi State, announcing on Wednesday that he had signed with the Bulldogs.
Jones, who surged into the national spotlight after a breakout senior season and a starring role at several postseason events, took a hard look at Ole Miss late in the process.
--
Mitch Sherman
What is the impact of Jones' decision?
To continue reading this article you must be an Insider