NCF On The Trail:

Gus Malzahn to Auburn
December, 5, 2012
12/05/12
12:38
PM ET
New Auburn head coach Gus Malzahn is already familiar with current Tigers' commitment
Jason Smith
(Mobile, Ala./McGill-Toolen). He tried to recruit the four-star athlete to Arkansas State when he was still the coach there, and the two have kept in touch since back when Malzahn was the AU offensive coordinator.
Now, Smith is excited about the opportunity to play for a coach he knows, mainly because of the offense Malzahn is bringing with him.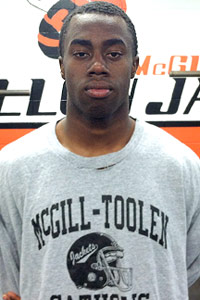 Greg Ostendorf/ESPN.comAuburn commit Jason Smith feels he has a better chance of sticking at quarterback under new coach Gus Malzahn.
"All I can say is War Eagle," Smith said. "I'm excited really, especially about the past offenses he has run. The offense he runs is successful. It was successful with Cam Newton. There aren't too many Cam Newtons out there, but he made a big impact, running that offense and making plays that other people couldn't make. The offense itself speaks for itself."
December, 4, 2012
12/04/12
8:16
PM ET
When Gene Chizik was fired, three-star cornerback
Kamryn Melton
(Dothan, Ala./Dothan) never wavered from his commitment to Auburn. Now, two weeks later, he's happy with the hiring of former AU offensive coordinator Gus Malzahn.
"I think the board chose the right guy," Melton said. "He knows how to win plus he's familiar with the Auburn family. He won a national championship while he was there.
"I knew him a little bit, but I'm on the defensive side, so I didn't really get to talk to him like that. He seemed like a pretty cool guy, down to earth."
To continue reading this article you must be an Insider
December, 4, 2012
12/04/12
7:19
PM ET
Auburn hired former Arkansas State head coach Gus Malzahn on Tuesday, bringing the former Tigers' offensive coordinator back to the plains after he led the Red Wolves to a 9-3 record and the Sun Belt title in his first season as head coach.
Reuben Foster
(Auburn, Ala./Auburn), an ESPN 150 standout just a few miles away from the Auburn campus, was upbeat about the news.
"Everybody is hyped up about the new coach," Foster said. "I think it is a great hire and they picked the right guy. I need to build a relationship with him. I built one with the rest of the staff, especially coach Trooper Taylor. Yes, I was waiting on the head coach to be hired, but even more so I am waiting to see what happens with Coach Taylor because my relationship with him is different than a regular coach to player relationship."
It appears that bond could be stronger than any recruiting ties Foster has built up over the past few years.
To continue reading this article you must be an Insider
December, 4, 2012
12/04/12
6:20
PM ET
When ESPN 300 quarterback
Jeremy Johnson
(Montgomery, Ala./Carver) found out that Auburn had hired Gus Malzahn to be the next head coach, he was not only relieved, but he knew he was going to stick with his original commitment.
The two have a history. It was Malzahn who first offered Johnson a scholarship when he was Auburn's offensive coordinator.
To continue reading this article you must be an Insider
December, 4, 2012
12/04/12
5:57
PM ET
News spread quickly of Auburn hiring former Arkansas State head coach Gus Malzahn to replace Gene Chizik. Three-star prospect
Jarrad Davis
(Kingsland, Ga./Camden County), who has been committed to the Tigers for almost eight months, is uncertain how it will affect his future.
"I just heard about it and I am not really sure how I feel about it," Davis said. "It is good that they got a head coach, so I probably should just got up there and see if I still want to go there after meeting him."
To continue reading this article you must be an Insider