NCF On The Trail:

Gus Malzahn
February, 10, 2015
Feb 10
12:15
PM ET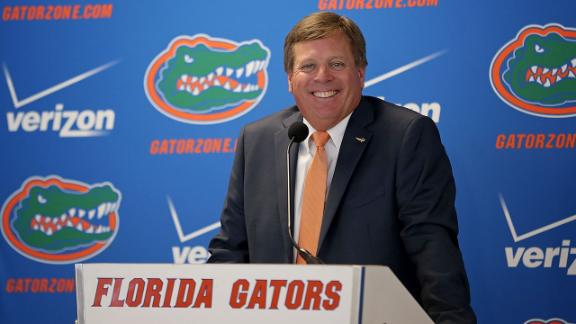 For all the solid work Jim McElwain and his coaches did down the critical 2015 recruiting stretch in the past month, those efforts should stand as a starting point for Florida's football program. That is by no means an end game or a standard for the Gators.
Not to sound like I'm getting ahead of myself too much, but Florida's 2016 recruiting class is critical to the success McElwain hopes to have during his tenure in Gainesville. The SEC is too good and the threat of sliding further and further in the SEC is nothing for the Gators to play around with. Just look at how long it's taken Tennessee to get back to relevancy, and that journey back toward the top still has a steep climb ahead for the Vols.
McElwain has yet to name a starting quarterback, let alone coach a single moment of practice, but in a fast-paced, cutthroat college football society, he and his coaches can't waste any time getting some sort of time with this 2016 class, which really could make or break McElwain's time at Florida. That might sound harsh or even like a bit of hyperbole, but look where Florida's program is now and look at the SEC around it. You can't afford to be a weak link in a conference as cannibalistic as the SEC.
The good news for McElwain is that he and his staff proved they have a clutch closing gene that helped transform a once hopeless 2015 Florida class into a
top-20 group
equipped with
two five-stars and six ESPN 300 members
. Another thing to consider is that recent new coaches in this league have had very good success with their second recruiting classes. From Urban Meyer to Butch Jones, a handful of first-year coaches in the SEC have cleaned up in recruiting with their second classes, and McElwain has to continue that trend.
What McElwain got in his first class with the Gators was a mixed bag -- some contents quality, some unknown. Landing immediate-impact five-star prospects
Martez Ivey
(offensive tackle) and
CeCe Jefferson
(defensive end) and playmaking hopefuls like running back
Jordan Scarlett
, wide receiver
Antonio Callaway
, and athletes
D'Anfernee McGriff
,
Jordan Cronkrite
and
Chris Williamson
gives the Gators a solid early foundation to work with, but it's no secret Florida needs more star power in its 2016 class.
McElwain desperately needed depth along the offensive line and signed five lineman, including two ESPN 300 recruits. That certainly helps with depth, but getting a little more quality there in 2016 will be essential. The same is absolutely true about the wide receiver spot, where Florida again needs legit playmakers, and quarterback, where questions abound this season.
Florida currently has just
one 2016 commitment
-- wide receiver
Rick Wells
-- but if recent history is any indication, McElwain and Co., who can sign a big class with such low scholarship numbers for this current team, could really make a statement with next year's class.
Not to immediately compare McElwain to Meyer and Nick Saban -- although Gators fans are hoping he reaches their level -- but those two went from having OK first classes at Florida and Alabama, respectively, to consensus top-five classes by major recruiting services (ESPN.com, Rivals.com and Scout.com) in Year 2. Florida ranked
No. 1 in ESPN's class rankings
in Meyer's second year (2006), while Alabama
ranked third
in Saban's second year (2008). Meyer went on to win two national titles at Florida, while Saban has won three at Alabama.
After bringing in a top-20 class during his first year at LSU in 2005, Les Miles landed a consensus
top-eight class
nationally in 2006 and won the national title in 2007. Former Auburn coach Gene Chizik reeled in a top-25 class in 2009, then won a national title in his second year and brought home a
top-five class in 2010
.
Even coaches who haven't won titles have recently had second-year recruiting success in the SEC. Hugh Freeze began his time as Ole Miss' coach in 2012 with a class that barely registered on the recruiting radar and then signed arguably the school's
best class ever in 2013
with headliners like
Robert Nkemdiche
,
Laquon Treadwell
and
Laremy Tunsil
.
Butch Jones signed a top-30 class in 2013 and now has back-to-back
No. 5 classes
in ESPN RecruitingNation's class rankings. Of course, Auburn coach Gus Malzahn has signed back-to-back
top-10 classes
in his two years at Auburn, but he's just bragging at this point.
McElwain has a long way to go as a coach and a recruiter at Florida, and he hasn't even seen his team run actual plays on a field yet. But having a strong second year of recruiting is essential to righting Florida's ship. Heck, even his predecessor, Will Muschamp, signed the No. 4 class nationally in his second year, so there's a formula for recruiting success McElwain can follow. And with the way the SEC is moving, McElwain can't afford to get behind and must emulate those before him.
January, 11, 2015
Jan 11
11:00
PM ET
October, 30, 2014
10/30/14
11:00
PM ET
About this time of year coaches scour junior college ranks for offensive line talent, and thathas helped
Tyler Howell
become one of hottest targets around. Plus, is Clemson in danger of losing ESPN 300 commitment
Juwuan Briscoe
?
To continue reading this article you must be an Insider
June, 25, 2014
6/25/14
9:00
AM ET
An early signing period can't get here soon enough.
In fact, a number of SEC teams are recruiting as if it already exists.

On Tuesday, Auburn played catch-up with its league brethren by gaining its 16th and 17th total commitments of the 2015 class in four-star offensive lineman
Tyler Carr
and three-star tight end
Jalen Harris
. Still, Gus Malzahn's group trails Alabama (19), South Carolina (19), Mississippi State (18), Tennessee (18) and Texas A&M (18) in terms of its total verbal pledges.
And to think, SEC rules permit only 25 signees per class, per year.
So what's the rush then? It's hard to say. In recent years we've seen the recruiting calendar steadily accelerated by both the coaches and the players. More and more prospects are committing early, in part to get the process over with but also to secure a spot at their desired school. If you're a middle-of-the-pack recruit, Alabama offers you a scholarship and you see there are only six spots left in the class, you better act fast.
It's important to note, however, that without an early signing period in effect, we're still talking tentative numbers. A verbal commitment is still nonbinding -- on both ends. Players will continue to look elsewhere and other programs will keep trying to poach other schools' recruits. Coaches will make the scholarship numbers fit, one way or another.
South Carolina's 19 current commitments may not be the same 19 recruits in a few months time. Ole Miss, on the other hand, has only eight commitments to date and could see that number double by the start of the season. Just look at Auburn, which has gone on a tear since mid-April by nagging 11 total commitments.
Compared to the other big five conferences, the SEC is wasting no time recruiting. The ACC, Big Ten and Big 12 each have only one school in their respective conferences with 16 or more commitments. The Pac-12, meanwhile, has none and is led by Arizona's 14 commitments.
Other conferences might be clinging to a recruiting era gone by, one where prospects waited until signing day to put pen to paper and decide. An early signing period might change that in the future, but for now the SEC is living in the present, getting while the getting is good.
By last count, 152 of ESPN's top 300 prospects have already committed. There's no time to waste.
February, 4, 2014
2/04/14
10:00
AM ET
As Auburn prepares for national signing day, the program is in a very different place than it was a year ago. Gus Malzahn has been there a full year, and the Tigers are coming off a loss in the VIZIO BCS National Championship Game. Still, signing day is as important as ever, and Auburn is hoping to carry its momentum from the season to the recruiting trail.
Here are four uncommitted prospects to keep an eye on the next two days:
To continue reading this article you must be an Insider
February, 3, 2014
2/03/14
2:00
PM ET
This is part of a series on the nation's top uncommitted recruits leading up to signing day. Click here for the full series.
AUBURN, Ala. --
Rashaan Evans
(Auburn, Ala./Auburn) is known for his infectious personality. He's typically the life of the party and has a smile that can light up a room. But on Sunday, when the ESPN 300 linebacker sat down at his home for what he said would be his final interview before announcing his college decision Wednesday on signing day, it was clear the recruiting process had taken its toll.
It was evident in his mannerisms. It was evident in the way he answered questions. It was evident in the tension that filled the Evans household. It wasn't intentional, but the signs of stress were there.
[+] Enlarge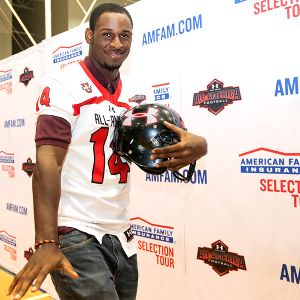 Courtesy of IntersportRashaan Evans is down to in-state powers Alabama and Auburn, and he will announce on Wednesday.
"Sometimes it feels like it's getting worse every day," Evans said.
Five minutes into the interview, his mother tried to cut it short. She wasn't trying to be rude; she had simply had enough. She said she wanted to spend time together as a family. It was something they hadn't been able to do for what seemed like an eternity, and Sunday just happened to be her birthday.
"It's been pretty hectic," Evans said. "I really haven't had just a good week to myself, with me and my family, where we don't have people calling us or coming to see us or having to go on visits or anything."
Saturday night was a prime example, as not even his grandfather's birthday party proved to be off-limits.
Evans and his family attended the party for his grandfather 24 hours earlier at a nearby hotel. It seemed like a perfect opportunity to get away from the world of recruiting for at least one night. But Auburn coach Gus Malzahn and Alabama defensive coordinator Kirby Smart found themselves on the guest list, and a handful of coaches from each school showed up as well. All were hoping to make one final good impression on the four-star prospect, one of a dwindling number of uncommitted prospects remaining in the ESPN 300.
"The fact that they came all to one place, it was pretty interesting," Evans said. "But I don't think it was a bad deal. The party was really about my granddad, and they just tagged along. That's all it was. That's the type of atmosphere it was. It wasn't a competition."
It was a competition, though. The coaches might have acted civil during the party -- the two sides even talked to each other when they first arrived -- but it's all part of the ongoing competition to land Evans' signature on signing day.
It started more than a year ago when Alabama and Auburn first offered Evans a scholarship. The Tigers came first in May 2012; the Tide followed suit five months later. It escalated when Evans started to shine at events such as the regional Nike Football Training Camp and The Opening, and it continued with strong performances at the Alabama-Mississippi All-Star Game and last month's Under Armour All-America Game.
Now, just before he makes his final decision, the competition has reached a fever pitch, and all Evans wants to do is escape it. It's time for him to be selfish.
Local fans who say "War Eagle" when he goes out in public don't matter anymore. Alabama fans tweeting him "Roll Tide" don't matter either. Even though his friend and former teammate
Reuben Foster
has helped with the recruiting process, it no longer matters what he says. Even his mom and dad, who both went to Auburn, are telling Evans to make the best decision for him, not for other people.
"I just try to get him to understand that his main concern should be himself," said his father, Alan Evans. "He should not be worrying about the pressures of going to school because I went there. He should be worried about his own career and where he wants to go with it."
It's not an easy decision for 18-year-old kid, but it's one Evans has to make.
At one point, between talking about his grandfather's party and one of the visits he took, a smile appeared on Evans' face. He was reminiscing about the process, and as stressful as it got at times and as much of a toll as it took on his family, he knows it was a once-in-a-lifetime opportunity.
"Sometimes whenever I'm stressed about it, I always click over to another mode and just try to enjoy it," Evans said. "I know these are precious times in my life. ... I try to look at it as a way to make memories."
In the hours leading up to signing day, Evans plans to sit down with his family and look at what each school has to offer. He's done with interviews. He's done talking to coaches. He's done with every part of the process that isn't about making an actual decision.
He has one more memory to make on Wednesday, and he wants to make sure it's one he won't regret.
August, 23, 2013
8/23/13
1:33
PM ET
Want to ask ESPN RecruitingNation senior analyst Tom Luginbill a question about your team? Tweet it to @TomLuginbill using the hashtag #AskLoogs.
@TomLuginbill Tom how is Gus Malzhan doing in his 1st full year of recruiting at Auburn and how will it relate to Future Team improvement.

— Jodey Swann (@jodeyswann) August 21, 2013
Things are going well at this point. Much like Mark Stoops at Kentucky and Butch Jones at Tennessee, Malzahn and Co. are making big strides in their first full calendar year of unveiling their blueprint. This is the key for Auburn in my opinion, they must, absolutely must make good decisions on people, not just talent. This is what doomed those highly rated classes, particularly the 2010 class. Guys like Michael Dyer, Antonio Goodwin and Shaun Kitchens were highly recruited by everyone and they are no longer at Auburn not because of a lack of talent, but due to off-the-field issues. This has not only affected talent, but depleted the team's depth.
Malzahn is fully aware of this and his staff is placing a huge emphasis on good players and good kids. The crown jewel of this class is obviously RB
Racean Thomas
-- a huge need at a spot that has both a dearth of talent and depth right now. Conversely, the decommitment of center
Josh Casher
was a blow because the offensive line is a huge need, too. ATH
Stanton Truitt
is the utility weapon much like Onterio McCalebb, but Tuitt is more of a true receiving threat. Perhaps the best, most undervalued prospect in Auburn's class is TE-H
Jakell Mitchell
. We feel he could be special because of his skill set and what the offense will ask of him. Juco WR D'haquille Williams is a difference-maker and an immediate impact player.
Sean White
is a nice acquisition at QB, but more for depth at this point, as Auburn's primary targets QB-DT
Brandon Harris
and QB-DT
Deshaun Watson
committed elsewhere. Showing marked improvement this fall will only enhance the Tigers' recruiting efforts down the stretch to help them close come signing day.
May, 10, 2013
5/10/13
10:19
AM ET
Inspired by
Florida's "#ComePlayWRFortheJoker" campaign
, our recruiting writers looked at other ways schools can sell themselves on the trail. Here's a look at recruiting pitches for the SEC:

Alabama Crimson Tide
What they are selling:
What's not to sell? Alabama is coming off back-to-back national championships, and the Crimson Tide had nine players taken in April's NFL draft, including three in the first round. For the critics who say you won't play early at UA, ask
T.J. Yeldon
and
Amari Cooper
how much they contributed as freshmen.
What they are missing:
Although they won a national championship, the Tide didn't generate much pass rush last fall, and they had trouble containing freshman sensation
Johnny Manziel
. Also, they need to rebuild the offensive line, a unit that anchored the offense last year.

Arkansas Razorbacks
What they are selling:
New head coach Bret Bielema runs a completely different offensive system than the previous two Arkansas coaches. The Razorbacks are selling an opportunity for freshmen to come in and earn playing time early in their careers.
What they are missing:
The Razorbacks signed only one offensive lineman,
Denver Kirkland
, who was rated a four-star prospect or higher last year. In this run-heavy system, look for Arkansas to focus on landing talented players along the offensive line.

Auburn Tigers
What they are selling:
It's a new regime for Auburn, but there's a familiar face running the show. New head coach Gus Malzahn knows the program from his days as offensive coordinator. He's already shown the ability to recruit, stealing ESPN 150 linebacker
Tre Williams
away from the Tide. There's a sense of excitement on The Plains again.
What they are missing:
Malzahn filled out his first recruiting class with playmakers, but Auburn needs to build up front on the offensive and defensive lines. No matter what offense you run, if you want to win in the SEC, you need to be able to compete up in the trenches.

Florida Gators
What they are selling:
With no proven wide receivers on the perimeter, Florida is attempting to sell early playing time at the position. A chance to play for one of the best defensive minds in college football in Will Muschamp is another selling point to defensive prospects.
What they are missing:
Production on offense. After finishing 114th nationally in passing offense, it will be hard to sell playing time to wide receivers without an explosive passing game in place.

Georgia Bulldogs
What they are selling:
Freshmen, if they're good enough, play early at Georgia. From running backs
Todd Gurley
and
Keith Marshall
to offensive tackle
John Theus
to defensive end
Jordan Jenkins
, several freshmen Bulldogs made major contributions on a team that was a few yards away from making the national championship game.
What they are missing:
Georgia has brought in four top-12 recruiting classes in the last four years. Depth might become an issue for some recruits, but Georgia has certainly shown a willingness to play younger players.

Kentucky Wildcats
What they are selling:
After finishing 2-10, Kentucky fired coach Joker Phillips. New head coach Mark Stoops is offering a fresh start and a chance to help build Kentucky in to a contender in the SEC East.
What they are missing:
Plain and simple -- tradition. Sure, Kentucky is full of basketball tradition, but the success on the hardwood completely overshadows the football program. A record 50,831 fans attended the Wildcats' spring game, so the interest level is certainly headed in the right direction.

LSU Tigers
What they are selling:
An unprecedented 10 underclassmen declared for the NFL draft. LSU is selling the opportunity, not only for early playing time because of the departures, but a chance to make it to the NFL in three years.
What they are missing:
Because of all the departures, there are some holes on both sides of the ball. Depth is now an issue at running back and LSU will need to replace
Eric Reid
,
Kevin Minter
, defensive ends
Sam Montgomery
and
Barkevious Mingo
, defensive tackle
Bennie Logan
and linebacker
Kevin Minter
.

Ole Miss Rebels
What they are selling:
Ole Miss landed the No. 5-ranked class in the country, including No. 1 overall player
Robert Nkemdiche
and No. 1 offensive tackle
Laremy Tunsil
. Look for Ole Miss to sell recruits on the opportunity to help build something special under head coach Hugh Freeze.
What they are missing:
Freeze brought a creative and innovative offense to the SEC, but the defense is still a work in progress. Ole Miss finished 12th in the SEC in pass defense and will need to continue to build depth in order to compete for the SEC West championship.

Mississippi State Bulldogs
What they are selling:
Only 11 of 22 starters return for a team that finished 8-5 last year. The Bulldogs offer recruits a chance to play early and play in the best division in college football.
What they are missing:
Mississippi State returns its starting quarterback
Tyler Russell
, but who will he be throwing to? Last year's four leading receivers, including Chad Bumphis, are gone. Look for the Bulldogs to focus on offensive weapons in this recruiting class.

Missouri Tigers
What they are selling:
The Tigers return 14 of 22 starters on a team that went 5-7 in its first year in the SEC East. Missouri runs a fun and innovative offense that is sure to attract recruits, and there is certainly an opportunity to play early.
What they are missing:
The defensive line is probably the most critical area on any defense in the SEC, and the Tigers lost their best lineman in Sheldon Richardson. Mizzou must find a viable replacement for Richardson and linebackers Zaviar Gooden and
Will Ebner
.

South Carolina Gamecocks
What they are selling:
The Gamecocks have been dominant on defense over the last few years, and a strong line is a big part of their success. South Carolina is selling an opportunity to be the next
Jadeveon Clowney
and be a part of one of the top defenses in the SEC.
What they are missing:
Hard to believe, but head coach Steve Spurrier needs help at wide receiver. The Gamecocks signed only one wide receiver in their 2013 class. They have young bodies, but not much depth or production from the returning group.

Tennessee Volunteers
What they are selling:
A fresh start under new head coach Butch Jones. Since 2011, Tennessee has finished with the No. 13, 21 and 29 recruiting classes in the country. There plenty of holes to fill, and any incoming freshman will have plenty of opportunities to earn a starting spot.
What they are missing:
Tennessee lost wide receivers Justin Hunter and Cordarrelle Patterson to the NFL draft and must replace their production on the outside. The Volunteers are also thin in the secondary and will look to recruiting to plug some key holes on defense.

Texas A&M Aggies
What they are selling:
There is a lot to sell a recruit on at Texas A&M right now. An explosive offense which led the SEC in total offense by more than 100 yards a game, Heisman Trophy winner
Johnny Manziel
and a team that went into Tuscaloosa and handed Alabama its only loss last season.
What they are missing:
There are still some holes to fill on defense. The Aggies finished with the No. 8-ranked defense in the SEC and the No. 10-ranked pass defense in the league. They also need to replace talented defensive end Damontre Moore, who is now in the NFL.

Vanderbilt Commodores
What they are selling:
Head coach James Franklin has taken Vanderbilt to a bowl in two consecutive years, and the Commodores are bringing in a solid recruiting class. Selling recruits on an opportunity to play at Vanderbilt during one of the best eras in the school's football history is enticing to high school recruits.
What they are missing:
Vanderbilt is not yet on par with other SEC schools as far as facilities. The Commodores, though, are certainly headed in the right direction. A new indoor practice facility is being constructed, and stadium renovations are in the planning stages.
January, 25, 2013
1/25/13
4:12
PM ET
Junior college linebacker
Kenny Flowers
(Hutchinson, Kan./Hutchinson CC) thought his recruitment was over in the fall.
He had found his home at Texas A&M. But when Flowers was unable to enroll early for the Aggies, A&M elected to part ways with the ESPN JC 100 prospect.
To continue reading this article you must be an Insider
January, 7, 2013
1/07/13
4:55
PM ET
Nobody is happier to be done with his decision more than junior college defensive tackle
Ben Bradley
(Hutchinson, Kan./Hutchinson CC).
Bradley ended a month worth of drama by announcing his commitment to Auburn via Twitter on Monday afternoon.
Bradley, who is 6-foot-3 and 310 pounds, picked the Tigers over Kentucky, Nebraska and Missouri. He is ranked No. 44 in the ESPN JC 100.
To continue reading this article you must be an Insider
December, 25, 2012
12/25/12
1:07
PM ET
Auburn has taken some lumps with its 2013 recruiting class since Gus Malzahn has taken over as head coach. But it received a huge boost because of Malzahn on Christmas.
Three-star offensive guard
Devonte Danzey
(Hutchinson, Kan./Hutchinson CC) confirmed he has signed with Auburn on Tuesday. Danzey is 6-foot-3 and 303 pounds.
The Tigers weren't even close to being on Danzey's radar until Malzahn came into the picture. But after he took over at Auburn, Malzahn made Danzey one of his top targets to pursue.
To continue reading this article you must be an Insider
December, 13, 2012
12/13/12
1:14
PM ET
Hutchinson (Kan.) Community College offensive guard
Devonte Danzey
took a while to start making official visits, but he's not wasting time now.
Danzey, who is 6-foot-3 and 303 pounds, had only visited West Virginia and Kansas before last weekend. Since that time, he has seen Texas Tech (last weekend) and Baylor (Wednesday), and he will conclude his official visits with a trip to Auburn this weekend.
"Devonte has had a lot of interest throughout this process," Hutchinson coach Rion Rhoades said. "He's wide open right now as more schools have come into the picture."
To continue reading this article you must be an Insider