NCF On The Trail:

Garrett Williams
December, 29, 2014
12/29/14
9:00
AM ET
In most years, Clemson's class would be head-and-shoulders above everybody else in the ACC. But this year, Florida State has been cleaning up on the recruiting trail and has a real shot at finishing No. 1. That shouldn't take away from what Clemson has done with this group. The Tigers are currently in the
top five
, and if they can add a few more pieces before signing day, there's a shot this class is the best ever signed by Dabo Swinney.
October, 28, 2014
10/28/14
12:15
PM ET
ORLANDO, Fla. -- ESPN 300 tight end
Garrett Williams
was presented with his Under Armour All-America Game jersey Tuesday morning in a ceremony sponsored by American Family Insurance. The ceremony took place in front of family, friends and teammates at The First Academy's gymnasium in Orlando, Florida.
The No. 2-ranked tight end in the ESPN 300 and the 113th-ranked player overall said he felt honored to be selected to one of the top All-American games in the country.
"It means a lot," Williams said. "I remember going to these games when they were in the Citrus Bowl with my grandpa and just idolizing those players and wanting to play in the game someday and to be selected for it now is truly a dream come true. I can't wait to participate in January."
Williams has been committed to Clemson since May and hasn't wavered at all. In fact, the four-star tight end will only take two visits before signing day and both will be to Clemson.
"I'm just going to take one official visit to Clemson around February sometime and then one unofficial visit for the South Carolina game," Williams said.
Williams credits the Clemson coaching staff, in particular head coach Dabo Swinney as a main reason he committed to the Tigers.
"I love the coaching staff at Clemson. It's a very unique coaching staff," Williams said. "Coach Swinney and the rest of the coaches are incredible men as well as elite coaches. I think that was really special to me to be able to be coached by men that I can look up to off the field as well. Also, their scheme fits my skill set. I feel like I can be versatile in their offense."
#Clemson TE commit Garrett Williams receiving his Under Armour All-America jersey. https://t.co/Nt93eZ6F7F

— Derek Tyson (@DerekTysonESPN) October 28, 2014
Six questions with Garrett Williams
Who was the best player you ever saw play in the Under Armour game?
Williams:
There's been so many great players that have played, but I'd have to say
Jadeveon Clowney
because he was such a specimen and he would just dominate the game. I remember watching Greg Reid play because I was a big Florida State fan growing up and he went there. I really liked watching him.
If you could start a team with any other player in your class who would it be?
GW:
I don't really know him well, so this is not because of my relationship with him but from what I've seen and read,
Chad Smith
, the linebacker commit for Clemson I feel like he's a really good leader. That's somebody that I would want to start a team with -- a strong leader with a strong personality.
Who are you looking forward to competing against the most?
JW:
The tight ends usually go up against the linebackers so I'd say the best linebackers there. That's one of the things that's so special about the Under Armour game is all the top talent is there. It's truly a unique opportunity to get all the top athletes in the country at their position in one place. I'm just excited to go against the top-tier linebackers and improve my game.
If you could take on any professional athlete in their sport who would it be?
GW:
That's a tough one. I'd probably say
Patrick Willis
for the 49ers. I love watching him play. He's incredible.
What's your earliest football memory?
GW:
My earliest tackle football memory would be when I was in third grade, which was the first year my parents let me play Pop Warner. I was bigger than most the kids that were my age so I had to play up with the sixth graders and I played center. I was so happy I could get the starting job and just get on the field anyway I could.
What's something that most people don't know about you?
GW:
One interesting thing is that I have a garden at my house. Right now I have okra, bell peppers, beans and different kind of herbs. This summer, I wanted something to do when I wasn't here playing football so I decided I was going to clear 180 square feet of our yard so I cleared all the sod out and I built three 96 square foot boxes and I had to do all this stuff with the soil, but I was able to get it all done.
August, 1, 2014
8/01/14
11:15
PM ET
Clemson has the No. 3-ranked recruiting class for 2015, and more than half of its commitments, including a five-star lineman, signed financial-aid agreements with the Tigers on Friday, six months before signing day.
Five-star offensive tackle
Mitch Hyatt
(Suwanee, Georgia/North Gwinnett) headlines a group of 13 commitments in Clemson's 2015 class, which has 21 total pledges, that signed financial-aid agreements with the school on the first day prospects entering their senior year are allowed. All 13 are expected to enroll at Clemson in January.
"We're signing 13 guys to financial aid before we have even played a game," Tigers coach Dabo Swinney said Friday. "We're excited to have them join the Clemson family."
The NCAA clarified a rule last year that allows for senior recruits planning to enroll in the midyear to sign financial-aid agreements with schools beginning Aug. 1, the same day schools can officially give a recruit a written offer. The financial-aid agreements do not bind the player to the school, but the school is locked into the player unless he is no longer eligible for midyear enrollment. For the recruits, it guarantees their scholarship in Clemson's 2015 class.
The recruits did not sign national letters of intent and are free to sign financial-aid agreements with multiple schools, but only the school they signed with first receives the contact benefits. With the clarified rule, however, once a prospect signs a financial-aid agreement the school can publicly mention the recruit and is no longer limited to contact restrictions with that recruit. The Clemson coaches are not limited to calling those 13 prospects once a week during the season anymore. Before last year it was taboo for schools to mention a recruit by name before signing a letter of intent, but the Tigers updated its official Twitter account throughout the day Friday welcoming the 13 recruits and sent out a press release announcing the soon-to-be additions.
There is a minor risk in Clemson publicly announcing the 13 recruits, and Swinney said Friday it's still uncomfortable to be speaking about high school players before they are locked in to Clemson. If any of the 13 players enrolls at a school outside of Clemson, it could be perceived as a recruiting violation for mentioning a prospective student-athlete by name. The NCAA told ESPN.com reporter Mitch Sherman in January one conference office requested it be a violation. Any violation, if the NCAA deemed it as such, would likely be minor in nature.
There is an upward trend with recruits graduating high school a semester early and enrolling in January, and Clemson is taking full advantage.
Deshaun Watson
, the No. 1 quarterback in the 2014 class, enrolled in January and went through spring practice, and now the Tigers will likely bring in 13 recruits from the 2015 class for the spring semester. The extra semester on campus coupled with the 15 spring practices allows those freshmen to potentially make a greater impact during the season. The Tigers had five early enrollees in the 2014 class.
Six ESPN 300 recruits were among the 13 who signed for Clemson. Hyatt (No. 17) was joined by
Jake Fruhmorgen
(No. 95),
Garrett Williams
(114),
Ray-Ray McCloud III
(150),
Noah Green
(181) and
Shadell Bell
(262).
Kelly Bryant
,
Kaleb Chalmers
,
Zach Giella
,
Tucker Israel
,
Tanner Muse
,
Chad Smith
and
Van Smith
were the remaining recruits to sign financial-aid agreements.
Elsewhere in the ACC, North Carolina announced that two 2015 recruits,
Carl Tucker
and
Anthony Ratliff
, signed agreements.
May, 21, 2014
5/21/14
10:30
AM ET
Clemson has had a big week on the recruiting trail, as the Tigers picked up the nation's No. 2 tight end,
Garrett Williams
on Monday. With that, we figured now is as good of a time as any to compile an ACC recruiting scorecard.
Below you will find each ACC team, its number of commitments and its most recent recruiting news. There's obviously a ways to go between now and national signing day on Feb. 4, 2015, but here's a look at where everyone in the league currently stands.
(Note: ESPN has only ranked the top 15 recruiting classes for 2015.)

Boston College
Current commitments:
9
Spotlight:
The highlight of the Eagles' class is No. 7 tight end-H
Jakeb Burt
, a 6-foot-5, 238-pound three-star prospect. BC's other big commits include three-star, No. 35 cornerback
Lukas Denis
and three-star, No. 52 offensive tackle
Anthony Palazzolo
.
ESPN 300 commitments:
0

Clemson
Current commitments:
16
Spotlight:
The Tigers' best recruit is five-star tackle
Mitch Hyatt
, the nation's No. 7 overall player and the highest-ranked offensive lineman to commit to the program in the 10 years ESPN has ranked players. Clemson has nine four-star commitments as well, with Williams and three other offensive linemen among them.
ESPN 300 commitments:
7
ESPN rank:
5

Duke
Current commitments:
3
Spotlight:
The Blue Devils have just three commitments, but two of them are three-star players who are nationally ranked at their positions: No. 39 defensive tackle
Brandon Boyce
and No. 37 defensive end
Zach Morris
.
ESPN 300 commitments:
0
Florida State
Current commitments:
11
Spotlight:
The Seminoles have hauled in No. 25 overall player
Derwin James Jr
., the nation's top safety. They also scored a major win by beating out in-state rivals Florida and Miami to get No. 5 cornerback
Tyrek Cole
. Florida State has six four-star players among its 11 commitments.
ESPN 300 commitments:
4
ESPN rank:
7

Georgia Tech
Current commitments:
3
Spotlight:
No. 25 athlete
Jaylend Ratliffe
highlights this haul for the Yellow Jackets. The 6-1, 200-pound four-star is ranked as the No. 278 overall player in the nation, flashing tremendous athleticism as a left-handed quarterback at the prep level.
ESPN 300 commitments:
1

Louisville
Current commitments:
1
Spotlight:
Bobby Petrino's only commit in his first class with the Cardinals is 6-foot, 205-pound safety
T.J. Jallow
.
ESPN 300 commitments:
0

Miami
Current commitments:
11
Spotlight:
No. 5 running back
Dexter Williams
has been the biggest get for the Hurricanes, as they stole him out of Gator Country. Miami also boasts No. 5 tight end-Y
Bowman Archibald
and No. 4 dual-threat quarterback
Dwayne Lawson
, two of seven four-star commitments for the program so far.
ESPN 300 commitments:
5
ESPN rank:
11

North Carolina
Current commitments:
9
Spotlight:
The Tar Heels have landed the nation's No. 3 tight end-H in ESPN 300 prospect
Carl Tucker
, a four-star recruit and the nation's No. 260 overall player. They have landed two other four-star prospects: No. 31 offensive tackle
Mason Veal
and No. 22 safety
Ronnie Harrison
.
ESPN 300 commitments:
1

NC State
Current commitments:
4
Spotlight:
Three of the Wolfpack's four commitments have come from within the state, with the lone exception being wide receiver
Freddie Phillips
.
ESPN 300 commitments:
0

Pitt
Current commitments:
3
Spotlight:
The Panthers have just three commitments for this class, but two of them are three-star players who are nationally ranked at their positions: No. 27 outside linebacker
Kevin Givens
and No. 42 offensive guard
Alex Paulina
.
ESPN 300 commitments:
0

Syracuse
Current commitments:
7
Spotlight:
The Orange's run game should look pretty good down the road: Five of their seven current commitments are either offensive linemen or running backs, with the top three prospects coming on the offensive line, and two of them currently prep teammates: tackle
Colin Byrne
and guard
Samuel Clausman
.
ESPN 300 commitments:
0

Virginia
Current commitments:
3
Spotlight:
The Cavaliers' 2015 recruiting class doesn't quite stack up to its 2014 haul as of now, but among their three prospects are nationally ranked, three-star players: No. 22 pocket-passing quarterback
Nick Johns
and No. 28 safety
Juan Thornhill
.
ESPN 300 commitments:
0

Virginia Tech
Current commitments:
4
Spotlight:
The Hokies' class is also short on numbers but features three nationally ranked, three-star prospects: No. 39 athlete
Mook Reynolds
, No. 29 cornerback
DuWayne Johnson
and No. 37 defensive tackle
Harry Lewis
.
ESPN 300 commitments:
0

Wake Forest
Current commitments:
2
Spotlight:
Dave Clawson's first full class currently has two players: defensive end
Paris Black
and offensive tackle
T.J. Haney
.
ESPN 300 commitments:
0
May, 19, 2014
5/19/14
6:40
PM ET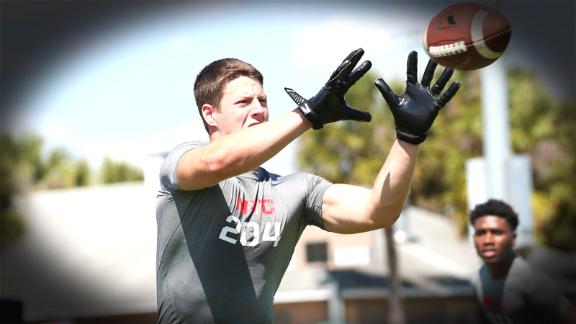 Clemson
's momentum on the recruiting trail continued Monday with the addition of ESPN 300 prospect
Garrett Williams
. Read on to see how Craig Haubert believes Williams fits into the Tigers' impressive group of young tight ends:
To continue reading this article you must be an Insider
March, 16, 2014
3/16/14
8:00
PM ET
The Florida leg of the Nike Football Training Camp series didn't disappoint. Top prospects from all over the Sunshine State made their way to Orlando (Fla.) and Miami to take part in the ultra-competiive camp. An incredible 11 prospects from the Orlando NFTC were invited to The Opening, an elite camp and 7-on-7 tournament held in early July at the Nike Headquarters in Beaverton, Ore. Here's a closer look at the top news from over the weekend.
Orlando NFTC/Elite 11
To continue reading this article you must be an Insider
October, 25, 2013
10/25/13
9:00
AM ET
It is not the sexiest matchup on Florida State's schedule. It is sandwiched by Clemson last week and Miami on Nov. 2. But the Seminoles have a litany of visitors coming to Tallahassee, Fla., for the NC State game, including the top commitment from a rival school.
Following the 51-14 prime-time drubbing of Clemson last weekend, the Seminoles' arrow is pointing up with recruits. There will be four official visitors on campus. Here are 10 prospects who will be watching Florida State closely Saturday, whether from the seats in Doak Campbell or at home on the couch.
[+] Enlarge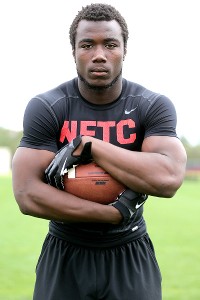 Tom Hauck for Student SportsDalvin Cook remains committed to Florida, but could Florida State pry him away?
RB Dalvin Cook (Miami/Miami Central):
He contends he is 100 percent committed to the Gators, but Cook is making the trip north to Tallahassee for an official visit this weekend. It is the second of three official visits scheduled to locations other than Gainesville, Fla. The Gators' offense is sputtering. On the opposite side of the spectrum are the Seminoles, who have impressed the No. 4 running back nationally with a high-powered offense led by Heisman candidate
Jameis Winston
. A successful visit to Florida State and another flop by Florida and Cook's commitment to the Gators could be in question.
To continue reading this article you must be an Insider
September, 4, 2013
9/04/13
3:30
PM ET
The ACC had several big Week 1 games, but few conference teams took advantage of the opportunity. Clemson made a real statement to recruits across the country with a prime-time win, and the performance from Florida State's
Jameis Winston
probably has offensive skill players putting the Noles a little higher on the list. But FSU's win came at the expense of another ACC school, and three other conference teams missed a chance to impress recruits with big out-of-conference wins last week.
To continue reading this article you must be an Insider
July, 29, 2013
7/29/13
8:00
AM ET
GAINESVILLE, Fla. -- Running back commit
Dalvin Cook
(Miami/Central) has a message for any Gators fans who might be worried about his visit to Texas today -- follow the lead of Florida head coach Will Muschamp.
To continue reading this article you must be an Insider
July, 25, 2013
7/25/13
12:00
PM ET
TALLAHASSEE, Fla. --
Garrett Williams
(Orlando, Fla./First Academy) is familiar with Florida State. Williams' father Dayne played for FSU in the 1980s, so Garrett is familiar with campus.
But last week was his first chance to work with defensive ends coach Sal Sunseri in live action on the camp fields. And the four-star junior enjoyed all of it.
To continue reading this article you must be an Insider
July, 16, 2013
7/16/13
10:00
AM ET

NoleNation takes a look at some of the most wanted prospects in the
ESPN Junior 300
for Florida State.
1. CB Kevin Toliver II (Jacksonville, Fla./Trinity Christian Academy)
6-foot-1, 183 pounds ESPN 300 rank: 2
A commitment to LSU since last November, there are no immediate signs that Toliver will leave his Tigers pledge. But Florida State continues to recruit him heavily -- and it should, given his tremendous ability.
To continue reading this article you must be an Insider
June, 17, 2013
6/17/13
8:00
AM ET
GAINESVILLE, Fla. -- Gators fans grumbled through a disappointing month of May, suffering through a couple of decommitments as Florida's 2014 class dropped in ESPN's rankings from No. 2 to No. 10.
But after a week-long summer camp loaded with talent and chocked with big-name visits, UF has firmly regained recruiting momentum and the faith of those frustrated fans.

The first day of the camp set the tone as the Gators got
a commitment from ESPN 150 athlete J.C. Jackson
(Immokalee, Fla./Immokalee) less than a week after he decommitted from FSU. Three days later, Florida landed
a pledge from DE Taven Bryan
(Casper, Wyo./Natrona County).
To continue reading this article you must be an Insider