NCF On The Trail:

football
October, 8, 2014
10/08/14
2:00
PM ET
ESPN 300 defensive tackle
Jonathan Ledbetter
was presented with his Under Armour All-America jersey on Wednesday in a ceremony sponsored by American Family Insurance and held at the Tucker (Georgia) High School gymnasium during a school pep rally. A large crowd consisting of family members, students, teammates and faculty members cheered loudly as the jersey was given to the 62nd-ranked in the country.
The Georgia commit, who recently switched his commitment from Alabama to the Bulldogs, said he was honored to be selected for the game.
"It's just an honor. Not a lot of people get selected for the game," Ledbetter said. "There was a few select spots and I had an opportunity to go to the junior combine last year and they told me they really liked the way I played at the combine and they wanted me to come play in the game. I definitely accepted it.
"It was between this game and the Army game and I told Under Armour I would love to be in their game because I did their combine and liked the way they run things. I'm glad I just have the opportunity to be in such an elite all-star game."
Since switching his commitment to Georgia, Ledbetter admits his recruitment has slowed somewhat, but that several schools, including the school he had been committed to, continue to recruit him.
"Alabama has still kept in contact with me," Ledbetter said. "Coach [Lance] Thompson came by to see me like two or three weeks ago. We just kind of talked and he told me they were still going to recruit me and try to get me there. Florida, Miami, Ole Miss, Auburn and schools like that have been talking to me. They've been checking in.
"I'd say I'm 100 percent, 110 percent actually. I'm not going to switch, I've made up my mind."
Jonathan Ledbetter throws on the #UAALLAMERICA jersey. https://t.co/hZuSnYiqdz

— RecruitingNation (@ESPNRNFball) October 8, 2014
Seven questions with Jonathan Ledbetter
If you were to start a team with any other player in your class, who would it be?
Ledbetter:
Of course I'd have to get a quarterback. I'd actually pick Blake Barnett, that's my boy. He's just a great player and we kind of bonded when I was committed to Alabama and he makes a lot of good decisions on the field. He's just one of those sound quarterbacks.
Who is the best player to ever play in the Under Armour game that you know of?
Ledbetter:
I would say definitely say Jadeveon Clowney. He's a freak of nature. He does stuff I've never seen a human being do before. He's just an overall great athlete. He's a good person and has a great work ethic. He's ridiculously quick and can do a lot of things and can rush the quarterback.
What is your earliest football memory?
Ledbetter:
I'd have to say when I lived in Maryland. I went and tried out for the team, made it. I was probably five or six years old. I was playing with my little brother and my oldest brother was on the older team. It's a funny story because this is when I hated football and didn't want to play at all. I played for two or three weeks and then I quit. My brother's made me quit. Every day my brothers would get on me. Then my older brother would come join our practices and come hit me. He wasn't even allowed to be on our field but he would just come on our field and come hit me. I was like "I'm sick of it, I quit." They ended up going undefeated but I didn't get a trophy because I quit. That's my earliest football memory.
Which football player did you idolize or be like when you were a kid?
Ledbetter:
I didn't really like or watch football growing up so there wasn't really a player I wanted to be like. Now that I'm older I like players like J.J. Watt and Ndamukong Suh. They are both great players.
If you could take on any pro player in their sport, who would it be?
Ledbetter:
I'd have to say Michael Jordan just because I'd love to play basketball against him. He's old now so that kind of kills it, but Michael Jordan in his younger years.
What number do you wear?
Smith:
I wear No. 9 now. I had 81 last year and everyone is like 81 divided by nine is nine. I know James Vaughters had No. 9 when he was there and Detric Dukes had it last year and now he's at UGA. So everyone kept telling me I needed to get nine so I just went ahead and did it.
What is the one thing people would be surprised to know about you?
Smith:
I used to play the piano. I have a grand piano at my house and I used to play. I also have an acoustic guitar. I can play both of them.
August, 19, 2014
8/19/14
1:00
PM ET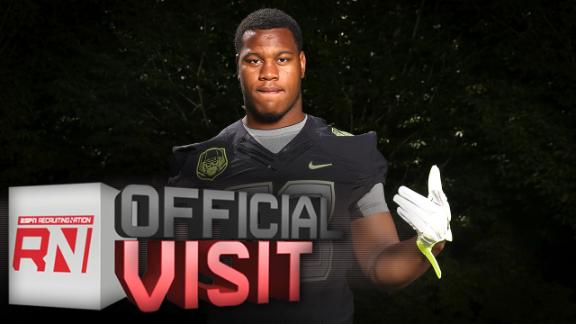 In a six day period, the Georgia Bulldogs were able to land the No. 1-ranked defensive tackle in the country,
Trenton Thompson
, flip Alabama commitment
Jonathan Ledbetter
and land the No. 129-ranked player in the ESPN 300,
Jayson Stanley
.
The impressive stretch of commitments is just what the Bulldogs needed heading into the season.
The SEC is known for having dominant defensive lines over the past several years and Georgia has had their fair share of NFL-caliber players along the defensive front, but new defensive coordinator Jeremy Pruitt is now making his mark -- on the recruiting front at least.
Ledbetter, an Under Armour All-American, had been committed to Alabama since January, but decided to switch his commitment to the Bulldogs to be closer to home and to play with his older brother Jason who just recently joined Georgia as a tight end.
Want to thank all my recruiting coaches and the entire staff at Bama but I've decided to stay home and rep my state. #Dawg4Life #GoDawgs =6=>

— Big Led (@LedbetterDE15) August 17, 2014
"I was thinking about the switch for a while," Ledbetter said. "I just wanted to be sure that I could accomplish everything I plan on doing at UGA. Throughout the whole process they were one of my leaders. The program is phenomenal and the people there are great. Also, education is crucial to me so knowing I could receive a top-notch education and also play SEC football was a big factor.
"As many people know, my brother also attends UGA now and I decided that I couldn't pass up on a once-in-a-lifetime opportunity to play with my brother in college. The class was also gaining a lot of momentum so I felt like it was the perfect time to go public with my decision. It took a lot of praying and long talks with my family but I decided at the end of the day, all you have in this world is your family and having the ability to stay close to home, play football and get an education is something that cannot be passed up."
Thompson and Ledbetter join two other ESPN 300 defensive ends
Natrez Patrick
and
Chauncey Rivers
, and three-star defensive tackle
Quincy Vasser
.
Throw in five-star defensive end Lorenzo Carter and the No. 4-ranked defensive tackle from the 2014 class, Lamont Gaillard, and the Bulldogs are accumulating a tremendous amount of talent that Georgia fans hope will wreak havoc on SEC quarterbacks over the next several years.
As for Stanley, he becomes the third wide receiver commit, fourth if athlete
Terry Godwin
plays on the offensive side of the ball. The other receiver commits include four-star pass-catchers
Michael Chigbu
and
Shaquery Wilson
. At 6-foot-2 and 205-pounds, Stanley is the biggest of all of Georgia's receiver commitments and could become a formidable target in the red zone for the Bulldogs.
April, 1, 2014
4/01/14
9:00
AM ET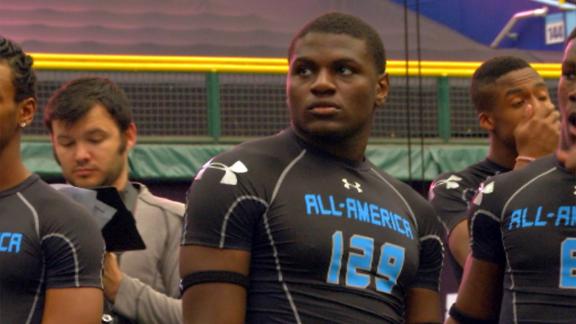 Throughout this recruiting cycle, RecruitingNation will profile a number of ESPN 300 prospects in the 2015 class, including an inside look at the prospect, his recruitment, a scouting report and what college program could benefit when he ultimately makes his decision
.
BRADENTON, Fla. -- On a team loaded with talented prospects, do-it-all athlete
Jeffery Holland
takes a back seat to no one. The 6-foot-2, 226-pound outside linebacker plays multiple positions for Jacksonville (Fla.) Trinity Christian, including running back, tight end, wide receiver and, of course, linebacker -- the position most schools recruiting him want him to play. Holland even lined up at cornerback for a game during the IMG 7v7 Southeast Regional championships in Bradenton, Fla., over the weekend.
The No. 8 player in the country, his athleticism is something that comes naturally, but it doesn't hurt that he has pretty good bloodlines too. Holland's uncle, Carey Holland, won an SEC basketball title at Auburn in 1985.
To continue reading this article you must be an Insider
January, 27, 2014
1/27/14
10:38
PM ET
The Georgia Bulldogs picked up a commitment from three-star athlete
Dominick Sanders
(Tucker, Ga./Tucker) on Monday night. The news was first reported by 247Sports.
Sanders had been committed to UCF since October, but after he took a visit to Auburn without informing the UCF coaching staff, the Knights decided to move on from Sanders. He was set to visit Georgia this weekend but decided to go ahead and pull the trigger. Sanders had also been receiving interest from Missouri recently.
The 5-foot-11, 174-pound athlete could play multiple positions, but the Bulldogs are recruiting him as a defensive back.
"Sanders possesses decent size for an athlete," his RecruitingNation scouting report reads. "His physical attributes will allow him to play and compete at a variety of positions. He should naturally fill out a bit more in the next couple of years.
"He plays with good strength as he will run through most arm tackles and when tackling will send the ball carrier backwards. Demonstrates good speed as on more than one occasion he has run away from everyone and broken the big play."
With the addition of Sanders, Georgia is now up to 18 commitments, including nine that are ranked in the ESPN 300.
January, 11, 2013
1/11/13
10:31
AM ET
By
RecruitingNation staff
| ESPN.com
Chat with Derek Tyson (@DerekTysonESPN), Tom VanHaaren (@TomVH) and Jeremy Crabtree (@jeremycrabtree) about this week's
#BlueChipBattles
at 11 a.m. ET. Then try your hand at
ranking the battles
.