NCF On The Trail:

David Kamara
February, 1, 2013
2/01/13
1:33
AM ET
No. 1 prospect
Robert Nkemdiche
(Loganville, Ga./Grayson) has been considered a heavy favorite to sign with Ole Miss ever since he decommitted from Clemson in October. But with less than a week to go until signing day, anything is possible if a program is able to get the five-star defensive end on campus.
Nkemdiche confirmed Thursday night that he had spoken to LSU head coach Les Miles, and that he plans to visit the Tigers officially this weekend. His teammate, cornerback
David Kamara
, also confirmed that he will travel to Baton Rouge, La., tomorrow. Kamara, who also favors the Rebels, spent Thursday night with Ole Miss head coach Hugh Freeze.
January, 15, 2013
1/15/13
7:55
PM ET
Defensive end
Robert Nkemdiche
, the ESPN 150's top-rated recruit, and cornerback
David Kamara
have talked about visiting LSU together for a while.
They moved one step closer to that Tuesday.
January, 13, 2013
1/13/13
10:56
PM ET
Much has been made about the friendship between three-star cornerback
David Kamara
(Loganville, Ga./Grayson) and No. 1 overall prospect
Robert Nkemdiche
(Loganville, Ga./Grayson). The two have discussed playing together numerous times and came quite close to accomplishing that last summer, when the teammates committed to Clemson together.
Both since have decommitted, putting Ole Miss in the driver's seat to get the talented duo. The opportunity arose Sunday for Kamara to go in a different direction if he chooses.
To continue reading this article you must be an Insider
January, 7, 2013
1/07/13
12:43
PM ET
With just under a month to go until signing day, commitments and decommitments are popping up all over the place. On Monday morning it was Clemson's turn to lose a top prospect as ESPN 300 wide receiver
Ryan Jenkins
(Marietta, Ga./Lassiter) dropped the Tigers in favor of another orange-themed program.
"I decommitted from Clemson and I will be going to the University of Tennessee," Jenkins said in a text to RecruitingNation.
Jenkins is a legacy commitment for Tennessee. His father, Lee Jenkins, was a standout cornerback for the Volunteers. Jenkins went through most of his recruitment without an offer from Tennessee but new head coach Butch Jones reached out to the four-star receiver shortly after Jones was settled in Knoxville. The offer to play for the Vols came just three days after Jones was announced as the new coach.
Jenkins is the second Peach State wide receiver to recently decommit from the Tigers.
Demarcus Robinson
(Fort Valley, Ga./Peach County) told Derek Tyson on Monday morning that he planned to enroll at Florida after having flipped to Florida once, then back to Clemson and then finally decommitting all together. Clemson also suffered the decommitments of No. 1 prospect
Robert Nkemdiche
(Loganville, Ga./Grayson) and
David Kamara
(Loganville, Ga./Grayson) in November. The Tigers failed to sign any prospect from the Peach State last year.
To continue reading this article you must be an Insider
January, 5, 2013
1/05/13
2:08
AM ET
The East team snuck out with a 17-14 win at the 2013 Semper Fidelis All-American Bowl, thanks to a touchdown pass from
Eddie Printz
(Marietta, Ga./Lassiter) to
Ryan Switzer
(Charleston, W. Va./George Washington) with six seconds remaining. But the biggest takeaway from the game was the impact made by the future Washington Huskies.
Wide receiver
Darrell Daniels
(Oakley, Calif./Freedom) caught a touchdown in the game, but the biggest impact he made were the big impacts he made. On a scramble by his quarterback, Daniels peeled back and leveled a pursuing East defender, sending helmets flying. Later, in punt coverage, Daniels got his hands on Switzer and threw the much smaller receiver to the turf.
[+] Enlarge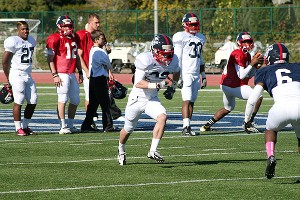 Erik McKinney for ESPNMissouri QB commit Eddie Printz hooked up with UNC commit Ryan Switzer, pictured, for the game-winning East touchdown.
"I just came out wanting to have fun and make a statement that I could be physical instead of just running around people," Daniels said.
Not to be outdone, future Washington defensive linemen
Elijah Qualls
(Petaluma, Calif./Casa Grande) and
Daeshon Hall
(Lancaster, Texas/Lancaster) pestered the East quarterbacks all night. The five Washington commitments who came into the game were joined by a sixth when wide receiver
John Ross
(Long Beach, Calif./Jordan) made his commitment to the Huskies during the third quarter. Ross, who will play wide receiver for the Huskies, offers an elusive speed threat to pair with Daniels, who had an opportunity to get to know Ross this week.
"We're going to be very complementary to each other," Daniels said of Ross. "He's a very fast receiver, a good receiver, and I'm going to enjoy playing alongside him."
Although his West team didn't get the victory, Daniels said he and his fellow Huskies sent the message they wanted to during the game.
"We just wanted to make a statement that U Dub is coming back up on the map," Daniels said. "We came out and made a statement early in the game and we played hard."
Semper Fidelis All-American Bowl superlatives
Biggest hit:
Aside from the block Daniels threw, this honor goes to Qualls. The nearly 300-pound defensive tackle lined up at fullback several times during the game, and on one occasion, he took a screen pass and made his way outside, where he met
David Kamara
(Loganville, Ga./Grayson). Kamara deserves plenty of credit for lowing his shoulder and taking on Qualls, but the bigger Qualls simply ran Kamara over and continued down the sideline, much to the delight of his West teammates.
Best "wow" moment:
With six minutes remaining in the second quarter, Florida State commit
Levonte Whitfield
(Orlando, Fla./Jones) fielded a kickoff and was gone. He had 78 yards to flash his terrific speed and didn't hesitate to do so.
Best play:
With time running down in the fourth quarter and the East team trailing 14-10, Missouri QB commit Printz rolled out and fired deep ball to Vanderbilt commit
Latevius Rayford
(Memphis, Tenn./Memphis Central), who went up between double coverage and came down with the grab. Reyford was able to tap one foot down his momentum carried him out of bounds for a 37-yard gain.
Near-perfect performance:
Quarterback
Matt Alviti
(Park Ridge, Ill./Maine South) completed 10 of 12 passes for the West team. Though it was in a losing effort, Alviti began the game a perfect 9-for-9, which isn't something you usually see from quarterbacks in an all-star environment. The Northwestern commit passed for 104 yards and a touchdown.
[+] Enlarge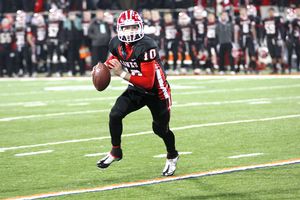 Scott Powers/ESPNChicago.comEven though his West team lost, quarterback Matt Alviti has nearly perfect, completing 10 of his 12 passes.
Most impactful play:
The West defensive line was able to put pressure on East quarterbacks all game long, so Printz wasn't surprised when he took a snap from the 2-yard line and was forced to scramble back to the 20-yard line and buy time before finding North Carolina commitment Switzer in the back of the end zone with six seconds left to give the East team a 17-14 lead and the eventual win.
Outlaw is still on the run
Offensive guard
Josh Outlaw
(Lithonia, Ga./Martin Luther King) has experienced just about everything when it comes to the recruiting process. The 6-foot-4, 275-pound standout was a very early verbal commitment to Florida. The four-star lineman made the decision to commit at Florida's spring game on April 7. But sparked by his desire to take his official visits, Outlaw decommitted from Florida in August and now heads into January with almost everything still up in the air.
"Right now I'm open," Outlaw said during practices for the Semper Fidelis All-American Game. "I want to see what other schools have to offer and what I could bring to the table for them and what they can bring to the table for me."
Outlaw said he will definitely visit Miami, TCU and West Virginia in January. He added that while the visits aren't set in stone, there was an understanding before the dead period that all would get scheduled.
While Florida pushed hard for another commitment in the immediate aftermath of his decision to back away, Outlaw said the contact has been less and less recently.
"We haven't had contact lately -- as much as we did," he said of the Gators. "We I did decommit, they wanted me to reconsider. But I just needed time to reconsider all my options."
It would likely be tough for a new school to get into the mix for Outlaw, but he said that at this point he has no favorites and isn't in a hurry to bring the process to a conclusion.
"I'm looking for the best opportunity," he said. "There is no favorite. Everybody has a clean slate."
Outlaw said he is looking for several specifics in his school of choice.
To continue reading this article you must be an Insider
January, 2, 2013
1/02/13
10:26
PM ET
FULLERTON, Calif. -- With the first-day jitters long gone and players beginning to settle into their game-day roles during the third day of practices for the 2013 Semper Fidelis All-American Bowl, several players continue to jump out with impressive performances. On Wednesday, it was defensive back
David Kamara
(Loganville, Ga./Grayson) who authored a standout showing.
[+] Enlarge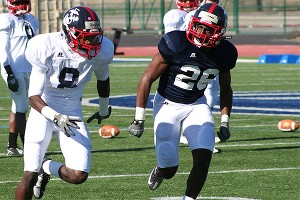 Erik McKinney/ESPN.comEast defensive coordinator Shawn Raney said on Day 3 of practice for the Semper Fidelis All-American Bowl that David Kamara, right, can play anywhere in the secondary.
"He's a very athletic kid," said Shawn Raney, defensive coordinator for the East team. "He understands the game and he catches onto stuff really quickly. He's mentally sharp and does a nice job."
During one-on-one action early in the day, Kamara made a terrific play on a deep ball while in coverage against
Jordan Smallwood
(Jenks, Okla./Jenks). He stuck with the big receiver down the field and knocked the ball away at the last minute. It was a glimpse at his physical ability, and the East coaches have been impressed with his mental capacity as well.
"The first day I let them go where they thought they could play and I watched them move around," Raney said after Day 3 practice. "Today was the first day where I put them at specific spots, and he's the type of kid who could play any of them. He's playing corner and some strong safety for us. He's athletic enough to be a corner and smart enough to play safety. He has very quick feet and nice, loose hips where he can turn and rotate with receivers. He's a very good athlete."
Kamara is the only undecided recruit in the secondary for the East squad, but the 5-foot-10, 175-pound cornerback said he is focusing in on three schools: Clemson, LSU and Mississippi.
A former Clemson commitment, Kamara pulled away from the Tigers in November and wanted to explore his options. He'll do that later this month, as he has official visits scheduled to LSU on Jan. 11 and Mississippi on Jan. 25. He is trying to set up a visit to Clemson for Jan. 18. Kamara holds offers from Clemson and Mississippi but said LSU is still waiting to offer.
"They told me I was going to have to wait and see because when I committed to Clemson, I wasn't really talking to them and they got a couple commitments at my position," Kamara said of LSU. "I have to wait and see, but Coach [Brick] Haley has always been honest with me."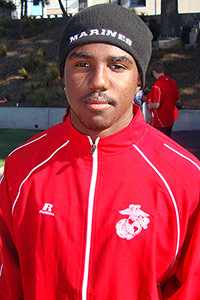 Brandon Oliver/ESPN.comCal WR commit A.J. Richardson confirmed at Semper Fidelis All-American Bowl practice that he is giving other programs serious looks.
Kamara said he is hoping to have a decision made toward the end of January after he takes his visits.
Newsmaker:
Without any real movement on either roster in the recruiting world on Wednesday, the biggest buzz was generated when word began to circulate around the East team about the commitment of four-star running back
Tarean Folston
(Cocoa, Fla./Cocoa), who is in Orlando, Fla., this week for the Under Armour All-America Game. He makes 12 ESPN 300 commitments for Notre Dame, and with four Fighting Irish verbal commits on the East roster, the news was met with plenty of enthusiasm.
"That circulated pretty fast," Notre Dame quarterback commit
Malik Zaire
(Kettering, Ohio/Archbishop Alter) said. "We caught word and we're very excited to have another running back, especially a great running back. That only makes my job a lot easier."
Trending:
Rumors of possible decommitments were flying around the West team in Sanata Ana, Calif., on the third day of practice for the Semper Fidelis All-American Bowl.
After visiting Duke, Nevada and Boise State, Cal WR commit
A.J. Richardson
(Harbor City, Calif./Narbonne) confirmed that he is giving all three programs a serious look after failing to hear much from Cal's new staff.
Washington OL commit
Sean Harlow
(San Clemente, Calif./San Clemente) remains committed to the Huskies, but a visit to Oregon State appears to have him thinking about a change of heart.
What's on tap:
With walk through and additional game prep scheduled for the Semper Fi game participants on Thursday, the underclassmen will take center stage during the Proving Ground underclassmen combine.
To continue reading this article you must be an Insider
November, 13, 2012
11/13/12
7:46
PM ET
Less than a week after No. 1 prospect
Robert Nkemdiche
(Loganville, Ga./Grayson) decommitted from Clemson, teammate and close friend
David Kamara
(Loganville, Ga./Grayson) has followed suit.
The three-star defensive back made the call to Tigers head coach Dabo Swinney shortly before making an unofficial visit with Nkemdiche to Ole Miss on Saturday.
"I called Dabo up and just let him know I needed to take a step back and re-evaluate my options," Kamara said. "This is my life, so I need to make sure I make the right decision."
To continue reading this article you must be an Insider
November, 8, 2012
11/08/12
5:49
PM ET
With the news Thursday that the No. 1 prospect in the country,
Robert Nkemdiche
(Loganville, Ga./Grayson), had
decommitted from Clemson
, the Tigers now turn to two of his high school teammates also committed to the Tigers. One of them, four-star athlete
Wayne Gallman
(Loganville, Ga./Grayson), said Wednesday he remains solid in his verbal pledge from April.
"I am still 100-percent Clemson and I am visiting there this weekend," Gallman said.
The 6-foot-1, 200-pound athlete plays running back and linebacker in high school, but he is excited about the opportunity to step into a thin backfield at Clemson in 2013.
To continue reading this article you must be an Insider
August, 28, 2012
8/28/12
3:25
PM ET
ATLANTA -- After practicing against his teammates all spring and summer,
David Kamara
(Loganville, Ga./Grayson) was anxious to finally get back out on the field and compete. Although he was rarely tested against McEachern on Saturday, the 5-foot-10, 185-pound defensive back was just happy to see different jerseys lined up across from him.
"It felt good to get out there, because I was tired of hitting my own teammates," Kamara said. "I feel like my footwork has improved and my ball skills have gotten better, too, although they did not really throw my way. Stats do not matter, though. I just want to help my team win a state and national championship."
As a junior, Kamara made 53 tackles, four interceptions, and two forced fumbles and picked up offers from Clemson, Illinois, Mississippi State, Ole Miss, Tulane and Wake Forest. He committed to Clemson during a visit in June with teammate
Robert Nkemdiche
(Loganville, Ga./Grayson), whose brother
Denzel Nkemdiche
is a freshman at Ole Miss. While Kamara's recruitment is less hectic since announcing his decision, one school is still after him.
To continue reading this article you must be an Insider
June, 13, 2012
6/13/12
11:54
PM ET
Clemson picked up its second commitment of the day and No. 7 for the 2013 class Wednesday night when cornerback
David Kamara
(Loganville, Ga./Grayson) pledged to head coach Dabo Swinney and his staff.
"I committed to Clemson," Kamara said.
Kamara joins four-star running back
Wayne Gallman
(Loganville, Ga./Grayson) to give the Tigers two commits from Grayson, the defending AAAAA state champions and where No. 1 prospect
Robert Nkemdiche
(Loganville, Ga./Grayson) also stars. Kamara made 53 tackles, four interceptions, and two forced fumbles as a junior.
To continue reading this article you must be an Insider
March, 4, 2012
3/04/12
4:40
PM ET
One of the emerging prospects in the Peach State was all set to visit Georgia on Saturday for Very Important Dawg Day, but with his mom scheduled to work
Antonio Riles
(Lawrenceville, Ga./Archer) instead made plans to take her Friday to Athens to meet the Bulldogs' coaching staff. That plan also fell through, but the 6-foot-4, 260-pound rising senior managed to make the trip up with a couple of teammates Friday night.
Although he grew up a fan of the Bulldogs, this was Riles' first time on campus.
"I was able to see all of the football facilities, and seeing Sanford Stadium was really cool," he said. "Athens is a pretty open town and I liked being able to see what student life was like. Watching a gym meet that night, it got me to thinking if that atmosphere was that crazy I could only imagine what Sanford is like on a Saturday for a football game. I really had a good feeling about the visit, and it felt like a great place."
To continue reading this article you must be an Insider