NCF On The Trail:

Dabo Swinney
February, 18, 2015
Feb 18
11:00
AM ET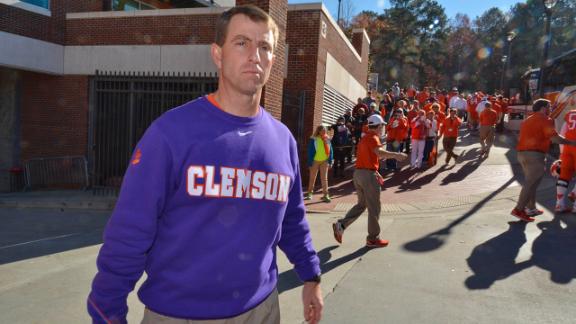 Thad Turnipseed knows a thing or two about the power of recruiting, having come from Alabama. The Crimson Tide won consecutive recruiting (and national) titles in the final two seasons of Turnipseed's 11 years in Tuscaloosa, Alabama, as the associate athletic director for special projects and the director of football external affairs. His position -- Clemson's director of recruiting and external affairs -- is a bit different, but the returns so far have been great for Tigers head coach Dabo Swinney, who brought his former college teammate aboard in 2013.
ESPN.com caught up with Turnipseed recently to talk about how he helped orchestrate a 2015 Clemson class that ranked fourth nationally.
What has Dabo Swinney tapped into that has allowed [Clemson recruiting] to take off in recent years?
Thad Turnipseed:
He calls it 'Clemson Google.' Everybody has a recruiting board, per se. Dabo's different. Of course he's highly intelligent. Most coaches look at that board and say, 'I want my top two guys on the board. My top three guys on the board.' Dabo doesn't care about that. He wants to know who's the best fit. The biggest difference is that the culture here, now after six years in place, kind of recruits itself. You get the right kid in town, and they feel and see it. Sometimes it takes a couple visits, but that's what he does different. Look at the Super Bowl. There's only like two- or three- or four-stars on the [participating teams]. But the culture, the character, we spend more of my effort on.
Is he a Clemson guy? A good fit? What's he say on social media? It's illegal for me to evaluate talent, so I don't care who the coaches put on the board. Who they put on it, my job is to help recruit him better, get better graphics, get the videos done, be in-touch with them more often when they're on campus, give them more attention. That's what I do. Dabo, he's more concerned: 'OK, when they're here, what are they like? What are their grades? Are they good people? What's their family like? Are they going to be a fit here, first and foremost? And then, are they a good player?' And that's the No. 1 difference in Dabo Swinney and anyone I've been around, because everybody else wants the best player. You don't know who the best player is for two, three years down the road. It's a guess. That's probably the best way I can describe it.
Alabama's been the gold standard in recruiting. How much of what you took from there is applied to the vision you guys have at Clemson?
TT:
Our two programs are completely different; great in their own ways. I'm not saying we're any better, they're any better. It's just different. I saw the structure, I saw how Coach [Nick] Saban did it with the recruiting room, boards, the travel, just being around it. So I probably took 40 percent of what they had. The structure's in place. But we knew we had to get more mail, we knew we had to get in touch with them more, we knew we had to have a better experience in their ear. We touch them better. We do have a more organized board. We're in touch with the mailouts and the graphics, and now we have a video department. Alabama created their whole brand, the 'Built by Bama' brand and all of that, so I brought a lot of the branding concepts here that are totally different than the concepts at Alabama. I think it's like 40-60 -- 60 percent Clemson.
The uniqueness is the culture here. Most schools don't recruit to a culture. They recruit to a system. I brought every freshman in last year. I said: Why did you come to Clemson? I was trying to get ideas to recruit better. Deshaun Watson and Artavis Scott were the first two I brought in, and they said, 'First, Thad, it just felt real here.' And I know that sounds like recruiting talk to you, but it just feels different here. And then second, I go to the board, I say 'OK, I'm about to start mailing all these 2016 kids when it's legal, on Sept. 1.' I said: How much of an impact did that have on you? They said, 'That was nice for about a month, but by then we got so much. What stuck with me the most was the mail I got in ninth grade. That's when I first started getting the mail.' Well, we wouldn't mail that much. So now what do we do? We mail 12 times a year to ninth- and 10th-graders. Now, all you can do is legally mail them camp brochures and questionnaires or NCAA compliance material. So we just divide that up 12 times. That's what Alabama was doing good -- staying in touch with them as much as they could legally. So that's what I'm making sure we do.
How have you seen the operation grow in terms of personnel?
TT:
I'm breaking it up two different ways: Event management/mail operations, and then recruiting war room -- managing the board, our data management, making sure who's on the board, the right people are ordered the right way for the coaches. So I hired an event management girl named Jessica [Carroll], as soon as she graduated. [Carroll and I] did all the student help until this summer, we got to hire the 10 extra students. And then this December, we were allowed to hire a second full-time person, named Jordan [Sorrells]. He helps me in the recruiting room.
Another thing I learned from Deshaun Watson and Artavis, they didn't open the mail. They said some people got creative. If it was handwritten mail they'd open it, but everything they do is on social media. So what do we do? Jordan spends three or four hours a day scanning everything we mail out and direct-messaging it to them through their social media. So all of our [2016] guys, we'll send out 150 direct messages. That's the only way they look at it. If we're going to spend the effort to make it, let's make sure we spend the effort to get it to them. And why Dabo calls it 'Clemson Google' is because of that culture factor I was telling you about: Everybody he recruits, he wants to follow their social media, do Google checks on them constantly to make sure there's no issues with them. So we literally Google all those names constantly, we get on their social media, and that's how we give him a report that says, 'Hey, here's everybody the coaches have on the board, here's how they rank character and academically.'
What's the next step for Clemson? How high do you think you guys can go?
TT:
I hate to say it because you just think it's coach-talk or recruiting-talk, but the only limitations we put on Clemson are the ones we put on ourselves. We're as good as anybody out there, and we're starting to believe we're as good as anybody out there, and when we get that belief -- because we're already there -- we put that belief with it. I think we're as good as anybody, including Alabama. They're the gold standard. I truly, truly believe Coach Swinney will be the man in college football, starting the next couple of years, for years to come. I think as we brand him along with Clemson, then we can go hand-pick some others maybe a little further out of our geographic region that we normally recruit hard in. And that will only continue to build during his time here at Clemson.
February, 5, 2015
Feb 5
1:00
PM ET
Jeff Scott woke up early Wednesday morning and got in his car to drive in to work, a big day ahead. It started to hit him this would be his last signing day as Clemson recruiting coordinator.
Since 2009, he has helped Dabo Swinney put together one top-notch class after another, all of them Top 20 classes; five straight in the Top 15. The 2015 group, however, is their finest effort.
ESPN RecruitingNation placed Clemson at No. 4 -- its highest ranking since 2008. It also is the highest ranking under Swinney. There is little doubt the Tigers have been building for this moment. When Swinney became full-time head coach, he laid out his vision for recruiting and the program, built on a strong foundation with strong relationships.
The elite athletes and victories have followed. Clemson just finished its fourth straight season with 10 or more wins, and has become a Top 25 mainstay, bolstering the cause.
"What that does is it sends a message to these recruits and to their families that Clemson is here, and Clemson is going to be a contender, and Clemson is not going anywhere," Scott told ESPN.com. "That top-tier athlete, we have signed our share of those the last five or six years, but there's a higher concentration of those overall in this class, and it's just because they've seen the product Clemson's put out, not only in the Top-15 finishes, but also three top-10 years in APR graduation rate. All that really resonates and has come together to put together one of the best classes we've ever signed here at Clemson."
Clemson signed nine of the top 150 players in the ESPN rankings, its highest number since 2008. It all started with its highest rated player, offensive tackle
Mitch Hyatt
, ranked No. 18 in the ESPN 300. Hyatt committed on signing day in 2014, setting the tone for the rest of the class.
"He became the cowbell for this 2015 class," Scott said. "Being a very highly rated, highly thought of player, we were able to build a lot of this class around him and his early commitment. He, along with
Jake Fruhmorgen
,
Zach Giella
and then right here in our home state
Noah Green
-- we feel those are four of the best offensive linemen in the country, and all four are here in January."
Clemson has a school-record 15 players enrolled early. Because the program just graduated so many seniors, they had the ability to take freshmen who wanted to get a jump on their collegiate careers. Clemson had 16 spots available for January, filling all but one.
So many openings also made Clemson appealing this recruiting cycle. Recruits know they will have the opportunity to play right away -- even on the offensive and defensive lines, the areas that Clemson targeted heavily this cycle.
They also happen to be the most difficult to fill with true freshmen. But being in school early means they will be able to participate not only in spring practice, but also get a jump on strength and conditioning so they can compete for playing time come August. Of the 15 mid-year signees, six are offensive or defensive linemen.
The work is not over, of course. Just like last year, Clemson picked up commitments on signing day Wednesday, including running back
Tavien Feaster
(No. 13 ESPN Junior 300). But new recruiting coordinator Brandon Streeter is spearheading the 2016 class and beyond, as Scott transitions to co-offensive coordinator with Tony Elliott.
It is a move Scott is happy to make, though he did have mixed emotions Wednesday.
"It is bittersweet, but there's no better way to go out than with this class this year," Scott said.
December, 29, 2014
12/29/14
9:00
AM ET
In most years, Clemson's class would be head-and-shoulders above everybody else in the ACC. But this year, Florida State has been cleaning up on the recruiting trail and has a real shot at finishing No. 1. That shouldn't take away from what Clemson has done with this group. The Tigers are currently in the
top five
, and if they can add a few more pieces before signing day, there's a shot this class is the best ever signed by Dabo Swinney.
August, 19, 2014
8/19/14
9:30
AM ET
Boston College coach Steve Addazio remembers an era when players wanted to redshirt as true freshmen to better prepare them for the final four years of their college career.
"Now it's 'I want to play,' " Addazio, 55, said. "If you're talking about not playing them early, the majority are like 'What do you mean?'"
So, the ability to play or possibly even start as a true freshman has become a regular sales pitch for coaches from the Power Five to the Group of Five. It's certainly a tool in the belt for Florida State coach Jimbo Fisher. Last week, Fisher alluded to the number of freshmen All-Americans he's coached the last four seasons. Twenty-four hours later, it was on the program's official recruiting Twitter page.
"The last [four] years we've had 14 freshmen All-Americans," said Fisher, condensing multiple outlets' freshmen award teams into one, concise Florida State propaganda poster. "If you come in ready to play, we're willing to put you on the field. It's critical for guys to come in saying 'When I'm the best, I'll play.'"
Fisher has the goods to back up his claims, even if the numbers are obviously skewed to best represent his program. But how does his résumé compare to those coaching some of the country's other top programs?
I tried to come up with a way to accurately discern which schools play the most freshmen and decided true freshmen letterwinners was the simplest and most effective way to crunch the numbers. To earn a letter, a player has to actually play consistently through the season. The disclaimer is each program can use different benchmarks when awarding letters, but there is never going to be a perfect way.
I began with Florida State's, looking back at the 2011-2013 classes. To properly quantify the data from Florida State, I decided I'd look at the five schools ranked highest in the preseason polls that have had its coach in place at least five seasons. Oregon's Mark Helfrich was offered an exemption because he was promoted from within and is in his sixth season with the Ducks. Coaches in place at least five years was the stipulation since an incoming coach might be susceptible to playing the prospects he recruited or having a number of transfers that could open up starting or rotational spots.
The criteria: Each class was looked at and the total number of signees was pared down to just those who enrolled as members of the football team in the fall. Junior college signees were excluded, as were any recruits who were academically or medically disqualified before playing a game. That explains why the total number of freshmen for our purposes might look different than what might be seen on RecruitingNation. Any true freshmen who spent a year at a post-graduate or prep school was also excluded. Redshirt freshmen were disqualified, too.
Bottom line is if the player was not a part of the football team the fall following his high school graduation, he was excluded.
Nearly all of the data was collected after poring through media guides and archives, although the communications departments at some of the schools were also helpful providing numbers and deserve recognition.
So, here is the actual data:
It is hardly a coincidence that Fisher and Alabama's Nick Saban, who mentored Fisher at LSU, have identical percentages of true freshmen earning a letter. Fisher and Saban arguably have been the two best recruiters over the last few cycles, and, the data shows those two are not going to keep young talent off the field simply because of age. Nearly half of the true freshmen at Alabama and Florida State lettered over the last three seasons.
Mark Dantonio has built Michigan State into a national title contender in a different manor, relying on experience. Only 12 percent of true freshmen lettered over the last three seasons. Recruiting to Michigan State is not the easy task it is at some other top-10 programs, and the Spartans are not recruiting as many ESPN 300-level players as the likes of Alabama and Florida State.
It should be noted Michigan State, Oklahoma and Oregon don't have quite the recruiting base Alabama and Florida State do.
Inquiring minds want to see how that 45 percent stacks up to some of the other top programs in the country, so even though they did not fit the criteria I looked at a few other schools with coaches in place at least five seasons and lately in the top half of the rankings. LSU was worth a look considering it's Les Miles' 10th season in Baton Rouge and, like Fisher and Saban, has recruited exceptionally well for a long period of time. Mark Richt is in his 14th season at Georgia and, like Miles, usually has a highly-regarded recruiting class. Steve Spurrier is in his 10th season at South Carolina and has steadily improved the Gamecocks' class to the point that the 2015 class is No. 5 nationally. Dabo Swinney has turned Clemson from a perennial disappointment into a two-time BCS bowl participant. And Ohio State and Texas A&M, mainly because it's worth seeing how third-year Buckeyes coach Urban Meyer fares considering he frequently voices his preference to avoid redshirting. Kevin Sumlin is also in the process of trying to build an SEC power that can compete with Alabama and LSU in the SEC West.
For the Buckeyes, out of the 69 true freshmen to land in Columbus, Ohio, from 2011-2013, 31 lettered -- the same 45 percent. Looking at just Meyer's two seasons, however, he is decimals ahead of Fisher and Saban at 46 percent (21 out of 46), thanks in large part to 14 freshmen letterwinners in his first season.
Georgia's Mark Richt has a percentage of nearly 50 percent, but the Bulldogs' numbers might be the most skewed. Along with South Carolina, the Bulldogs had several recruits that either did not qualify or spent time at a prep school or junior college. Also, Georgia's long list of dismissals and transfers is well documented, and all of the departures has opened up spots for freshmen to earn immediate playing time.
It is Miles, though, who plays a higher percentage of freshmen than all of the others. Twelve true freshmen lettered for LSU in both 2012 and 2013, and another nine earned a letter in 2011. There were a total of 65 applicable freshmen to enter LSU during that span and 33 of them lettered. That's a percentage of 51 percent.
Certainly the numbers will fluctuate year to year, and coaches at every single program are playing freshmen more frequently than ever before. When taking into account the timeline is over three years, LSU averages just one more freshman letterwinner per season than Alabama and Florida State. For our intents and purposes, though, the data shows which top programs consistently play the most freshmen in this new era of freshmen phenoms.
And, uh, FYI, Alabama has 19 ESPN 300 players prepping for their freshmen season this fall. LSU has 16, and Florida State isn't far off with 13 of their own.
January, 14, 2014
1/14/14
5:30
AM ET
The Early Offer is RecruitingNation's regular feature, giving you a daily dose of recruiting in the mornings. Today's offerings: Kentucky coach Mark Stoops admitted his first season didn't go like he had planned, but those struggles haven't hurt the Wildcats on the recruiting trail; Vanderbilt is in a tough recruiting situation if it moves too fast or too slow with its coaching search; and Clemson coach Dabo Swinney thought of a different way recruiting classes should be evaluated.
To continue reading this article you must be an Insider
August, 14, 2013
8/14/13
2:00
PM ET
Florida State, the ACC's reigning champion, now owns the
No. 2-ranked recruiting class in the country
for the 2014 cycle, as Alabama has passed up the Seminoles. Miami, too, is in the top five giving the ACC some strong classes to go with the usual dominance of the SEC. There is a noticeable drop off beyond that, though. Clemson is next at No. 11, Virginia at No. 17 and North Carolina at No. 22.

Trending up:
Mike London's Cavaliers have put together a tremendous class already. Their top two commitments,
Andrew Brown
(Chesapeake, Va./Oscar Frommel Smith) and
Quin Blanding
(Virginia Beach, Va./Bayside), are both five-star caliber and in-state talents. Keeping highly rated guys home is important for any program, and London and Co. were able to do that. But last week, they reached across the country and snagged ESPN 300 ATH
Jeff Farrar
(Upland, Calif./Upland) out of California. That gives Virginia four ESPN 300 commitments, but at only 11 commitments, they'll need to fill out the rest of their class in the coming months. It's also worth noting that North Carolina picked up a verbal from three-star wide receiver
Josh Cabrera
(Jacksonville, N.C./Northside).
To continue reading this article you must be an Insider
February, 25, 2013
2/25/13
9:47
PM ET
ESPN Watch List wide receiver
Jake McCrary
(Miami/Coral Reef) has reached a decision.
[+] Enlarge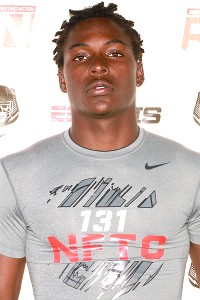 Tom Hauck for ESPN.comESPN Watch List WR Jake McCrary committed to Clemson on Monday.
The former Florida State pledge, who decommitted from the Seminoles in early fall of 2012, is going to stay in the ACC after all.
On Monday night, he took himself back off the market, this time joining Clemson's 2014 class.
"Clemson just felt like home," McCrary said. "I love the coaches. They are great people, and I feel like I can come in and make a huge impact."
McCrary's fondness for Clemson grew stronger after he broke off his pledge with Florida State. He was certainly not bashful in saying the Tigers were his leader.
And now he's made his decision official and will head to the orange Death Valley and coach Dabo Swinney.
McCrary joins three other ESPN Watch List members in Clemson's 2014 class, including
Deshaun Watson
(Gainesville, Ga./Gainesville),
Cannon Smith
(Columbia, S.C./Hammond) and
Dalvin Cook
(Miami/Central).
He is the sixth junior to commit to Clemson.