NCF On The Trail:

class rankings
November, 21, 2012
11/21/12
12:09
PM ET
SEATTLE -- As the scrum started to spread after fans stormed the field following Washington's 17-13 win over Stanford, as fans finally began working their way toward the CenturyLink Field exits, and as the players started to make their way to the locker room, Tosh Lupoi found the three teammates from Bellevue (Wash.).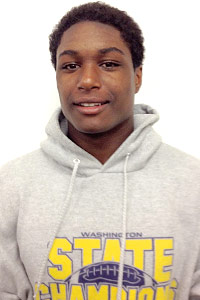 Mason Kelly/ESPN.comWashington hopes its success this year, including two wins over top-10 teams, will be enough to flip UCLA commit Myles Jack.
On the sideline, not far from the section where recruits sit during games, Lupoi bounced up and down, circling Huskies commit
Sean Constantine
, UCLA commit
Myles Jack
and 2014 prospect
Bishard "Budda" Baker
.
As he spun around the teammates, Lupoi said, "What are you waiting for?" It was directed at Jack, who continues to be a top target for the Huskies, despite his commitment to UCLA. The addition of Jack would improve an already-strong recruiting class that is ranked No. 19 in the country.
Just like that, with one win, Washington had something to sell. The coaching staff instantly had an improved pitch that pointed toward future success, a program heading in the right direction after a win over a top-10 team.
That victory made an impact on Jack. It provided further proof for Constantine that he made the right decision to commit to Washington. It was a win that resonated with the other recruits on both official and unofficial visits.
"That was crazy," Jack said the day after the game. "Just running in the middle of the field and being a part of that, getting to witness an upset like that, that was big. That was cool."
A few weeks later, with the Huskies mushing through a three-game losing streak, Jack and Constantine were back in the stands to watch Washington beat Oregon State, 20-17.
For the second time in three home games, fans stormed the field after a win over a team in the top 10. This time, though, Jack and Constantine stood in stands and watched the mayhem from a distance.
"I wanted to, I don't know, digest what was going on," Jack said.
November, 21, 2012
11/21/12
12:08
PM ET
An underwhelming season has hardly affected USC's recruiting efforts, as the Trojans have maintained their standing atop the new ESPN class rankings. Preseason aspirations of a BCS championship have since been deflated, but USC commits have, for the most part, stood firm.
[+] Enlarge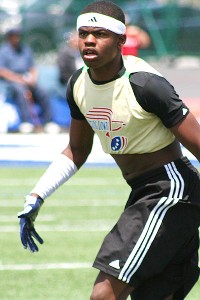 Erik McKinney/ESPN.comA disappointing season for the Trojans hasn't scared off ESPN 150 recruits likes Chris Hawkins.
Aside from the unsurprising decommitment of four-star athlete
Max Redfield
(Mission Viejo, Calif./Mission Viejo) earlier this month, the Trojans' bumpy campaign has arguably helped solidify the stance of some in the nation's No. 1 recruiting class.
"I just want to see the Trojans win," four-star cornerback commit
Chris Hawkins
(Rancho Cucamonga, Calif./Rancho Cucamonga) said. "We've been fighting hard battles. I just want to see them get back on their feet and win. It was very tough to see them lose. The defense, in particular the defensive backs, haven't played very well. It just makes me want to get there even more. Hopefully, I can get there and help my team win games."
Redfield, who USC has recruited as a free safety, decommitted a day after the disappointing 62-51 defeat to Oregon at the Coliseum. He attended the game, but the decision to reopen his recruitment had nothing to do with the Trojans' record.
Redfield simply wanted to give Notre Dame, Oregon, LSU and Washington clean, unbiased looks. The success of the Fighting Irish under third-year coach Brian Kelly hasn't hurt, but it's not entirely why Redfield has decided to weigh his options.
Apart from that, there has been minimal activity since late July when USC bagged its final commitment. Yet, that steadiness could change as the Trojans limp through the end of the regular season following a loss to rival UCLA.
To continue reading this article you must be an Insider
November, 21, 2012
11/21/12
12:07
PM ET
There's one thing that's clear about Texas A&M's quick success in its first Southeastern Conference season. It has gotten the attention of recruits.
The Aggies already had 28 commitments before the season started but have added three 2013 commitments plus a 2014 commitment.
[+] Enlarge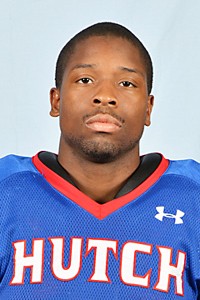 Courtesy of Hutchinson C.C.Juco linebacker Kenny Flowers is Texas A&M's only commitment since the season began.
Mesquite (Texas) West Mesquite safety
Kameron Miles
, a 2013 prospect who on Wednesday decommitted from Tennessee and switched his commitment from Texas A&M that night, was the first pledge the Aggies have landed since their landmark victory over then-No. 1 Alabama. Four days later, they added City College of San Francisco offensive tackle
Jeremiah Stuckey
.
Even before that win, he was already having positive feelings about the Aggies, who offered him a little more than a week ago, because of their success. But the Alabama win certainly sent a message about how competitive the Aggies are in their first year in the league and will be in the future.
"I've been watching them since their close game against LSU and now beating Alabama," Miles said after committing to the Aggies. "For a school to be that successful in their first year in the SEC, that's an accomplishment. That really impressed me."
The Aggies have picked up two other commitments since the season began -- Stuckey and Hutchinson (Kan.) Community College linebacker
Kenny Flowers
who committed on Nov. 2. And they've remained in the hunt for several of their top remaining targets, including ESPN 150 members
Ricky Seals-Jones
,
Justin Manning
,
Mike Mitchell
and
Isaac Savaiinaea
. While the Aggies have made their impressions on each of those young men when they visited College Station, Texas, there's no doubt the on-field success has only helped their recruiting efforts.
"They're probably going to win Texas now," said Seals-Jones' father, Chester Jones, of the Aggies' momentum. "In the recruiting wars in the next four-to-five years, they'll probably be the top recruiting college in the state of Texas."
To continue reading this article you must be an Insider
November, 21, 2012
11/21/12
12:06
PM ET
Texas' fall from grace as a recruiting superpower should've been swift and painful.
In 2010 and 2011, the Longhorns went a combined 13-12. There's no escaping that number. For opposing coaches looking to do some negative recruiting against UT, it doesn't -- or at least it shouldn't -- get much easier than that.
[+] Enlarge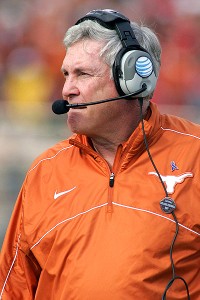 Michael C. Johnson/US PresswireThe Longhorns have not felt a drop off in recruiting since struggling on the field in 2010 and 2011.
They could say Mack Brown was losing touch or that he could retire at any moment. They might argue that no matter how many new assistants he brings in or how many changes he makes, the program is trending in the wrong direction.
Yet, despite everything that has been wrong with Texas -- real and perceived -- the Longhorns signed the nation's No. 3 class in February, and the No. 5 class the previous year.
Texas hasn't stopped selling the tradition and family atmosphere it offered before this two-year dip, but one thing has changed: Early playing time is now easily attainable.
Since that brutal 5-7 season in 2010, Texas has played a total of 34 true freshmen. That's 70 percent of its signees in the past two years earning immediate playing time.
Those who have inked letters of intent with the Longhorns in the past two years have said they did so to bring the program back to prominence, to return it to national title contender status.
In order to get back to that plateau, Brown had to adjust his philosophy.
His staff's tradition of locking up the majority of its class by summer's end was trashed in 2011 for a full-out assault that saw 10 signees give their pledges in December or later. That included eight who were previously committed elsewhere, highlighted by a rare signing-day steal of LSU commit
Shiro Davis
.
Texas has pursued junior college transfers more than ever before. The Longhorns have accepted commitments from 2014 prospects earlier in the recruiting cycle than at any time in Brown's history at UT. After years of sticking to the same approach, UT coaches have embraced change.
And so far, it's working. The Longhorns seem to be inching closer to their previous prestige. But plenty of schools are lining up to threaten their recruiting dominance in the state of Texas.
To continue reading this article you must be an Insider
November, 21, 2012
11/21/12
12:03
PM ET
Linebacker
Zach Bradshaw
woke up every morning for two weeks and weighed Penn State's sanctions.
The 2013 recruit out of Damascus, Md., spoke with his father, reflected on his commitment and wondered just how competitive his Nittany Lions would remain -- before finishing breakfast on a Tuesday morning and calling Bill O'Brien to decommit. On Aug. 7, Bradshaw hopped into a car with his mother, drove to Charlottesville, Va., and pledged to the Cavaliers.
[+] Enlarge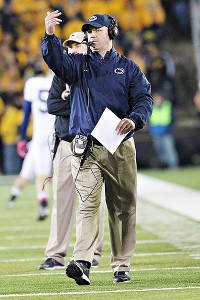 Reese Strickland/US PresswirePenn State coach Bill O'Brien has steadied a severly rocking ship through the 2012 season, and that has made a rather significant impact on recruiting.
"The deciding factor was the magnitude of the sanctions," Bradshaw's father, Mike, said at the time.
Bradshaw certainly wasn't alone. Some sportswriters opined about how 80 fewer scholarships and four years without a postseason were worse than the death penalty. Five pledges defected after the sanctions, and Penn State seemed destined to become one of the Big Ten's punching bags, a team forced to settle for MAC-quality prospects. Who would want to play on a losing team mired in controversy?
But O'Brien stood firm, telling recruits that each contest inside Beaver Stadium -- which seats more than 100,000 -- was its own bowl game. He stressed academics and an experienced staff. He invited NFL scouts to Wednesday practices.
But, perhaps more valuable than anything, he won. And, more than any other team in the country, a winning record so far has helped ease high-schoolers' concerns. PSU's 7-4 record and cries for O'Brien as coach of the year have continued to attract quality prospects.
More than 100 recruits lined up to see the Penn State-Ohio State game, and one three-star prospect decommitted from Maryland shortly after attending. Those scenes would be difficult to envision were PSU to carry a losing record.
"The sanctions don't matter to me," former Terrapins commit
Richy Anderson
(Frederick, Md./Gov. Thomas Johnson) said. "Being in that environment, it just proves it. No you can't play in a bowl game. And no, they lost a lot of scholarships -- but the tradition and everything is still there."
Winning this season has breathed new life into PSU's recruiting. The nation's top high school quarterback,
Christian Hackenberg
, and tight end,
Adam Breneman
, have remained steady in their commitments. Two Maryland commits, Anderson and
Tanner Hartman
, switched loyalty to the Blue and White.
To continue reading this article you must be an Insider
November, 21, 2012
11/21/12
12:02
PM ET
Coming off three straight recruiting classes that have loaded Oregon roster with talent and an undefeated season so far, the Ducks are in prime position to close the 2013 recruiting cycle with a bang.
[+] Enlarge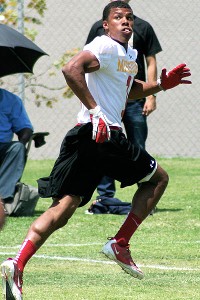 Erik McKinney/ESPN.comAnother great season for Oregon has the Ducks primed to take advantage come signing day, when they hope to ink former USC commit Max Redfield.
Since Chip Kelly's arrival in 2007, Oregon recruiting has taken things to a whole new level. Three consecutive league titles -- and the subsequent BCS appearances -- have helped place the Ducks in the midst of recruiting battles with some of the top programs nationwide. They way they have dismantled every opponent this season has them squarely in the sights of several top prospects from across the country.
While Kelly has built his program by turning unheralded and under-the-radar prospects like
Marcus Mariota
and
Kenjon Barner
into stars, he has shown an ability to battle the big boys for top recruits. In each of the past two years, the Ducks have used late pushes to sign California's top prospects --
De'Anthony Thomas
and
Arik Armstead
-- away from USC.
Despite an upset loss to Stanford, the Ducks have had another outstanding year, putting Oregon in position to close strong yet again. The Ducks currently have the nation's No. 23 recruiting class but are still in the mix for several ESPN 150 recruits, including Georgia's
Montravius Adams
, California's
Max Redfield
and Florida's
Leon McQuay III
. Redfield decommitted from USC in early November and is now considering Washington and LSU in addition to the Ducks.
Kelly's crew hung historic numbers on USC (62 points, 730 yards) in front more than a dozen elite 2013 and 2014 recruits. The long-term results remain to be seen, but the immediate reaction of recruits seem to signal that Oregon's Pac-12 dominance is starting to gain traction with recruits in Southern California. Not only did Redfield decommit from the Trojans the day after USC's loss, but several Los Angeles-area prospects from the Class of 2014 came away in awe of what the Ducks accomplished.
To continue reading this article you must be an Insider
November, 21, 2012
11/21/12
12:01
PM ET
It's going too far to call Oklahoma's 2012 season a disappointment at this point. The Sooners are 8-2, 6-1 in Big 12 conference play. Goals of winning the conference championship and playing in a BCS bowl game remain within reach.
OU has only lost home games to No. 2 Kansas State and No. 4 Notre Dame, two of the best teams in the country. So why does it feel like a lackluster fall in Norman, Okla., on the recruiting trail?
[+] Enlarge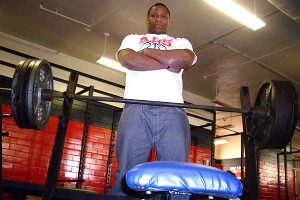 Damon Sayles/ESPN.comESPN 150 defensive tackle Justin Manning remains atop the Sooners' target board.
The Sooners simply haven't made that huge impression to nab big-time recruits. OU has hosted them, a slew of top-ranked recruits in the ESPN 150 and ESPN 300. But the Sooners haven't earned a commitment from any of them since the season began.
The struggles don't end there. Until recently, OU hadn't snagged a commitment of any kind since July 31. That changed when three-star athlete
Dominique Alexander
(Tulsa, Okla./Booker T. Washington) flipped his commitment from Arkansas to OU.
More troubling has been the trend of prospects committing to other schools following a visit to OU. ESPN 300 and four-star athlete
Chevoski Collins
(Livingston, Texas/Livingston) made an official visit to OU for the Kansas State game. Less than a month later, he committed to Texas.
Four-star cornerback
Cole Luke
(Chandler, Ariz./Hamilton) made an official visit to OU for the Notre Dame game. Less than a week later, he committed to the Irish.
And despite all the Arizona ties with three-star offensive tackle
Kenny Lacy
(Phoenix/Mountain Pointe), the UCLA commit has opted to not visit OU. Lacy was among OU's top targets at the position. He was very familiar with OU coaches Mike Stoops and Tim Kish from their time coaching at Arizona.
But a planned official visit to OU for Bedlam against Oklahoma State has now been switched to a visit to Kansas State at a date to be determined.
The list of recruits OU has hosted is an impressive one. ESPN 150 prospects like safety
Marcell Harris
(Orlando, Fla./Dr. Phillips), defensive tackle
Justin Manning
(Dallas/Kimball) and defensive tackle
Greg Gilmore
(Hope Mills, N.C./South View) have all toured the OU campus. However, OU still is searching for its first four-star commit of the football season.
To continue reading this article you must be an Insider
November, 21, 2012
11/21/12
11:59
AM ET
On the field success is normally what draws top prospects' eyes to college programs, but Michigan coach Brady Hoke has proved with just his third recruiting class at Michigan that it's not always necessary.
Under Hoke, the Wolverines have returned to relevance on the national scene, but through the first year and a half of his time with Michigan, he didn't have the same resume as other top programs. Still, he has recruited as well as any of them.
To continue reading this article you must be an Insider
November, 21, 2012
11/21/12
11:57
AM ET
Here's a telling statistic for anyone questioning LSU's recent recruiting success: in the past 11 seasons dating back to 2001, the Tigers have finished first or second in the SEC West nine times.
[+] Enlarge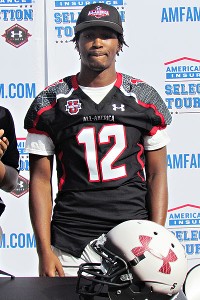 David Helman/ESPN.comDefensive end Tim Williams (Baton Rouge, La./University Laboratory) is a top in-state target for LSU.
During that span, LSU has played for five conference championships, won four of them, traveled to five BCS bowl games, played for three national championships and won two.
Simply put, no other program in the SEC has sustained that level of success over such a long period -- not Alabama, which was up and down for years before the hiring of Nick Saban, and not Florida, which endured mediocrity at both ends of the past decade.
If the chance to compete for championships isn't enticing enough, there's always the 38 former Tigers currently listed on NFL rosters -- one of the highest numbers in the league. LSU has also had at least one first round draft pick in eight of the past nine seasons dating back to 2004. Suffice to say, Baton Rouge is as good a path to professional football as there is.
With all that in mind, it's not a big surprise the Tigers boast yet another top 10 recruiting class as we head toward national signing day. LSU boasts commitments from 11 of the top 300 players in the nation, and several more major decisions could boost this class even higher than its current No. 9 spot.
Les Miles has obtained pledges from three members of the ESPN 150, and his Tigers are in play for another four members of that elite grouping. It's all about par for the course for LSU, which has finished as high as No. 1 and no worse than No. 14 in these class rankings since 2006.
To continue reading this article you must be an Insider
November, 21, 2012
11/21/12
11:56
AM ET
ATHENS, Ga. – Georgia's recruiting class for 2013 is ranked No. 10 in the new class rankings released Wednesday and with a few key commitments, the Bulldogs could climb the list even higher.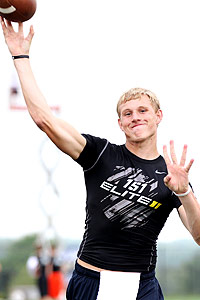 Tom Hauck/ESPNHSQuarterback Brice Ramsey committed to Georgia early and became a face of the class.
Georgia has had four classes ranked sixth or better in the last five years, the only exception being the 2010 class. That group of signees was small and only three members from that class are starters today. Granted,
Alec Ogletree
,
Jarvis Jones
and
Kenarious Gates
are three of the Bulldogs' top players, but the 2010 class and the 2010 season left much to be desired. Georgia finished that year 6-7, Mark Richt's only losing season at Georgia.
The following year Richt and his staff rededicated themselves to the recruiting trail and landed what he called the "Dream Team." The Class of 2011 was ranked No. 6 in the nation and had an instant impact as Georgia won the SEC East and played in the SEC title game. The two year turnaround from the losing season to being the division champions removed the hot seat talk that had hounded Richt and in 2011 he signed the No. 5 recruiting class in the country.
Much of the staff's success in 2011 was due to their work in landing the Dream Team. Many of the 2011 recruits were identified earlier and recruited more heavily than in years past. Many of the recruits in the Class of 2011 saw the Dream Team being put together and liked the idea for their class as well. Although they never adopted the "Dream Team II" moniker, the idea was the same.
Todd Gurley
,
Jordan Jenkins
,
John Theus
,
Marshall Morgan
and
Collin Barber
are all staring for Georgia as freshmen. The win against Auburn gave Georgia its second SEC East title in a row. Just as meaningful to some Georgia fans is the fact that the Dream Team is 2-0 against Florida – something that no recruiting class has been able to say in over 20 years.
To continue reading this article you must be an Insider
November, 21, 2012
11/21/12
11:52
AM ET
Florida State's 2013 recruiting has been loosely tied, if at all, to the results on the field this season.
To continue reading this article you must be an Insider
November, 21, 2012
11/21/12
11:50
AM ET
GAINESVILLE, Fla. -- During the last 10 years or so, the
Florida Gators
have consistently ranked among teams with the top recruiting classes in the country -- and won two national championships, two SEC championships and played for another SEC championship.
This begs the question: Is Florida's success in recruiting a product of on-the-field success?
To continue reading this article you must be an Insider
November, 21, 2012
11/21/12
11:50
AM ET
TUSCALOOSA, Ala. -- For Nick Saban, his success started on the recruiting trail, not the football field.
In his first season, the University of Alabama head football coach went 6-6 and guided the Crimson Tide to a berth in the Independence Bowl, the lowly Independence Bowl, where they hung on to defeat Colorado.
To continue reading this article you must be an Insider
November, 21, 2012
11/21/12
11:00
AM ET
COLUMBUS, Ohio -- One of Urban Meyer's keys to victory isn't that difficult to figure out. While he is having almost unprecedented success as a first-year coach at Ohio State -- there have only been two other coaches to start with 11 consecutive wins at the school -- it all begins in the recruiting world.
To continue reading this article you must be an Insider