NCF On The Trail:

Class of 2009 recruit review
January, 24, 2013
1/24/13
12:00
PM ET
In a where-are-they-now type of world, there were seven ESPN 150 players who signed with Ohio State from the 2009 recruiting class. Some were hits. Some, well, some fell off the map a bit.

Here's a look at a class that looked great on paper, but for the most part never panned out.


January, 24, 2013
1/24/13
11:17
AM ET
The 2012 season was one to remember for Texas A&M.
The Aggies' first season in the Southeastern Conference was better than almost anyone could expect. And while much of the focus centered around a redshirt freshman -- Heisman Trophy winning quarterback
Johnny Manziel
-- first-year A&M head coach Kevin Sumlin repeatedly praised his seniors for their leadership and buying in when they didn't have to.
[+] Enlarge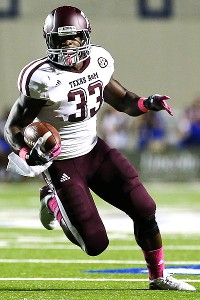 Kevin Jairaj/US PresswireRunning back Christine Michael was Texas A&M's top-ranked recruit in the Class of 2009.
As Sumlin often said this year, "They didn't sign up to play for us."
Sumlin was referring to the upperclassmen -- and, really, anybody who wasn't a true freshman or transfer who joined the squad this season -- who signed up to play for previous head coach Mike Sherman.
Many of the Sherman recruits (Manziel included) played critical roles in the Aggies' ability to go 11-2, finish tied for second in the SEC West and conclude the season ranked in the top five. When looking back four years ago at the 2009 recruiting class, roughly a dozen of them wound up being key players in the memorable 2012 season.
There were several diamonds in the rough. Among them were
Ryan Swope
, who was ranked the No. 116 athlete in the country in 2009. The running back from Austin (Texas) Westlake became a receiver at Texas A&M and eventually set the school's career receiving yardage record, among other marks, such as single-season catches, single-season receiving yards and career 100-yard games.
Another lightly heralded player was defensive tackle
Spencer Nealy
. Ranked 105th nationally at his position, the San Antonio Reagan product always brought high energy and effort and this season became a catalyst in the Aggies' transition to a 4-3 from a 3-4 the last two years. Nealy, a defensive end the previous two seasons, moved inside to defensive tackle and took on double teams week after week. The job he did inside helped facilitate the terrific season outside by defensive end
Damontre Moore
.
The other starting defensive tackle in 2012, who had a solid season of his own --
Kirby Ennis
-- was also a member of the 2009 class.
One of the most important offensive players in 2012 not named Manziel was center
Patrick Lewis
, another class of 2009 recruit. As one of the "Louisianimals" as Lewis referred to himself and his fellow Louisiana natives, Lewis was the man who made the offense go, literally. The Aggies installed a high-tempo attack upon Sumlin's arrival, and dictating tempo was one of Lewis' primary jobs. He had to get to the ball before the ref spotted it and make protection calls as well. As one of the team captains, Lewis was a true leader.
The two senior linebackers who started for the Aggies, who also served as leaders for this year's team, were also part of the class of 2009:
Sean Porter
and
Jonathan Stewart
. Both started all 13 games this year. Stewart was second on the team in tackles with 81, while Porter was fifth (66) and second on the team in tackles for loss (6.5).
To continue reading this article you must be an Insider
January, 24, 2013
1/24/13
11:16
AM ET
BATON ROUGE, La. --
Lamin Barrow
,
Josh Williford
,
Tahj Jones
and
Craig Loston
will be looked at as old, old men next year when they enter their fifth-year senior seasons at LSU.
In a program that has made an art of the three-year recruiting cycle, they are only players left from LSU's 2009 signing class that was ranked No. 1 in the country by RecruitingNation.
[+] Enlarge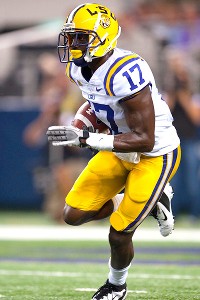 Rob Tringali/Getty ImagesMorris Claiborne was picked No. 6 overall in the 2012 NFL draft, one of several former LSU standouts from the 2009 recruiting class that was ranked No. 1.
That they are gone doesn't reflect poorly on a class that already has three players in the NFL and at least five who are likely to be high picks in the upcoming NFL draft. For those who stayed four years, they enjoyed three consecutive seasons of 10 victories or more, an SEC championship and a trip to the BCS championship game.
To continue reading this article you must be an Insider
January, 24, 2013
1/24/13
11:15
AM ET
Only after a few years can a recruiting class truly be measured. And while there were plenty of success stories in Oregon's Class of 2009, several players who signed with Oregon and never made an impact.
To continue reading this article you must be an Insider
January, 24, 2013
1/24/13
11:00
AM ET
When Steve Sarkisian was brought in as Washington's head coach, he had less than two months to put together the Huskies' 2009 recruiting class.
Hired on Dec. 8, Sarkisian went to work piling up prospects. Considering the limited time he had to assemble the group, he did well.
To continue reading this article you must be an Insider
January, 24, 2013
1/24/13
9:00
AM ET
Oklahoma's 2009 recruiting class had some hidden gems, including cornerback
Demontre Hurst
and center
Gabe Ikard
, but it had some disappointments as well, such as safety Kevin Brent and linebacker Gus Jones.
Ultimately the class should be considered sub-par. About half of the 24 signees became contributors, with Hurst, Ikard, defensive end Ronnell Lewis and tackle
Lane Johnson
highlighting the list as the only all-conference performers. OU's class featured six ESPN 150 members but only Lewis learned All-Big 12 honors.
To continue reading this article you must be an Insider
January, 24, 2013
1/24/13
8:35
AM ET
The 2009 class was the first full recruiting class for Rich Rodriguez while at Michigan. At the time, the class was considered a positive for Rodriguez and his staff. Looking back, however, it's a mixed bag of success and fall out.
The top prospect in the class was defensive end
Craig Roh
, who started all four years at Michigan, has been a significant part of the Wolverines' defensive line and became a defensive leader last season.
To continue reading this article you must be an Insider
January, 24, 2013
1/24/13
8:00
AM ET
Florida State's Class of 2009 lacked the star power of the last three years and eventually became a mixed bag of success and disappointment.
At the top of the class were top players at their position -- defensive tackle Jacobbi McDaniel and Greg Reid. And while McDaniel's career hasn't finished yet, there is a feeling of dissatisfaction for both.
Reid's career was full of highs and lows, much like the way he played. He produced huge, highlight-reel plays that impacted wins, but was also on the wrong end of some big missed assignments.
He was a major factor on the football field and his return abilities were missed. Then his career was cut short when he was removed from the team due to off-field issues which left Seminoles fans wondering what could have been with another year.
To continue reading this article you must be an Insider
January, 24, 2013
1/24/13
8:00
AM ET
AUSTIN, Texas -- Before his senior season started,
Kenny Vaccaro
figuratively took a look around and literally figured out what was left of the vaunted 2009 recruiting class.
To continue reading this article you must be an Insider
January, 24, 2013
1/24/13
8:00
AM ET
Experts, fans and pundits will analyze every angle of the 2013 recruiting class in the coming weeks, but there will be no certainties there. There never are in recruiting.
For every elite prospect who falls short, there's an Allen Robinson -- an under-the-radar, two-star prospect who exceeds all expectations. The only true way to gauge the success of a recruiting class is in hindsight, by simply waiting.
So, as part of a RecruitingNation-wide series, NittanyNation took a closer look at
PSU's Class of 2009
. Some fifth-year seniors will have one more chance to show what they have on the field next fall. But, at this point, it's pretty safe to judge whether the class was a bust or not.
To continue reading this article you must be an Insider
January, 24, 2013
1/24/13
8:00
AM ET
GAINESVILLE, Fla. -- There is very little middle ground when it comes to evaluating Florida's 2009 17-member signing class.
Eight became starters, seven turned into busts and two others are role players -- including one who has driven two separate coaching staffs crazy. Seven of those starters have done so for multiple seasons.
That's not a bad ratio. Most coaches would be ecstatic if 50 percent of every signing class developed into starters, even if it also meant half weren't going to make much impact, if any, on the program.
To continue reading this article you must be an Insider
January, 24, 2013
1/24/13
8:00
AM ET
With signing day fast approaching, it's worth taking a glance back at the Trojans' recruiting class of 2009 -- a group of players now almost four years removed from high school. The No. 4 ranked class that year, it's a collection that was ultimately filled with a number of hits, as well as misses.
To continue reading this article you must be an Insider
January, 24, 2013
1/24/13
7:00
AM ET
January, 24, 2013
1/24/13
6:00
AM ET
TUSCALOOSA, Ala. -- As it turned out, 2008 was just the beginning. Alabama's 2009 signing class was one step ahead for Nick Saban and the coaching staff as it finished No. 2 in the country, highlighted by the likes of
Dre Kirkpatrick
,
Trent Richardson
,
AJ McCarron
and
Eddie Lacy
.
[+] Enlarge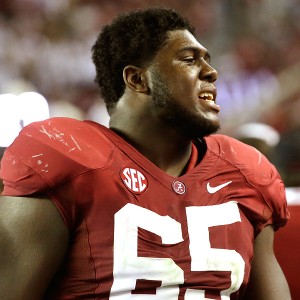 AP Photo/Dave MartinTrent Richardson and AJ McCarron get the headlines, but Chance Warmack became an All-American player from the 2009 class.
But those were just the headliners. Like many of the recruiting classes to come in the years since, the 2009 class was solid top to bottom.
Chance Warmack
,
Anthony Steen
and
James Carpenter
were all ranked in the second half of the class.
Kevin Norwood
,
Darrington Sentimore
and
Quinton Dial
also came out of the lower half of the class to become playmakers at the college level.
There's no doubt, though, who the star of the class was. Richardson, the No. 1 running back from Pensacola, Fla. in the country, was stolen right out from under the Florida Gators' nose. The 5-foot-11, 219-pound athlete was an instant impact player, rushing for more than 700 yards as a true freshman. Two seasons later he was in New York City as a finalist for the Heisman Trophy. A few months after that, he was selected in the first round of the NFL draft by the Cleveland Browns.
To continue reading this article you must be an Insider