NCF On The Trail:

Christian Harris
June, 5, 2013
6/05/13
10:00
AM ET
Each week, Tales From The Road will provide news and updates about Georgia prospects.


March, 8, 2013
3/08/13
10:30
AM ET
By
RecruitingNation
| ESPN.com


2014 offensive tackle Christian Harris of Collins Hill (Suwanee, Ga.) picked up his first FBS offer recently from North Carolina. But at the Nike Combine in Atlanta, he tells Radi Nabulsi that more are likely coming, including one from in-state Georgia.
March, 5, 2013
3/05/13
1:30
PM ET
By
Brian Stumpf
| Special to ESPN.com
ATLANTA -- More than 1,730 athletes gathered Saturday, March 2, at Lakewood Stadium for the Atlanta stop of the Nike Football SPARQ Combine tour, making it the largest Nike combine in history despite the freezing temperatures. Here is a look at the 25 standout performers who make up the Atlanta All-Combine team.
Note: Selections are based upon combine performance as well as past and projected on-field performance. Athletes must have completed two of the four combine tests to be eligible for selection. Athletes are in the Class of 2014 unless otherwise noted.
OFFENSE
QB: Penny Smith
, 6-foot-1, 170 pounds, Knoxville (Tenn.) Fulton
Results: 4.64 40-yard dash, 4.03 shuttle, 35-foot power ball throw, 33.2-inch vertical jump, 100.89 SPARQ Rating
Breakdown: Passed for 1,494 yards and 22 scores as a junior.
RB: Nick Chubb
, 5-11, 216, Cedartown (Ga.) High
Results: 4.10 shuttle, 34' PB, 37.1" VJ
Breakdown: More than 15 offers already have come in for this ESPN Watch List prospect, who ran for over 2,700 yards as a junior.
RB: C.J. Fuller
, 5-9 ½, 204, Easley (S.C.) High
Results: 4.69 40, 4.31 shuttle, 33' PB, 32.6" VJ, 91.02 SPARQ
Breakdown: Ran for 2,040 yards and 22 TDs as a junior. Clemson, North Carolina and NC State have offered.
[+] Enlarge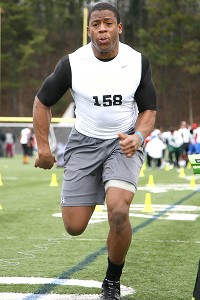 Scott Fink for Student SportsWatch List running back Nick Chubb ran a 4.10 shuttle at the Atlanta SPARQ Combine.
RB: Taj Griffin
(2015), Powder Springs (Ga.) McEachern
Results: 4.43 40, 4.15 shuttle, 28.5' PB, 40.0" VJ, 105.42 SPARQ
Breakdown: Rising junior reports early offers from UCLA and UNC.
RB: Daryl Rollins
, 5-8, 163, Fulton (Knoxville, Tenn.)
Results: 4.41 40, 4.00 shuttle, 32.5' PB, 35.3" VJ, 111.21 SPARQ
Breakdown: 2012 Class 4A All-Tennessee pick finished with the event's top 40-yard dash and shuttle run times and best SPARQ Rating.
RB: Racean Thomas
, 5-10, 202, Oxford (Ala.) High
Results: 4.62 40, 4.50 shuttle, 31' PB, 33.7" VJ, 84.87 SPARQ
Breakdown: Oregon, Alabama, USC and Auburn are among the offers for this ESPN Watch List prospect.
WR: Omar Black
, 6-1 ½, 183, Powder Springs (Ga.) Hillgrove
Results: 4.57 40, 4.40 shuttle, 36' PB, 31.7" VJ, 91.65 SPARQ
Breakdown: Caught 19 passes for 279 yards and three scores last fall.
TE: Luke Lewallen
, 6-2, 205, Marietta (Ga.) Dominion Christian
Results: 4.76 40, 4.25 shuttle, 37' PB, 32.4" VJ, 97.71 SPARQ
Breakdown: Small-school standout had 1,100 yards and 12 receiving TDs as a junior.
OL: Chuma Edoga
(2015), 6-4, 275, Powder Springs (Ga.) McEachern
Results: 5.04 40, 4.85 shuttle, 32.5' PB, 26.5" VJ, 70.98 SPARQ
Breakdown: Posted the fastest 40 for an OL at the event.
OL: Christian Harris
, 6-5, 275, Suwanee (Ga.) Collins Hill
Results: 5.08 40, 4.84 Shuttle, 34.0' PB, 26.7" VJ, 73.26 SPARQ
Breakdown: Harris has offers from North Carolina, Ohio, Georgia State and South Alabama.
OL: Tra Malloy
, 6-1 ½, 283, Lilburn (Ga.) Parkview
Results: 5.56 40, 4.65 Shuttle, 40.5' PB, 25.7" VJ, 85.20 SPARQ
Breakdown: Posted the highest SPARQ Rating for an offensive lineman on the day and the second-longest power ball toss for the entire event.
ATH: Hanson Guice
, 5-9, 169, Clayton (Ala.) Barbour County
Results: 4.53 40, 4.19 shuttle, 32' PB, 38.9" VJ, 102.21 SPARQ
Breakdown: Had to miss junior year because of transfer, but helped get his name back on radar Saturday.
ATH: Tez Parks
, 6-0, 199, Hogansville (Ga.) Callaway
Results: 4.77 40, 4.41 shuttle, 36.5' PB, 29.4" VJ, 84.60 SPARQ
Breakdown: Athletic quarterback reports offers from Georgia Tech and South Carolina.
DEFENSE
DL: Derek Barnett
, 6-2 ½, 263, Brentwood (Tenn.) Academy
Results: 4.89 40, 4.56 shuttle, 35.5' PB, 28.6" VJ, 86.76 SPARQ
Breakdown: FSU, Tennessee and others are among Barnett's early offers; totaled 13.5 tackles for loss and six sacks as a junior.
DL: Collin Giesey
, 6-3, 261, Douglasville (Ga.) Alexander
Results: 5.17 40, 4.53 Shuttle, 42.0' PB, 25.8" VJ, 91.38 SPARQ
Breakdown: A virtual unknown after missing most of his junior season, Giesey had the top SPARQ Rating among linemen.
DL: Hunter Knight
, 6-2, 272, Dothan (Ala.) Providence Christian
Results: 5.29 40, 4.72 Shuttle, 38.0' PB, 24.9" VJ, 75.66 SPARQ
Breakdown: Walker, another breakout performer, had one of the more impressive overall performances for an interior defensive lineman.
DL: D'Andre Walker
(2015), 6-3, 210, Fairburn (Ga.) Langston Hughes
Results: 4.63 40, 4.38 Shuttle, 28.0' PB, 30.9" VJ, 80.43 SPARQ
Breakdown: Coming off a 21-sack sophomore season, Walker has pulled in early offers from Georgia and North Carolina.
DL: Darian Yancey
, 6-0, 213, Auburn (Ala.) High
Results: 4.79 40, 4.25 Shuttle, 32.5' PB, 31.6" VJ, 88.98 SPARQ
Breakdown: The other bookend for the Auburn High School defense had the fastest shuttle for a lineman on the day.
LB: Dillon Bates
, 6-3, 213, Ponte Vedra (Fla.) High
Results: 4.79 40, 4.28 shuttle, 39' PB, 37.0" VJ, 109.05 SPARQ
Breakdown: Son of former Dallas Cowboy Bill Bates locked up an invite to The Opening with his big day.
LB: Rashaan Evans
, 6-2 ½, 211, Auburn (Ala.) High
Results: 4.72 40, 4.43 shuttle, 29' PB, 33.6" VJ, 81.30 SPARQ
Breakdown: Georgia, Auburn and Alabama are among the early offers for this Watch List prospect.
LB: Petera Wilson
, 6-2, 210, Memphis (Tenn.) White Station
Results: 32' PB, 35.8" VJ
Breakdown: Class 6A all-state pick as a junior has more than 20 early offers.
DB: Khari Blasingame
, 6-0, 196, New Market (Ala.) Buckhorn
Results: 4.66 40, 4.39 shuttle, 39' PB, 37.8" VJ, 106.89 SPARQ
Breakdown: Missed most of his junior season with injury but was back in a big way Saturday.
DB: Lorenz Griggs
, 5-9 ½, 163, Lithonia (Ga.) Martin Luther King
Results: 4.58 40, 4.47 shuttle, 35.5' PB, 37.5" VJ, 92.97 SPARQ
Breakdown: King is always loaded, and Griggs is a new name to watch there.
DB: Blaise Taylor
, 5-7, 157, Auburn (Ala.) High
Breakdown: Auburn, Tennessee and Nebraska already have offered this dynamic athlete.
ATH: Austin Leach
, 6-1, 199, Sarasota (Fla.) Cardinal Mooney
Results: 4.62 40, 4.28 shuttle, 35.5' PB, 28.9" VJ, 92.07 SPARQ
Breakdown: Playmaker at both defensive back and receiver for Cardinal Mooney in the fall.
March, 3, 2013
3/03/13
10:29
AM ET
ATLANTA -- While the Atlanta Nike Combine is a great platform for skill position prospects to make a name for themselves, the event also provides an opportunity for linemen to showcase their abilities as well. At the SPARQ Combine here last year, offensive tackle
Christian Harris
(Suwanee, Ga./Collins Hill) arrived and displayed an impressive frame for college coaches to work with.
This year, the 6-foot-5, 275-pound prospect was able to improve his 40 time and vertical jump, despite the weather being less than optimal.
To continue reading this article you must be an Insider
March, 3, 2013
3/03/13
9:41
AM ET
ATLANTA -- More than 1,700 student-athletes took part Saturday in the Nike SPARQ Combine here, a record for the event. Players from across the Southeast braved freezing conditions, snow flurries and significant wind chill to compete and test their athletic ability in the 40-yard dash, 20-yard shuttle, vertical jump and power ball throw. Below are the standouts from the event, which includes several prominent recruits and some off-the-radar prospects for the 2014 and 2015 classes.
Top SPARQ Ratings
Daryl Rollins, RB (Knoxville, Tenn./Fulton) - 111.21
Dillon Bates
, LB, (Ponte Vedra, Fla./Ponte Vedra) - 109.05
Nick Chubb
, ESPN Watch List RB (Cedartown, Ga./Cedartown) - 107.16
Khari Blasingame
, DB (Huntsville, Ala./Buckhorn) - 106.89
Taj Griffin
, 2015 RB (Powder Springs, Ga./McEachern) - 105.42
Top 40-yard dashes
January, 17, 2013
1/17/13
1:39
PM ET
Offensive tackle
Christian Harris
(Suwanee, Ga./Collins Hill) is on the verge of being one of the top names in Georgia for the Class of 2014. He has an offer from Ohio, but the way he tells it, there could be more are on the way.
To continue reading this article you must be an Insider
December, 28, 2012
12/28/12
8:07
PM ET
ATLANTA -- The first day of practice was underway Friday for the Rising Seniors Junior Bowl, and the East Team took some time to install the playbook and get warmed up to contact after being out of pads for a few weeks following the end of their junior seasons.
The most-heralded prospect in the event made his presence known early on, while Ohio State coach Urban Meyer is doing his best to dip into the talent-rich Peach State for the 2014 recruiting cycle.
Buckeyes lead for hard-hitting LB McMillan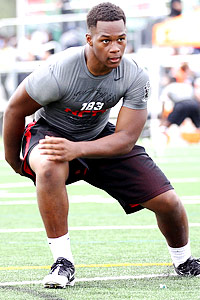 Tom Hauck/ESPNHSRaekwon McMillan is making a case to be considered the state of Georgia's best 2014 prospect.
ESPN Watch List linebacker
Raekwon McMillan
(Hinesville, Ga./Liberty County) admits he is not used to playing with or against the type of talent he saw on the field Friday at Grady Stadium.
"It has been an adjustment with the defensive line and the fast gameplay," McMillan said. "The holes open up and close faster than what I am used to."
With an estimated 50 scholarship offers already, the 6-foot-2, 245 pound junior might want to get used to being surrounded by big-time talent. If his signing day were today, McMillan would be headed to play for a team that went 12-0 in the Big Ten this season.
"Ohio State is my leader," McMillan said. "They have a great coaching staff, and Urban Meyer builds championship programs. You just feel at home when you go up there."
Clemson is second.
"Every time I go to Clemson, I get that family vibe," McMillan said. "Coach Dabo Swinney is amped up and fiery, and Coach (Jeff) Scott, my recruiter, is a really cool guy. I love it there."
Georgia rounds out the top group.
"Georgia is my top in-state school, and my family loves Georgia," McMillan said. "Every time I visit there I bring smiles to their faces, so I go up there every now and then, because I really like seeing them happy."
Fortunately for the Tigers, Bulldogs and countless other programs, signing day is not on the horizon for McMillan, nor is his decision. As he has said for months now, McMillan intends to make his announcement at the 2014 Under Armour All-America Game next January. The college football landscape could be very different by then.
"I want to see how the coaching staff pans out over the next year and what the depth chart looks like," McMillan said. "I am not scared of competition, but I need to be realistic. Why would I want to go to a school that just signed three guys at my position?"
RB Autry also has Ohio State at No.1
[+] Enlarge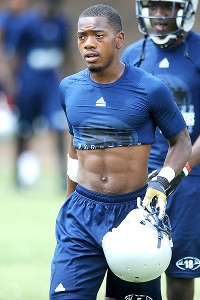 Radi Nabulsi/ESPN.comRB Myles Autry plans to visit Ohio State this offseason.
Running back
Myles Autry
(Norcross, Ga./Norcross) will be out of action until Aug. 1 due to a knee injury suffered in his team's semifinal playoff win over Colquitt Co., but he was in attendance for Day 1 of Rising Seniors practice, where, like McMillan, he named the Buckeyes as his leader.
"Ohio State is No. 1, because they have a great head coach up there, and they are my dream school," Autry said. "Ever since I was a little kid, I was a big fan of Santonio Holmes, Ted Ginn and Troy Smith."
Autry actually spoke to Ohio State over the Holiday Break.
"I called them on Tuesday, and they asked how I was doing and wished me Merry Christmas," Autry said.
The ESPN Watch List selection said he has no No. 2 or No. 3 school after Ohio State but maintains he is still open-minded and any program could take the lead in the future. Autry did mention visiting Columbus, Ohio, in the near future, and he intends on bringing a few highly-touted prospects with him from Rising Seniors.
"I am going to visit Ohio State in the spring with Raekwon McMillan,
Demarre Kitt
,
Deshaun Watson
and
Nick Glass
to see if we all like it," Autry said.
Trending: McMillan making a name for himself
Last year, linebacker
Reuben Foster
(Auburn, Ala./Alabama), then at LaGrange (Ga.) Troup, showed during Rising Seniors practice why he was one of the hardest-hitting prospects ever to come out of the Peach State. On Friday, McMillan established himself as the next big-time linebacker prospect by engulfing running backs during practice.
"He hits like a ton of bricks, yet he is light on his feet, like a feather and can run," said Newton head coach Cortez Allen. "Like Reuben Foster, McMillan is an old-school linebacker that brings the hammer. One thing he has over Foster is that he is actually bigger."
Status update
To continue reading this article you must be an Insider