NCF On The Trail:

Caleb Henderson
September, 20, 2013
9/20/13
11:00
AM ET
By
Corey Dowlar & Jared Shanker
| ESPN.com
In this week's mailbag, ACC recruiting writers Jared Shanker and Corey Dowlar address a bunch of questions submitted on Twitter.
Florida State, Miami, North Carolina and the ACC newcomers are all covered here.
@jgreco33 asks: Is Miami QB Brad Kaaya a solid lock, and can he come in and play right away? Also, did his mom really play in the movie Friday?
Dowlar:
Well, unless San Diego State can somehow unseat Miami for him, I think he's headed to Coral Gables. There isn't a ton of local competition for Kaaya, and Miami has a program of prestige, so on that front, I think the Hurricanes are OK.
He might be able to get into that conversation right away, but I see
Kevin Olsen
as the future of that offense. Olsen has got a lot of talent and a good arm. I would be surprised if he's not the guy going forward.
As for his mom, a quick search would suggest that she is. I don't know for sure, though, so don't quote me on that.
---
@ShaneArrington1 asks: Who is the most underrated recruit that could be a huge get for the Noles?
Dowlar:
To me, I think this one is obvious from looking at the commitment list.
Ethan Frith
is considered a three-star talent by most. And judging from his junior year, that's probably about right. But after seeing him in camp, some 20 or 30 pounds lighter, FSU is going to have a monster offensive tackle to work with.
Trickett absolutely loved him when working with him over the summer. He's a guy who has his weight under control now and can be built up properly. And, oh yeah, he's huge at 6-foot-7.
As far as uncommitted targets who could fit here, two come to mind, really.
Frank Ragnow
, the offensive tackle out of Minnesota, and
Ryan Izzo
, the tight end who just visited last weekend, are good looking, physical prospects.
---
@baxterfsu1 asks: Has joining the ACC helped recruiting for Pittsburgh, Syracuse and Louisville?
Shanker:
It can't be pinpointed to just moving to the ACC, but it is clear the impending switch for Louisville is having quite the impact on the Cards' recruiting efforts. The 2013 class finished No. 43 in the country. In 2014, Louisville sits at No. 18 and has five ESPN 300 commitments. For the Cards and Charlie Strong, there is no more answering questions to recruits about the future of the program and whether Louisville is going to be able to compete for national titles. Playing in the Conference Formerly Known as the Big East could have kept Louisville out of the future playoffs.
The Sugar Bowl win against Florida went a long way, too. Let's not forget that.
As for Pittsburgh and Syracuse, I'm not sure the move has paid big dividends yet or if it will at all. The Panthers are recruiting Virginia a lot more and have a shot at ESPN 300 receiver
Jamil Kamara
. As of now, however, the impact has been minimal. The same can be said for Syracuse. Now, if the Panthers land Kamara or the Orange reel in
Thomas Holley
, I might change my tune some.
---
@t_pope10 asks: other than Elijah Hood who is UNC next big recruit? I think Caleb Henderson, and do you think he will start next year?
Shanker:
Assuming you mean just UNC commitments, then I would agree it is Henderson. It can still be argued he is the biggest recruit in the 2014 class for the Tar Heels strictly based on the position he plays. With
Bryn Renner
set to graduate, there is an opportunity to play early next season. However, UNC also has freshman quarterback
Mitch Trubisky
, an ESPN 300 QB in 2013 who enrolled in January. Trubisky will have two spring practices and a full season uinder his belt heading into the 2014 season. Clearly Henderson has an opportunity to play early, but there is a lot he will need to do to see the field next year as a freshman.
---
@oalege87 asks: Why does it seem like FSU is lagging behind Florida and Miami for the big names in the state for 2014 and 2015?
Dowlar:
I honestly think you could point to the coaching changes of last offseason as the main reason here. Florida State had to replace the majority of their assistants, and that's a lot of relationships to restart.
But I also think it's not insurmountable. If you look at the direction the teams are headed -- and it is obviously early -- Florida State has been the most impressive team of the three. If
Jameis Winston
continues to play well and the Seminoles have a good year, they'll make that ground up pretty easily.
Yes, I know Miami fans, that was a good win over Florida. But that wasn't necessarily aesthetically pleasing. I think you'll agree with that.
It will, however, be increasingly more difficult for the Seminoles to go into Miami and grab recruits out of there if Miami has a strong season. But the trend of Florida State's targeting seems to be more along the lines of Interstate 10 from Jacksonville to Alabama.
August, 20, 2013
8/20/13
8:00
AM ET
The most important commitment in a team's recruiting class is a purely subjective. Is it the best overall recruit or the commit who fills the biggest need? Is it the lineman that has helped recruit other big-time prospects? And in six months, let alone a year or two, will they still even be on the team?

ACC reporters Corey Dowlar and Jared Shanker take these factors into effect and come up with the most important 2014 commitments for every ACC program.


May, 29, 2013
5/29/13
10:53
AM ET
BuckeyeNation continues to hit the road in search of budding Division I talent that should catch the eyes of Ohio State fans. Here's what we came up with this week:

This week's targets:
BuckeyeNation swung out to the Youngstown, Ohio, area and took a good look at Hubbard and Warren Harding high schools. While there, we talked to offensive guard
Matt Jones
and running back
Larry "LJ" Scott
of Hubbard. Both are Buckeyes targets as sophomores. Harding is the home of Denmark sensation
Hjalte Froholdt
and Ohio State legacy
James Daniels
, whose father LeShun Daniels Sr. played offensive guard for the Buckeyes in the 1990s. One other interesting note about Daniels is that his brother
LeShun Daniels Jr.
signed a letter of intent to play for Iowa this February.
Vividly Virginia:
The Buckeyes made it abundantly clear last week that Virginia was fertile recruiting ground. Ohio State long has had offers out to
Da'Shawn Hand
(Woodbridge/Woodbridge),
Andrew Brown
(Chesapeake/Oscar Frommel Smith) and
Quin Blanding
(Virginia Beach/Bayside), but last Wednesday the Buckeyes offered five Virginians in rapid fashion. The offers went out to outside linebacker
Ricky DeBerry
(Richmond, St. Christophers), cornerback
Garrett Taylor
(Richmond, St. Christophers), wide receiver
Scott Bracey
(Richmond/Benedictine School), wide receiver
Jaason Lewis
(Virginia Beach/Ocean Lakes) and inside linebacker
Jahvoni Simmons
(Virginia Beach/Ocean Lakes).
To continue reading this article you must be an Insider
April, 21, 2013
4/21/13
6:16
PM ET
ASHBURN, Va. -- The 2013 Nike Football Training Camp tour stopped Saturday at the Washington Redskins' training facility as the top recruits just below the Mason-Dixon Line showcased their ability.
Here's what we learned:
DBs, DLs impress
Few NFTC camps on the tour fared better when it came to these two units.
Andrew Brown
(Chesapeake, Va./Oscar Frommel), ranked No. 3 in the ESPN 150, was the big name on the defensive line -- but coaches were actually more impressed by
Jalyn Holmes
(Norfolk, Va./Lake Taylor). In the secondary, safety
Quin Blanding
(Virginia Beach, Va./Bayside) headlined the defensive backs as the No. 11 recruit in the nation. Cornerback
Jalen Tabor
(Washington, D.C./Friendship Collegiate) might have had the better day, though. He's still looking for the right school, and with his good footwork and awareness he showed most on-lookers why he's ranked No. 19 in the country.
QB Andrew Ford is underrated
To continue reading this article you must be an Insider
April, 20, 2013
4/20/13
6:56
PM ET
ASHBURN, Va. -- Strong winds and a chill in the air greeted the quarterbacks Saturday at the Washington Redskins' practice facility for the third regional stop this year on the Elite 11 circuit. Most handled the conditions admirably. However, as they did two weeks ago in Dallas, the coaches declined to hand out that golden ticket to the finals.
Mitch Sherman of RecruitingNation attended the event. Here's what he learned:
East Coast QBs impress
A year after the states of New Jersey and Maryland sent
Kevin Olsen
and
Shane Cockerille
to the Elite 11 finals, quarterbacks from the Northeast and mid-Atlantic regions again showed their skills on Saturday. Notably, new West Virginia commit
William Crest
of Baltimore Dunbar and 2015 prospect
Brandon Wimbush
(Jersey City, N.J./St. Peter's Prep) threw well. "Don't sleep on us," Crest said. And no one is, despite the larger number of quarterbacks produced out West, in Texas and the Southeast. A 2016 prospect,
Jarrett Guarantano
(Oradell, N.J./Bergen Catholic), looked good, as did
Stephen Barmore
of Southington, Conn., who has been offered by Yale.
Henderson lives up to billing
To continue reading this article you must be an Insider
April, 19, 2013
4/19/13
12:21
PM ET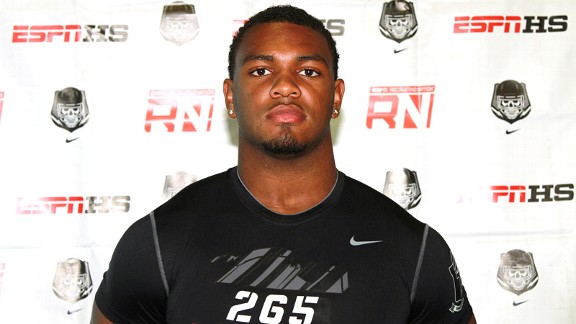 Scott Fink for ESPNDefensive tackle Andrew Brown is the No. 3-ranked player overall in the ESPN 150.
Here are five storylines to watch on Sunday.
How will the ESPN 150 fare?
At least five prospects in the ESPN 150 are set to take part on Sunday: DT
Andrew Brown
(Chesapeake, Va./Oscar Frommel Smith), CB
Jalen Tabor
(Washington, D.C./Friendship Collegiate), OT
Damian Prince
(Forestville, Md./Bishop McNamara), WR
Adonis Jennings
(Erial, N.J./Timber Creek) and QB
Caleb Henderson
(Burke, Va./Lake Braddock). Brown will be the top prospect there, as he's ranked as the No. 3 overall player in the country, while Tabor is No. 19 and Prince is No. 33. Henderson committed to North Carolina last week, but the other ESPN 150 prospects are still searching for that right school.
To continue reading this article you must be an Insider
April, 15, 2013
4/15/13
11:23
AM ET
MEMPHIS, Tenn. – ESPN Watch List quarterback
Luke Ward
(Decaturville, Tenn./Riverside) struggled with accuracy and interceptions as a junior, but took a step on Sunday toward improvement as a senior.
Ward said he threw the football well in his first such event since last summer on Sunday at the Nike Football Training Camp in Memphis. The 6-foot-3, 190-pound prospect for the Class of 2014 threw for 1,411 yards and 13 touchdowns in 10 games as a junior.
He awaits his first scholarship offer.
To continue reading this article you must be an Insider
April, 12, 2013
4/12/13
9:24
AM ET
By
RecruitingNation
| ESPN Insider
April, 12, 2013
4/12/13
12:00
AM ET
By
RecruitingNation
| ESPN Insider
Coveted signal-caller
Caleb Henderson
(Burke, Va./Lake Braddock) committed Thursday to sign with North Carolina, multiple sources report.
To continue reading this article you must be an Insider
October, 18, 2012
10/18/12
8:48
AM ET
The calendar says Michigan will travel to Ohio State on Nov. 24, but a small scale version will play out Friday in Hudson, Ohio. That's where Elyria (6-2) will take on the Explorers (7-1) in an important Division I, Region 2 meeting.
Hudson controls its postseason destiny, while a win by the Pioneers would push the squad higher in the playoff picture. Ohio State commit and defensive tackle
Tracy Sprinkle
calls it the biggest game of his career with Elyria. Michigan commit and inside linebacker
Ben Gedeon
says a win will catapult Hudson toward an even bigger showdown with North Royalton (8-0) in Week 10.
"I've wanted to lead this team to the playoffs since I started playing here," Sprinkle said. "That's my main goal. Every year, we want to go to the playoffs.
To continue reading this article you must be an Insider
June, 22, 2012
6/22/12
8:14
AM ET
COLUMBUS, Ohio -- With Ohio State likely done at quarterback in the 2013 class, one of the main objectives of the first day of the Buckeyes' three-day camp was to identify and begin separating the quarterback targets for 2014.
One of the more decorated quarterbacks at Thursday's camp was
Drew Barker
(Hebron, Ky./Conner), who was throwing for the Ohio State coaches for the first time.
"When we were just throwing routes on air [at the start], I was a little shaky. The wind was blowing pretty hard, but I'm not going to use that as an excuse," Barker said. "Once I started getting in a rhythm in one-on-ones, I started throwing really good."
To continue reading this article you must be an Insider