NCF On The Trail:

Bryce Petty
July, 7, 2014
7/07/14
5:30
AM ET
BEAVERTON, Ore. -- The Early Offer is RecruitingNation's regular feature, giving you a dose of recruiting in the mornings. Today's offerings: St. Louis Rams quarterback Sam Bradford was one of the many high-profile college and NFL quarterbacks on hand Sunday at the Elite 11 quarterback competition on Nike's campus. Bradford said he was impressed with the play of a number of the quarterbacks, but he did have some candid advice for the recruits that have yet to make their college decisions. Plus, one college quarterback really made a big impression on No. 3 dual-threat quarterback
Deondre Francois
and Monday's schedule features more work at the Elite 11.
June, 12, 2014
6/12/14
9:00
AM ET
When talking about the top young assistant coaches in college football, the name Kendal Briles continues to pop up. The son of
Baylor
coach Art Briles, Kendal has quickly earned the reputation as one of the top recruiters in the state of Texas and in the Big 12. Briles, who is the passing-game coordinator and offensive recruiting coordinator for the Bears, visited with RecruitingNation to talk about the difference in recruiting at Baylor now versus when his father's staff arrived, the emergence of BU as a regional power, and the future of recruiting.
[+] Enlarge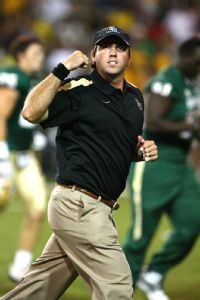 Matt Pearce/Icon SMIBaylor assistant coach Kendal Briles says the Bears only have "about four scholarships left" to give out in the Class of 2015.
When Art Briles got to Baylor, the Bears were 31-94 in the previous 11 seasons. Fast forward and Baylor has won 29 games in the last three seasons. How different is it walking into high schools to recruit versus when you guys arrived in Waco?
Kendal Briles:
Just completely different. It's really just the confidence of being a coach walking in a school and having 'BU' on your chest. It's a totally different image now than when we got here. Texas high school coaches respect what we have done here, and Art Briles being successful here has a lot of people excited and they respect what we have done here. I see a lot of Baylor shirts walking through high school now, which is great.
While anyone paying attention would know Baylor was headed in the right direction in 2010, was it Robert Griffin III winning the Heisman Trophy that really put the building of the program back on the map?
KB:
I think it was not only that, but the way he did it with the flair. He wasn't just a pocket guy who was real productive. There was a lot of flair with him, the offense we ran and the way he did it just being so dynamic and doing things with the football no one else can do ... that personality and style of our offense made it real intriguing for guys to see. Him winning the Heisman was a huge deal, beating Oklahoma at home and beating Texas later that year ... all those things added together, you can't say enough what those things did for our program.
Colleges often time have a former player that resonates and influences youths around the country. Do you see that with Robert Griffin III in Texas?
KB:
One hundred percent. That is the name I hear more than any other. I get kids telling me tell RGIII 'What's up?' I get things like that all the time.
When Art Briles took the Baylor job, you guys had goals that needed check marks. What did winning the Big 12 and going to a BCS Bowl do for the program from a recruiting perspective?
KB:
It's helped tremendously, and with the new stadium we are building right now. To be able to do something that is a reality, and not just that we are going to build a stadium is big. You can see [the stadium] right here on I-35, people are seeing pictures of it and all those things are big. Where we are at this year is the last three years we have had three different starting quarterbacks and to be able to keep growing as a program has been big. It was 'after RGIII is gone, Baylor will go back to the doormat,' then Nick Florence comes in and leads America in offense, then he is gone and then
Bryce Petty
comes in and what he did last year, so it shows you that we have a real football team.
You mentioned the new stadium set to open this season. Today's college football recruiting world continues to be an arms race and doesn't have the appearance of slowing down. Do the fans and media overplay the importance of facilities?
KB:
No, it's a huge deal. It's imperative if you are going to recruit on the highest level to have as good or better facilities as others. You have to be on a competitive playing field. Everybody was using our stadium against us saying, 'Baylor doesn't even have a stadium on campus' and stuff, and now we are on campus. You have to be very proactive with facilities nowadays without a doubt.
There is growing chatter about the need for an early signing period. Is that a subject that has been talked about in the Baylor football offices?
KB:
To be honest with you, we haven't discussed it all as a staff. I see the good and bad of it. The thing about it is when someone comes up with a new rule, everybody is on the same playing surface. Everyone has their strategies, you figure out what is going to be best for the Baylor Bears, then you go attack it and recruit. You can find negatives and positives with everything. For us, it really doesn't matter. However they lay it out, we will go out and play.
On that same topic, official visits for prospects in the spring of junior year is being tossed about with the costs of unofficial visits and the process becoming earlier and earlier. What are your thoughts on that possibility down the line?
KB:
For us, I wouldn't want that. We are in central Texas, we recruit Texas, so all these kids we are recruiting are three hours away and can always get to us. If they start flying all over the country, it kind of gives those schools an unrealistic advantage because kids can think 'This is great, I can just fly out here,' but that is not really reality because it costs money once you are at a far away school. I just think that I wouldn't want that, but I can see how schools that recruit Texas would really like that.
Baylor has the making of another impressive class with five ESPN 300 prospects already in the fold. What are the main needs remaining in the class?
KB:
We want another secondary guy. If we could find a great quarterback, then we would take one ... another linebacker, and we are going to sign a punter this year. Those are really the only needs we have left. We only have about four scholarships left in this class.
You are one of the lucky ones that played big time high school football in Texas, was a highly recruited prospect and now coaches big-time football in the state. What is it that continues to impress you the most about Texas high school football?
KB:
It's just incredible. The thing that impresses me the most is the football coaches. You are talking about great high school football coaches in Texas. Guys that are cutting edge and do great things on both sides of the ball. The talent to me is incredible to me how good some of these young kids are. We had a freshman at our camp [on Sunday] that you would think would be a 24-year old man. It's just incredible. The people that live outside the state that haven't been to Texas high school football, seen the one-horse town that everyone gets behind the team, it's an incredible experience. I feel very blessed to have grown up here and to be a part of it.
December, 30, 2013
12/30/13
10:00
AM ET
An 11-1 season resulted in a school-record for victories. There was also a first-ever Big 12 title and first-ever BCS bowl berth. And a new, state-of-the-art stadium is something to look forward to for next season.
[+] Enlarge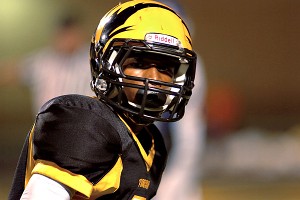 Max Olson/ESPN.comESPN 300 wide receiver K.D. Cannon likes what he's sees from Baylor's recruits.
Not a bad season for the Baylor Bears. And if Baylor's commits have anything to do with it, the 2013 success is just the beginning.
A group of commits are beyond elated about the future of the program. Baylor has 27 commits in its 2014 class -- four of whom have already signed as mid-year, junior-college transfers -- and three are in its 2015 class. The Bears have four ESPN 300 players, one ESPN Junior College 50 player and one ESPN Junior 300 player.
Ask the commits, and the classes get high marks. And, to many, rightfully so. "A-plus," said ESPN 300 athlete
Davion Hall
(Texarkana, Texas/Liberty-Eylau). "We have people that play different positions and not just same ones."
"Scale of 1-10, I'll give it a 10," added ESPN 300 wide receiver
K.D. Cannon
(Mount Pleasant, Texas/Mount Pleasant). "Baylor has done a good job in getting players who want to win and play every game like it's his last. We don't have a lot of five-star people, but we all are willing to show the world that stars don't mean anything."
When Baylor held its first junior day of 2013, it was fortunate to land verbals from three standouts in Hall, running back
Terence Williams
(Ennis, Texas/Ennis) and wide receiver
Chris Platt
(Willis, Texas/Willis). Since then, Baylor's class has grown to become a top-20 class nationally. The Bears are ranked No. 16 in the latest RecruitingNation class rankings, second only to No. 13 Texas in the Big 12 conference rankings.
ESPN 300 wide receiver
Ishmael Zamora
(Houston/Alief Elsik) graded the class a "95," a quality mark considering he's very critical of giving it or any other group a perfect score. Zamora is a fan of this class, and he's excited about his future teammates. Statistically, Baylor has 14 defensive commits, 11 offensive commits and two who could see time on both sides of the ball.
"We got basically all position [players] who were top talent and can flat-out ball," Zamora said.
The missing link of the class, according to Zamora? A lack of a quarterback commit. Every wide receiver commit wants his own quarterback in the class, but the Bears won't be hurting for a signal-caller in the immediate future.
Bryce Petty
said he will return to Baylor for his senior season.
Seth Russell
just finished his redshirt freshman campaign,
Andrew Frerking
will be a junior, and
Cole Edmiston
and
Chris Johnson
-- an ESPN 300 player from the 2013 class -- will be sophomores.
And then there's the 2015 class. Baylor received commits from ESPN Junior 300 athlete
Chad President
(Temple, Texas/Temple) and three-star athlete
Blake Lynch
(Troup, Texas/Troup) -- two players who can line up at both quarterback and wide receiver.
For both President and Lynch, who still have a year of high school ball remaining, the goals of following in the footsteps of this Baylor squad are sky high -- and attainable.
"Another Big 12 championship," President said, referring to upcoming college goals. "Hopefully, we can play in the national championship game. We have an A-plus, five-star recruiting class."
Lynch added: "I think we have one of the best 2014 recruiting classes in the nation. Our versatility and diversity is what makes our 2014 class special."
"





I think we have one of the best 2014 recruiting classes in the nation. Our versatility and diversity is what makes our 2014 class special.

"


-- Baylor commit Blake Lynch
Three-star safety
Chance Waz
(Pflugerville, Texas/Hendrickson), the latest high school player to commit to the Bears, switched his pledge to Baylor from Nebraska. He wanted the opportunity to play close to home, and he's excited about the talent he'll be surrounded by. Waz said the 2014 Baylor class could be compared to Ole Miss' 2013 class, a group that saw several freshmen thrust into starting positions and become major contributors in the super-competitive SEC.
"A lot of Ole Miss players saw PT [playing time]. I follow at least five [of them] on Twitter," Waz said. "I think a lot of us can get playing time; we just have to see what we do in camp."
When asked about the comparison and the shot at immediate playing time, Hall said, "It all depends on us and work ethic, but I don't think that will be a problem."
Expect all of the commits to be paying full attention to Baylor as it faces Central Florida on Jan. 1 at the University of Phoenix Stadium in Glendale, Ariz. And they'll continue monitoring who commits between now and Feb. 6, the first day to sign a national letter of intent. And they're watching the 2015 class as well.
Cannon said there are tons of talented players he'd love to call a teammate. And there's one in particular, however, who has caught his eye.
"I hope we get that No. 1 corner," Cannon said, referring to ESPN Junior 300
Kendall Sheffield
(Missouri City, Texas/Fort Bend Marshall), the nation's No. 13 overall player and the top-ranked player in Texas for the 2015 class. Sheffield has a Baylor offer but also has offers from Alabama, Texas A&M, LSU, Texas, Ohio State, Oklahoma and a host of other recruiting heavyweights.
Time will tell, but it looks like Baylor has set a new bar. And it doesn't plan on looking back.
December, 30, 2013
12/30/13
9:00
AM ET
There's no more important position in football than quarterback, and in many cases, fans look at quarterbacks that got away and wonder what might have been had they come to their favorite school. Some schools passed on a quarterback because he evaluated poorly or another QB appeared more attractive. Others simply didn't have enough recruiting ammunition to land the recruit in the first place. Here's a look at six quarterbacks that got away.
[+] Enlarge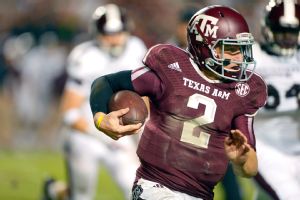 Thomas Campbell/USA TODAY SportsWhat might the offense at Oregon or Texas looked like with Johnny Manziel at the controls?
Teddy Bridgewater
Bridgewater had offers from Florida, LSU, Miami, Rutgers, USF and Tennessee when he was a senior coming out of Miami Northwestern. While there were notable programs after Bridgewater, it was hardly the amount of attention you would expect from the player who sits atop many NFL draft boards after a stellar career at Louisville. Some coaches will tell you Bridgewater's stock was lower coming out of high school because many expected him to land at Miami. He did commit to the Canes at one point, but eventually backed off that pledge and announced he was going to Louisville because of the opportunity for early playing time. "The toughest part of it was that I had to say that I wasn't going to the University of Miami," he said after selecting the Cards in 2011. "I told the coaches that I had to do what was best for me, and they understood that." It was a wise decision by Bridgewater and a miss that still haunts the Canes.
Robert Griffin III
Before he was RG III, he was a Houston commitment. Coming out of Copperas Cove, Texas, Griffin originally pledged to Art Briles when he was the coach at Houston. When Briles departed for Baylor, other schools like Kansas, Nebraska, Stanford, Oregon and Oregon State were in hot pursuit, but that was about it. He eventually followed Briles to Waco, and the rest is history. It's been pointed out a number of times that Texas passed on Griffin because it thought he was a defensive back, and A&M signed Tommy Dorman in that same 2008 class. Dorman played sparingly as a fullback and a tight end.
Kevin Hogan
What would Rutgers, Vanderbilt or Virginia been like had they been able to land Hogan? Hogan was a heavily recruited quarterback coming out of Washington (D.C.) Gonzaga in the 2011 class and his final five consisted of Rutgers, Vandy, UVa and the Cardinal. He decided to leave the East Coast and has settled in nicely on The Farm. Rutgers, Vandy and Virginia surely could have used Hogan this season, as they threw a combined 38 interceptions, while Hogan led the Cardinal to their second straight Pac-12 championship and Rose Bowl appearance.
[+] Enlarge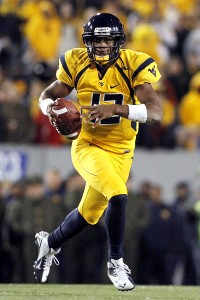 Justin K. Aller/Getty ImagesThe fortunes of two SEC teams might have changed drastically had Geno Smith not gone to West Virginia.
Collin Klein
Coming out of Loveland, Colo., Klein accepted the only scholarship offer he received. And despite a stellar high school career in football and basketball and a solid showing at the Nike Training Camp, the Wildcats were the only team to believe in him enough to offer. Klein went on to lead K-State to the Big 12 championship in 2012, finish second in the Heisman Trophy voting and win more than 20 games as a starter. At the same time, Colorado struggled at the quarterback spot, won only eight games in a three-year span and would have given anything to have an in-state star like Klein as its leader.
Johnny Manziel
You have to give credit to Oregon and Texas A&M, because they identified early on that Manziel had the goods to be a special quarterback. But they were about the only ones that did. Virtually every recruiting service had him as a three-star prospect and his offer sheet read more like a regionally recruited prospect, not a Heisman Trophy winner. Texas also had a chance to recruit Manziel, but the Horns saw him more as a defensive back prospect than a quarterback. Oregon had faith early in him, and it paid off with a commitment the summer after his junior season. He later flipped to the Aggies in September of his senior season.
Bryce Petty
Coming out of Midlothian, Texas, in the Class of 2009, Petty pledged to then-Tennessee coach Phillip Fulmer as a junior. When Fulmer was let go, Lane Kiffin thought Petty didn't fit what he wanted at quarterback, and Petty was left looking for a home two months before national signing day. Several teams showed interest in the talented young quarterback, including South Carolina, Nebraska and Oklahoma, but few had room. Virginia Tech and Baylor eventually offered Petty a grayshirt opportunity, and he took the Bears' offer. Surely a number of teams around the Big 12, or even the Hokies or Cornhuskers, would have loved to have Petty as their quarterback.
Geno Smith
Imagine Smith wearing an LSU or an Alabama uniform. It certainly was a possibility at one point in the recruiting process, as the Tigers and Tide were two of Smith's top teams coming out of Miramar (Fla.) High School. But after an official visit to West Virginia in November of his senior season, he was sold that West Virginia was the place for him. The Tide got their QB of the future in AJ McCarron in that same class and the Tigers hinged their hopes on highly recruited Russell Shepard. McCarron was the right choice for the Tide, but Shepard never developed as a quarterback and LSU had up-and-down play at the position for a number of years. Smith rewrote WVU's record books and is now an NFL starter.
November, 8, 2013
11/08/13
10:00
AM ET
In case you didn't get the memo Thursday night, Baylor football is relevant. Extremely relevant.
It was a message many of the recruits tried to spread before the season started -- though some didn't listen. After an 8-0 start, highlighted by Thursday's 41-12 shellacking of Oklahoma, Art Briles' squad is not only looked at as the Big 12 favorite but also a legitimate BCS national title contender.
Baylor's 2014 recruiting class is at 23 strong, and the program's top commit, wide receiver
K.D. Cannon
(Mount Pleasant, Texas/Mount Pleasant) was at Floyd Casey Stadium watching his future team.
"They played great," Cannon said. "It was crazy from the start until the end."
To continue reading this article you must be an Insider
October, 11, 2013
10/11/13
11:00
AM ET
This week's Big 12 recruiting mailbag focuses on Baylor's offensive success, Kansas' progress in recruiting, the status of an ESPN Junior 300 player and more. We encourage all to send questions each week, either via Twitter to
@DamonSayles
or
@ESPNWilkerson
or by email at
dsaylesespn@gmail.com
or
wilkerson.espn@gmail.com
.
From @InTheNameOfBU: Do you see Baylor sustaining their success in offense for quite a while? If so, why? #AskBig12
As long as head coach Art Briles, offensive coordinator Philip Montgomery and passing game coordinator/offensive recruiting coordinator Kendal Briles stick around, Baylor shouldn't have any problems offensively. It's really scary to think that Wofford -- and not a school like West Virginia -- has held Baylor to its lowest point total -- 69. The Bears have all kinds of offensive weapons now with quarterback
Bryce Petty
, running backs
Lache Seastrunk
and
Shock Linwood
and receivers
Antwan Goodley
and
Tevin Reese
, and if they sign committed ESPN 300 players in receiver
K.D. Cannon
(Mount Pleasant, Texas/Mount Pleasant) and athlete
Davion Hall
(Texarkana, Texas/Liberty-Eylau), expect more of the same in the next couple of years.
From @Roberrttthom: How much do you think the early offer for 2015 DT Marquise Overton helps OK State's chances to land him?
In speaking with Overton, I know that he's very appreciative of the Oklahoma State offer. However, I can't say that it's his absolute favorite right now. Reason being, he truly doesn't has a favorite right now. The ESPN Junior 300 defensive tackle has additional offers from Baylor, Ole Miss, Texas Tech, Oregon State and others, and all schools are in the running. Overton did say that he really likes Oklahoma State. The team is playing well right now, and it's close to his home in Jenks, Okla. Keep an eye on how the 6-foot-1, 301-pound tackle gauges his schools of interest.
From @cr93ia: Any update on the buzz post Rhoads' postgame press conference and just in general? #AskBig12
If you're the Texas Longhorns, you're not listening; you're celebrating a win. If you're pro-Paul Rhoads, you're probably still a little upset about what happened last week. There's nothing that can be done now, but Rhoads will have his Cyclones amped up for Saturday's game against Texas Tech. Recruiting-wise, a few players are still eyeing every move Iowa State makes. The Cyclones have offered players like ESPN 300 defensive end
Dewayne Hendrix
(O'Fallon, Ill./O'Fallon), ESPN 300 outside linebacker
Brandon Lee
(Indianapolis/Lawrence Central), four-star outside linebacker
Nile Sykes
(Lombard, Ill./Montini Catholic) and four-star running back
Corey Avery
(Dallas/Carter), and they're hoping to land at least one of these targets.
From @ttoulouse94: Any word on #KU making progress with WR or O-line prospects?
Recruiting with Kansas can be seen in two ways: Either a recruit will give the program the side eye for its subpar play, or a recruit will look at the subpar play as an opportunity to see immediate playing time. The Jayhawks are hoping to land three-star athlete
Darious Crawley
(Houston/Cypress Ridge), who can play receiver at the next level. As for the offensive line, Kansas will be looking in the junior college ranks for right-now type of players. Juco linemen
Avery Gennesy
(Southaven, Miss./East Mississippi Community College),
Luke Hayes
(El Dorado, Kan./Butler Community College) and
David Hedelin
(San Francisco/City College of San Francisco) all have Kansas offers.
From @KookanHere: #askbig12 Will Dana Holgorsen be the head coach of WVU next season?
West Virginia is 3-3 on the season. Just because the Mountaineers were rolled by Baylor doesn't mean Holgorsen's job is in jeopardy. Baylor has put up huge points against everybody. Holgorsen will be back next season to coach his new recruits in receivers
Lamar Parker
(Miami/Booker T. Washington),
Jake McCrary
(Miami/Coral Reef) and outside linebacker
Davonte James
(Springfield, Ohio/Springfield) -- all ESPN 300 prospects. If Holgorsen is lucky, he also will be coaching ESPN 300 athlete
Dravon Henry
(Aliquippa, Pa./Aliquippa), who is strongly considering the Mountaineers.