NCF On The Trail:

Brady Hoke
November, 27, 2013
Nov 27
5:30
AM ET
The Early Offer is RecruitingNation's regular feature, giving you a daily dose of recruiting in the mornings. Today's offerings: A five-star Michigan commit said Tuesday the equivalent of "I think we should start seeing other people," and Miami could be in position to flip one of the nation's top running backs.
To continue reading this article you must be an Insider
June, 25, 2013
Jun 25
8:17
AM ET
ANN ARBOR, Mich. -- Brady Hoke has pledged a commitment to special teams players. He showed this in the 2013 class by offering a scholarship to long snapper
Scott Sypniewski
(Ottawa, Ill./Marquette). And it keeps getting better for special teams recruits across the country.
Hoke proved his commitment even further Monday when he extended an offer and accepted a commitment from 2015 kicker
Andrew David
(Massillon, Ohio/Washington).
"I grew up a Michigan fan," David said. "My wardrobe and my carpet in my room are maize and blue. It was a lifelong dream to go there and now it's coming true. It's awesome."
To continue reading this article you must be an Insider
June, 19, 2013
Jun 19
9:00
AM ET
ANN ARBOR, Mich. -- It's never a surprise to see Alabama football near the top of any ratings. Nick Saban has a proven track record on the field. That has translated to the recruiting trail as he has pulled in top classes year in and year out, finishing in the top three in recruiting in each of the past five years. He's had the top class for the past two seasons.
To continue reading this article you must be an Insider
June, 12, 2013
Jun 12
10:00
AM ET
ANN ARBOR, Mich. -- Now is a time when kids who are sports fans will need explanations for conference names.
They'll want to know that at one point the "Pac" in Pac-12 (then eight) stands for the Pacific Ocean and that the conference held teams that were near that body of water, and that Arizona and Arizona State, being in deserts, isn't just irony for the sake of conference humor. Or that the "East" in Big East didn't initially imply "east of the Mississippi." Or that something as simple as the Big Ten once truly had 10 teams.
But it's a sign of the times, and conference realignment is a constant reality for today's athletes. While the "Ten" in Big Ten is now a misnomer, it still lives up to the "Big" part, and the conference's territory keeps growing bigger and bigger.
To continue reading this article you must be an Insider
May, 10, 2013
May 10
11:52
AM ET
Inspired by
Florida's "#ComePlayWRFortheJoker" campaign
">Florida's "#ComePlayWRFortheJoker" campaign, our recruiting writers looked at other ways schools can sell themselves on the trail. Here's a look at recruiting pitches for the Big Ten:

Illinois Illini
What they're selling:
A chance to rebuild a program from the ground up, beginning with four-star quarterback
Aaron Bailey
, who signed in 2013.
What they're missing:
Just about all of the top prospects from their own state.

Indiana Hoosiers
What they're selling:
Indiana coach Kevin Wilson
embraces the idea of a college spring break
and is ready to head to Cancun with some of his players.
What they're missing:
Wilson looks like he might hold the group up in Mexico, however, as he still needs the assistance of a flotation device. Points that it is in the shape of a turtle, though.

Iowa Hawkeyes
What they're selling:
Iowa boasts one of the few staffs that can say they will be there all four years of a recruit's career and has the history to back it up. Kirk Ferentz is the longest tenured coach in the Big Ten and it's not even close.
What they're missing
: Out-of-state prospects tend to think Iowa is all cornfields, leaving the staff to battle that misconception countless times throughout the recruiting cycle.

Michigan Wolverines
What they're selling:
Michigan coach Brady Hoke looks like an outlaw patrolling the sideline on Saturdays without a headset.
What they're missing:
The player who graces the NCAA Football 2014 cover Denard Robinson. "Shoelace" was one of the Wolverines' best recruiting tools.

Michigan State Spartans
What they're selling:
Michigan State coach Mark Dantonio is the
man behind Little Giants
, one of the greatest trick plays of the last few decades.
What they're missing:
A trip to a Rose Bowl under Dantonio would put Michigan State over the top when it comes to recruiting. There is already a significant difference in the caliber of player the Spartans are now getting compared to just a few seasons ago.

Minnesota Gophers
What they're selling:
The Gophers boast the biggest locker room in college football.
What they're missing:
They have not had a winning season since 2008.

Nebraska Cornhuskers
What they're selling:
Bo Pelini whipped out
"The Bernie" in the Huskers' Harlem Shake video
. Harlem Shake equals instant credibility with recruits.
What they're missing:
A lack of a strong base of in-state talent makes it tough to recruit at Nebraska, and a Harlem Shake video can overcome only so much.

Northwestern Wildcats
What they're selling:
The new facilities are right near Lake Michigan, which, as assistant Bob Heffner is telling recruits, is a great spot for fishing.
What they're missing:
Not too many high schoolers in New Jersey have taken up fishing as a hobby. At least not yet.

Ohio State Buckeyes
What they're selling:
Urban Meyer is bringing SEC speed to the Big Ten.
What they're missing:
Has anyone actually clocked Meyer in the 40-yard dash? How fast is he really?

Penn State Nittany Lions
What they're selling:
Beaver Stadium fits more than 106,000 on Saturdays, making it the second largest stadium in the country. Inside is also one of the country's most passionate fan bases, and ESPN analyst Kirk Herbstreit once listed Penn State's student section as "simply the loudest, most supportive student section in college football."
What they're missing:
A full slate of scholarships and a chance to play for a Big Ten title the next few years.

Purdue Boilermakers
What they're selling:
Few programs have the history Purdue does at quarterback, and former Boilermakers Drew Brees, Kyle Orton and Curtis Painter are all on NFL rosters. The Boilermakers just signed ESPN 300 QB
Danny Etling
, too.
What they're missing:
Brees, Orton and Painter.

Wisconsin Badgers
What they're selling:
The Badgers have been to three straight Rose Bowls.
What they're missing:
The coach who took them there.
April, 29, 2013
Apr 29
4:03
PM ET
Brady Hoke loves football in the trenches. It all starts up front, and as long as he's at the helm Michigan will emphasize recruiting along the lines.
So the fact Ann Arbor seems to have become a destination for the nation's top offensive line talent is a major feather in his cap.
To continue reading this article you must be an Insider
February, 24, 2013
Feb 24
8:01
PM ET
ANN ARBOR, Mich. -- Several fans were hoping that this might be the visit that pushed Watch List offensive lineman
Mason Cole
(Tarpon Springs, Fla./East Lake) over the top, bringing a fourth 2014 commitment to Michigan.
But fans can rest easy. No, he didn't commit, but he left Michigan very impressed. And following his visit he said that his pending commitment to any of his top schools could come at any time now. The 6-foot-5, 266-pound lineman has a top four of Michigan, Notre Dame, Clemson and Florida State, in no particular order.
To continue reading this article you must be an Insider
February, 7, 2013
Feb 7
9:00
AM ET
While Greg Mattison might be recognized as the best recruiter among Michigan assistants, it is clear that running backs coach Fred Jackson deserves some recognition, as well.
Not only has he been on the Michigan coaching staff for 20-plus years -- working with Gary Moeller, Lloyd Carr, Rich Rodriguez and Brady Hoke -- but given the recruits he was able to bring in for the 2013 class, fans will enjoy a more streamlined run game.
As dazzling as some of
Denard Robinson
's jaunts were, Michigan hasn't really had an up-the-middle, smashmouth run game in the recent past, but Jackson is convinced that with his three 2013 running back signees, the Wolverines will be able to do just that.
To continue reading this article you must be an Insider
December, 31, 2012
12/31/12
6:57
PM ET
LAKE BUENA VISTA, Fla. -- ESPN 150 offensive lineman
David Dawson
(Detroit/Cass Tech) was committed to Michigan for several months before an October trip to the University of Florida violated Wolverines coach Brady Hoke's no-visit policy, causing the prospect and Michigan to part ways. The Wolverines then re-offered the No. 1 offensive guard in the nation a month ago.
To continue reading this article you must be an Insider
December, 7, 2012
12/07/12
9:22
AM ET
With the recruiting season winding down and signing day fast approaching, the big what-if scenario for Michigan has to do with two former commits. There are three spots left in this class due to the fact defensive back
Gareon Conley
(Massillon, Ohio/Washington) and offensive lineman
David Dawson
(Detroit/Cass Tech) wanted to take visits and thus decommitted.
Both are still being recruited by Michigan, since both are still at a position of need. They also are being courted by Ohio State, which means there is a chance the Buckeyes could land both of the former Wolverines commits. So, what if that happened?
The first thing Buckeyes fans would say is that it was payback for Michigan nabbing former Ohio State commit
Kyle Kalis
in the 2012 class. Aside from that, the Buckeyes would be landing two very good players at positions of need for Michigan.
To continue reading this article you must be an Insider
November, 21, 2012
11/21/12
11:59
AM ET
On the field success is normally what draws top prospects' eyes to college programs, but Michigan coach Brady Hoke has proved with just his third recruiting class at Michigan that it's not always necessary.
Under Hoke, the Wolverines have returned to relevance on the national scene, but through the first year and a half of his time with Michigan, he didn't have the same resume as other top programs. Still, he has recruited as well as any of them.
To continue reading this article you must be an Insider
November, 8, 2012
11/08/12
12:00
PM ET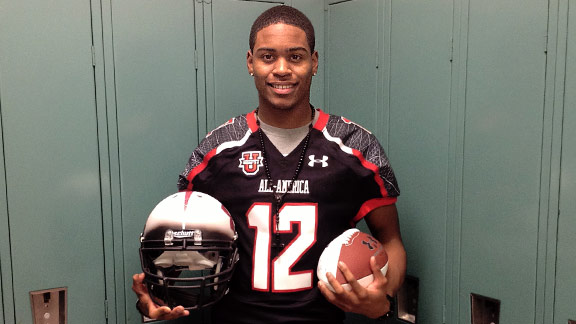 Brad Bournival/ESPN.comGareon Conley is still committed to Michigan, but the Massillon, Ohio, prospect wants to visit Oregon, which he considers his favorite school.
One of the biggest recruiting battles brewing as the 2013 recruiting cycle begins to hit it's peak, is one that seemingly came out of nowhere. After a long commitment to Michigan, CB
Gareon Conley
(Massillon, Ohio/Washington) has said publicly in recent weeks that Oregon is his favorite school. While it is not uncommon for a recruit to talk about a favorite school, it doesn't always mean that school is the best fit for him.
The No. 62 player in the latest edition of the ESPN 150 took a risk by openly discussing his desire to visit Oregon, Cincinnati and most recently, Ohio State. Michigan head coach Brady Hoke has been pretty firm in his rule that if a recruit takes a visit to another school while he is committed to Michigan, his commitment is no longer recognized.
Conley has spoken to the Michigan staff since the rival Buckeyes offered the 6-foot-1, 180-pounder two weeks ago. After expressing his desire to do so, he was told by the Michigan staff that if he chose to visit Oregon and Ohio State, he would no longer be considered a Wolverines' commit.
To continue reading this article you must be an Insider
June, 4, 2012
6/04/12
8:19
AM ET
The Wolverines continued their hot streak on the recruiting trail by landing four-star defensive tackle
Henry Poggi
(Baltimore/Gilman) on Monday. The 6-foot-3, 255-pound lineman is commitment No. 20 for Michigan and the 16th commitment ranked as a four-star.
"I am grateful to say that I am choosing Michigan. I feel comfortable there and I hope I will fit in," Poggi said. "I know that they have great players at my position on their roster and in the incoming recruiting classes. I will do my best to compete and hopefully I will make the team and be additive in helping the team reach their goals. I know that I start at the bottom of the depth chart."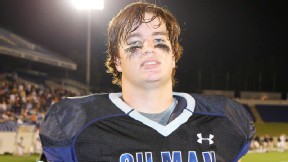 Courtesy of Maggie ThomasHenry Poggi could play inside or outside on the defensive line.
This is another big win for Michigan as Poggi chose the Wolverines over Alabama, Ohio State, Auburn, Florida and Stanford, among others. He's ranked as the No. 23 defensive tackle in the country, but he could be used in various ways.
Poggi's versatility along the line will give the Michigan coaching staff plenty of options as he could line up at the three-technique defensive tackle spot or move outside to the five-technique defensive end position.
Michigan seemed to move into the driver's seat after Poggi and his parents took a visit to Ann Arbor in March. After that trip, his father said that the visit was over the top and showed Henry that he fit in socially with the rest of the team. What might have been more important on that trip, though, was that Poggi's mom came away impressed and comfortable with what Michigan would offer her son.
"(Henry's mother) sat with Brady [Hoke], she spent about 40 minutes with him, and he explained to her why he coaches," said Biff Poggi, Henry's father. "He's passionate about impacting the lives of kids, and she believed him and felt like that was deep in his heart. The academic piece, she also thought in her mind is every bit as impressive and maybe more than Stanford."
This commitment now gives Michigan three very good prospects on the defensive line as Poggi joins defensive tackle
Maurice Hurst Jr.
(Westwood, Mass./Xaverian Brothers) and defensive end
Taco Charlton
(Pickerington, Ohio/Pickerington Central).
Poggi is also the fifth commitment for Michigan along the defensive line ranked as a four-star between the 2012 and 2013 classes. Depth and competition are being built in the trenches, something Hoke said would be a priority going forward.