NCF On The Trail:

Austin King
February, 4, 2015
Feb 4
2:25
PM ET
Kevin Wilson keeps bringing well-regarded recruiting classes to Indiana, including
Wednesday's group
. Will it lead to more wins and a bowl game? I caught up with the head Hoosier for this signing day Q&A:
Brian Bennett: What were your priorities in this class?
[+] Enlarge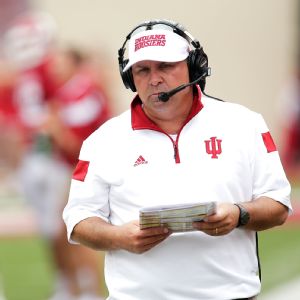 AJ Mast/Icon SportswireKevin Wilson has expanded IU's recruiting base well beyond the Midwest.
Kevin Wilson:
We were able to sign a full allotment. We didn't take as many linebacker types because we played some young linebackers like
Tegray Scales
,
Greg Gooch
and
Clyde Newton
as freshmen and sophomores. We got four good O-linemen, so we have some depth on the O-line now. We signed five or six receivers, and that position for sure needs to pick up. When you're signing 24, you get a little bit of everything.
I also think the running back situation was big. With
Tevin Coleman
declaring and to get
Jordan Howard
[as a transfer from UAB] --it really doesn't count in the recruiting services, but he was seventh in the nation in yards per game last year. So to lose the No. 2 rusher and get the No. 7 guy who's proven was huge.
BB: ESPN Recruiting lists several of your signees as "athletes." Do you have some versatility and options in this class?
KW:
You do. You've got six guys who played quarterback in high school, starting with
Austin King
, who was a traditional quarterback. He's a Georgia kid who played in the Valdosta/Hal Mumme/Mike Leach/Air Raid offense. He throws it well, like one of those classic spread high school quarterbacks. We've got five other kids who are quarterbacks but might be something else.
Austin Dorris
is 6-foot-5, 6-6 and we think he's going to be a tight end.
Isaac James
and
Mike Majette
were basically Wildcat quarterbacks, where they caught punts, ran back kicks, played slot receiver, tailback, quarterback as an athlete and defensive back. So these guys can play a number of positions, and a lot of them are good with the ball in their hands. So you might start some of them as receiver types.
We've got about 10 or 11 kids that are athletic defensive backs/wide receiver/quarterbacks. That group include
Jonathan Crawford
,
Tyler Green
, Jameel Cooks and Andre Browm. We're going to put about five or six on the perimeter on offense and five or six on the perimeter on defense. Just get them here in the summer, see who can change direction, see who can catch a ball and kind of plug them in.
BB: How pressing was the need at receiver?
KW:
With Cody Latimer leaving a year ago, the position fell off a lot, along with the situation we had with the quarterback injuries. But that position has got to pick it up.
J-Shun Harris
,
Dom Booth
and
Simmie Cobbs
all played as freshmen last year. We signed
Marqui Hawkins
out of UAB -- he signed with Florida two years ago and was a highly rated kid. I'm really excited about
Camion Patrick
out of East Mississippi junior college and
Leon Thornton
out of Chicago. Both those kids are 6-2, 6-3. And that doesn't count Majette and James, who might be slot guys.
They're going to be young, there are going to be some growing pains, but that's a good skill group. For us to play well on offense, we have to have guys who play well in space. We'll see if we got 'em when they get here.
BB: You signed five players out of Florida. Was that an area you emphasized this time around?
KW:
We signed nine and 10 the last two years out of Florida and Georgia. The thing that's kind of new this year is we signed three kids out of Washington, D.C., with running back
Devonte Williams
,
Tyler Green
-- who we could play as a big corner, out of Dematha -- and Majette out of Woodbridge, Va. That's really the first time we've taken three kids out of that DC area. I think that shows a little bit of the Maryland, Rutgers, Penn State influence in the Big Ten.
That wasn't by design; we were just well received by some good players. I don't know if that's going to be our trend, but this year I'd say that's a little bit different than where we've been.
BB: Finally, are there any "under-the-radar" recruits in this class you're particularly excited about?
KW:
I don't know if anybody is "under the radar." We thought Tevin Coleman was pretty good. We thought Cody Latimer was pretty good. I think Camion Patrick is going to be really, really good. We'll see. I think three years in a row we have upgraded significantly in our ability to get some better guys.
Talent's getting better. But the first really strong class we had, with Antonio Allen and that crowd, those guys have one spring under their belts. They're in their fourth semester. So we've got bunch of young talent that we've got to get matured. This is a pretty solid, pretty strong class. I'd anticipate eight, 10, 12 of these guys will play for us this year.
January, 25, 2015
Jan 25
12:05
PM ET
It was a huge recruiting visit weekend in the Big Ten, as eight commitments had taken place in the conference by Sunday morning. With a little more than a week left until signing day (Feb. 4), programs have put their recruiting efforts into overdrive to try to close out their classes strong.
These visits were crucial to help get some of those big targets to make final decisions, so here's a look at some of the best social posts from those recruiting visits.
PENN STATE:
The Nittany Lions had a ton of visitors on campus, mostly comprised of current commitments. Offensive line commit
Steven Gonzalez
took a picture with all the visitors and his future offensive line coach, Herb Hand.
A few pictures from Steven Gonzalez with all the visitors at Penn State this weekend pic.twitter.com/r9GCUZozO3

— Tom VanHaaren (@TomVH) January 24, 2015
The Penn State coaches did land a commitment from one of their visitors in defensive tackle
Robert Windsor
on Sunday morning. The staff had a few uncommitted prospects on hand, including defensive end
Shareef Miller
.
Me and coach Franklin My Guy =¯=¯ pic.twitter.com/z6J1HBotR5

— D (@MillerShareef) January 25, 2015
MICHIGAN:
The Michigan staff was hoping this weekend would produce a few commitments, and it did just that. The Wolverines had six 2015 commitments prior to the weekend but ended up flipping former Texas quarterback commit
Zach Gentry
during the Michigan basketball game.
Excited about the future! #GoBlue =

— Zach Gentry (@ZGentry_11) January 25, 2015
Gentry is an ESPN 300 prospect and the No. 9-ranked pocket passer in the 2015 class. He joins fellow quarterback commit
Alex Malzone
in Michigan's class and will help bolster much-needed competition at the position.
Florida defensive end
Reuben Jones
also committed to the Wolverines on his visit and happens to fill another need on the depth chart.
Truly Blessed to Announce I am Officially Committed to The University of Michigan ÄDÄD #GoBlue pic.twitter.com/MTcX3qYSfw

— February 10th (@ImDatDude44) January 24, 2015
The Wolverines are still hoping the weekend produces a few more commitments from some of the visitors, including defensive back
Chris Williamson
.
2015 DB Chris Williamson on his official visit to Michigan pic.twitter.com/xmR0B6jXQL

— Tom VanHaaren (@TomVH) January 24, 2015
ILLINOIS:
Illinois had some big visitors on campus, including defensive tackle
Jamal Milan
and running back
Ke'Shawn Vaughn
. Both prospects would be huge additions to the class, so it was only the finest ice sculptures and cake that came out for the visitors.
Official visit wouldn't be complete without the @CoachGolesh special #IlliniNation pic.twitter.com/0TJcoyo6EP

— Nina (@ninabaloun) January 25, 2015
MARYLAND:
The Terps have been on a nice streak of landing commitments, and the coaches continued that this weekend by getting 2016 wide receiver
D.J. Turner
.
Blessed to say that I have Officially committed to the University of Maryland! #DMVtoUMD #GoTerps pic.twitter.com/KZjmDTniL6

— DJ Turner (@Djturner15) January 24, 2015
OHIO STATE:
The Buckeyes had an excellent weekend for big visitors, as the visit weekend coincided with the national championship celebration. It gave the recruits a chance to see all the trophies Ohio State won this season while seeing what else the Buckeyes have to offer.
Danny Clark
, a 2017 quarterback commit for Ohio State, was on campus doing some recruiting for his future team.
Sure would be cool if my boy @joshmyers58 commits tomorrow. #OhioboysRBuckeyes @OSUCoachMeyer pic.twitter.com/FP3zXCKk4b

— THE PROTOTYPE (@DClarkQB) January 24, 2015
The coaches were doing a ton of recruiting themselves, especially with the 2015 official visitors. Wide receiver
K.J. Hill
showed off the cookie cake he received on his visit.
=4ǻ pic.twitter.com/Spoqzhy0y0

— KMFJ (@KayJayHill) January 24, 2015
Since the 2015 class only has a few pieces left to fill, Ohio State also had a junior day of sorts with some of the top 2016 targets on campus. ESPN Junior 300 receiver
Austin Mack
stopped to take a selfie with the head man himself on the trip.
#ESPNJr300 WR Austin Mack with Urban Meyer on his Ohio State visit pic.twitter.com/kStDWMjP8M

— Tom VanHaaren (@TomVH) January 24, 2015
INDIANA:
If you haven't noticed that cookie cakes and desserts are a common theme of recruiting, then here's another reminder. Hoosiers quarterback commit
Austin King
tweeted a picture of his cookie cake on his visit to Indiana.
They never disappoint==L #CrimsonArmy15 ª=4 pic.twitter.com/XH6HymyGyf

— Austin King (@austinking_10) January 23, 2015
WISCONSIN:
The Badgers had a successful weekend of their own by landing two big commitments. The first was defensive tackle
Kraig Howe
from Ohio, who tweeted his announcement.
Proud to announce that I committed to the University of Wisconsin... On, Wisconsin!

— Kraig Howe (@KraigHowe) January 24, 2015
The second was 2015 running back
Bradrick Shaw
, who also took to Twitter to announce his decision.
I would also like to take the time to say that I am officially committed to the University of Wisconsin #OnWisconsin =4ª=4ª=P

— Bradrick Shaw (@bradricks27) January 25, 2015
Howe fills a need for the Badgers and Shaw gives Wisconsin three running back commits ranked as four-star prospects between the 2015 and 2016 classes. The Wisconsin staff is reloading at running back to continue the excellent tradition at the position.
MICHIGAN STATE:
The Spartans didn't have a ton of big-name visitors on campus this weekend, but the coaches were hosting a very important target for the 2015 class. ESPN 300 linebacker
Quart'e Sapp
took his visit to Michigan State and took to Twitter to show off his time on the trip.
With @DantonioMark himself 3MSU3 pic.twitter.com/lSsI48ivmB

— Quart'e Sapp (@Dedicated_2Work) January 24, 2015
Sapp would be a huge get for the Spartans, who find themselves in his top four along with Miami, Missouri and Tennessee.
NEBRASKA:
Nebraska's new staff has hit a groove in recruiting and hosted a big visitor list this weekend, including plenty of the Cornhuskers' commitments. Offensive lineman
Christian Gaylord
shared a picture of some of the offensive linemen on the visit in uniform.
Line squad @hines_bittleman @MattFarniok1 @Bubaka_03 @_McDeck_ #TheFuture pic.twitter.com/lis63tltAC

— Christian Gaylord (@Big_Chris_65) January 25, 2015
Linebacker
Tyrin Ferguson
also took to Twitter to show his time in Lincoln.
Good weekend with my family #GBR #NsUp pic.twitter.com/ACOn1BYZjM

— Tyrin Ferguson (@tferg__) January 25, 2015
The staff did also have a few targets on campus who were not committed to Nebraska, including Kansas State commit
Mohammed Barry
.
Nebraska was also hosting a few commitments it is trying to hang onto and convince to stay on board come signing day. That included defensive lineman
Daishon Neal
, who became that much more important with the decommitment of Reuben Jones.
#GBR!<È=L pic.twitter.com/Egm93nzlHe

— DJ (@DaishonNeal90) January 24, 2015
December, 15, 2014
12/15/14
11:00
PM ET
The addition of No. 1 2016 TE
Isaac Nauta
shows that the Florida State recruiting machine shows no signs of slowing down. Plus, Tennessee continues to impress with its 2015 defensive class.
August, 12, 2014
8/12/14
9:00
AM ET
RecruitingNation takes a look at the 2015 recruits who most fill the needs of each of the ACC schools.
To continue reading this article you must be an Insider
May, 21, 2014
5/21/14
5:20
PM ET
Austin King
saw the pile and immediately knew something was different about today's mail. As one of the Georgia's most heavily recruited quarterbacks, he's used to getting letters from schools all over the country. But the stack of 100 envelopes addressed to him from South Florida caught his attention.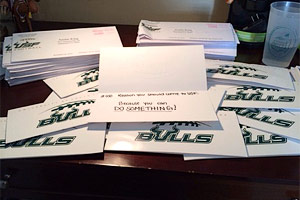 TwitterClass of 2015 signal-caller Austin King received 100 letters at once from South Florida.
As King ripped through envelope after envelope, he discovered this just wasn't some mass mailing of form letters with a few handwritten notes sprinkled in from a school -- a recruiting tactic used by a number of programs in the past. He knew that this was something different.
"As I opened each letter, I discovered they were 100 hand-written notes with exactly 100 reasons why I should commit to South Florida," King said. "They're all handwritten. There's so many. I haven't even gotten through all of them yet. It definitely feels great being wanted at a school like this. I'm still in a little bit of a shock."
King isn't leaning toward a school, but he does have scholarship offers from South Florida, West Virginia, Southern Miss and UCF, among others, with schools such as North Carolina, Mississippi State and Notre Dame showing interest. It's safe to say he has plenty of reasons now to consider South Florida even more than before.
March, 21, 2014
3/21/14
10:51
PM ET
By
Derek Tyson, Gerry Hamilton & Jeremy Crabtree
| ESPN Insider
SUGAR HILL, Ga. -- Several talented quarterbacks took the field at the Atlanta Elite 11 regional camp on Friday. Though no official invites for the Elite 11 finals, held in Beaverton, Ore. in July, were extended, there were five finalists with potential to eventually earn an invite. The finalists included
Anthony Ratliff
,
Austin King
,
Kendall Hinton
,
Ross Trail
and
Alex Malzone
. Four of the five finalists were from out-of-state. King is from Alpharetta, Ga.
To continue reading this article you must be an Insider