NCF On The Trail:

Alex Delton
January, 14, 2015
Jan 14
10:45
AM ET
Big 12 programs have always been big believers of using players that can enroll at midterm and can make a big impact in their program, starting in spring practices. Whether it be through the junior-college ranks or through high school players that are ready to step on the field from Day 1, there will be plenty of fresh faces that do big things in the league early on. Here is a look at five Big 12 early enrollees:


January, 2, 2015
Jan 2
9:00
AM ET
Bill Snyder doesn't care about recruiting rankings. He has made a living out of taking three-stars high school recruits and turning them into five-star players by the time they graduate. The same is true with the 2015 class. The Wildcats don't have a single ESPN 300 recruit, but insiders in Manhattan, Kansas, feel good about the crop of high school talent coming in.
To continue reading this article you must be an Insider
December, 14, 2014
12/14/14
11:00
PM ET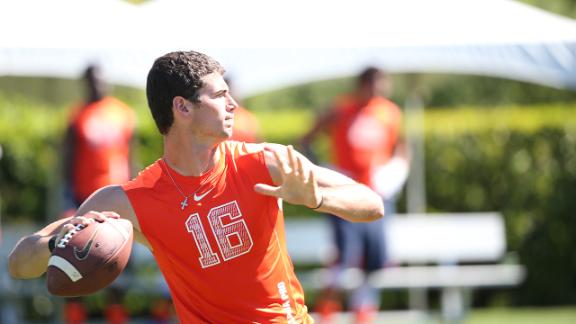 What is the dead period and why is it an important time in football recruiting? Plus, Texas Tech's loss at quarterback could be Baylor's gain.
To continue reading this article you must be an Insider
May, 12, 2014
5/12/14
10:00
AM ET
When asked to define his quarterback style, whether he was more of a pocket-passing or a dual-threat option,
Kyler Murray
gave the simplest answer he could.
"I'm a quarterback," Murray said.
Those are three words echoed by many players in Murray's position. Murray is the No. 1 dual-threat quarterback in the country, but maybe more importantly, at No. 14 in the ESPN 300, he's the top-ranked overall quarterback. That's how he wants to be considered. And recognized at all times.
The phrase "dual-threat quarterback," to some quarterbacks classified as such, holds negative connotation. Many of the quarterbacks don't have the prototypical college quarterback build. Murray is 5-foot-11 and 170 pounds. Florida State commit
De'Andre Johnson
is right at 6 feet and weighs 169 pounds. Clemson commit
Tucker Israel
is 6 feet and 189 pounds. Johnson and Israel, ranked Nos. 9 and 11 among dual-threat quarterbacks nationally, are built more like slot receivers.
Kansas State commit
Alex Delton
, who is 6 feet and 187 pounds, says the "dual-theat" label is all about stereotype. So players like Delton take the practice fields and go to camps and combines with two intentions. First, to compete against some of the best the country has to offer, and second, to prove to coaches that size -- or lack thereof -- shouldn't trump talent when evaluating the position.
"To most people, being called 'dual threat' says that I'm a runner most of the time," said Delton, the nation's No. 24 dual-threat quarterback. "But all of us are quarterbacks. If we weren't, we wouldn't be playing this position.
"I'm a quarterback; that's what I've played my whole life. People shouldn't think I'm purely a runner since I'm called a dual-threat quarterback."
[+] Enlarge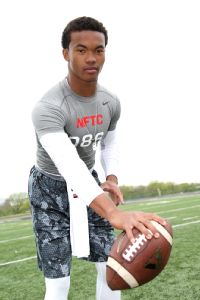 Tom Hauck for Student SportsForget dual-threat or pocket-passer. Kyler Murray is simply one of the best QBs in the nation with offers from Oregon, OU, Clemson and Ohio State, among others.
The Dallas Elite 11 regional competition on May 4 proved that dual-threat quarterbacks can be just as effective as pocket passers. Five of the top seven finishers are classified as dual-threat options, and the event MVP,
Jarrett Stidham
, is the No. 2 dual-threat quarterback in the country.
Physically, Stidham has the stature of a pro-style quarterback at 6-3 and 180 pounds, but his athleticism and playmaking ability out of the pocket make him an ideal dual-threat candidate. Stidham threw for nearly 2,700 yards and 30 touchdowns and rushed for nearly 1,000 yards and 16 scores, which supports the dual-threat argument.
"I think sometimes with dual-threat guys, people don't think of us throwing as well as pocket passers," Stidham said. "They think that we'd rather run before throwing, and in my case, I'd much rather throw 100 percent of the time than run. It just so happens I can get out the pocket a little and make some runs.
"I think some think automatically, we want to run first. Half the time, it's the other way around."
Stidham is committed to Texas Tech, and Red Raiders head coach Kliff Kingsbury likely saw, like many other recruiters, that Stidham's arm strength was just as good as his ability to escape danger in the pocket. It is also impossible to ignore the athleticism, as Stidham played wide receiver his sophomore year of high school and caught passes from
Tyler Jones
, who now is calling plays at Texas State.
Quarterbacks such as Stidham, Notre Dame commit
Blake Barnett
(6-5, 191) and uncommitted ESPN 300 standouts
Kai Locksley
(6-4, 190),
Travis Waller
(6-3, 188) and
Dwayne Lawson
(6-4, 200) have the builds of traditional college pocket passers. They just also have the ability to make plays with their legs as well as their arms.
Kingsbury has coached his share of quarterbacks of all sizes. Last year, he coached
Davis Webb
(6-4, 195) and
Baker Mayfield
(6-2, 220). In his final year as offensive coordinator for Texas A&M in 2012, he coached
Johnny Manziel
-- who, at a shade under 6 feet and 207 pounds, went on to win a Heisman Trophy and was selected 22nd overall by the Cleveland Browns in Thursday's NFL draft.
"I wouldn't say I have a preference. If you can do it all, the sky's the limit," Kingsbury said. "If you're a guy who sits in the pocket, you'd better be highly cerebral and know pre-snap reads and be able to check to the right places. If you can make plays with your feet, it gives you more leeway to where if you're in a bad play, you can still extend it.
"There are all types of guys who try to play like
Tom Brady
, but
Russell Wilson
just won a Super Bowl. You can't overlook that."
The 2015 dual-threat quarterback is an attractive prospect. Seventeen quarterbacks have committed to FBS programs already, the latest being high-three-star prospect
Lorenzo Nunez
, who is headed to South Carolina. Fifteen quarterbacks are four-star players, and 10 of the 15 are ESPN 300 players.
"We're just as good as the pocket-passing quarterbacks," Delton said. "Some people think I'm going to run a lot, but I like getting on the field and showing that I can throw it, too."
"We want a player who is great at what he does," Kingsbury said. "If that means he can excel in the pocket, great. If that means he can find ways to make plays with his feet outside the pocket, great. We want guys who can move the ball on offense and be a leader on the team."
That's something Murray does – and does well.
Of all the quarterbacks, Murray probably has heard the most questions. He's had his size come up in multiple conversations -- and with every performance on the field, he silences a new recruiter or an old critic. Murray specializes in results. In two varsity seasons, he has two state championships -- and will go for a third this fall.
Murray now has more than 20 offers, including ones from Texas, Oklahoma, Ohio State, Florida, Oregon and Clemson.
"You can't let any of that get in the way of your goals," Murray said. "I know what I can do, and I work hard every day just to get better. People are going to say what they want to say. I'm just trying to go out and win football games."
May, 4, 2014
5/04/14
7:57
PM ET
ARLINGTON, Texas -- The Dallas Elite 11 regional camp on Sunday was certainly one of the most well-attended camps of the season. And while the usual suspects of high-profile quarterbacks in the 2015 and 2016 classes were on hand, there were also many other fine prospects in attendance who are starting to garner more significant attention as college coaches get out on the road this spring.
If you are a follower of the recruiting world, names like
Kyler Murray
(uncommitted) and
Jarrett Stidham
(Texas Tech) are now commonplace, but this camp showcased many intriguing prospects who have been slipping under the radar to some degree and should see their stock rise as we head into the fall of their senior years.
To continue reading this article you must be an Insider
March, 22, 2014
3/22/14
10:20
AM ET
SUGAR HILL, Ga. -- With the world's busiest airport down the road, quarterbacks from across the country flocked to the
Atlanta Elite 11 regional camp
on Friday at Gary Pirkle Park, including several highly regarded passers from outside the Southeast.
Part of that group was Indianapolis Decatur Central's
Tommy Stevens
. The 6-foot-4, 190-pound Stevens traveled more than 500 miles, but it was worth every mile because he proved he has the tools to compete with the best of the best.
To continue reading this article you must be an Insider
June, 27, 2013
6/27/13
5:43
PM ET
Class of 2015 quarterback Alex Delton (Hays, Kan./Hays) is one to admit that no matter how many offers one can end up with, the first one is always the sweetest.
Thursday afternoon, the dual-threat quarterback picked up offer No. 1, as Kansas State extended a scholarship. Delton participated at a Kansas State camp a couple weeks ago, and he showed off the skills that the Wildcats coaching staff felt could help the program in the future.
To continue reading this article you must be an Insider