NCF On The Trail:

AJ Turman
August, 23, 2013
8/23/13
11:00
AM ET
It's time to dip into the SEC recruiting mailbag and answer your questions. Because of the amount of questions we've received, we won't be able to get to all of them today -- but we encourage you to ask again next week by tweeting your questions to
@DerekTysonESPN
.
@Watup_Haun: Who's going to land Clifton Garrett (Plainfield, Ill./Plainfield South)?
Derek Tyson:
LSU appears to be the team to beat for the ESPN 300 linebacker and by a wide margin. Garrett will also take official visits to Ole Miss, Tennessee and Florida. LSU is shaping up to have a monster recruiting class, and right now I expect Garrett to be a part of it.
[+] Enlarge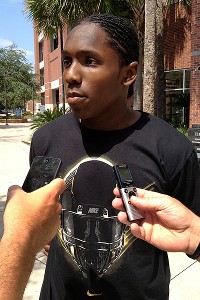 Jeff Barlis/ESPNESPN 300 athlete Adoree' Jackson likes Florida's football and track teams and met with both head coaches during his July visit.
@UltimateLemons: What's your gut tell you about Florida landing Adoree' [Jackson] and [Lorenzo] Carter? Do the Gators even contend realistically for Raekwon [McMillan]?
DT:
Though Florida has made a big impression on the five-star prospects, Jackson and Carter, the Gators certainly have their work cut out for them. Florida's track program recently won a national championship, and track will be a key factor in Jackson's decision. USC, Michigan, Tennessee and LSU are a few other schools squarely in the mix for the talented athlete. Carter has Florida in the lead with Alabama and Georgia slightly trailing. At this point, Florida feels good about both prospects, but there is still a long way to go.
As for McMillan, the Gators are in his top five, but Ohio State is clearly the team to beat. Clemson and Georgia are also near the top of his list. He is talented enough for the Gators to continue to pursue him, but at this time, I don't think he will end up in Gainesville.
@UTSportsAction1: Do the SEC school's generally look for three-star athletes and above?
DT:
If you ask coaches in college football if they only recruit players ranked three-stars or higher, you would probably get the same overwhelming response. "We don't look at stars," they would likely say, and probably in a stern voice. The truth is, a lot goes in to our recruiting rankings, and we don't just rate someone a four-star prospect for the fun of it. A lot of research goes in to every player we rank. I know for a fact that some college coaches do in fact look at rankings, but they wouldn't be doing their job if they didn't do their own evaluations. So to answer your question, I think college coaches use rankings as a general guide to see if they are missing out on certain prospects or to see which other schools have offered players, but they do their own evaluations and decide who they want to offer based on a number of factors.
Looking back at last year's SEC recruiting classes and excluding kickers, long snappers, punters and junior college, prep school and transfer players, SEC teams only signed seven players who were ranked two-star prospects or below:
2013:
Alabama - 0, Auburn - 0, Arkansas - 1 (WR
Drew Morgan
), Florida - 0, Georgia - 0, LSU - 0, Kentucky - 2 (QB
Reese Phillips
and OT
Justin Day
), Mississippi State - 0, Ole Miss - 0, South Carolina - 1 (DE
Kendal Vickers
), Tennessee - 0, Missouri - 2 (OC
Alec Abeln
and DT
DeQuinton Osborne
), Texas A&M - 0, Vanderbilt - 1 (ATH
C.J. Duncan
)
The numbers speak for themselves. Though it's uncommon, the SEC does generally recruit prospects ranked three-star prospects or higher.
@madveal37: The SEC has widespread talent. What true freshmen are going to have a big impact in 2013?
DT:
This is not really a recruiting question, but because I had an opportunity to see a lot of these players in high school and at all-star games over the last few years, I'll give my opinion on a few I think could make an early impact.
DE Robert Nkemdiche (Ole Miss)
: There is a reason he was the consensus No. 1-ranked player in the country. He will play early and often for the Rebels and should make a big impact.
WR Demarcus Robinson (Florida):
Florida needs help at wide receiver, and Robinson has been a star in fall camp.
RB Alex Collins (Arkansas):
Collins was a steal for the Razorbacks. His explosiveness will earn him carries early in his career.
DE Carl Lawson and DE Elijah Daniel (Auburn):
With Auburn's top defensive lineman,
Dee Ford
, out for the opener, it should open the door for Lawson and Daniel to make their marks.
LB Reuben Foster (Alabama):
It's not easy to get on the field early at Alabama, but head coach Nick Saban has specifically singled out Foster for having a strong camp. Look for him to see the field early.
@miketag98: Will UK lose a lot of recruits if [Mark] Stoops flops on the field? Like if they go 4-8?
DT:
I really don't believe so. Obviously Kentucky hasn't had much success on the field over the past few years, and recruits understand that. What Stoops is selling to these recruits is an opportunity to help turn the football program around. The opportunity to play early is another key selling point. As long as Kentucky shows improvement and is at least competitive in most of their games, I don't see recruits bailing on this impressive recruiting class.
@bigjpl2: Does Georgia have a real shot at Elijah Hood (Charlotte, N.C./Charlotte Catholic)?
DT:
Hood, the former Notre Dame commit, was considering North Carolina, Georgia and Virginia Tech before he originally committed to the Fighting Irish. Now that he has backed off his pledge, you would think Georgia might still be in the picture. However, Georgia has two stud running backs in
Keith Marshall
and
Todd Gurley
. The Bulldogs signed four-star running back
A.J. Turman
last year, and they have two ESPN 300 running backs (
Sony Michel
and
Nick Chubb
) committed this year. Chubb is very comparable to Hood as far as size, speed and build. At this point, Georgia doesn't have a pressing need at the position and could risk losing one of its other commits if the coaches put the full-court press on Hood. Though Hood might still show interest in Georgia, in my opinion, I don't believe he will end up in Athens.
@BlakeBoswell1: What are the odds [Leonard] Fournette stays in LA?
In my opinion, the odds are in LSU's favor to land Fournette -- but not by much. Alabama is certainly putting up a big fight. In fact, Fournette was in Tuscaloosa last weekend with
Cameron Robinson
and
Laurence Jones
to watch the Crimson Tide scrimmage. I think this will be a battle to the end, but Alabama has a lot of depth at running back, and LSU's proximity to home gives the Tigers the slight advantage.
January, 23, 2013
1/23/13
9:41
AM ET
ATHENS, Ga. -- With national signing day exactly two weeks from today, DawgNation looks ahead to what Georgia has coming and who the Bulldogs still need, and why.
Team needs:
Georgia has a number of holes to fill, considering the defense is losing 10 players who started last season. All-American junior
Jarvis Jones
and two-year leading tackler
Alec Ogletree
have declared for the NFL draft, which means the incoming prospects will have to be ready to play early.
Also, consider that Georgia only signed one player for the secondary, one wide receiver and not one inside linebacker in the class of 2012. Those positions are a priority. The secondary is in special need of attention as both starting safeties and two starting cornerbacks were seniors this past season. The Bulldogs have decent depth at the outside linebacker spots but the SEC championship game proved Georgia needs help on the defensive line. Junior nose
Kwame Geathers
has also opted to leave early for the NFL, so Georgia needs to sign some quality prospects to fill in the defensive trench.
December, 10, 2012
12/10/12
9:43
AM ET
ATHENS, Ga. -- The Georgia coaching staff was on the road Friday, as usual, checking in on commits and targets alike. In what had to the most fortuitous turn of events of the day, tight ends coach John Lilly and inside linebackers coach Kirk Olivadotti just happened to be stopping by Auburn (Ala.) High School right after the nation's No. 1 inside linebacker,
Reuben Foster
, decommitted from Auburn University. Both coaches met with Foster, who reopened his recruitment, citing reports that his mentor Trooper Taylor had been let go at Auburn.
Later that night, another coach would also prove lucky as defensive line coach Rodney Garner was on hand to congratulate
Montravius Adams
(Vienna, Ga./Dooly County) after the top-ranked defensive tackle won the chance to play for the Georgia Class A championship.
Offensive coordinator Mike Bobo and running backs coach Bryan McClendon were on hand to see the Bulldogs' top tailback target,
Alvin Kamara
(Norcross, Ga./Norcross), win his semifinal game as well. Alabama's Kirby Smart was also there, and the battle for Kamara is still neck and neck.
To continue reading this article you must be an Insider
November, 13, 2012
11/13/12
7:08
PM ET
ORLANDO, Fla. -- Five months after losing ESPN 150 prospect
Derrick Henry
(Yulee, Fla./Yulee), who had been committed to the Bulldogs for almost a year, ESPN 300 running back
A.J. Turman
(Orlando, Fla./Boone) committed to Georgia on Tuesday evening.
Turman had three hats -- Florida State, Tennessee and Miami -- laying on the table where he was set to make his announcement. Noticeably missing was a Georgia hat. It was all for show, though, as Turman read his statement to the packed crowd.
[+] Enlarge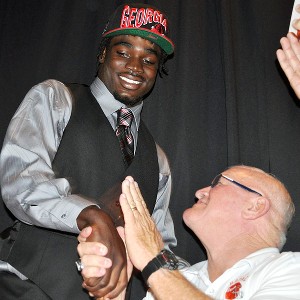 Jenny Zimmerman/ESPN.comOrlando (Fla.) Boone coach Phil Ziglar congratulates running back A.J. Turman after the senior committed to the Georgia Bulldogs on Tuesday.
"The recruiting process has been amazing. I thank all the coaches that have offered me an opportunity to play at their school. With prayer and guidance from above, I selected a school that I feel would best develop me as a student and an athlete, a school that has an academic program, a football program, coaches, players and community that fits me and the school that I pick is ... " Turman paused with a grin on his face, "Georgia."
The 6-foot, 200-pound tailback chose Georgia over Auburn, FSU, Miami and Tennessee, just two weeks after taking an unofficial visit to Athens. Turman, said everything about Georgia was a perfect fit.
November, 12, 2012
11/12/12
9:36
AM ET
Georgia traveled to Auburn this weekend where a 38-0 victory gave the Bulldogs their second SEC East divisional title in as many years. Freshmen running backs
Todd Gurley
and
Keith Marshall
combined to rush for 221 yards, marking the third time they have both picked up over 100 yards in the same game this season. Georgia has a long history of thunder and lightning tailback duos and apparently the Bulldogs' coaching staff is looking to bring in another pair in the Class of 2013.
Georgia has 27 commitments and many of its top targets are still undecided. With little room left in the class, it was widely assumed that the Bulldogs would only take one running back. Georgia's top target at the position says that is not the case.
"What I found out yesterday was that Georgia wants to take two backs,"
Alvin Kamara
(Norcross, Ga./Norcross) said. "Coach [Bryan] McClendon called me last night and told me that since Marlon Brown went down, they are going to go after another back."
To continue reading this article you must be an Insider
November, 11, 2012
11/11/12
8:27
PM ET
After wrapping up an outstanding high school career that includes 4,867 rushing yards and 55 touchdowns as a starter for more than three seasons, ESPN 300 prospect
A.J. Turman
(Orlando, Fla./Boone) felt he need not delay his commitment any longer. On Sunday, Turman told ESPN.com he intends to announce his decision Tuesday at 6:30 p.m. in a downtown Orlando restaurant.
He was actually ready to announce his decision almost a month ago, but his parents advised him to wait.
"I wanted to get my decision done with three weeks ago and I had a good feeling about where I wanted to go, but I had not taken my final trip to Georgia yet," Turman said. "My parents wanted to wait until after that trip to make my decision. I felt the same after the visit, so I figured since the season was over I should get it out of the way."
To continue reading this article you must be an Insider
November, 6, 2012
11/06/12
9:23
PM ET
It was another successful trip to Athens, Ga., for ESPN 300 running back
A.J. Turman
. The 6-foot, 205-pound senior watched Georgia inch closer to an SEC East Division title and brought his parents with him.
"It was a great trip, I enjoyed myself and my parents enjoyed it too," Turman said. "Everyone's very friendly there; it's a very family-like atmosphere all around campus.
"We spent more time with some of the academic advisors and going over the curriculum at the school. They did a good job of explaining the process of selecting a major. We saw a few other things as well. Overall it was a productive trip."
To continue reading this article you must be an Insider
August, 28, 2012
8/28/12
1:08
PM ET
ESPN 300 running back
A.J. Turman
(Orlando, Fla./Boone) plans to take all five official visits, and the four-star back already knows of three.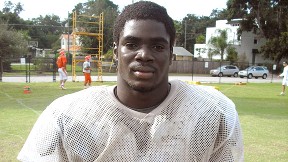 Corey Long/ESPN.comA.J. Turman is the No. 24 running back and the No. 261 player overall in the ESPN 300.
"I'll probably decide which visits I'll take by either the end of this week or next week, but I know for sure I'll visit Georgia, Tennessee and FSU," Turman said on Monday night.
Though Turman hasn't set specific dates for the visits, the 6-foot, 198-pound athlete said those three schools are standing out.
To continue reading this article you must be an Insider