NCF On The Trail:

Aaron Garza
January, 26, 2014
1/26/14
10:20
PM ET
Three-star 2015 offensive tackle
Connor Lanfear
(Buda, Texas/Hays) caught many by surprise on Sunday with his decision to attend the first junior day at Texas A&M. He was rewarded for that move with a scholarship offer. So what's next?
To continue reading this article you must be an Insider
August, 22, 2013
8/22/13
9:00
AM ET
RecruitingNation released its first ever ESPN junior 300 in mid-July, and a slew of already committed prospects have put six programs off to an electric start in the 2015 recruiting cycle. With the college season just days away, here are the fast starters with future commitments on the horizon.
To continue reading this article you must be an Insider
July, 17, 2013
7/17/13
7:00
AM ET
AUSTIN, Texas -- They didn't make kids like this back in 1970.
The offensive line that anchored Texas' third national championship in eight years featured a pair of two-time All-Americans: The 6-foot-4, 233-pound Jerry Sisemore and 6-foot-3, 235-pound Bobby Wuensch.
They were the stars of a Texas offensive line that averaged 6-foot-1 and 219 pounds.
Today, mammoth 300-pounders rule up front, and the 6-1, 220 guys are linebackers and defensive ends. The evolution of the offensive lineman is impossible to ignore.
Texas' 2005 title team averaged 6-5 and 314 pounds, with nine offensive linemen checking in at 300-plus. The 2013 Longhorns could have as many as 15.
Now imagine having to find those big men as 15- and 16-year-olds, before they've even reached their junior year of high school, and trying to determine how and when they'll grow, how they eat, how big they'll get and, of course, how well they actually play football.
That's the unenviable task facing Texas offensive line coach Stacy Searles these days, but he's thriving.
Texas already has landed commitments from three linemen in the 2015 ESPN 300: Keller (Texas) guard
Maea Teuhema
(No. 31 in the ESPN 300), Sherman (Texas) guard
Aaron Garza
(No. 203) and Buda (Texas) Hays tackle
Connor Lanfear
(No. 292). They're three of the top six linemen in Texas in 2015, and the No. 2 ranked in-state lineman,
Patrick Vahe
(Euless, Texas/Trinity), also could commit this summer.
They might be only high school juniors (well, not even that yet), but the Texas commits know there's a lot more to the number 300 than most people assume.
July, 16, 2013
7/16/13
1:28
PM ET
RecruitingNation released its first ever ESPN junior 300 on Tuesday, and a slew of already-committed prospects have put five programs out front early in the recruiting cycle. Here they are, in alphabetical order.
To continue reading this article you must be an Insider
June, 9, 2013
6/09/13
6:15
PM ET
AUSTIN, Texas -- Texas offensive line coach Stacy Searels, the Odd Job of assistants, went all day without throwing his ball cap through the air of the practice field during Texas' summer camp.
But that didn't stop 2015 recruit
Connor Lanfear
(Buda, Texas/Hays) from taking his cap and throwing it right into the Texas ring. The offensive lineman became the third Longhorns commit on what was an active day for 2015 recruits.
[+] Enlarge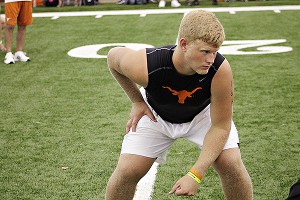 Max Olson/ESPNClass of 2015 offensive tackle Connor Lanfear called his Texas offer a "dream come true."
"It's a dream come true and I just feel so incredibly blessed," said the 6-foot-6, 270-pound Lanfear.
Probably for Texas as well which, under Searels, has continued its impressive run of commitments along the line. That run includes three ESPN 150 members, another with 50 offers and a juco star who should start for Texas this fall.
The Longhorns already have the No. 2 center in the country,
Terrell Cuney
(Jasper, Texas/Jasper), committed for 2014 and now have a trio of quarterback protectors in 2015.
They include
Aaron Garza
(Sherman, Texas/Sherman), Texas' first commitment in 2015, and
Maea Teuhema
(Keller, Texas/Keller), who will be in the running for the state's top player as a senior.
For Lanfear, who received his first letter 10 months ago from Oklahoma State and was receiving interest from Oregon, TCU and had camped at Texas A&M, the commitment came down to the school and Searels.
"I can't think of any other better coaching that I've received," he said.
Lanfear also understands that his commitment is the start, not the end, as it pertains to become a better player.
"There is a lot of talent out there and no matter how good you are there is always gong to be someone out there that can challenge you and compete with you and beat you so you have to keep working to get better yourself," he said.
Now Lanfear has aligned himself with what is shaping up to be one of the better offensive line classes in 2015.
May, 30, 2013
5/30/13
9:32
PM ET
KELLER, Texas -- As far as package deals go, they don't get much better than the one Texas landed Thursday night.
As expected, brothers
Sione Teuhema
and
Maea Teuhema
gave their verbal pledges to the Longhorns following Keller (Texas) High School's spring game.
Following the game, the two brothers kept things modest for their big announcement: Maea grabbed a black Texas tee out of a bag, Sione grabbed a white one and they grinned as they held them up.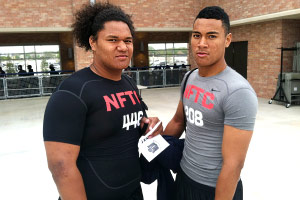 Max Olson/ESPNMaea Teuhema (left) and Sione Teuhema both committed to the Longhorns on Thursday.
"It feels good to be a Longhorn," Maea Teuhema said.
Sione, a 2014 defensive end, becomes the 14th member of Texas' No. 2-ranked recruiting class. His younger brother, coveted offensive tackle Maea, becomes one of the cornerstone pieces of the Longhorns' 2015 class and its fourth verbal pledge.
"It's close to home – not too far and not too close," Sione Teuhema said. "And we love the school and it was a good experience. We agreed on Texas. LSU was too far. For me, the first time I visited there, I just fell in love with Texas."
This commitment has seemed almost inevitable since the day the Teuhemas set foot on the Texas campus on March 23 and were taken immediately into coach Mack Brown's office to receive scholarship offers.
Ever since, the Longhorns appeared to be the leaders to land the impressive duo. Texas coaches told Sione he reminds them of former UT All-American
Brian Orakpo
, and they viewed Maea as one of the state's best sophomore prospects.
"The biggest thing is it feels like home," their guardian, Robert Taliaferro, said. "It really did to me and to them. We loved the defensive ends coach, and we loved the offensive line coach. And at the end of the day, if the NFL doesn't work out, they want to get a job and live in Texas."
But the Teuhemas did their research before reaching this decision, including visits to LSU, Texas A&M, Oklahoma and several other programs. Alabama also made a strong late push, though the brothers were unable to visit Tuscaloosa.
According to Taliaferro, the decision was tougher than expected at one point this spring.
"I thought we were going to LSU, I really did," he said. "It was dadgum close to being LSU, done deal, and we almost committed that day while we were down there. It was that strong of an impression. But when they got home and realized just how far it was, they went back to Texas again and started talking about how much Texas felt like home."
Sione came to Taliaferro nearly two weeks ago and asked what he'd think if they chose Texas. One day later, he took it a step further.
"He said, 'We pick Texas,' " Taliaferro said. "I talked to Maea alone and asked if he was on board with this, and he said yeah. He said, 'Actually, we decided Texas a long time ago. We just weren't telling you to mess with you.' "
The duo wanted to hold off on announcing so more Keller teammates could get noticed by recruiters during their spring practices.
According to Taliaferro, this commitment completely ends their recruitment. Maea, a 6-foot-4, 344-pound offensive tackle, will be a Longhorn no matter what, even if he doesn't sign his letter of intent for another 20 months.
"We've turned down LSU and Alabama," Taliaferro said. "Who else is going to win us over?"
That was the plan all along. The brothers would not split up and play at different schools, and college recruiters obliged that plan by offering both brothers.
Sione, a 6-3, 211-pound speed rushing end, and his brother also held offers from Baylor, Oklahoma State, Oregon State, TCU, Utah and Washington State.
He's the third defensive end in this Texas class, joining top commit
Derick Roberson
(San Antonio/Brennan) and
Jake McMillon
(Abilene, Texas/Abilene).
Maea becomes the second offensive lineman in Texas' 2015 class, joining Sherman (Texas) guard
Aaron Garza
.
March, 30, 2013
3/30/13
7:09
PM ET
AUSTIN, Texas -- A big-time Texas recruiting day got even bigger right before the start of the spring game.
Cornerback
Jalen Campbell
(Corpus Christi, Texas/Flour Bluff) became the third member of the Longhorns' 2015 class after making a commitment on Saturday afternoon.
The 5-foot-11, 175-pound prospect received an offer from Texas last weekend during the Longhorns' first-ever Sophomore Day and pulled the trigger on his return visit. He confirmed his decision in a text message prior to the game's kickoff.
Texas was the only school to offer Campbell, and he had early interest in LSU, Oregon and Georgia. He joins offensive lineman
Aaron Garza
(Sherman, Texas/Sherman) and defensive tackle
Bryce English
(DeSoto, Texas/DeSoto) in Texas' 2015 class.
The pledge is a rare one in two ways. Texas has never taken pledges this early in Mack Brown's tenure until Garza became the first last Saturday, and Corpus Christi is an area the program has not recruited much in recent years.
The secondary should be a priority for Texas with the class of 2015, considering starting corners
Quandre Diggs
and Carrington Byndom will both be out of the program by the time Campbell steps foot on campus.
Despite his size, Campbell is being recruited as a corner, though he could play eventually a variety of roles in the Longhorn secondary.
March, 29, 2013
3/29/13
4:13
PM ET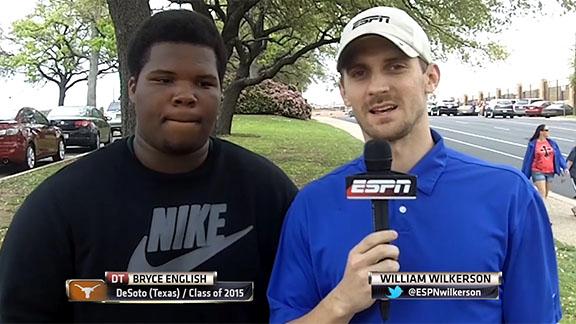 AUSTIN, Texas -- It is all about the family for Texas' newest 2015 commit.
After receiving an offer from the Longhorns on Friday afternoon, defensive tackle
Bryce English
(DeSoto, Texas/DeSoto) wasted little time in committing to Texas. In doing so, he'll eventually join a program coached by his godfather, Texas recruiting coordinator and tight ends coach Bruce Chambers.
"I've been wanting to be a Longhorn ever since middle school," English said. "I've been throwing up 'Hook'em' forever. My dreams are finally coming true."
English (5-foot-11, 312 pounds) is the second sophomore to commit to the Longhorns in less than a week. Offensive lineman
Aaron Garza
(Sherman, Texas/Sherman)
committed during Texas' sophomore day
on Saturday.
The product of one of Texas' top high school programs, English severely helps fill a position of need across the interior of the Longhorns' defensive front. Texas missed out on its top defensive tackle target in 2013 –
A'Shawn Robinson
– and ended up not signing a signing a single defensive tackle.
But they've got one now, one the Longhorns can count on to hold true to his commitment over the next two years.
"Coach [Mack] Brown was telling me that they wanted to offer me and didn't want me to go to any other schools," English said. "When you commit you stay true to Texas. That's what I'm going to do."
March, 29, 2013
3/29/13
8:05
AM ET
By
RecruitingNation
| ESPN Insider
March, 26, 2013
3/26/13
8:29
PM ET
The fact that 2015 offensive tackle
Zach Rogers
(Lewisville, Texas/Hebron) didn't get an offer on Texas' sophomore day was a little surprising to some.
But it's all a wash now.
To continue reading this article you must be an Insider
March, 23, 2013
3/23/13
12:10
PM ET
It started with a joke about a haircut and has evolved into a commitment to play football at the University of Texas.
The first time Longhorns offensive line coach Stacy Searels spoke to 2015 offensive lineman
Aaron Garza
(Sherman, Texas/Sherman), he broke the ice by cracking a joke about their similar haircuts.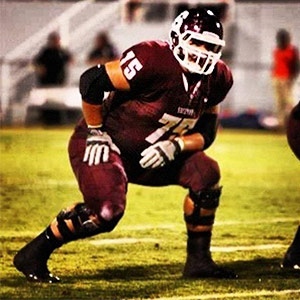 Courtesy of Kim DanielsClass of 2015 offensive lineman Aaron Garza is the Longhorns' first commit of the class.
"He liked my haircut and said he gets his haircut twice a year, one in the summer and one in the winter," Garza laughed. "He said he goes to the porch barber shop in the summer and the bathroom barber shop in the winter. He said his wife cuts his hair. It was funny."
The two spoke again at Texas' inaugural sophomore day on Saturday and Garza decided to end his recruitment and commit to Searels and the Longhorns, becoming the first commitment for Texas in 2015.
Garza, who is 6-foot-4 and 307 pounds, chose the Longhorns over an offer from Baylor, which he got without ever playing a down of varsity football.
That's right, the Bears offered Garza while he was still playing junior varsity ball, which is where he had to play because of a rule that Sherman has about not letting freshman play on varsity.
So what is it about him that has put him in a position to commit to Texas after only one year of varsity ball?
"Maybe they see my frame and body," Garza said. "My dad is 6-7 and I'm supposed to be just as big as him, so maybe they see a lot of me in him. I'm a fairly thick guy all around. When I spoke with their coaches the other day, he said he really liked my frame. He said I was what they are looking for."