NCF On The Trail:

2014-uncommitted-breakdown
February, 4, 2014
2/04/14
10:43
AM ET
LOS ANGELES - Early in the summer of 2011, Russell Biggs first laid eyes on
Adoree' Jackson
.
Jackson wore a backpack and an outfit resembling pajamas, according to Biggs, a longtime track and field coach in Southern California. Straight out of Belleville, Ill., Jackson, 15, stood about 5-foot-7 and attracted zero notice as he strode into a USC football camp.
Lane Kiffin and the other coaches in charge had no idea.
Biggs did, though.
In fact, it was Biggs who suggested Jackson attend that USC camp after Jackson's brother-in-law, Jason Keene, not long before, approached Biggs at a restaurant.
Their encounter seemed innocuous to the coach, but Keene, who worked security at a T.G.I. Friday's, had noticed Biggs, wearing a whistle around his neck and talking sports, on previous trips to the restaurant.
Keene told his wife - Jackson's sister -- that if the coach came back, he would be prepared.
To read more,
click here
.
Also,
more features on uncommitted prospects
heading into national signing day.
February, 3, 2014
2/03/14
2:00
PM ET
This is part of a series on the nation's top uncommitted recruits leading up to signing day. Click here for the full series.
AUBURN, Ala. --
Rashaan Evans
(Auburn, Ala./Auburn) is known for his infectious personality. He's typically the life of the party and has a smile that can light up a room. But on Sunday, when the ESPN 300 linebacker sat down at his home for what he said would be his final interview before announcing his college decision Wednesday on signing day, it was clear the recruiting process had taken its toll.
It was evident in his mannerisms. It was evident in the way he answered questions. It was evident in the tension that filled the Evans household. It wasn't intentional, but the signs of stress were there.
[+] Enlarge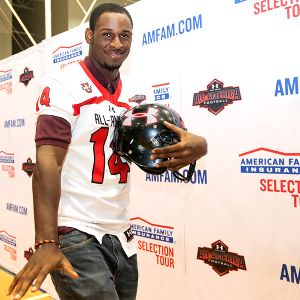 Courtesy of IntersportRashaan Evans is down to in-state powers Alabama and Auburn, and he will announce on Wednesday.
"Sometimes it feels like it's getting worse every day," Evans said.
Five minutes into the interview, his mother tried to cut it short. She wasn't trying to be rude; she had simply had enough. She said she wanted to spend time together as a family. It was something they hadn't been able to do for what seemed like an eternity, and Sunday just happened to be her birthday.
"It's been pretty hectic," Evans said. "I really haven't had just a good week to myself, with me and my family, where we don't have people calling us or coming to see us or having to go on visits or anything."
Saturday night was a prime example, as not even his grandfather's birthday party proved to be off-limits.
Evans and his family attended the party for his grandfather 24 hours earlier at a nearby hotel. It seemed like a perfect opportunity to get away from the world of recruiting for at least one night. But Auburn coach Gus Malzahn and Alabama defensive coordinator Kirby Smart found themselves on the guest list, and a handful of coaches from each school showed up as well. All were hoping to make one final good impression on the four-star prospect, one of a dwindling number of uncommitted prospects remaining in the ESPN 300.
"The fact that they came all to one place, it was pretty interesting," Evans said. "But I don't think it was a bad deal. The party was really about my granddad, and they just tagged along. That's all it was. That's the type of atmosphere it was. It wasn't a competition."
It was a competition, though. The coaches might have acted civil during the party -- the two sides even talked to each other when they first arrived -- but it's all part of the ongoing competition to land Evans' signature on signing day.
It started more than a year ago when Alabama and Auburn first offered Evans a scholarship. The Tigers came first in May 2012; the Tide followed suit five months later. It escalated when Evans started to shine at events such as the regional Nike Football Training Camp and The Opening, and it continued with strong performances at the Alabama-Mississippi All-Star Game and last month's Under Armour All-America Game.
Now, just before he makes his final decision, the competition has reached a fever pitch, and all Evans wants to do is escape it. It's time for him to be selfish.
Local fans who say "War Eagle" when he goes out in public don't matter anymore. Alabama fans tweeting him "Roll Tide" don't matter either. Even though his friend and former teammate
Reuben Foster
has helped with the recruiting process, it no longer matters what he says. Even his mom and dad, who both went to Auburn, are telling Evans to make the best decision for him, not for other people.
"I just try to get him to understand that his main concern should be himself," said his father, Alan Evans. "He should not be worrying about the pressures of going to school because I went there. He should be worried about his own career and where he wants to go with it."
It's not an easy decision for 18-year-old kid, but it's one Evans has to make.
At one point, between talking about his grandfather's party and one of the visits he took, a smile appeared on Evans' face. He was reminiscing about the process, and as stressful as it got at times and as much of a toll as it took on his family, he knows it was a once-in-a-lifetime opportunity.
"Sometimes whenever I'm stressed about it, I always click over to another mode and just try to enjoy it," Evans said. "I know these are precious times in my life. ... I try to look at it as a way to make memories."
In the hours leading up to signing day, Evans plans to sit down with his family and look at what each school has to offer. He's done with interviews. He's done talking to coaches. He's done with every part of the process that isn't about making an actual decision.
He has one more memory to make on Wednesday, and he wants to make sure it's one he won't regret.
January, 30, 2014
1/30/14
10:00
AM ET
This is part of a series on the nation's top uncommitted recruits leading up to signing day. Click here for the full series.
FORESTVILLE, Md. -- The D & S General Store is the type of place you would expect to find Willie Prince. There was a charm in the worn-out shingles and the chicken-and-waffles special, a reprieve from the big, corporate gas stations throughout the rest of the Beltway. There are just two tightly packed gas pumps and payment is only accepted inside, a homage to the human touch of the local general store of Prince's upbringing.
Nobody there called him Willie Prince, though. Nobody around town did, for that matter. He was Mr. Prince or Pops, Sgt. Prince or Dad.
"That was probably a daily routine for him, to stop at the gas station,"
Damian Prince
said.
[+] Enlarge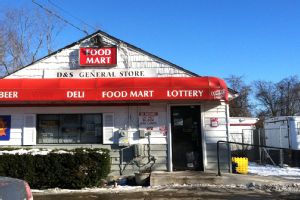 Jared Shanker/ESPNThe D&S General Store in Mitchellville, Md., is a throwback to a different era, and Willie Prince was a regular customer.
For?
He grins. "Playing numbers," he said.
It was one of Prince's fondest memories of his great grandfather -- Dad, as he knew him. Before Damian Prince turned into a hulking 6-foot-6, 305-pound offensive tackle and the 26th-ranked senior in the 2014 ESPN 300, the two might stop at D & S for a lottery ticket and some banter before practice.
Flashbacks to those memories were changed forever on Nov. 28, 2011.
A look in his eye
LaKeyia Chappell was determined to have a son. Her first three children were all girls, but she needed a boy.
"I wasn't gonna stop until I got one," she said.
She finally gave birth to Damian DeVaughn Prince II in April 1996. He looked just like Damian's father, Mr. Prince's grandson.
"[Mr. Prince] had this look in his eye that was just like, 'Wow.' I was giving them something that had been taken away from [them]," Chappell said.
Five months earlier, Damian DeVaughn Prince I, Damian's biological father, was shot and killed. No arrests were made, and to this day, Chappell seeks clarity.
At the time, Chappell was living in southeast Washington, D.C., in one of the city's roughest neighborhoods. She raised Damian as an infant, but without a male role model in the home and the inner-city streets only a few feet from her doorstep, beckoning to swallow another impressionable young son, Chappell sat down with Mr. Prince and Damian's great grandmother, Jean. They offered to take Damian into their home in the Maryland suburb of Mitchellville.
"There wasn't a whole lot for me to think about," Chappell said.
Damian called Mr. Prince his "dad" from the time he was born. He is the only father Damian ever knew. He reflected several times on how lucky he was that Mr. Prince and his wife opened their home to him.
[+] Enlarge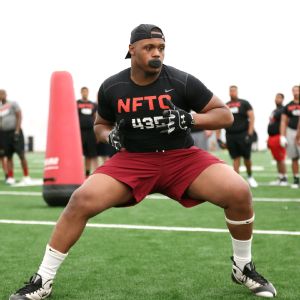 Tom Hauck for Student SportsDamian Prince blossomed into one of the top offensive line prospects in the country, and will choose between Florida and Maryland on national signing day.
Whatever Damian needed, Mr. Prince was there. He would drop him off at school before going to work as a police officer at the Washington D.C. Veteran Affairs Medical Center. During basketball season, Mr. Prince would leave work and get home at 6:30 p.m. to have Damian back at the school by 7. A boxer in the military, Mr. Prince didn't have any background in basketball. But Damian's basketball coaches opened the floor to Mr. Prince at the end of every practice, begging him to address the team.
"Coach would ask, 'Dad, you having anything to say?' And he always knew what to say and how to say it," Damian said.
A star basketball player in the youth ranks, Mr. Prince approached Damian about playing football before his eighth-grade season. Damian brushed it off, wanting to stick with basketball, as some of the area's most prestigious basketball programs were recruiting him. Mr. Prince insisted.
"Ninety-five percent of the time he was always right," Damian said.
Damian became a football player, and will commit to either Florida or Maryland at 10:25 a.m. on national signing day, Feb. 5, on ESPNU at Bishop McNamara High School in Forestville, Md.
'Daddy gone'
Myron Jeter worked the same shift with Mr. Prince for a decade, and they were close. On the evening of Nov. 28, 2011, Mr. Prince's shift ended at 7 p.m., but he stuck around, trading fishing stories with Jeter, joking he'd bunk with Jeter's family in Amelia, Va., to fish for Atlantic croaker.
"He said, 'Don't be surprised if I'm on your porch when you get there,' " Jeter recalled.
It would be one of the last times anyone would talk to Mr. Prince. When Jeter came in the next morning, a co-worker met him at the gate. "Daddy gone," he told him.
Mr. Prince left an hour after his shift ended, prompting a call from his daughter to Jeter at about 8:20. He told her Mr. Prince had just left and should be home in the next few minutes. On his way home, Mr. Prince made a stop at the D & S General Store. As he left, a car was stalled across the street of Maryland Route 193, a two-lane highway aligned with horse barns and lavish two- and three-story homes.
[+] Enlarge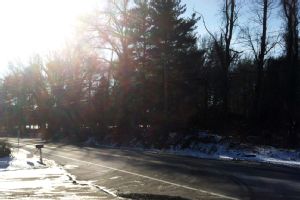 Jared Shanker/ESPNWillie Prince was struck by a car when helping a stranded motorist on a Maryland road on Nov. 28, 2011.
The oldest of 13 kids and a Korean War veteran, it was Mr. Prince's nature to help, "even if you weren't blood," Damian said. He helped the owner of the disabled vehicle jump-start his car, but as Mr. Prince walked back across the street, an oncoming vehicle struck the altruistic 78-year-old.
Damian was at home playing video games when his best friend and neighbor knocked at his door.
"Is Pops home?" It was more prayer than question.
The neighbor saw Mr. Prince's car outside D & S, with him nowhere to be found and an ambulance speeding toward Prince George's Community Hospital.
Damian and his Aunt Donna were the first to arrive, where they saw the car that hit Mr. Prince.
"It looked like they had hit a wall," Damian said.
Willie Prince was pronounced dead at the hospital.
Devastated their beloved patriarch was lost, there was comfort among family and friends that Mr. Prince died the way he lived.
"He's been taking care of people his whole entire life," Damian said.
Said Jeter: "The thing that eased my mind was he pretty much died doing what he did. He didn't care who needed it -- if he had it, you got it."
"That wasn't a fluke or anything; that was just him," said Tommie Boozer, another VA officer.
The hospital allowed family members to go into the room and say their goodbyes to Mr. Prince. Damian never got out of the waiting room chair, though. He lost the only father he ever knew, 15 years after losing the one he never met.
"Me, I couldn't do that. I wasn't strong enough for that," he said.
'I wouldn't attribute it to anything else'
The death came at the end of Prince's sophomore season. The summer before a prospect's junior season is an important one for football recruits as they look to build a national profile and offer sheet. But Damian wasn't interested.
"Losing Mr. Prince, it was different. It changed him for a while," Chappell said. "He didn't want to play football anymore. He was losing his drive."
After all, it was Mr. Prince who guided Damian to football. By bringing Damian into his home, it kept Prince away from the D.C. streets that often turned teenagers into troublemakers. With Mr. Prince, the only time he called Chappell to tell her Damian was giving him trouble was when Damian would spend his weekly lunch money allowance by Wednesday.
"I wouldn't attribute [Damian staying out of trouble] to anything else other than Mr. Prince," Bishop McNamara athletic director Anthony Johnson said.
Damian returned to the football field in August 2012, knowing that's what Mr. Prince would have wanted. And the first game of the season happened to fall on Mr. Prince's birthday. He wore No. 79 instead of his normal No. 55 to honor him.
Damian wishes his great grandfather was once again there to mentor and offer advice. He could use his wisdom to whittle more than 40 scholarship offers to the only one that matters.
"Anyone who knows me," he said, "knows he was the dearest person to me."
January, 28, 2014
1/28/14
10:00
AM ET
This is part of a series on the nation's top uncommitted recruits leading up to signing day. Click here for the full series.
The Iron Bowl. It's arguably the greatest rivalry in college football. If there was any doubt about its place before this season, Chris Davis sealed it with his 100-yard field goal return for a touchdown from the back of his own end zone on the game's final play. The two teams, Alabama and Auburn, played in the last five BCS title games, winning four of them.
It's no wonder every young football player in the state dreams of playing for one of the two SEC rivals, and it's why, if offered, the majority of the state's top prospects end up choosing either the Crimson Tide or the Tigers.
There's no pipeline out of Alabama. The path leads directly to Auburn or Tuscaloosa.
[+] Enlarge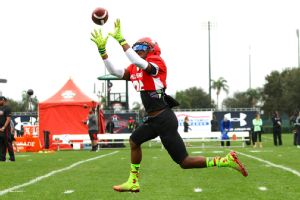 Miller Safrit/ESPNThe recruitment of five-star cornerback Marlon Humphrey is expected to come down to Alabama or Florida State.
Don't tell
Marlon Humphrey
that. The five-star cornerback from Hoover (Ala.) High School is the state's No. 2 prospect and will decide between Alabama and Florida State on national signing day. Mississippi State and UCLA are also in the mix, but it looks as if the decision ultimately will come down to the Tide and the Seminoles.
If you were a betting man, you'd probably bet on Nick Saban and Alabama. Humphrey just returned from his official visit to Tuscaloosa. He lives less than an hour from UA's campus, and his father, Bobby, was an All-American running back for the Tide back in the 1980s. It all makes sense for him to stay in state.
That's not Humphrey, though. He doesn't care what he "should" do.
"In our society today, he's kind of a true man," Hoover coach Josh Niblett said. "He's a true guy's guy. He knows what makes him happy. He knows what makes him tick. He knows what makes him go. He knows what makes him want to compete harder. And there's a lot of people in this world who don't know that.
"He's not going to go somewhere where somebody says, 'Hey, this is where you need to go or this is where your dad went to school or your dad didn't go to school there.' He's going to go where he best feels like he fits what's going on and where he can best be an asset to the program."
What makes Humphrey tick is different from most. He has a unique personality, and, when it comes to recruiting, he has his own approach. This past April, he was invited to spring games at Alabama and at Auburn, but he instead chose to stay home and play video games, his own idea of "spring gaming."
Spring gaming pic.twitter.com/kv1MLRpVUi

— Fruit PUNCH (@marlon_humphrey) April 20, 2013
This summer, Humphrey missed The Opening, an elite camp featuring the nation's top recruits, to instead take a trip to Ukraine to compete in the IAAF World Youth Championships. While there, he finished second in the world in the 110-meter hurdles. He nearly skipped his official visit to Florida State earlier this month for a track event in Iceland but decided at the last minute to stay and take the trip.
It's not that he doesn't care about recruiting and all that comes with it. He's just not into it as much as some of the kids in this day and age.
"People see him as being cocky, but he's more than that," Humphrey's teammate and 2015 running back
Braderick Shaw
said. "He's a leader. He understands the game, and he just loves that he can compete. He wants to be great.
"At practice, he goes 100 percent every time. We'll be doing special teams at practice, and he goes all out. He never slows down."
It's ultimately what has made Humphrey the player he is today. It's why he can basically pick the school of his choice and why he's choosing between the past two BCS national champions.
Humphrey declined to be interviewed for the story, as did his father, as the two are staying away from any interviews until after Humphrey makes his college choice, but that decision came as no surprise to his coach. As outspoken as Humphrey can seem on various social media sites, he has a reserved side, too. A more driven side.
"He just wants to go about his business, do what he's got to do and be great at what he does," Niblett said.
That's why, when it comes time to make a decision, Humphrey won't do it on television. He reluctantly agreed to do a ceremony at his high school with the rest of his teammates who are signing that day.
"We are trying to make this as normal as it has always been," Hoover athletic director Myra Miles said in a report from AL.com. "He wants this day to be about everybody here at Hoover and not just himself."
That's Humphrey.
Will he continue the family legacy, follow in his dad's footsteps and play for the Tide? Or will he buck the trend, leave the state of Alabama and sign with Florida State?
Only Humphrey knows.
January, 28, 2014
1/28/14
9:00
AM ET
This is part of a series on the nation's top uncommitted recruits leading up to signing day. Click here for the full series.
To continue reading this article you must be an Insider
January, 23, 2014
1/23/14
10:00
AM ET
This is part of a series on the nation's top uncommitted recruits leading up to signing day. Click here for the full series.
Five-star defensive end
Lorenzo Carter
(Norcross, Ga./Norcross) is one of the most heavily recruited football players in the country. But football stardom didn't always seem like it would be in the 6-foot-5, 234-pound athlete's future.
"It was basketball for me early," Carter said. "Me and my family always played basketball. It was kind of weird being recruited for football because I had spent so much time playing basketball and developing for basketball and then football comes and I'm like 'I guess I have to change my time and effort to football now.'"
[+] Enlarge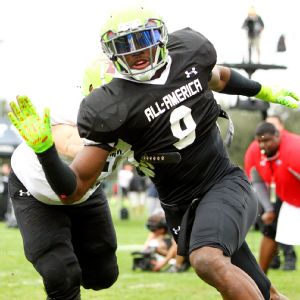 Miller Safrit/ESPNLorenzo Carter has several factors to weigh before picking among Florida, FSU, Georgia and LSU.
Carter's mother, Lisa, admits it was her advice that pointed her son in the right direction.
"He could never decide if he wanted to go football or basketball," Lisa said. "So I always told him 'Lorenzo, if you grow taller then basketball is the direction you need to go. Because at your current size -- think about the next level, they truly have 7-footers and guys that are 6-11. You're not quite there. You've been playing in the post the whole time, so if you get taller it's basketball but if you stay at your size, stay with football. You have beautiful size for football.'"
Beyond his imposing football physique, Lisa offered some hard truths.
"[Lorenzo] didn't get any taller and we're like 'your ballhandling skills are not that great -- especially to be a guard," Lisa said. "Take a look at some of the guards in the NBA and look at their heights and compare them to you. Can you play with LeBron?' He's taller than you.' He's like yeah you got a point, so football it is."
Now that her son is an All-American football player, Lisa and her husband, Leo, are helping Lorenzo make the best college decision for his future.
"Look at each school," said Lisa, describing her advice. "See what it has to offer academically and then see what the coaching staff has to offer for you athletically. Are they producing academically and athletically? If they are then those are the schools that you need to look at on your list. Once you determined who meets your needs, then how do you feel about those schools? Because you have to have a feeling, you have to have a connection with those schools. When you find the strongest connection, that's where you need to be."
For Lorenzo, there is one school with which he has made the best connection.
"I'd say Florida. I had the best relationship with the Georgia staff, but yeah, they are gone now," Lorenzo laughed, "so I'd say Florida. I always spent time with the Florida and Georgia staffs. I went to Georgia all the time, then Florida was one of my favorites early so I just spent so much time with those schools. Florida is always here and every time they come they bring like four coaches to see me."
Luckily for Georgia, new defensive coordinator Jeremy Pruitt knows Carter from his time at Florida State. Carter said Pruitt has made him a priority since taking the new job.
"I think it was a good pickup for Georgia," Lorenzo said. "I really didn't talk to him much when he was at Florida State but I feel like I'll have a better relationship now that he's at Georgia. He's been working hard to get a better relationship with me. He came to the house probably the day after he got hired."
Carter has a top four of Georgia, Florida, Florida State and LSU and this week will be hectic for the No. 14-ranked player in the country.
All four of Carter's top schools have visited or are scheduled to visit this week. In fact, Florida and FSU had coaches at his basketball game on Tuesday night and LSU coach Les Miles met with Carter's mother on Wednesday. Pruitt will visit Carter on Thursday while head coach Mark Richt will do his in-home visit on Monday.
In addition, Carter is still planning to take an official visit to FSU this weekend followed by his last official visit, to Georgia, the weekend of the Jan. 31.
With less than two weeks until signing day things are coming down to the wire. Factors like academics, distance and program stability will all factor in to Carter's decision. Lisa, however, said there is one particular school she would like for her son to attend.
"I have a daughter, Larrisa, who plays basketball at Coppin State in Baltimore, Md. With Larrisa playing basketball in Maryland and Lorenzo here doing sports, we hardly ever had an opportunity to see Larissa play," Lisa said. "That was very difficult. On holidays she couldn't come home, she would have to spend Thanksgiving at a coach's house and Christmas here for only two days. So distance was an issue for our family.
"Of course I would love for him to go to Georgia -- it's an hour away. It's close enough to get to him but not close enough to where I'm just going to drive up there every day. But, I have great respect for all of the coaches and, like I told Lorenzo, it's his decision, wherever he goes -- we'll be there. I favor Georgia, but only because of distance, not because of pressure or anything else. It's only the distance for me. I'd be OK if he went to the University of Hawaii, if that's what he wanted to do."
And that sentiment is shared throughout the Carter family. The family will help guide and give their opinions, but at the end of the day, it will be Lorenzo making the final decision.
"I can't let it play that big of a factor because I'm going to have to grow up and leave the house eventually anyway," Lorenzo said. "They are going to have influence but it's going to be my decision. We know that as a family."
January, 23, 2014
1/23/14
9:00
AM ET
This is part of a series on the nation's top uncommitted recruits leading up to signing day. Click here for the full series.
[+] Enlarge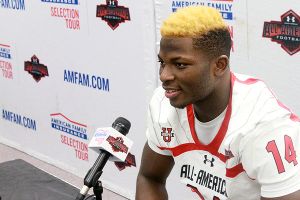 Courtesy of IntersportFive-star defensive end Lorenzo Carter is planning to make his decision on signing day.
Lorenzo Carter
(Norcross, Ga./Norcross), the top uncommitted front-seven defender, is a promising DE/OLB hybrid type prospect. For Carter, scheme and physical development will determine how he can best fit at the college level. Carter is a long, lean prospect who will need to work to further fill out his frame and improve strength. His strength at this stage is as a pass-rusher, with his length and initial quickness he can present problems coming off the edge. He needs to learn to better use his hands and reach to his advantage, but flashes ability to turn the corner as well as redirect inside after working upfield. He also possesses very good speed for his size and can be a factor in pursuit while offenses will always have to account for him on the backside of plays. Carter flashes upside as an edge run defender, but here is where the talented prospect needs the most development, as running at him, rather than away from, is a better way to try and neutralize him. He needs to watch his pad level, and when he stays low, he flashes ability to hold ground, but at this stage lacks a prototypical anchor to set the edge against bigger linemen. Early in his college career, Carter will be more of a situational player, but he possesses some very good natural tools to contribute well in those areas with the upside to grow into a more complete defender once he fills out further and finds his fit.
To continue reading this article you must be an Insider
January, 21, 2014
1/21/14
10:00
AM ET
This is part of a series on the nation's top uncommitted recruits leading up to signing day. Click here for the full series.
The term "two-sport star" is thrown around a lot in recruiting.
There are many prospects that have the desire to play football and run track or play basketball in college, but few actually possess the talent to play two sports at a collegiate level and handle the demands it takes.
[+] Enlarge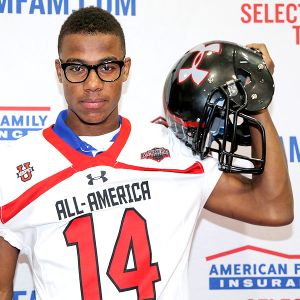 Courtesy of IntersportESPN 300 receiver Malachi Dupre has planned upcoming official visits to Florida State and UCLA.
One of those rare talents is the nation's No. 1 wide receiver,
Malachi Dupre
(River Ridge, La./John Curtis Christian).
Not only does the No. 17 prospect have elite ball skills and leaping ability on the football field, but that skill set carries over to track and field, as well.
The 6-foot-3, 187-pound Dupre burst onto the scene as a sophomore taking home the LHSAA state indoor high jump title with a leap of 6-7.25, breaking the 2A state record.
"His 10th-grade year, Malachi had a basketball game on a Friday night," Dupre's father, Mike, said. "Then, he had to go high jump the next day at the indoor state meet in Baton Rouge. He went home after the basketball game and iced his legs. He got up early the next morning and we went to Baton Rouge and he won the high jump, and set a state record."
Dupre followed that with another 2A state title in the triple jump (45-6.25) that spring, and three gold medals in the spring of his junior year on the track.
Last May, he took home state titles in the long jump (23-5.76), high jump (6-6) and triple jump (44-2.75).
If Dupre focused on the jumps, there is little doubt he has the ability to develop and compete at the major college level.
But Dupre is different. He's narrowing his focus to football at the next level.
A Shift To Football
For Dupre, it was his freshman year when the gravitation to football began in full.
"I did football, basketball and track, and I liked baseball too growing up," Dupre said. "I liked football and basketball the most as I got older ... It was probably sophomore year when I realized football was the best fit for me. I have point-guard height in basketball, and realized my athletic ability would be best in football ... but I didn't realize I would turn out this good."
As a former college athlete at Southwest Louisiana, Mike Dupre knew football was his son's future.
"I always said football was the one," Mike said. "Basketball is tough because you only have 12 or 13 players, and in football you have 85. You could always see his athleticism in basketball, but he didn't have the height to play forward or the handles to play point guard. His athleticism and size carried over to the football field."
Making The Decision
Dupre has gone from a relative unknown as an underclassman to the top of the rankings at his position.
It's even more impressive considering his high school, John Curtis Christian, is primarily a running team in a day and age when high school receivers are putting up monster statistics in spread offenses.
The sure-handed wide receiver, who runs a 4.58-laser-timed 40-yard dash, takes another route when looking at his rise.
Though his stat sheet pales in comparison to others, he understands the program he been a part of has helped shape him.
"The offseason preparation and mental toughness that we have to go through at Curtis definitely helps prepare me," Dupre said. "College coaches, when they come through and talk to me, say Curtis practices are the closest thing to a college-level practice they have seen. ... I knew the talent I had, and it's more than stats and catches."
Dupre has also seen, as teammates got recruiting, just how to deal with the pressure-packed process.
"Seeing how their process went, and how they handled it has helped me," he said. "Friends that have done this before and friends that are already in college that I can trust in is the probably the best advice you can get. Somebody that has gone through it recently, and can tell me what to look at and look forward too is big."
While LSU, Alabama, Florida State and UCLA are still in the running for Dupre's services, there is pressure to stay in state.
And while Dupre has received advice from family and former teammates, the final decision will be his alone.
"Wherever Malachi goes, he will face adversity," Mike Dupre said. "It's very important for him to make that decision of where he wants to be, so when that adversity hits, he doesn't want to immediately transfer or have a sense of negativity. If it's the place he truly wants to be, then that will help him respond to the adversity that he will face."
The words of wisdom from his parents will be a big part of Dupre being comfortable with his decision, which will be announced live on ESPNU during on national signing day on Feb. 5.
"When I sit down to make that decision, it will be my mom, dad and my brothers, Vernon and Matthew. It will come down to where I'm the most comfortable," Dupre said.
January, 21, 2014
1/21/14
9:00
AM ET
January, 16, 2014
1/16/14
10:00
AM ET
This is part of a series on the nation's top uncommitted recruits leading up to signing day. Click here for the full series.
Solomon Thomas
(Coppell, Texas/Coppell) believes he's found the formula for how to deal with college football recruiting.
Looking for the guy to stress about the process? Don't look Thomas' way. On Sunday, fresh off an official visit to Stanford, Thomas put priorities first.
He played a friendly game of 3-on-3 touch football with friends.
"I'm just doing my best not to let the process change me. I can't let it define me," said Thomas, a four-star defensive end with more than 30 offers. "I'm taking advantage of just being a kid right now."
Thomas is the No. 25 player in the ESPN 300 and the nation's fourth-ranked defensive end, but he's also still an 18-year-old high school senior. He reminds himself of that as much as possible with games of touch football, a trip to the movies, a round or two of video games or an exciting game of "Fugitive," where he and friends literally make the entire city of Coppell the playing field with a lengthy game of tag.
For someone who is 6-foot-3 and 256 pounds, being labeled a "man-child" holds opposite-spectrum definitions. On the football field, he's a man among boys. Away from the field, he's a big kid -- and many times, the biggest kid.
"As a teen, he acts like he's 18 going on 2," said Chris Thomas, Solomon's father. "And then there are some times where he's 18 going on 65. He has an old soul about him."
It's that attitude that's helped Thomas turn a potentially hectic recruiting process into one that hasn't been completely bothersome. Rather than worrying about his future, Thomas lives for the now and enjoys life. Being a college athlete can wait, for the time being.
'He's doing it right'
[+] Enlarge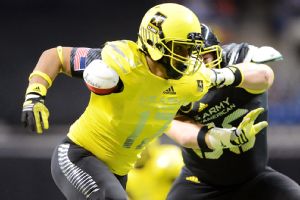 John Albright/Icon SMISolomon Thomas had three tackles for loss in the U.S. Army All-American Bowl.
At the U.S. Army All-American Bowl on Jan. 4, there were times when Thomas was poetry in motion. In practices, he seemed to be in on every play. In the game -- which his team won 28-6 in front of 40,017 fans -- he showed his ability off the end, finishing with three tackles for losses.
Nine players announced their college plans during the game. Thomas wasn't one of them, as he said he wanted to take all of his official visits before making a decision. Thomas' January itinerary included the visit to Stanford and will conclude with Arkansas the weekend of Jan. 24 and Ohio State the weekend of Jan. 31. Thomas visited UCLA last month.
Those four schools and Texas make up his top five, and all five mean something special to Thomas. Many believe Stanford is the team to beat, as Thomas has made several trips to Palo Alto. His official visit was highlighted by news that he was accepted into the university, news he had been patiently waiting to hear.
"It was relieving to hear that," Thomas said. "I felt like all my hard work in the classroom had paid off. Taking four AP classes and taking the SAT six or seven times, [academics] is a grind, just like football is. But it made me a better student and made me challenge myself."
Thomas, however, is adamant about keeping the other four schools at the forefront of his decision. Thomas won't declare a favorite and is expected to have all five hats on a table for his announcement on national signing day Feb. 5.
Coppell coach Joe McBride said Thomas has kept his opinions about the schools relatively quiet. Rarely does Thomas comment on the schools by way of social media, as he understands that every word said can be featured on a message board.
"He doesn't talk about it a lot, but I think he's doing it right," McBride said. "He's doing his own research and at times will come to talk to me about my opinion on a couple of things. He's done a really good job in asking coaches how they want to use him. He's just a smart kid who is taking his time and asking all the right questions."
Four pieces of recruiting advice
McBride said he gave Thomas four tidbits of recruiting advice when schools first began to reach out. He wanted Thomas to look for a program's stability in a head coach; build a solid relationship with a position coach; ask about a program's depth chart; and find out how he'll be used in that program's package.
[+] Enlarge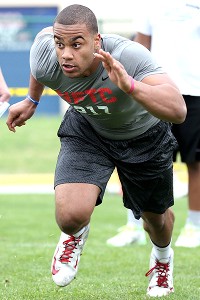 Tom Hauck for Student SportsThomas is ranked No. 25 in the final ESPN 300.
"His coaches have been great with everything," Chris Thomas said. "Solomon's so grounded and focused on what his final goal is, and he's been really organized in his decision-making. He's listed key elements and other criteria for making a decision. He's looking at location, the coaches, trainers, education . . . I'm not surprised he's able to do it and be so levelheaded. That's his personality."
Thomas is a role model by nature, one who understands and appreciates hard work and its rewards. He's a model student who also happens to play several sports recreationally -- basketball, tennis and sand volleyball -- because he doesn't want to be pigeonholed as just another football player.
And when it comes to good manners, it's almost always "Yes, sir" or "Yes, ma'am." He's a person who thinks about others first. One reason he chose to play in the U.S. Army All-American Bowl was to entertain the soldiers.
"It was a grind, but it was an honor and a blessing to be there," Thomas said. "There's so much tradition there, and I just wanted to go out and play as hard as I could for them. Overall, it made me better."
In three weeks, Thomas will announce his verbal commitment, and one school will have a well-rounded individual who also happens to be a defensive juggernaut. It's a decision that shouldn't be taken lightly and one that should be treated with the utmost care. Thomas gets it, even when in the recruiting world, taking your time often can be considered a bad idea.
"I want to be in a different category and do things my own way sometimes," he said. "I just want to enjoy being a kid now. This is a big decision for me, so I know I need to take my time.
"I don't want to rush it. I want to do it the right way."
January, 16, 2014
1/16/14
9:00
AM ET
This is part of a series on the nation's top uncommitted recruits leading up to signing day. Click here for the full series.
Solomon Thomas
, the No. 25 player in the ESPN 300, is one of the nation's top players still on the board. Thomas is looking at Stanford, Texas, UCLA and others. What will he bring to the school that lands him?
To continue reading this article you must be an Insider
January, 9, 2014
1/09/14
9:00
AM ET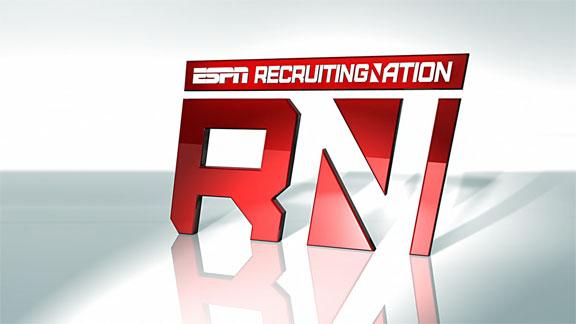 This is part of a series on the nation's top uncommitted recruits leading up to signing day. Click here for the full series.
Wherever, he lands,
John "JuJu" Smith
(Long Beach, Calif./Polytechnic) will bring positional versatility.
To continue reading this article you must be an Insider
January, 7, 2014
1/07/14
9:00
AM ET
Casey Tucker
(Chandler, Ariz./Hamilton) can be a salty presence in the offensive trenches.
To continue reading this article you must be an Insider