NCF On The Trail:

130823 mailbag
August, 23, 2013
8/23/13
11:00
AM ET
It's time to dip into the SEC recruiting mailbag and answer your questions. Because of the amount of questions we've received, we won't be able to get to all of them today -- but we encourage you to ask again next week by tweeting your questions to
@DerekTysonESPN
.
@Watup_Haun: Who's going to land Clifton Garrett (Plainfield, Ill./Plainfield South)?
Derek Tyson:
LSU appears to be the team to beat for the ESPN 300 linebacker and by a wide margin. Garrett will also take official visits to Ole Miss, Tennessee and Florida. LSU is shaping up to have a monster recruiting class, and right now I expect Garrett to be a part of it.
[+] Enlarge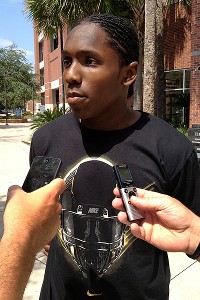 Jeff Barlis/ESPNESPN 300 athlete Adoree' Jackson likes Florida's football and track teams and met with both head coaches during his July visit.
@UltimateLemons: What's your gut tell you about Florida landing Adoree' [Jackson] and [Lorenzo] Carter? Do the Gators even contend realistically for Raekwon [McMillan]?
DT:
Though Florida has made a big impression on the five-star prospects, Jackson and Carter, the Gators certainly have their work cut out for them. Florida's track program recently won a national championship, and track will be a key factor in Jackson's decision. USC, Michigan, Tennessee and LSU are a few other schools squarely in the mix for the talented athlete. Carter has Florida in the lead with Alabama and Georgia slightly trailing. At this point, Florida feels good about both prospects, but there is still a long way to go.
As for McMillan, the Gators are in his top five, but Ohio State is clearly the team to beat. Clemson and Georgia are also near the top of his list. He is talented enough for the Gators to continue to pursue him, but at this time, I don't think he will end up in Gainesville.
@UTSportsAction1: Do the SEC school's generally look for three-star athletes and above?
DT:
If you ask coaches in college football if they only recruit players ranked three-stars or higher, you would probably get the same overwhelming response. "We don't look at stars," they would likely say, and probably in a stern voice. The truth is, a lot goes in to our recruiting rankings, and we don't just rate someone a four-star prospect for the fun of it. A lot of research goes in to every player we rank. I know for a fact that some college coaches do in fact look at rankings, but they wouldn't be doing their job if they didn't do their own evaluations. So to answer your question, I think college coaches use rankings as a general guide to see if they are missing out on certain prospects or to see which other schools have offered players, but they do their own evaluations and decide who they want to offer based on a number of factors.
Looking back at last year's SEC recruiting classes and excluding kickers, long snappers, punters and junior college, prep school and transfer players, SEC teams only signed seven players who were ranked two-star prospects or below:
2013:
Alabama - 0, Auburn - 0, Arkansas - 1 (WR
Drew Morgan
), Florida - 0, Georgia - 0, LSU - 0, Kentucky - 2 (QB
Reese Phillips
and OT
Justin Day
), Mississippi State - 0, Ole Miss - 0, South Carolina - 1 (DE
Kendal Vickers
), Tennessee - 0, Missouri - 2 (OC
Alec Abeln
and DT
DeQuinton Osborne
), Texas A&M - 0, Vanderbilt - 1 (ATH
C.J. Duncan
)
The numbers speak for themselves. Though it's uncommon, the SEC does generally recruit prospects ranked three-star prospects or higher.
@madveal37: The SEC has widespread talent. What true freshmen are going to have a big impact in 2013?
DT:
This is not really a recruiting question, but because I had an opportunity to see a lot of these players in high school and at all-star games over the last few years, I'll give my opinion on a few I think could make an early impact.
DE Robert Nkemdiche (Ole Miss)
: There is a reason he was the consensus No. 1-ranked player in the country. He will play early and often for the Rebels and should make a big impact.
WR Demarcus Robinson (Florida):
Florida needs help at wide receiver, and Robinson has been a star in fall camp.
RB Alex Collins (Arkansas):
Collins was a steal for the Razorbacks. His explosiveness will earn him carries early in his career.
DE Carl Lawson and DE Elijah Daniel (Auburn):
With Auburn's top defensive lineman,
Dee Ford
, out for the opener, it should open the door for Lawson and Daniel to make their marks.
LB Reuben Foster (Alabama):
It's not easy to get on the field early at Alabama, but head coach Nick Saban has specifically singled out Foster for having a strong camp. Look for him to see the field early.
@miketag98: Will UK lose a lot of recruits if [Mark] Stoops flops on the field? Like if they go 4-8?
DT:
I really don't believe so. Obviously Kentucky hasn't had much success on the field over the past few years, and recruits understand that. What Stoops is selling to these recruits is an opportunity to help turn the football program around. The opportunity to play early is another key selling point. As long as Kentucky shows improvement and is at least competitive in most of their games, I don't see recruits bailing on this impressive recruiting class.
@bigjpl2: Does Georgia have a real shot at Elijah Hood (Charlotte, N.C./Charlotte Catholic)?
DT:
Hood, the former Notre Dame commit, was considering North Carolina, Georgia and Virginia Tech before he originally committed to the Fighting Irish. Now that he has backed off his pledge, you would think Georgia might still be in the picture. However, Georgia has two stud running backs in
Keith Marshall
and
Todd Gurley
. The Bulldogs signed four-star running back
A.J. Turman
last year, and they have two ESPN 300 running backs (
Sony Michel
and
Nick Chubb
) committed this year. Chubb is very comparable to Hood as far as size, speed and build. At this point, Georgia doesn't have a pressing need at the position and could risk losing one of its other commits if the coaches put the full-court press on Hood. Though Hood might still show interest in Georgia, in my opinion, I don't believe he will end up in Athens.
@BlakeBoswell1: What are the odds [Leonard] Fournette stays in LA?
In my opinion, the odds are in LSU's favor to land Fournette -- but not by much. Alabama is certainly putting up a big fight. In fact, Fournette was in Tuscaloosa last weekend with
Cameron Robinson
and
Laurence Jones
to watch the Crimson Tide scrimmage. I think this will be a battle to the end, but Alabama has a lot of depth at running back, and LSU's proximity to home gives the Tigers the slight advantage.
August, 23, 2013
8/23/13
11:00
AM ET
Another week and we're answering questions about the recruiting happenings in the ACC.
@sleep_trick asks:
What are the odds
Elijah Hood
commits to UNC after decommitting from Notre Dame?
Corey Dowlar:
Well, they are pretty good, actually. And I wouldn't be surprised if it is done sooner rather than later. According to reports, Hood has been in steady contact with the North Carolina coaches before, and after, his decommitment from the Irish.
Being from North Carolina, his family would be able to see him play. Working in Coach Fedora's offense has its own appeal as well. It would be pretty surprising if Hood doesn't end up in Chapel Hill.
@jameshall616 asks:
Do you think FSU has a legitimate chance to be in the national championship this year?
Dowlar:
James, no, honestly I do not. I am of the opinion that there is too much to do with all the turnover, in coaches and personnel, for FSU to handle all these transitions.
QB
Jameis Winston
, as talented and hyped as he is, has proved nothing yet other than that he is articulate, funny and a good quote. You've seen him in the spring game, probably, so you know he has the ability, but he still has a lot to prove. How quickly he progresses and how quickly he establishes himself will have a huge impact on the season.
I think this Florida State team ends up dropping two games along the way in the regular season with a solid bowl win to end it. Are they in contention for the ACC? Yeah, absolutely.
August, 23, 2013
8/23/13
11:00
AM ET
It's time to dip into the Big Ten recruiting mailbag and answer some of your questions. We'll try to give everyone a chance to get their questions answered. We encourage you to send your questions by Twitter to
@bbournival
or @TomVH. Feel free to email us as well at
bradbournival.espn@gmail.com
or
TomVHESPN@gmail.com
.
@UMKirwin12:
What three players in this class fit the biggest need for their team and will have the biggest impact on their freshmen season?
TomVanHaaren:
There are names that stick out to me, but it doesn't mean the other commitments in different classes aren't important to their respective teams.
The commits that stick out, though, are Michigan commit
Jabrill Peppers
, Michigan State commit
Brian Allen
and Penn State commit De'Andre Thompkins.
Peppers is the top-ranked cornerback in the nation and will provide Michigan with something the defense doesn't currently have. He has excellent size and speed and will be able to cover receivers, but also help in the run game. He is versatile enough to stay in the game in any situation Michigan's defense will be put in, which makes him very valuable.
For Michigan State, the offensive line has been a concern, so landing Allen is a big deal. He might not make an impact his freshman season, because that's often difficult for offensive linemen, but he will eventually make an impact. He is the perfect fit at center and should help anchor the line for the future.
At Penn State, outside of
Allen Robinson
the second leading receiver was a tight end. There are some young receivers on the roster, but landing Thompkins was a big deal. He's a playmaker and a fluid receiver that will help that offense once Robinson is gone. He isn't talked about much, but he was an excellent pickup for the Nittany Lions.
@Wesley20:
What is going on with Ohio State commitment
Marcelys Jones
?
Brad Bournival:
There are rumors the offensive guard -- and first pledge of the 2014 recruiting class -- will take an official visit on Nov. 9 for the LSU game at Alabama, he texted me that he wasn't.
The truth is, the answer is probably somewhere in the middle. I wouldn't be surprised at all if Jones joins ESPN 300 teammates
Marshon Lattimore
and
Erick Smith
, who already have lined up official visits for that date, down in Alabama.
That said, I don't think there is reason to worry. Urban Meyer knew Jones was going on the southern tour with his teammates back in July and if Jones heads to Alabama for the visit, he'll clear it with Ohio State. Throughout all of this, the three-star guard has steadfastly said he was a Buckeye.
@GPF4GOBLUE:
Is Michigan still the front runner in recruiting
Malik McDowell
?

VanHaaren
: I believe so. McDowell has said that he wants to wait to make his decision, but it looks like nothing has changed.
McDowell's parents accompanied him on his last trip to Ann Arbor and they were blown away. His father said he is rooting for Michigan, but letting his son make his own decision.
Anytime you can convince the parents to get on board that is always a positive. McDowell is saying he wants to take visits, but we will see how everything actually plays out.
@HoosierHolmes:
How is Indiana looking in regards to
Micquell Cotton
and
Kenric Young
?
Bournival:
Cotton's trip earlier in the month was a success and Young has an official visit lined up with Indiana on Sept. 20, which is the weekend the Hoosiers play Missouri.

Cotton has Indiana in the mix along with Iowa State and Syracuse, but I still think he's the Hoosiers to lose.
As for Young, seniors take their official visits quite seriously, so Indiana grabbing one of the five allotted trips for the standout wide receiver out of Gainesville, Fla., is a big deal.
Matt, Chicago:
Whose recruiting class in the Big Ten surprises you the most, or who do you think has a sleeper class for 2014?
VanHaaren
: Michigan and Ohio State have highly ranked classes for a reason. They have outstanding prospects committed and are filling many needs. I am excluding them from this question because those two are somewhat expected.
I think there are two schools that stick out that people aren't really talking about and those are Northwestern and Penn State.
The Nittany Lions have three ESPN 300 commitments with five commitments ranked as four-stars. The coaching staff is filling a need at receiver with Thompkins and also
Chris Godwin
.
Looking at Northwestern's class, the Wildcats have done an excellent job playing off the success of the 2012 season and still have a chance to land some top players, including three ESPN 300 prospects. So for me, those two classes stand out for potentially adding excellent value to their respective teams.
@BuckeyesCubs10:
Will anyone stop Ohio State and Michigan from having another 10-year war?
Bournival:
It absolutely can happen. What Bill O'Brien has done in his short time at Penn State is amazing in its own right. He landed a top 25 class in his first full recruiting year with the Nittany Lions and is working on another this year despite the NCAA sanctions. When the sanctions are gone and if O'Brien is still there, he'll likely be a thorn in the side of both the Buckeyes and Wolverines.
Then there is Wisconsin and Nebraska. The Badgers know exactly how to market their brand and remain a contender almost every year. The Cornhuskers have put together four straight seasons of nine wins or more as well. Both schools will be in the West Division next year, which isn't the gauntlet the East is so a trip to the Big Ten championship game will be an easier road for both schools.
August, 23, 2013
8/23/13
11:00
AM ET
Friday means a trip to the mailbag to answer questions you sent in about Pac-12 recruiting. The mailbag will run every Friday, so be sure to send in your questions via Twitter (
@EMcKinneyESPN
) or email (
erik.mckinney@gmail.com
). And good luck to your teams as the high school and college seasons kick off.
@notbartholomew:
Thoughts on Cade Aspay? Also, thoughts on MacIntyre's '14 class 2 date. not rated highly but seems to have some solid kids.
Erik McKinney:
I really like
Cade Apsay
(Canyon Country, Calif./Canyon) as a quarterback and as a person. He is definitely a Pac-12 quarterback and should put up some impressive statistics during his senior season. I don't think he will be seen as being as big of a get as
Sefo Liufau
from the 2013 class, but if the quarterback recruiting stays on this trajectory for head coach Mike MacIntyre, Colorado is going to be just fine at the position.
As for the rest of the class, I think Colorado is doing what it needs to do with what it has right now. I like that it's defense-heavy, as the top five commitments play on that side of the ball. Linebacker
Rick Gamboa
(West Hills, Calif./Chaminade) is a very nice addition. The message MacIntyre and the staff are delivering is hitting recruits, but it will be about taking a step forward on the field this season.
It's a tough spot he was put in, trying to dig out of the bottom of a deep conference, but so far it seems he's doing a very good job of targeting and getting players who can add to the program now, as well as those who can develop for the future.
@SoCalSunDevil:
Is Texas or California more important to recruit from, esp for my #ASU program?
EM:
Is it cheating to say both?
I'd go with California, simply because any player Arizona State takes out of California likely means one less player the Sun devils will have to face in conference play. But if Arizona State is going to challenge for conference and national titles, it can't sit home and only recruit in state. And once the Sun Devils start crossing borders, California and Texas are the two no-brainer states to hit.
It's important for Arizona State to have a presence in both states, but I believe it will always find more success in California, due to proximity and the recruits' familiarity with the program/conference.
@UTSportsAction1:
Have some of the western states recruits caught up to California recruits?
EM:
The short answer is no, but the longer answer might depend more on what you're asking.
The other West states are not likely to catch up to California in terms of producing talent, simply because of population size and the overall number of recruits produced. Of the California recruits ranked No. 90 through 98, seven already are committed to Pac-12 programs. No other state in the region will come close to that kind of depth.
If you're asking whether, say, the top five players in each West state could compete with California's top five, then -- depending on the year -- the answer would be yes.
Bishard "Budda" Baker
(Bellevue, Wash./Bellevue),
Dalton Schultz
(South Jordan, Utah/Bingham),
Kyle Allen
(Scottsdale, Ariz./Desert Mountain),
Casey Tucker
(Chandler, Ariz./Hamilton) and
Connor Humphreys
(Portland, Ore./Central Catholic) absolutely could play with the top players in California, and many of them have shown it this spring and summer.
Four linemen from Hawaii are in the 2015 ESPN 300, and Arizona will be talked about more and more as one of the blossoming talent-producing states in the country.
But even with talent spread throughout the region, there's a reason all the Pac-12 coaches fought to play at least one game in Southern California every year. The depth of talent in that state, and specifically that area, is unmatched by any other in the region.
August, 23, 2013
8/23/13
10:00
AM ET
This week's Big 12 recruiting mailbag takes a look at a recent Iowa State transfer, a few Oklahoma State topics and when the Longhorns' 2014 class will start reflecting its "DBU" ways.
John Goorsky (Ames, Iowa):
What are your thoughts about the recent addition of
D'Vario Montgomery
to the Cyclones?
William Wilkerson:
I think it's a very important pickup for Paul Rhoads and the future of the program. Montgomery should transfer seamlessly given his history with Cyclones starting quarterback
Sam Richardson
. The two were high school teammates in Winter Park, Fla., where Montgomery was a two-time all-state selection with 21 touchdown receptions as a junior and senior.
Not only will it benefit them immediately but it also helps give someone like ESPN 300 receiver
Allen Lazard
(Urbandale, Iowa/Urbandale) more incentive not to look elsewhere. Just because Lazard is committed to ISU right now doesn't mean schools are going to stop pursuing him. If anything they'll come after him harder. Having Montgomery on board, as someone who could take some attention of Lazard in future packages, could entice Lazard to stay put.
Robert Thomas:
What will Oklahoma State have to do to move into a top 25 class?
WW:
Keep doing what they are doing and live up to the expectations that have been placed on them for the upcoming season. It's really that simple. If the Cowboys win like they should, the recruits will come. They especially need to win the marquee matchups at home, when their sidelines should be packed with official visitors. Getting guys like ESPN 300 receivers
Malachi Dupre
and
Cameron Sims
on campus to see the renovations around the football facilities would be huge.
Mike Gundy has recruited well in-state so far, with the commitments of
Devon Thomas
and
Gyasi Akem
, the two Broken Arrow teammates. The Cowboys are still in the mix for four-star safety
Steven Parker
, as well. Getting a commitment from any three of these recruits would greatly increase their chances of finishing with a top 25 class.
@pt2479:
How good can
@RichardLagow
be in this system?
WW:
If the transfer quarterback from UConn is given the opportunity, I think he could be productive. He's larger than most of the quarterbacks that have come through Mike Gundy's system, but that's not to say he wouldn't be capable of moving the chains like others before him.
The Cowboys recruited him out of Plano (Texas) High School in 2013, so there must have been some inclination that he could work out in the system, even though a scholarship offer was never extended. He was actually going to be working in more of an up-tempo offense at UConn this season as the Huskies transition from a pro-style offense. But he's going to have to beat out some stiff competition after he redshirts this season. Class of 2014 commitment
Mason Rudolph
(Rock Hill, S.C./Northwestern) is the No. 7 pocket passer in the nation.
@1jaydub:
When does Texas start focusing on DBs for 2014 to get back to DBU Football?
WW:
Defensive back has been a focus of Texas' coaching staff from the jump. They just haven't gotten the commitments ... yet. They've got two commitments in four-star CB
Jermaine Roberts
(New Orleans/Saint Augustine) and three-star safety
Jason Hall
(Grand Prairie, Texas/South Grand Prairie), a former Nebraska commit. But some big dominos are about to fall that will tell the tale.
John Bonney
(Houston/Lamar) surprised Texas' staff last weekend with a visit. He wants to commit somewhere before the season. ESPN 300 safety
Edwin Freeman
(Arlington, Texas/Bowie), who has long had Texas No. 1, will decide sometime during the season after he takes some official visits. ESPN 300 safety
Jamal Adams
(Lewisville, Texas/Hebron) will officially visit Texas this fall. And the Longhorns still feel like they are in the mix for ESPN 300 CB
Tony Brown
(Beaumont, Texas/Ozen). If the Longhorns get any of these four they'll feel much better about where things stand.