NCF On The Trail:

130717 Tales From The Road
July, 17, 2013
7/17/13
10:00
AM ET
Marlon Gonzalez
(Cape Coral, Fla./Island Coast) wasn't exactly flying high on Seminoles fans' radars coming into the first session of the Jimbo Fisher Camp in June.
Now that they know who the 6-foot-4, 255-pound defensive end is, they certainly understand why he was taken by the Florida State coaches. Even more credibility has arrived with his recent inclusion in the 2015 ESPN 300.
Sure, Gonzalez will take the honor -- like he should. But at the same time, he isn't focused on that above the goals of his team.
July, 17, 2013
7/17/13
9:00
AM ET
The No. 1 junior nationally will not be going to the dark side. No, Big Ten fans,
Jashon Cornell
is not referring to Arkansas or Florida or Missouri or any SEC program recruiting the nation's top player in hopes of persuading him to leave the Big Ten's backyard.
The dark side of the ball is a place Cornell, the No. 1 prospect in the 2015 ESPN Junior 300, has played only twice before and told his St. Paul (Minn.) Cretin-Derham Hall coaches to never put him again.
"Offensive line, I refuse to play it," Cornell, a defensive end/linebacker hybrid, said. "I can't play the O-line. It's not for me. That's going over to the dark side."
To continue reading this article you must be an Insider
July, 17, 2013
7/17/13
9:00
AM ET
For a kid who thought he was a basketball player, defensive end Joshua Alabi (Detroit/Cass Tech) has done very well for himself on the football field. Alabi, the No. 51 player in the country for the 2015 class, at one point decided he wasn't even going to play football anymore.
To continue reading this article you must be an Insider
July, 17, 2013
7/17/13
9:00
AM ET
T.J. Wheatley Jr.
(Buffalo, N.Y./Canisius) has moved around more often than an Army brat.
He's followed his father and current Buffalo Bills' assistant coach,
Tyrone Wheatley
, from New Jersey to Florida, from California to Michigan (in three different homes) and then, finally, to New York. The 6-foot-6, 235-pound tight end/defensive end is still unpacking some boxes after his most recent switch from Syracuse to Buffalo, when his father was promoted from college assistant to NFL coach.
But the next move the ESPN Junior 300 prospect makes? That'll finally be up to just T.J.
To continue reading this article you must be an Insider
July, 17, 2013
7/17/13
9:00
AM ET
TUSCALOOSA, Ala. -- The process of finding a quarterback at the University of Alabama is no secret. It doesn't matter how many stars you have. It doesn't matter how many offers you have -- you still have to come to the Crimson Tide's camp and throw in front of head coach Nick Saban because ultimately, he makes the final decision.
The only problem with that strategy is that college camps are held in the summertime. If you wait until the summer before a kid's senior year, a lot of times it's too late. That's especially true with quarterbacks.
To continue reading this article you must be an Insider
July, 17, 2013
7/17/13
9:00
AM ET
Junior-to-be
George Campbell
(Tarpon Springs, Fla./East Lake) already has created a buzz in the recruiting world. The talented 6-foot-4, 185-pound athlete debuted in the 2015 ESPN 300 as the No. 1 athlete and No. 3-ranked player overall.
His sophomore stats, though solid, aren't earth-shattering. Campbell accumulated 766 receiving yards on 30 receptions and nine total touchdowns. But after an impressive performance at the IMG 7v7 National Championships in Bradenton (Fla.) in June and winning the fastest man competition at The Opening in Beaverton (Ore.), Campbell has seen his stock soar.
To continue reading this article you must be an Insider
July, 17, 2013
7/17/13
8:00
AM ET
When it came to summer camps, the plan was simple for Class of 2015 offensive lineman
Jalin Barnett
(Lawton, Okla./Lawton).
He wasn't going to go to any of them. There might have been a few schools he wanted to see, but he was going to save money and stay home.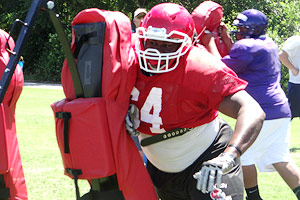 Bob Przybylo/ESPNJalin Barnett, No. 10 in the ESPN Junior 300, has offers from Oklahoma, Oklahoma State and Texas Tech.
Oklahoma, however, is different. Barnett made his first unofficial visit to OU in April and picked up an offer shortly after his trip. He returned the following week for the spring game and one more time for OU's camp in June. As of now, it remains the only camp Barnett has attended during this mega-crazy camp season.
In other words, OU has a three-visit advantage on the rest of the field right now. And with the release of the ESPN 300 for the 2015 class on Tuesday, it might be a good thing. Barnett, who is listed at 6-foot-4 and 285 pounds, is ranked No. 8 in the ESPN 300 and No. 1 in the region.
"A ranking like that doesn't surprise me at all," Lawton coach Randy Breeze said. "He has worked so hard. He's getting all this attention, but he is handling it so well."
Schools such as Oregon State and Texas Tech also doled out early offers, but some more big boys have joined the party the last couple of weeks. Breeze said Stanford and Auburn are the latest school to offer.
Barnett grew up an Oklahoma State fan, but it has been all about the crimson and cream lately. And one OU coach in particular.
"I have a great relationship with Coach [Bill] Bedenbaugh," Barnett said. "I liked going to the camp a lot. It was very important in the long run to get that coaching from him."
Since arriving at OU from West Virginia in February, Bedenbaugh has made a huge impact with top offensive line prospects.
Both of OU's 2015 commitments, ESPN 300 members offensive guard
Josh Wariboko
(Oklahoma City/Casady, No. 88) and offensive tackle
Bobby Evans
(Allen, Texas/Allen, No. 210), have been recruited by Bedenbaugh.
Barnett could be next, but it won't happen just yet. There's pressure, though, from his family to attend OU.
To continue reading this article you must be an Insider
July, 17, 2013
7/17/13
8:00
AM ET
LEANDER, Texas -- Take one look at 2015 ESPN 300 safety
Justin Dunning
on the football field, notice his size and build, and it's natural to peg him at the position he currently plays or even at linebacker, a position he could grow into in the years to come.
But while with his Whitehouse (Texas) High School teammates at the Texas state 7-on-7 championships last week, the 6-foot-3, 195-pound Dunning showed another set of skills that he has, doing it in an impressive manner.
To continue reading this article you must be an Insider
July, 17, 2013
7/17/13
7:00
AM ET
AUSTIN, Texas -- They didn't make kids like this back in 1970.
The offensive line that anchored Texas' third national championship in eight years featured a pair of two-time All-Americans: The 6-foot-4, 233-pound Jerry Sisemore and 6-foot-3, 235-pound Bobby Wuensch.
They were the stars of a Texas offensive line that averaged 6-foot-1 and 219 pounds.
Today, mammoth 300-pounders rule up front, and the 6-1, 220 guys are linebackers and defensive ends. The evolution of the offensive lineman is impossible to ignore.
Texas' 2005 title team averaged 6-5 and 314 pounds, with nine offensive linemen checking in at 300-plus. The 2013 Longhorns could have as many as 15.
Now imagine having to find those big men as 15- and 16-year-olds, before they've even reached their junior year of high school, and trying to determine how and when they'll grow, how they eat, how big they'll get and, of course, how well they actually play football.
That's the unenviable task facing Texas offensive line coach Stacy Searles these days, but he's thriving.
Texas already has landed commitments from three linemen in the 2015 ESPN 300: Keller (Texas) guard
Maea Teuhema
(No. 31 in the ESPN 300), Sherman (Texas) guard
Aaron Garza
(No. 203) and Buda (Texas) Hays tackle
Connor Lanfear
(No. 292). They're three of the top six linemen in Texas in 2015, and the No. 2 ranked in-state lineman,
Patrick Vahe
(Euless, Texas/Trinity), also could commit this summer.
They might be only high school juniors (well, not even that yet), but the Texas commits know there's a lot more to the number 300 than most people assume.