NCF On The Trail:

101813-mailbag
October, 18, 2013
10/18/13
11:15
AM ET
It's time to dip into the SEC recruiting mailbag and answer your questions. Because of the amount of questions we've received, we won't be able to get to all of them today -- but we encourage you to ask again next week by tweeting your questions to @DerekTysonESPN or @HamiltonESPN and use the hashtag #SECRecruiting.
@lawag97: How will A&M finish out on the recruiting front?
[+] Enlarge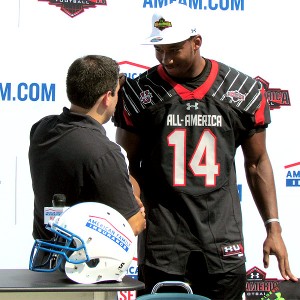 Courtesy of IntersportMyles Garrett could pick Texas A&M this weekend, putting the Aggies on an upward trajectory.
Gerry Hamilton:
I like the Aggies' chances to finish with a top-seven class nationally. Obviously, the last part of the Aggies' class began with the decision of five-star defensive end
Myles Garrett
(Arlington, Texas/James Martin) to
commit to Texas A&M
on Friday. For Kevin Sumlin and staff, getting the No. 7 prospect overall, fills a huge need at defensive end -- not only with a big body at end, but a very athletic player with the frame to carry 275 pounds down the line.
Looking at needs, offensive line is a big one coming down the stretch for the Aggies. There are two offensive linemen currently committed in 2014, after three in 2013. It's imperative the Aggies sign four offensive linemen in the class, and the staff is looking at both the high school and junior college level, with the most recent offer being
Fahn Cooper
(Glen Ellyn, Il./College of DuPage). Obviously, juco tackle
Avery Gennesy
(Southhaven, Miss./East Mississippi Community College) is at the top of the remaining list. Gennesy is to make an official visit to Tennessee this weekend after traveling to Ole Miss last weekend and Texas A&M in September.
Under Armour All-America selection
Casey Tucker
(Chandler, Ariz./Hamilton High) is another lineman whom the Aggies covet.
The key player in the class has become senior riser
Frank Iheanacho
(Houston/Westside). Even taller than current star wide receiver
Mike Evans
, the 6-foot-7, 215-pound Iheanacho has taken a similar path as a senior riser that who has skyrocketed up the boards of college programs in the region. At defensive tackle,
Josh Frazier
(Springdale, Ark./Har-Ber) is the top target and it is a battle between the Aggies, Arkansas and possibly Alabama. While the Aggies already have a standout class of defensive backs with four very talented prospects committed, winning out for five-star cornerback
Tony Brown
(Beaumont, Texas/Ozen) or safety
Jamal Adams
(Lewisville, Texas/Hebron) would be a huge bonus.
---
@COLEWORLD0: Do you think LSU will make a clean sweep within the state?
Derek Tyson:
Considering the No. 3 prospect in the country,
Cameron Robinson
(Monroe, La./West Monroe), is committed to Alabama, I would say no. As for the remaining ESPN 300 Louisiana targets, even though the odds aren't very good that they will land every player, they certainly have a chance to make a sweep. The top three of
Speedy Noil
(New Orleans/Edna Karr) includes Florida, Texas A&M and USC, but I still believe LSU will be a major player for Noil in the end. His teammate
Gerald Willis III
and other top prospects -- including the No. 1-ranked prospect in the country, running back
Leonard Fournette
(New Orleans/St. Augustine), wide receiver
Malachi Dupre
(River Ridge, La./John Curtis), safety
Laurence "Hootie" Jones
(Monroe, La./Neville) and
Garrald McDowell
(Covington, La./Covington) -- all have a legitimate chance of ending up in LSU's class.
---
@hunter_ulrich55: Do you think Dalvin Cook (Miami/Central) will keep his commitment to Florida?
DT:
Everything Cook says publicly makes it appear he will remain committed to the Gators, but his actions don't indicate the same thing. Cook took an official visit to Texas back in September and will take an official visit to Florida State next weekend and then to Arkansas on Nov. 2. The good news for Florida is that Cook will visit Florida for the FSU game, which is the last game of the regular season. The Gators certainly need a back with his kind of explosiveness, but it won't be an easy task with these other schools coming on strong.
---
@Mizzoufans4life: Do you think Missouri's on-field success will translate into better recruiting?
DT:
It certainly should. Missouri is the only school in the SEC not ranked among the top 40 of the team rankings. That's a little misleading, however. Of Missouri's 24 commitments, 23 of them are ranked three-star prospects or higher. According to our grading scale, a three-star prospect has the chance to be all-conference with development. The Tigers have an explosive offense and an attacking defense that will appeal to recruits. Missouri used to primarily recruit in Big 12 territory, but the Tigers are placing a bigger emphasis in the Southeast, as evident by this year's class, which has nine committed players from Georgia and Florida. With a chance to play on national television almost every week, the Tigers are sure to gain popularity among recruits from all over the South. If they can continue the success they are currently having, it should have a big impact on recruiting as well.
October, 18, 2013
10/18/13
11:00
AM ET
Are you a recruit itching to get your name out to college scouts, but don't know the best way to go about it? We'll give you a few tips on how to get your name out there as well as answer questions about what Texas' win over Oklahoma meant for recruits, what percentage we give the Sooners with
Joe Mixon
, and a Houston tight end's chances of landing in Austin in this week's Big 12 recruiting mailbag.
From Hayden Karnos:
Frank Iheanacho
is a guy who is flying up these recruiting boards. Do you see Texas giving this guy an offer? I know we already have six commits, but this kid is huge and could fill a playmaking tight end role for the Longhorns that we definitely need.
Hayden, don't forget that in addition to Texas' six WR commitments in 2014 it also has a commitment from 6-foot-7 tight end
John Thomas
(Bossier City, La./Trinity Valley CC). I don't think the Longhorns are in a position to take two tight ends in this class, considering they took
Geoff Swaim
in 2013. However, if they were going to entertain the idea I'd think Iheanacho would be on their short list. I have a feeling he'll end up at Texas A&M, though. He's scheduled to visit College Station this weekend.
October, 18, 2013
10/18/13
11:00
AM ET
With the big game coming up Saturday night, Clemson-Florida State questions dominate this week's mailbag.
@ShaneArrington1 asks: Are there any recruits that would switch to the winner of the FSU and Clemson game? And do any recruits respect Miami?
To the first part of your question, no, not really. There aren't too many cases of FSU and Clemson going to battle over an individual prospect this cycle. There are a couple shaping up in the 2015 and 2016 classes, but with so much time left, there is no way to point to this game as the deciding factor. Now if Clemson or Florida State wins this game and goes on to bigger and better things, it could be a point in time to look back on.
And on to Miami, yeah, I would say so. Seeing as how the Hurricanes are sitting at No. 4 in the country in ESPN's recruiting rankings, they are doing quite well on that front.
[+] Enlarge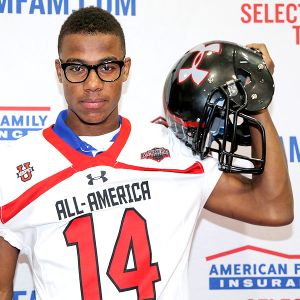 Courtesy of IntersportFSU is still in the mix for Malachi Dupre, the nation's No. 1 WR, but it will be battling SEC schools for him.
@Fenstythenole asks: Are tweets between Malachi Dupre and Marlon Humphrey a sign FSU closes with both?
That's a jump that I'm not comfortable making. Based on trading texts, what you can read into it is that Florida State wants these guys badly. They are putting on the full-court press and doing everything they can to get both of these guy's attention.
Now, if you're looking for a prediction, I say both are headed to the SEC right now. Dupre (River Ridge, La./John Curtis Christian) likely at LSU and Humphrey (Hoover, Ala./Hoover) to Alabama. But a lot can change, and all FSU can do in the meantime is keep winning and continue to show them why it's a place they can go.
@viperfb14 asks: Will FSU land anyone in the top 10?
There's probably only one that Florida State has a real shot at in the ESPN top 10, and that's Humphrey. There are so many ties between Alabama and Humphrey, however, that it is extremely difficult to project him anywhere else but Bama right now. But Florida State is in it, and if it wasn't Alabama, it would be the Seminoles.
The trick here is going to be convincing Humphrey he has a better opportunity to star in multiple endeavors. He's a tremendous runner and will want to run track in college. Florida State will point to guys like
Jameis Winston
and
Ronald Darby
as examples. The longer this process goes, the better shot they'll have.
October, 18, 2013
10/18/13
11:00
AM ET
By
Brad Bournival & Tom VanHaaren
| ESPN.com
It's time to dip into the Big Ten recruiting mailbag and answer some of your questions. We'll try to give everyone a chance to get their questions answered. We encourage you to send your questions by Twitter to
@bbournival
or
@TomVH
.
[+] Enlarge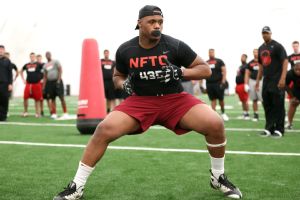 Tom Hauck for Student SportsOT Damian Prince, who is No. 22 in the ESPN 300, no longer seems like a sure thing for Ohio State.
@darkknight1093: Does the late offer to Frank Ragnow indicate that the Ohio State staff believes Damian Prince is trending away from the Buckeyes?
Brad Bournival:
I won't speak for the Ohio State staff, but I'm almost firmly convinced the Prince-to-the-Buckeyes ship has sailed. In fact, I would put it at 95 percent right now that he signs with Maryland in February.
That's how confident I am that Prince (Forestville, Md./Bishop McNamara) he stays in-state at the end. When a program tells you it wants you to be the face of the program like the Terrapins have, it's hard to argue against it.
@dannograef: Who is the biggest sleeper commit in the Big Ten?
Tom VanHaaren:
It's no secret that I think highly of Minnesota running back commit
Jeff Jones
(Washburn, Minn./Washburn), who completed his regular season with 39 touchdowns. I think he's a candidate, I also like Illinois commit
Mike Dudek
(Naperville, Ill./Neuqua Valley), Michigan commit
Noah Furbush
(Kenton, Ohio/Kenton) and Northwestern commit
Dareian Watkins
(Galion, Ohio/Galion). Penn State commit
De'Andre Thompkins
(Swansboro, N.C./Swansboro) is in the ESPN 300, but doesn't get talked about enough. He's going to do big things for the Nittany Lions.
@HoosierHolmes: How much would making a bowl help Indiana's recruiting efforts?
Bournival:
To answer that question, I send you over to Penn State where recruits have gone on record to say they won't choose the Nittany Lions because of the inability to go to a bowl for the next two seasons.
To be more precise, winning breeds winning and attracts more attention from bigger names. The proof is in the fact the same schools in the Big Ten stay on top of the recruiting rankings for that very reason. Kevin Wilson is slowly turning the program around. If he can end the five-year bowl absence this season, don't be surprised to see a boost in recruiting as well.
@mike_albach10: I really like Malik McDowell's size and intangibles. What do you think his ceiling is?
VanHaaren:
He is ranked No. 67 overall and the No. 4 defensive tackle. He is a giant, first of all. He has slimmed down some this season, but he is still head and shoulders bigger than everyone on his team. I think McDowell (Southfield, Mich./Southfield) would make an excellent 3-technique defensive tackle for any team in a 4-3 scheme. In Michigan's defense, he would be able to slide outside to the strongside end spot in running situations and inside to tackle on passing downs. I think he is yet to tap a lot of his potential no matter where he ends up.
@WWEFan20134: Who do you think the final six will be for the class of 2014 for Ohio State football recruiting?
Bournival:
With
Mike Gesicki
(Manahawkin, N.J./Southern Regional) picking Penn State I only see five. The others I feel much stronger about are
Raekwon McMillan
(Hinesville, Ga./Liberty County),
Chad Mavety
(Garden City, N.J./Nassau Community College),
Thomas Holley
(Brooklyn, N.Y./Lincoln) and teammates
Marshon Lattimore
(Cleveland/Glenville) and
Erick Smith
.
@Collin_Stauder: Could the play of Michigan State's defense this year be enough to possibly sway (Parrker) Westphal or McDowell?
VanHaaren:
Michigan State always plays good defense, so that's not something new for those guys. I think that's part of what attracted them to the Spartans in the first place, so I don't think that's a bonus at this point that will tip the scales.
I think the Spartans probably have a better shot with Westphal (Bolingbrook, Ill./Bolingbrook) than McDowell at this point, but at the same time I still think Northwestern has a lot to say in Westphal's recruitment as well.
The play on the field has definitely helped attract some top prospects lately, but Michigan State needs to build on the Indiana win and show more than defense to some of their targets.
@buckeyefan686: Since the Buckeyes missed out on Gesicki who do you believe they land at tight end, or would they just not take one in this class?
Bournival:
I think getting a tight end is an absolute must as I'm not convinced moving
Sam Hubbard
(Cincinnati/Moeller) over is the solution. Even though Ohio State doesn't utilize the tight end much, there's not a plethora of depth at the position.
Jeff Heuerman
and
Nick Vannett
will be back next season, but Blake Thomas' career is likely done with the Buckeyes and
Marcus Baugh
is unproven at this point. Expect them to make a harder push for
DeAndre Goolsby
(Derby, Kan./Derby), who took an official visit for the Wisconsin game.
@hartley_nick:
Any negative recruiting vibes with Michigan's struggles on the field?
VanHaaren:
Not yet. It was only one game and Michigan still only has one loss. It was an emotional loss for the fans because of how deeply they dig into things and diagnose the issues in specific games.
Recruits don't tend to go that far into things like fans do. If you were to ask a recruit what they saw in that game, they would probably tell you two teams who fought hard into four overtimes and one came out on top.
If that type of play continues, though, and Michigan doesn't show progress, then I think you could start to see some noise. I don't think would be any issues with the 2014 class or even the 2015 kids that have already committed. If the season goes downhill, I think you'd see the most impact on uncommitted 2015 targets, but still that doesn't seem too likely at this point.