NCF On The Trail:

092013-mailbag
September, 20, 2013
9/20/13
11:00
AM ET
It's time to dip into the SEC recruiting mailbag and answer your questions. Because of the amount of questions we've received, we won't be able to get to all of them today -- but we encourage you to ask again next week by tweeting your questions to
@DerekTysonESPN
or
@HamiltonESPN
and use the hashtag #SECRecruiting.
[+] Enlarge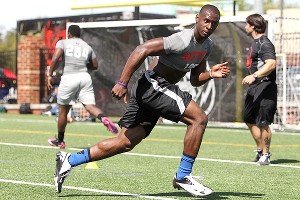 Miller Safrit/ESPNESPN 300 linebacker Rashaan Evans is a player Auburn is keeping its eye on.
@CrabtreeJameson: Is Auburn getting the attention of defensive recruits? Ellis Johnson and his coordinators have put in work.
Derek Tyson:
As of now, six of Auburn's 14 verbal commitments are on the defensive side of the ball, including two ranked in the ESPN 300. There are still ESPN 300 targets on the board such as defensive end
Andrew Williams
and linebacker
Rashaan Evans
. Auburn is off to a 3-0 start, and despite being fourth in the conference in scoring defense, the Tigers are ranked dead last in passing defense and 12th in total defense. A win against LSU, which has the No. 3-ranked offense in the SEC, would certainly grab the attention of all recruits -- both on offense and defense.
@guru1039: Is UF still the frontrunner for OT [David] Sharpe? Should we read into his not visiting for UT game?
DT:
At this point, I don't believe Florida is still the leader for the ESPN 300 offensive tackle. Sharpe really enjoyed his visit to Georgia for its game against South Carolina and his father also likes Georgia. Sharpe's AAU basketball team is also based out of Atlanta so he is used to traveling back and forth. Leaving the state is not a concern for him or his family. Florida and Clemson are certainly still in the picture, and there is still a ways to go for Sharpe, but if signing day were today, I'd have to say Sharpe would sign with Georgia.
@littlegambler: Did the close loss to Bama help or hurt A&M?
DT:
I don't believe the 49-42 loss to Alabama last Saturday hurt Texas A&M in recruiting at all. In fact -- it probably helped. The Aggies showed it could compete with the most dominant team in college football. The offense, behind Heisman Trophy winner Johnny Manziel, was able to the move the ball against the vaunted Alabama defense. The A&M defense, however, struggled to slow the Alabama offense -- which can be a selling point to top defensive recruits such as
Jamal Adams
,
Myles Garrett
and
Gerald Willis III
, who were all in attendance. The opportunity to fill a hole on defense and earn early playing time as freshmen can be very appealing to recruits.
@LSUPETERadams: Any OTs showing interest in LSU for 2014?
DT:
Unfortunately for LSU, most of the top 2014 tackle prospects are already committed. But don't be surprised if the Tigers revisit two of those,
Andy Bauer
(Saint Louis, Mo./De Smet Jesuit) and
Bentley Spain
(Charlotte, N.C./Providence), who are committed to Ole Miss and North Carolina, respectively. Bauer and Spain had high interest in LSU before committing elsewhere. The Tigers also offered the No. 15-ranked player in the country,
David Sharpe
on Wednesday. It might be too late in the process, but the Tigers are not giving up on landing a tackle in this class. LSU could also look to the junior-college ranks to try and fill that void.
September, 20, 2013
9/20/13
11:00
AM ET
In this week's Big 12 mailbag we take a look at the likelihood of an ESPN 300 defensive back ending up at Oklahoma State, some concerns in Longhorns country, the latest on Iowa State and plenty more.
@Cylights: Any #Cyclones news?
You're in luck. The Cyclones picked up their first commitment since July 25 on Monday with three-star athlete
Dedric Brinson
. Brinson (6-foot-1, 175 pounds) had plenty of other offers, including from Duke, Indiana, Marshall, Massachusetts, Central Florida, Wake Forest and Wisconsin. But he chose to travel out of state to play for Paul Rhodes and gives ISU another playmaker. The Cyclones already have commitments from ESPN 300 wide receiver
Allen Lazard
(Urbandale, Iowa/Urbandale), three-star running back
Tommy Mister
(Chicago, Ill./Saint Rita), three-star RB
Martinez Syria
(Houston/Nimitz), three-star WR
Orion Salters
(Dallas/Jesuit), three-star tight end
Scott Schaffner
(Peculiar, Mo./Ray-Pec)and three-star WR
Jauan Wesley
(Harvey, Ill./Thornton Township).
---
@Roberrttthom: It feels like Steven Parker is slightly favoring Oklahoma State right now, what are the chances that they land him?
They're good. But I do believe OU and Texas A&M are just as much in the mix as they have been over the past few months. A few things to take into consideration regarding OSU's chances: 1. Playing time at safety should be up for grabs with the upcoming graduation of
Shamiel Gary
and
Daytawion Lowe
. 2. He's constantly hearing about OSU from current Pokes commitment and teammate
Dylan Harding
. It's going to be Bedlam for his commitment. See what I did there?
---
@todd_spurgin: Do you think OU's recruiting is going to continue to be such a struggle getting big nasties/linebackers?
For the foreseeable future? Possibly. But I do think the Sooners will get it figured out by the time it's all said and done. They missed out on a few guys who I thought they'd have right now in
Ty Barrett
and
Frank Kee
.
---
@JC22101022: What are recruits (who are considering Texas for this year and the future) saying about Texas current program state?
There are a few major concerns, which are completely understandable. The first, and obvious one, is Mack Brown's future. If he goes you could see Texas recruiting take a hit if it doesn't hire a home-run replacement. If he does stay, will the program have improved by year's end? These recruits want to see if Texas can win like these players saw while they were growing up. You've got to remember, when these players were growing up, Texas was winning 10-plus games a season. There is also concern about Greg Robinson and the direction of this defense. Will he be the defensive coordinator long term? How will he relate to recruits if he is?
---
@msturdy51: Who do you see the Sooners getting in the upcoming weeks?
A few names to keep an eye on are Rowlett (Texas) defensive tackle
Cedric Johnson
, and Arizona linebacker commitments
Jamardre Cobb
and
Marquis Ware
. Johnson visited in the spring and one more visit could seal the deal. As for the LBs, they are committed to Arizona but are still going to take an official visit to OU on Oct. 4. That will be the Sooners' best chance to add another California linebacker to their 2014 class.
---
@LundbergLance: My Horns haven't been so hot as everyone knows the last few years. When will recruiting take a big hit because of that?
In some ways, it's already affected them. You saw that during the 2013 recruiting cycle when numerous players decommitted. That never used to happen at UT under Mack Brown. You've seen two players decommit already in 2014. But where it could really hurt Texas is in 2015. The state is loaded with players who have high interest in the Longhorns but won't commit unless they see improvement. Texas needs to win or risk losing out on a big opportunity in 2015.
September, 20, 2013
9/20/13
11:00
AM ET
By
Corey Dowlar & Jared Shanker
| ESPN.com
In this week's mailbag, ACC recruiting writers Jared Shanker and Corey Dowlar address a bunch of questions submitted on Twitter.
Florida State, Miami, North Carolina and the ACC newcomers are all covered here.
@jgreco33 asks: Is Miami QB Brad Kaaya a solid lock, and can he come in and play right away? Also, did his mom really play in the movie Friday?
Dowlar:
Well, unless San Diego State can somehow unseat Miami for him, I think he's headed to Coral Gables. There isn't a ton of local competition for Kaaya, and Miami has a program of prestige, so on that front, I think the Hurricanes are OK.
He might be able to get into that conversation right away, but I see
Kevin Olsen
as the future of that offense. Olsen has got a lot of talent and a good arm. I would be surprised if he's not the guy going forward.
As for his mom, a quick search would suggest that she is. I don't know for sure, though, so don't quote me on that.
---
@ShaneArrington1 asks: Who is the most underrated recruit that could be a huge get for the Noles?
Dowlar:
To me, I think this one is obvious from looking at the commitment list.
Ethan Frith
is considered a three-star talent by most. And judging from his junior year, that's probably about right. But after seeing him in camp, some 20 or 30 pounds lighter, FSU is going to have a monster offensive tackle to work with.
Trickett absolutely loved him when working with him over the summer. He's a guy who has his weight under control now and can be built up properly. And, oh yeah, he's huge at 6-foot-7.
As far as uncommitted targets who could fit here, two come to mind, really.
Frank Ragnow
, the offensive tackle out of Minnesota, and
Ryan Izzo
, the tight end who just visited last weekend, are good looking, physical prospects.
---
@baxterfsu1 asks: Has joining the ACC helped recruiting for Pittsburgh, Syracuse and Louisville?
Shanker:
It can't be pinpointed to just moving to the ACC, but it is clear the impending switch for Louisville is having quite the impact on the Cards' recruiting efforts. The 2013 class finished No. 43 in the country. In 2014, Louisville sits at No. 18 and has five ESPN 300 commitments. For the Cards and Charlie Strong, there is no more answering questions to recruits about the future of the program and whether Louisville is going to be able to compete for national titles. Playing in the Conference Formerly Known as the Big East could have kept Louisville out of the future playoffs.
The Sugar Bowl win against Florida went a long way, too. Let's not forget that.
As for Pittsburgh and Syracuse, I'm not sure the move has paid big dividends yet or if it will at all. The Panthers are recruiting Virginia a lot more and have a shot at ESPN 300 receiver
Jamil Kamara
. As of now, however, the impact has been minimal. The same can be said for Syracuse. Now, if the Panthers land Kamara or the Orange reel in
Thomas Holley
, I might change my tune some.
---
@t_pope10 asks: other than Elijah Hood who is UNC next big recruit? I think Caleb Henderson, and do you think he will start next year?
Shanker:
Assuming you mean just UNC commitments, then I would agree it is Henderson. It can still be argued he is the biggest recruit in the 2014 class for the Tar Heels strictly based on the position he plays. With
Bryn Renner
set to graduate, there is an opportunity to play early next season. However, UNC also has freshman quarterback
Mitch Trubisky
, an ESPN 300 QB in 2013 who enrolled in January. Trubisky will have two spring practices and a full season uinder his belt heading into the 2014 season. Clearly Henderson has an opportunity to play early, but there is a lot he will need to do to see the field next year as a freshman.
---
@oalege87 asks: Why does it seem like FSU is lagging behind Florida and Miami for the big names in the state for 2014 and 2015?
Dowlar:
I honestly think you could point to the coaching changes of last offseason as the main reason here. Florida State had to replace the majority of their assistants, and that's a lot of relationships to restart.
But I also think it's not insurmountable. If you look at the direction the teams are headed -- and it is obviously early -- Florida State has been the most impressive team of the three. If
Jameis Winston
continues to play well and the Seminoles have a good year, they'll make that ground up pretty easily.
Yes, I know Miami fans, that was a good win over Florida. But that wasn't necessarily aesthetically pleasing. I think you'll agree with that.
It will, however, be increasingly more difficult for the Seminoles to go into Miami and grab recruits out of there if Miami has a strong season. But the trend of Florida State's targeting seems to be more along the lines of Interstate 10 from Jacksonville to Alabama.
September, 20, 2013
9/20/13
11:00
AM ET
It's Friday, which means a quick trip to the Pac-12 recruiting mailbag. If you have a question about recruiting in the Pac-12 conference overall or with any specific program, please tweet them either at @EMcKinneyESPN or with the hashtag #Pac12recruiting.
This week, it's a look at Oregon and UCLA.
@mheels720:
Who's the next espn 300 recruit you think will [commit to] the #ducks?
I don't know if he's the next guy to join the class, but one ESPN 300 prospect the Ducks are doing well with is safety
Mattrell McGraw
(River Ridge, La./John Curtis). The interesting thing about Oregon's pursuit of McGraw is that the Ducks haven't extended offers to his teammates and good friends,
Malachi Dupre
and
Kenny Young
. McGraw recently said that Oregon and UCLA comprise his top two, and the Bruins have offered both Dupre and Young. There are a number of Southeast schools still in the running for Dupre, but if all three decide to go to school together, it looks as though the Bruins could be in a good shape. However, that would mean Dupre turning down Alabama, as well as hometown LSU, which might be too difficult for him to do. If that's the case, McGraw would be able to make his own decision, and the Ducks are going after the nation's No. 193 overall recruit in a big way.
Via e-mail: As of today who would you say has the best Pac-12 recruiting class? UCLA?
As of today, Arizona leads the Pac-12, with Stanford just behind them. That's according to our most recent class rankings, which are released every Wednesday. There simply isn't enough depth in UCLA's class at this point to compare them favorably to the Wildcats or Cardinal. However, by the time signing day comes around, UCLA might be the safe bet to finish with the top class in the conference. The Bruins are in on a number of big-time national recruits and are all too happy to step in as local recruits are no longer flocking to USC. It doesn't appear that UCLA coaches are too worried about filling the class with early commitments, as most of the big-name guys -- and UCLA's biggest targets -- will wait until late in the recruiting calendar to commit. If the play on the field continues at its same trajectory, there could be a big signing day celebration in Westwood.
September, 20, 2013
9/20/13
11:00
AM ET
By
Brad Bournival & Tom VanHaaren
| ESPN.com
It's time to dip into the Big Ten recruiting mailbag and answer some of your questions. We'll try to give everyone a chance to get their questions answered. We encourage you to send your questions by Twitter to
@bbournival
or
@TomVH
.
@buckeyefan686
:
With so many wide receiver/athlete commitments in the last two years, where does Braxton Berrios stand with Ohio State and vice versa?
Brad Bournival:
More than likely, the four-star wide receiver is on the outside looking in. The fact the Buckeyes have so many players who can play the slot position leaves Berrios in a tight situation. The four-star wide receiver has been on official visits to Oregon, Miami and South Carolina already. He's got one more lined up for Tennessee on Oct. 4 and wants to make his decision a few weeks after that.
At this point, I would scratch Ohio State off the list unless the Buckeyes can talk the 5-foot-9, 181-pound Berrios into taking a greyshirt year.
---
[+] Enlarge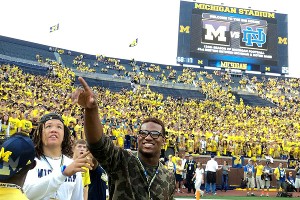 Courtesy John HarrisDa'Shawn Hand loved his trip to Michigan, but what would the Wolverines do if he decided to go elsewhere?
@Kaylen2009: If Michigan misses out on Da'Shawn Hand and Malik McDowell, is there a backup plan or with they save those scholarships for 2015?
Tom VanHaaren:
I think they need help along the defensive line, so if they miss on those two it would probably behoove them to look for help.
I don't think your scenario is very likely. I think Michigan will land those two, but anything can happen in recruiting. Hand had to change his visit schedules, which I believe helps Michigan even more. He has never been out to Florida and won't have much time to really digest his visit from that time until he decides.
If Hand were to choose a different school, Michigan is still technically in the top group with
Garrett Dickerson
(Oradell, N.J/Bergen Catholic). He has Stanford No. 1 and Northwestern in there, too, so he's not likely. That late in the game the coaching staff would likely have to evaluate some prospects and reach out to prospects to gauge interest before figuring out who to target.
It just doesn't seem likely, though, at this rate, that they will miss on those two.
---
@shermez07: Are the Penn State misses on potential pledges due to the sanctions or just normal recruiting reasons (playing time, coaching staff, etc.)?
Bournival:
With only 65 scholarships things can be tough in the recruiting world and it would be silly not to think the sanctions haven't played a role in the decision-making process.
Bowl games aren't just big business for colleges, they're a measuring stick for players as well. The fact the Nittany Lions are still dealing with that issue makes it a hard sell, although that part of the penalty becomes easier and easier with each class.
That said Bill O'Brien hasn't completely whiffed with the two classes he's been in charge of so far.
This year he grabbed ESPN 300 athlete
De'Andre Thompkins
(Swansboro, N.C./Swansboro), quarterback
Michael O'Connor
(Bradenton, Fla./IMG Academy) and wide receiver
Chris Godwin
(Middletown, Del./Middletown). In the 2013 class, quarterback
Christian Hackenberg
(Fork Union, Va./Fork Union Military Academy), tight end
Adam Breneman
(Camp Hill, Pa., Cedar Cliff) and offensive guard
Brendan Mahon
(Randolph, N.J./Randolph) were big gets.
---
@Cyan220 What is the feeling regarding Northwestern? Are they likely to get Parrker Westphal, Dickerson or Brandon Lee?
VanHaaren:
Linebacker Brandon Lee (Indianapolis/Lawrence Central) cancelled his visit to Northwestern on Thursday night. He tweeted that he wouldn't be taking any questions as to why he cancelled the visit either.
That's rather strange since he had been planning to take that trip on Wednesday. There is obviously more to this story, so it will be interesting to see what ends up happening.
The Wildcats do have a shot with Westphal and Dickerson, but it might be safe to say that Stanford leads for Dickerson. He has ties to Northwestern, so there is still a chance.
Westphal is a closed book as far as what he's thinking and what might be next. He and his family do that on purpose, so it's a guess as to where he ends up. Northwestern and Vanderbilt were thought to be the leaders for Westphal, but Michigan State might sneak in there as well.
---
l.fousie@sbcglobal.net: With the addition of Noah Brown to Ohio State's 2014 class, do they still have room for Marshon Lattimore? I have been reading they only have 18 spots for 2014, they have interest/needs in the offensive and defensive line, and they now have 18 commits. Do you think this helps Michigan's chances with Lattimore and do the Wolverines have room with the potential for Hand and McDowell added to this class?
Bournival:
Ohio State's max right now is 18, but remember that number is fluid and should the likes of
Devin Smith
,
Bradley Roby
and
Ryan Shazier
decide to go pro at the end of the season, numbers open back up. The number of scholarship athletes can change from one day to the next, so the Buckeyes would make room for someone like Lattimore.
While Ohio State does need offensive linemen, the Buckeyes are loaded at defensive line, so that part of the equation really doesn't apply. Many insiders believe it's only a matter of time before Lattimore says yes to Ohio State. Cleveland Glenville athletes are hard to pull away from the Buckeyes, so it would be an extreme uphill battle to land him. That could change if there's an official visit lined up to Ann Arbor, but for right now things lean towards Ohio State.