NCF On The Trail:

090613-mailbag
September, 6, 2013
9/06/13
11:00
AM ET
It's time to dip into the SEC recruiting mailbag and answer your questions. Because of the amount of questions we've received, we won't be able to get to all of them today -- but we encourage you to ask again next week by tweeting your questions to
@DerekTysonESPN
or
@HamiltonESPN
and use the hashtag #SECRecruiting.
@LisaHorne: If UGA loses again this week, will it affect their recruiting?
Derek Tyson:
If history is any indication, then no, it should not make much of a difference in recruiting. Remember, Georgia started off 0-2 in the 2011 yet finished with the No. 5-ranked recruiting class including stud running backs
Todd Gurley
and
Keith Marshall
. Head coach Mark Richt has recruited at a very high level and has Georgia in a place to compete for conference and national championships just about every year. His job is not in jeopardy and recruits believe in what he and his staff are trying to accomplish. Starting the season off with two top-10 opponents is no easy task for any team, and I would be shocked if Georgia isn't in the hunt for the SEC East title come November. Georgia will be just fine in recruiting.
@Time2Strive: No LSU in Gerald Willis III & Speedy Noil top 3. Is UF the team to beat?
DT:
I'll admit, I was just as shocked as everyone else to see LSU not in the top three for New Orleans Edna Karr teammates Speedy Noil and Gerald Willis III. Though I wouldn't completely count out the Tigers, it looks as if Florida, Texas A&M and USC are the teams to beat. Florida will have the first crack to impress the two Under Armour All-Americans, as they are both set to officially visit the Gators when UF hosts Tennessee on Sept. 21. At this point, I believe this will be a Florida-Texas A&M battle. Rarely do "package deals" work out, but in this case, the two seem set on playing together in college.
@kylelambsports: How much do Alabama's chances increase for Leonard Fournette and Hootie Jones with the commitment from Cameron Robinson?
Gerry Hamilton:
I'm not sure Robinson picking Alabama helps with Leonard Fournette (New Orleans, La./St. Augustine). Their decisions will be separate, and Fournette has a long way to go in the process with his recruitment having even more importance now for LSU after Robinson picked the Crimson Tide. When looking at
Laurence Jones
(Monroe, La./Neville High), he's on I-20, where Alabama has made its run in the Pelican State in this class. Obviously, Jones knows Robinson and
Cameron Sims
(Monroe, La./Ouachita High), but he's not as close as Robinson and Sims. It certainly doesn't hurt Alabama's chances with Jones, but I don't believe it will sway his decision one way or another. Both players will very likely come down to LSU and Alabama, as has been expected.
@AshevilleLaw: What effect does Clemson's win have on recruits balancing CU-GA decision?
GH:
I believe the Clemson win and showcasing of an electric atmosphere will resonate more with the 2015 class than 2014. When looking at the 2015 class, and especially in the Atlanta area, the Clemson staff being able to walk into high schools having beaten LSU and Georgia is suddenly a different and stronger message than a year ago. It will also be even easier to get top prospects to make unofficial visits -- not that the Tigers have struggled in that area. That's not to take away from the positive reviews by
David Sharpe
(Jacksonville, Fla./Providence School) and
Raekwon McMillan
(Hinesville, Ga./Liberty County High), but the win will almost certainly have a lasting impact on 2015 if the Tigers go on to have a BCS bowl game-type of season. Beating SEC powers changes the message of the staff on the trail, and that is very key when battling SEC programs in Georgia, South Carolina, North Carolina and Florida for top prospects.
September, 6, 2013
9/06/13
11:00
AM ET
@bwessfootball: How do you see Penn State's class rounding out? Would you say PSU is now the favorite for Montae Nicholson and Qadree Ollison?
Brad Bournival: The first part of that question is tricky as the Nittany Lions are still in on Dravon Henry (Aliquippa, Pa./Aliquippa), Ricky Walker (Hampton, Va./Bethel), Alex Bookser (Pittsburgh/Mount Lebanon), Thomas Holley (Brooklyn, N.Y./Lincoln) and Mike Gesicki (Manahawkin, N.J./Southern Regional) but may not be the favorite for any of them. As far as Ollison goes, I fully expect him to be part of the 2014 Penn State class by Monday afternoon. The fact he's visiting the Nittany Lions just before his announcement bodes well for Penn State. As far as Nicholson goes, the jury is still out on that one. He's visiting Michigan State this weekend, but Pittsburgh is in his backyard and don't count out Oregon or Florida State. The safety wants to set official visit dates soon so that could be telling.
---
[+] Enlarge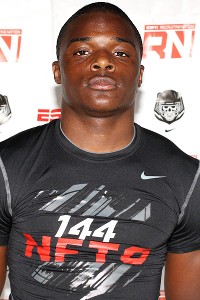 Tom Hauck for ESPN.comCould Michigan State land standout cornerback Darius West?
@Collin_Stauder:
Any chance Michigan State grabs Nicholson or Darius West down the stretch?
Tom VanHaaren: That's a pretty relevant question right now as Nicholson (Monroeville, Pa./Gateway) is visiting Michigan State this weekend and West (Lima, Ohio/Central) just recently took a visit to East Lansing.
I think you could probably even throw defensive back Parrker Westphal (Bolingbrook, Ill./Bolingbrook) in this question because he recently told me that he would like to get out to Michigan State for a game.
It was believed that Northwestern and Vanderbilt had the best shot with Westphal, but if he makes it out to East Lansing that might be an interesting situation. He was originally going to make a decision before his season, but it looks like he could take a few visits.
As for West, he is still committed to Kentucky and publicly is saying the visit to Michigan State wasn't a big deal. I don't think a prospect takes a visit this late in the game if it's not a big deal. If Kentucky continues to struggle that could be something to watch.
Nicholson has had an interesting recruitment recently with Michigan telling him they aren't recruiting him anymore. I believe he is open at this point, so this visit could help Michigan State. It's too early to tell with him, though.
---
@DukeLukeofJuke: Do you see any dark horse recruits that few are connecting to Ohio State at the moment that could end up in Columbus by national signing day?
Bournival: The names are pretty standard at this point in recruits like Noah Brown (Sparta, N.J./Pope John XXIII), Chad Mavety (Garden City, N.Y./Nassau Community College), Damian Prince (Forestville, Md./Bishop McNamara), Raekwon McMillan (Hinesville, Ga./Liberty County), Erick Smith (Cleveland/Glenville) and Marshon Lattimore (Cleveland/Glenville). If you're asking me to go out on a limb, maybe someone like Gesicki or Alex Bookser (Pittsburgh/Mount Lebanon) winds up with the Buckeyes. While it's not much of a stretch, those two aren't getting a lot of play lately in recent Ohio State news.
---
@ssullie71: Has Malik McDowell given a timeline when he will make his decision on colleges?
VanHaaren: He is saying going into this weekend that he plans on waiting to make a decision. This has been a hot topic, because I do believe there is a chance he makes a decision sooner than later.
McDowell (Southfield, Mich./Southfield) has been somewhat quiet about all this and doesn't share much, so he could do anything. It wouldn't surprise me to see him wait things out, but it wouldn't surprise me to see him make a decision soon.
He initially had been saying he was going to wait until the Army All-American game, but I don't think that will happen anymore.
---
jbacevice@gmail.com: Damon Webb is the face of the 2014 class for Ohio State. Eric Glover-Williams has that honor in 2015. Put your prognosticator glasses on, who takes that role in 2016?
Bournival: Early signs point to someone with a familiar last name. While there aren't a ton of offers out there just yet to 2016 stars, I don't think it will much matter as defensive end Nick Bosa (Fort Lauderdale, Fla./St. Thomas Aquinas) has all the tools to carry the flag if he picks the Buckeyes down the line.
We all know is brother Joey is already making a name for himself as a freshman at Ohio State, but Nick could be even bigger. St. Thomas Aquinas coach Rocco Casullo has already said he thinks everyone will know all there is about the sophomore by the time he finishes with the Raiders. Buckeyes assistant Mike Vrabel is high on Nick already, but not just because of his play. The 6-foot-2, 215-pound defensive end's character and maturation at such a young age is what many are talking about.
September, 6, 2013
9/06/13
11:00
AM ET
In this week's Big 12 mailbag we take a look at a few questions surrounding the Longhorns, including who they could get as their next commitment? Also, what are the early prognostications on one of Missouri's top players?
@TrentonAMakare: Who is a likely commit for #UT? Are there any 4 stars they might still get out of this senior class?
Trenton, there is still a ton of four-star talent out there with high interest in the Longhorns. Some of the more realistic names include ESPN 300 recruits
Solomon Thomas
(Coppell, Texas/Coppell),
Jamal Adams
(Lewisville, Texas/Hebron),
Tony Brown
(Beaumont, Texas/Ozen),
Edwin Freeman
(Arlington, Texas/Bowie) and four-star
John Bonney
(Houston/Lamar). As for the most likely to commit, I'd say Bonney and/or Freeman at this point. Bonney could pull the trigger fairly soon. Freeman will wait until after a few official visits.
@DJS_09: Will the Horns grab both Bonney and Freeman for their 2014 class?
It's possible. You just wonder if one commits before the other, will that turn the other away. The good news for the Longhorns is they are in good position to land at least one of them. I just don't see a scenario happening where they don't get one. I think Bonney will end up committing somewhere first, and I think it will come down to Baylor and UT. Freeman was going to commit before the season but has decided to take some official visits first. That isn't exactly great news for UT, which has been considered his favorite for months now. LSU is a sneaky sleeper here.
@24Randazzo_J: How do you think Hale Hentges will end up in college?
Hentges, for those not aware, is an ESPN Junior 300 tight end out of Jefferson City (Mo.) Helias High School, who is rated as the No. 3 tight end in the country. He already has offers from Arkansas, Indiana, Iowa, Iowa State, Memphis, Missouri, Nebraska, Tennessee, Tulsa and Wisconsin. Hentges is a prospect that, because of his 6-foot-5, 225-pound frame, could play tight end or defensive end in college. He played both very well last season. As a tight end, he caught 43 passes for 427 yards and seven touchdowns. As a defensive end, he recorded 62 tackles, seven sacks and five pass deflections. It's going to be tough for Missouri to keep him in state, especially when programs like Stanford and Notre Dame are showing serious interest and have produced some of the top tight ends in the country over the past few seasons.
@KSUWinter: W/ Derricott committed to KState, do they have the upper hand for Errol Clarke? #emaw
It puts them in a better position, certainly. But the Wildcats do not seem to be the favorite right now for the talented outside linebacker from Garden City Community College.
D'Vonta Derricott
, for those not aware, is one of the country's top junior college linebackers, who committed to KSU on Aug. 7. Having him on board should give Clarke more incentive to follow his teammate to Manhattan, Kan. But Wisconsin seems to have the upper hand on Clarke's recruitment right now.
@Roberrttthom: What would the addition of Kenny Young do for the Cowboys recruiting class? His interest has really increased lately. #AskBig12
Getting a player the caliber of Young on board would greatly improve OSU's chances of landing a top 15-20 class at the very least. The Pokes have done a great job recruiting linebackers so far this cycle with the verbal pledges of ESPN 300 OLB
Gyasi Akem
(Broken Arrow, Okla./Broken Arrow) and four-star ILB
Josh Mabin
(Spring, Texas/Klein Oak). If OSU can continue to play defense like it did against Mississippi State and prove to Young that it can be a force on that side of the ball as well, it could go a long way toward his decision. One of the main concerns I'd have if I were OSU are the teams that are also in pursuit. They include heavyweights like Alabama, Florida, Florida State, LSU and Michigan.