Husky feel to Semper Fidelis Bowl
January, 5, 2013
1/05/13
2:08
AM ET
The East team snuck out with a 17-14 win at the 2013 Semper Fidelis All-American Bowl, thanks to a touchdown pass from
Eddie Printz
(Marietta, Ga./Lassiter) to
Ryan Switzer
(Charleston, W. Va./George Washington) with six seconds remaining. But the biggest takeaway from the game was the impact made by the future Washington Huskies.
Wide receiver
Darrell Daniels
(Oakley, Calif./Freedom) caught a touchdown in the game, but the biggest impact he made were the big impacts he made. On a scramble by his quarterback, Daniels peeled back and leveled a pursuing East defender, sending helmets flying. Later, in punt coverage, Daniels got his hands on Switzer and threw the much smaller receiver to the turf.
[+] Enlarge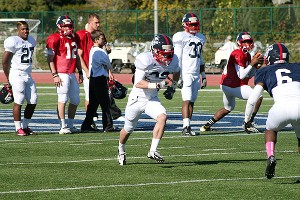 Erik McKinney for ESPNMissouri QB commit Eddie Printz hooked up with UNC commit Ryan Switzer, pictured, for the game-winning East touchdown.
"I just came out wanting to have fun and make a statement that I could be physical instead of just running around people," Daniels said.
Not to be outdone, future Washington defensive linemen
Elijah Qualls
(Petaluma, Calif./Casa Grande) and
Daeshon Hall
(Lancaster, Texas/Lancaster) pestered the East quarterbacks all night. The five Washington commitments who came into the game were joined by a sixth when wide receiver
John Ross
(Long Beach, Calif./Jordan) made his commitment to the Huskies during the third quarter. Ross, who will play wide receiver for the Huskies, offers an elusive speed threat to pair with Daniels, who had an opportunity to get to know Ross this week.
"We're going to be very complementary to each other," Daniels said of Ross. "He's a very fast receiver, a good receiver, and I'm going to enjoy playing alongside him."
Although his West team didn't get the victory, Daniels said he and his fellow Huskies sent the message they wanted to during the game.
"We just wanted to make a statement that U Dub is coming back up on the map," Daniels said. "We came out and made a statement early in the game and we played hard."
Semper Fidelis All-American Bowl superlatives
Biggest hit:
Aside from the block Daniels threw, this honor goes to Qualls. The nearly 300-pound defensive tackle lined up at fullback several times during the game, and on one occasion, he took a screen pass and made his way outside, where he met
David Kamara
(Loganville, Ga./Grayson). Kamara deserves plenty of credit for lowing his shoulder and taking on Qualls, but the bigger Qualls simply ran Kamara over and continued down the sideline, much to the delight of his West teammates.
Best "wow" moment:
With six minutes remaining in the second quarter, Florida State commit
Levonte Whitfield
(Orlando, Fla./Jones) fielded a kickoff and was gone. He had 78 yards to flash his terrific speed and didn't hesitate to do so.
Best play:
With time running down in the fourth quarter and the East team trailing 14-10, Missouri QB commit Printz rolled out and fired deep ball to Vanderbilt commit
Latevius Rayford
(Memphis, Tenn./Memphis Central), who went up between double coverage and came down with the grab. Reyford was able to tap one foot down his momentum carried him out of bounds for a 37-yard gain.
Near-perfect performance:
Quarterback
Matt Alviti
(Park Ridge, Ill./Maine South) completed 10 of 12 passes for the West team. Though it was in a losing effort, Alviti began the game a perfect 9-for-9, which isn't something you usually see from quarterbacks in an all-star environment. The Northwestern commit passed for 104 yards and a touchdown.
[+] Enlarge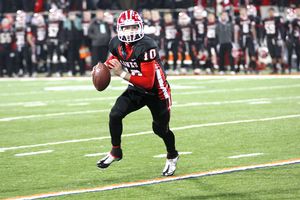 Scott Powers/ESPNChicago.comEven though his West team lost, quarterback Matt Alviti has nearly perfect, completing 10 of his 12 passes.
Most impactful play:
The West defensive line was able to put pressure on East quarterbacks all game long, so Printz wasn't surprised when he took a snap from the 2-yard line and was forced to scramble back to the 20-yard line and buy time before finding North Carolina commitment Switzer in the back of the end zone with six seconds left to give the East team a 17-14 lead and the eventual win.
Outlaw is still on the run
Offensive guard
Josh Outlaw
(Lithonia, Ga./Martin Luther King) has experienced just about everything when it comes to the recruiting process. The 6-foot-4, 275-pound standout was a very early verbal commitment to Florida. The four-star lineman made the decision to commit at Florida's spring game on April 7. But sparked by his desire to take his official visits, Outlaw decommitted from Florida in August and now heads into January with almost everything still up in the air.
"Right now I'm open," Outlaw said during practices for the Semper Fidelis All-American Game. "I want to see what other schools have to offer and what I could bring to the table for them and what they can bring to the table for me."
Outlaw said he will definitely visit Miami, TCU and West Virginia in January. He added that while the visits aren't set in stone, there was an understanding before the dead period that all would get scheduled.
While Florida pushed hard for another commitment in the immediate aftermath of his decision to back away, Outlaw said the contact has been less and less recently.
"We haven't had contact lately -- as much as we did," he said of the Gators. "We I did decommit, they wanted me to reconsider. But I just needed time to reconsider all my options."
It would likely be tough for a new school to get into the mix for Outlaw, but he said that at this point he has no favorites and isn't in a hurry to bring the process to a conclusion.
"I'm looking for the best opportunity," he said. "There is no favorite. Everybody has a clean slate."
Outlaw said he is looking for several specifics in his school of choice.