Berry twins center stage at Ga. Junior Bowl
December, 28, 2012
12/28/12
8:47
PM ET
ATLANTA -- Practice for the Georgia Junior Bowl kicked off Friday, and there was no shortage of top prospects on the West squad, which features two ESPN Watch List wide receivers, an emerging running back and one of the nation's elite defensive players.
Despite all the talent, the center of attention was a set of twins whose older brother plays in the NFL.
Berry twins look to make their own name
[+] Enlarge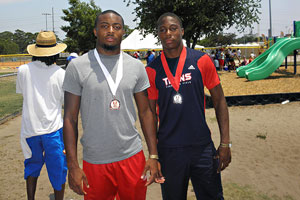 Berry FamilyElliot Berry (left) and Evan Berry say they're a package deal wherever they choose to commit.
In football, it's hard not to stand out when you're twins, but it's even harder not to stand out when your older brother plays in the NFL. That's why
Evan
and
Elliot Berry
-- the younger brothers of Kansas City Chiefs safety Eric Berry -- have been the center of attention this week at the Rising Seniors program.
"It has been a good experience," Evan said. "I like all the competition. You usually don't get that on a day-to-day basis like that."
The notoriety from their older brother has helped the twins when it comes to recruiting. They already have scholarship offers from the likes of Auburn, Clemson, Florida, LSU, South Carolina and Tennessee.
Although both their older brother and their father played for Tennessee, that doesn't mean the twins are automatically going to be Volunteers.
"I'm sure somebody expects to go us there, but I don't really feel any pressure to go to that school just because my dad and my brother went there," Elliot said.
One thing is certain -- the Berry twins are a package deal.
The two have offers from the same schools. They both visit the same places and attend the same games. So if you get one, you're getting the other one, too.
"Why not? We're a package deal," Evan said. "Instead of getting to know new players, I already know him. He's my twin."
"I'm pretty sure college is going to be a difficult adjustment," Elliot said, "so why not have somebody go through that adjustment with you and help you out."
The duo visited Georgia for a game this fall and also saw Auburn and Clemson play in the Georgia Dome to open the season.
Regardless of whether they decide to follow their older brother to Tennessee or create their own path, Eric -- the former first-round draft pick -- has been helpful through the recruiting process. After all, he's been through it before.
"He just told us to stay humble, because as you've seen this year, there's a lot of coaching changes," Evan said. "Don't get tied into the school, and don't go to a school because of the coach. Go because of the fans, the atmosphere and the facilities."
Newsworthy: Eyes on the West Coast