ESPN 300 WR Quinn nearing records
November, 12, 2013
11/12/13
10:00
AM ET
Records are made to be broken, and this is especially true in this age of spread offensive football at the high school level. In 2011, current Missouri wide receiver and former ESPN300 No. 3 overall Dorial Green-Beckham set a national record for receiving yards in a career with 6,356. Now just two years later, that mark is in serious jeopardy of falling.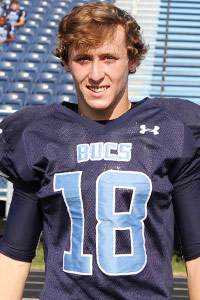 Courtesy of Lake Charles American PressLSU commit Trey Quinn is close to putting his name atop the list of several national receiving records.
LSU 2014 commit
Trey Quinn
(Lake Charles, La./Barbe), No. 36 in the ESPN 300, enters the Louisiana state playoffs with 6,180 career receiving yards, less than 200 yards shy of a new record according to the National Federation of High School Association Sports Record Book.
"It's crazy," Quinn said Monday night. "I would never have thought I would be in this position my freshman year. To be a 176 yards or whatever away from a record a guy like Dorial Green-Beckham has, seeing what he is doing in the SEC … it's crazy,"
MOST RECEIVING YARDS -- CAREER
1. 6,356 Dorial GreenBeckham (Springfield, Mo./Hillcrest) 20082011
2. 6,180 Trey Quinn (Lake Charles, La./Barbe) 2010current
3. 5,867 Abram Booty (Shreveport, La./Evangel Christian) 19931996
4. 5,365 A.J. Green (Sumerville, S.C./Summerville) 20042007
5. 5,172 Tommy Pettit (Kenton, Ohio./Kenton) 20012004
The race to the record books began as a freshman for the speedy pass catcher. The then 6-foot, 172-pound Quinn, who was known in the Lake Charles area for playing in the Little League World Series in 2008, put together a sensational first year hauling in 67 passes for 1,238 yards and nine touchdowns.
The precise route runner with sub-4.5-speed followed up his coming out party in 2010 with another 67 receptions for 1,220 yards and 12 touchdowns in 2011. He also added 35 rushes for 495 yards and 11 more scores.
While the first two seasons are more than a career for many FBS wide receiver prospects at the high school level, it was Quinn's jaw dropping junior season that was truly remarkable. With the Buccaneers playing 15 games and making a run to the state finals, Quinn caught 111 passes for 2,094 yards and 26 touchdowns.
Fast-forward to the end of the 2013 regular season, and Quinn has added 88 receptions for 1,581 yards and 18 touchdowns to the staggering career stat line.
While the national receiving yards record has the most appeal and star power on the list, Quinn also has a second national record within reach headed into Barbe's first round playoff game. Having averaged 8.8 receptions per game as a senior, a first round win all but guarantees a second place finish with a deep playoff run holding the cards.
MOST RECPTIONS -- CAREER
1. 358 Davis Howell (Knoxville, Tenn./Christian Academy of Knoxville) 20092012
2. 349 Ben Wonderly (Sherwood, Ohio/Fairview) 20052008
3. 337 Trey Quinn (Lake Charles, La./Barbe) 2010current
4. 329 Christopher Fulmer (Nitro, W.V./Nitro) 20022005
5. 308 Tommy Pettit (Kenton, Ohio/Kenton) 20012004
Quinn is also rising up the charts for career touchdown receptions.
MOST RECEIVING TOUCHDOWNS -- CAREER
1. 95 Kirby Moore (Prosser, Wa.) 20062008
2. 83 Abram Booty (Shreveport, La./Evangel Christian) 19931996
3. 74 Brandon Barrett (Martinsburg, W.V.) 20002003
4. 68 Ben Wonderly (Sherwood, Oh./Fairview High) 20052008
5. 66 Earvin Johnson (Los Angeles, Calif./Cathedral High) 19982000
6. 65 Trey Quinn (Lake Charles, La./Barbe High) 2010current
Quinn committed to LSU August 17 over offers from Clemson, Auburn, Arkansas, Texas, Arizona State and a host of others.