Prospect Diary: Robert Nkemdiche
October, 31, 2012
10/31/12
7:56
AM ET
Loganville (Ga.) Grayson senior Robert Nkemdiche is the No. 1 prospect in the ESPN 150 and considered one of the most talented defensive linemen to play in Georgia. As a highly sought-after recruit with offers from the likes of Alabama, Clemson, Georgia, LSU and Oregon, Nkemdiche has agreed to chronicle his senior season and recruiting experience through a weekly diary with RecruitingNation.
Hey, what's up everybody, this is Robert Nkemdiche. Last week was our bye week, and we have had a really good two weeks of practice so far. We are trying to knock Archer (Lawrenceville, Ga.) out on Thursday and give them our best shot, just like they're going to give us their best shot. It should be a good game, so we have to keep fighting and doing what the coaches have been preparing us to do.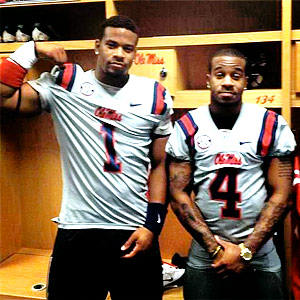 TwitterRobert Nkemdiche, left, and his brother Denzel could end up playing together at Ole Miss. He'll watch his brother play Georgia this weekend.
I am really excited about seeing some of my other teammates like
Jordan Germany
and
Aares McCall
getting scouted by schools. They have kind of flown under the radar so far, so I am happy for them.
As for myself, I do not care if I have 90 tackles and 10 sacks -- if we do not win the state championship, this season will be a complete failure for me.
I have been able to spend a lot of time with my mom over the past week and I have enjoyed having her cook for me again. We have caught up on a lot of things, and continued to talk about what I plan to do for college. On Saturday I am going to take an unofficial visit to Georgia this weekend with my parents.
Ole Miss versus Georgia is going to be a great game. Ole Miss is playing well right now and Georgia is coming off a really big win against Florida and they are doing really good. They are two teams with really good defenses that I expect to come out and give it their all.
With Georgia, you never know what could happen. I could start falling in love with them again after I visit. They have open arms toward me and I have open arms to them going in. We will see what happens.
As for Ole Miss, it is exciting to have the chance to see my brother Denzel play with my parents. I think he is going to have a great game and it is going to be good for the whole family to see that. I am happy for him.
Looking back, it is crazy how much Denzel and I have grown up and started taking football seriously. We started out just playing in the front yard. We took that and grew with it and kept going and now we are showing out. Growing up, me and Denzel were pretty close, although every once in a while we would beat up on each other or argue over a game or something. But we have always had a loving relationship.
I am really proud of both of us for how far we have come. I hope God will continue to bless us and push us forward.