January, 28, 2015
Jan 28
10:00
AM ET
HOOVER, Ala. – It started with a dream, the dream to play Division I football. Next Wednesday, four high school teammates will become one step closer to turning that goal into a reality when they sign with their respective schools.
The only catch? The quartet from Hoover High School will be choosing four different colleges.
"It was kind of a dream that we'd play together," ESPN 300 linebacker
Darrell Williams
said. "I still think that would be cool if we could all four go to the same school, but at the end of the day, you've got to do what you've got to do. You've got to go where's best for you."
In four years at Hoover, they won three state championships and finished with a record of 42-3. But now Williams (Auburn),
Christian Bell
(Alabama),
Bradrick Shaw
(Wisconsin) and
Justin Johnson
(Mississippi State) are on to the next chapter, and each is paving his own way.
[+] Enlarge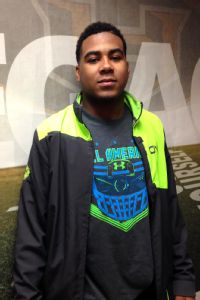 Greg Ostendorf/ESPNDarrell Williams grew up an Alabama fan, but Auburn turned out to be a better fit for him.
The pretty boy
Off the field, that's what teammates call Williams -- he's always fixing his hair, he's the last to leave the locker room after the game, you get the idea -- but on the field, it's a different story. He still likes to look good, but he likes to look good making plays.
At 6-foot-3, 226 pounds, Williams has a rare combination of size and speed, and the scary part is he's not done filling out his frame.
"He can cover a lot of grass," Hoover coach Josh Niblett said. "He's a great blitzer, but he's a great dropper. He can play inside or outside. But he brings something to the table with length and athleticism that you don't normally see out of a lot of kids."
Williams grew up an Alabama fan. He always wanted to play for the Crimson Tide. But when it came time to make his college decision, Alabama wasn't ready to accept his commitment. The coaches wanted to see him in camp first. That didn't sit well with Williams, especially after seeing one of his teammates commit in April, around the same time he was ready to make a decision.
Two weeks later, Williams gave his verbal pledge to Auburn.
He developed a bond with the Auburn coaches that got stronger with every visit. Though the last two months have been a whirlwind with all the coaching changes, he remains firm to Gus Malzahn and the Tigers.
Finally, he can say he's 100 percent committed.
"It feels good," Williams said recently after his official visit to Auburn. "It's kind of a relief because this whole process has been kind of stressful."
The freak
Bell is the type of player quarterbacks have nightmares about. He's 6-foot-4, 216 pounds, has a quick first step and when he gets around the edge, look out.
He's also the teammate who committed to Alabama in April when the staff told Williams to hold off. It doesn't necessarily mean Bell is more talented, but maybe he's a better fit for Nick Saban's defense. Or maybe the coaches saw a certain edge about him, an attitude that leads to his intense and aggressive demeanor on the field.
His teammates, who have been with him since middle school, still have trouble describing him.
"Christian is Christian," one said.
"I don't know what word can describe Christian," another said.
Shaw probably said it best.
"He's the freak," Shaw said. "In practice, he'll give the offensive lineman a move and just do whatever he wants. He manhandles people."
Surprisingly, Alabama wasn't always the choice for Bell. He, too, weighed his options before making his commitment and admits that Mississippi State and UCLA were very much in the mix at that time. Both schools offered a better chance at early playing time.
But that's not what Bell was interested in. He understands he's just another name in Alabama's star-studded recruiting class, and that's the way he likes it.
"We haven't really talked about playing time because if they say I'm going to start, I don't really want to know that," Bell said. "I want to just go in there and work."
The quiet one
[+] Enlarge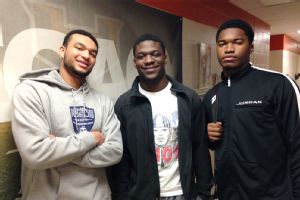 Greg Ostendorf/ESPNChristian Bell (Alabama), Bradrick Shaw (Wisconsin), and Justin Johnson (Mississippi State) will join Darrell Williams as Hoover (Ala.) players headed to FBS schools.
A week ago, Shaw was the only uncommitted member of the Hoover quartet. The four-star running back didn't have the luxury of staying in state with both Alabama and Auburn loaded at his position.
"They're in state, but I guess they got the players who they wanted," Shaw said. "I can't do anything about it."
Instead, his choice came down to Vanderbilt and Wisconsin. Many predicted that he would sign with the Commodores given the proximity to home and the opportunity to play in the SEC. But it wasn't meant to be. Shaw chose the road less traveled.
"I'm OK to go out of the SEC," he said. "The Big Ten is nice, too. They produce great running backs every year. Of course, Ohio State won this year. It's elite talent just competing. SEC is one of the best conferences, but the Big Ten is pretty nice, too."
It fits his personality. Go to a school where nobody knows you, keep your head down, work hard, and maybe become the next
Melvin Gordon
.
It's the same attitude that helped Shaw get on the field at Hoover as a freshman. It's what made him better every season and what ultimately turned him into a star. But you would never hear that from him.
"I'm not quiet," Shaw said. "But I'm kind of like the most normal guy. All the other guys are crazy."
The underdog
There was a time when Johnson didn't know if he'd be part of the group. He didn't know if he'd have the same opportunity as the others. They all had received Division I scholarship offers by the beginning of last year, but he was still waiting on his.
"It was pretty tough," Johnson said. "Thinking about it really does upset me sometimes, but you get over it. You don't realize it, but it makes you go harder."
"Of course everybody wants to be ranked high and stuff like that. That's every kid's dream. Sometimes things just don't work out as you expect they would. I'm not upset about it or anything. It's just one of those things that sticks in the back of your head and drives you."
Eventually, the offers came. The three-star wide receiver was offered by Kentucky, Mississippi State, and a handful of smaller schools.
When it was time to make a decision, the choice was easy. Johnson committed to Mississippi State because it's a program that reflects his attitude. Since Dan Mullen arrived, they have exceeded expectations just like he has done throughout his career at Hoover and just like he plans to do when he arrives in Starkville.
"I see that underdog mentality," he said. "You never know what to expect."
Dak Prescott
was a three-star recruit and
Josh Robinson
a two-star prospect who both became stars with the Bulldogs. Johnson is hoping to become the latest in that line of under-the-radar stars.