November, 12, 2014
Nov 12
2:01
PM ET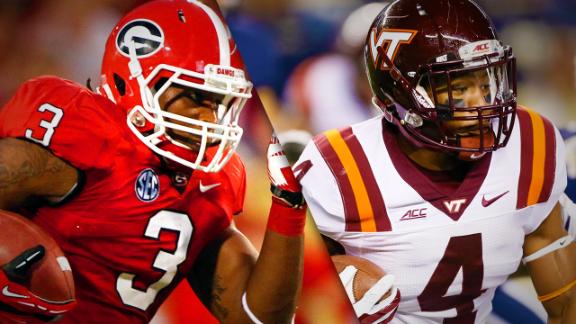 Alabama continues its long run in the No. 1 spot of the class rankings, but for the first time in a little over three months there is a new team sitting behind the Crimson Tide. Georgia moved up to the No. 2 spot after picking up its 13th commitment from an ESPN 300 prospect with the addition of Rashad Roundtree. The top-five safety prospect is the fourth secondary commitment in the Bulldogs?? class. A tall, athletic, and aggressive defender, Roundtree could potentially contribute early and develop into a well-rounded player. His best fit looks to be at strong safety, but with his range, size and physical nature he could potentially offer some versatility to Georgia??s back end.
While Bulldogs defensive addition helped them rise, a decommitment from an ESPN 300 LB led to Michigan slipping. The Wolverines?? class still has five ESPN 300 prospects, but their total number of commitments has dropped to eight and the loss of Darrin Kirkland Jr. is their second ESPN 300 decommitment in three weeks.
Nebraska saw a rise in the rankings after dipping into Louisiana for the second time in this class to land ESPN 300 WR Stanley Morgan, who is a good fit for the Cornhuskers, bringing good size, some playmaking ability and a competitive temperament to Lincoln.
Inside the rankings

Since coming to Kentucky prior to the 2013 season, Mark Stoops and his staff have brought an entirely new approach to recruiting in Lexington. The Wildcats are ahead of schedule in Year 2 and one game away from being bowl eligible, which would pay huge dividends in December when it comes time to host prospects.
The process began by taking a pro personnel approach to recruiting when it came to prioritizing staff meeting times and evaluation by coaches and support staff. In other words, the evaluation process of all prospects is a 365-day-a-year requirement when coaches and staff are not on the road. This is the approach he brought over from Florida State after working under Jimbo Fisher. Secondly, Kentucky needed to expand its footprint which is why Stoops was the perfect choice to lead this change. The state of Kentucky does not produce enough top-tier talent to support an 85-man roster which forces the staff to go outside its borders. Traditionally this would mean going south, and UK still will, but now the movement has moved north into Ohio where Stoops has roots.
In 2014, Kentucky signed 11 players from Ohio, and currently has seven players committed in the 2015 class from Ohio. Their home state will always be the top priority and the Wildcats have won that battle as of late with the signing of QB Drew Barker, DE Jason Hatcher and DT Matt Elam, but the roster needs support from a net that more widely cast.
There is renewed enthusiasm and leadership under Stoops, a renovated stadium and millions of dollars being devoted to facilities enhancements which could make for a bright future in Lexington.
To see the full class rankings,
click here
.